I had been planning to race on July 8th at the Cromwell Cup.  I've decided to scratch.  My training has been too spotty, I've not done nearly enough race prep work, and I missed most of last week because of a work commitments and a quick business trip to Europe.
How do I feel about this?  Lousy.  What do I do now?  I'm not sure.
But, I like rowing, and I like working on getting better at it.  I sure like Head Races more than Sprint Races, but I've been unsuccessful executing training plans toward any objectives for the past two years.  I'm on vacation now for the next.  I'll have some time for some nice coastal rowing and plenty of time to figure out what to do.
For now, here's a recap of the past couple of months.
Sunday – 6/17:
We had not planned to go to the cape, but I remembered a couple of things I needed to do down at the house, so I drove there in the early afternoon.  One the things I wanted to do was go for a row.  It was a lovely day.  Sunny, with light breezes (at least at first), and nice and warm.
I launched straight from my stairs, since I wanted to go south and it was nearly high tide.  I was bummed that I forgot my heart rate monitor back in Hopkinton, so no HR data for the row.  I was planning a 90′ row, so I wanted to keep my HR at a reasonable level throughout.
Here's the chart of the whole row.  I headed southeast until I got to the eastham shore.  There was one interesting bit, which I will describe below.  Then I turned and hugged the beach going south, and turned at the 45 minute mark.  I stayed close on shore for the row north as well, and continued right across to the salt marshes on the southern coast of the island, then turned and followed the edge of the marsh back around to the steps.
I was very tired by the end and carrying the boat up the stairs was pretty daunting.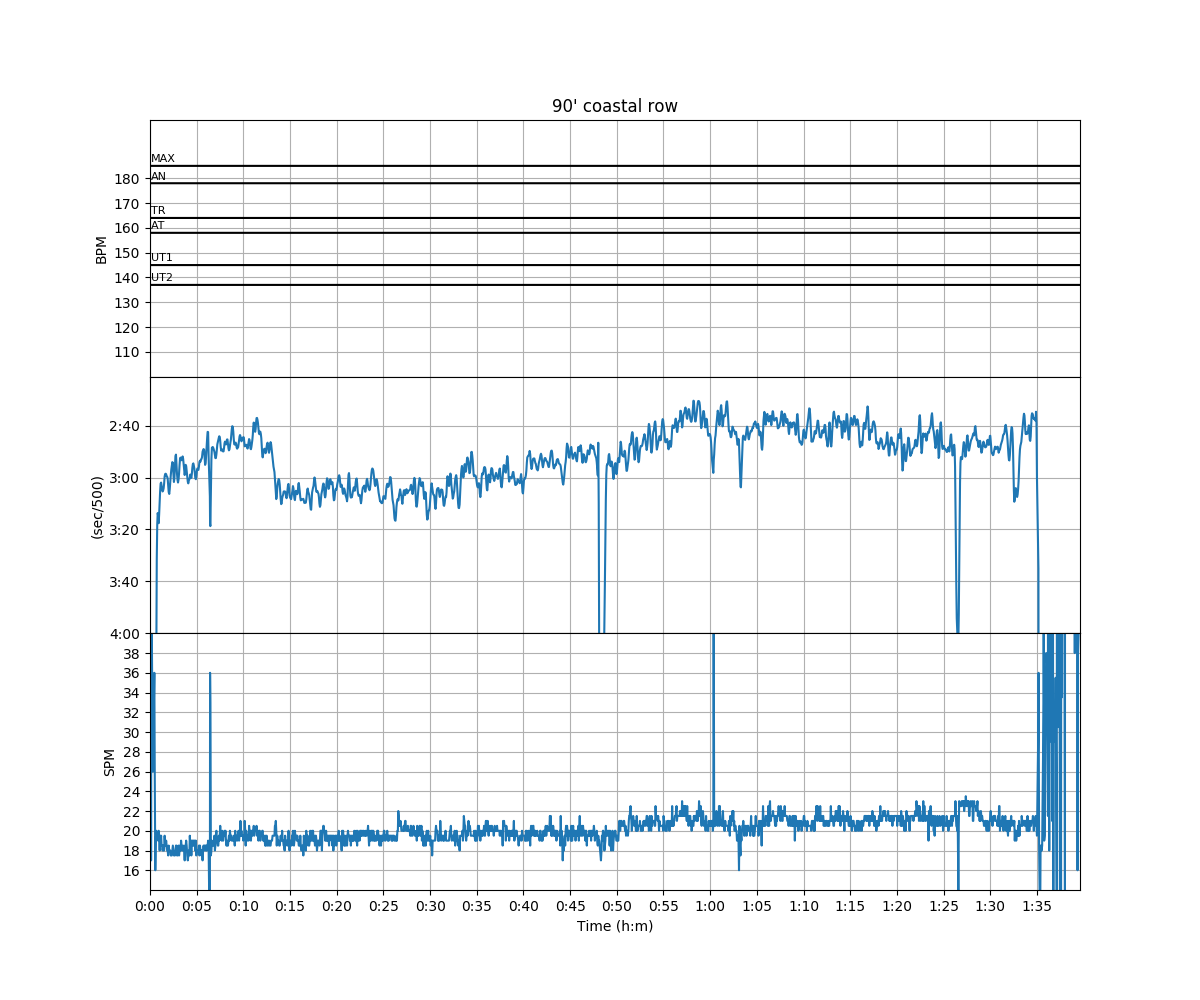 I had a bit of close call on the first leg down to the Eastham shore.  You might notice that there is a asterisk on the chart, right on my course.  That's a rock.  At low tide it sits on the sand flats.  At high tide, it's underwater.  When I was rowing, it was just below water level.  I knew it was out there, but couldn't see it.  I ended up hitting the top of the rock with my oar.  The is no way I could have navigated well enough to get that close if I tried to.  Here's my course magnified on the satellite image.  You can see the rock in the image.
Monday – June 18: Rest Day
Tuesday – June 19: Starts Practice.
Plan:
Race warm up
5 x 20-stroke starts

Rest between: 3'
Rating/Pace: SR 36-40 (or your most efficient rating)
Notes: Steer straight, clean releases, same sequence as planned for your race

2 x 9'

Rest between: 2′ easy rowing
Rating/Pace: Cat V: SR 22
Notes: Focus on your releases.
Back on the Charles in my Fluid.  A lovely morning.  I did my favorite warmup.  It takes the whole way down river and showed me that I am in pretty lousy shape right now.  But I was certainly warmed up by the time I finished it.
I turned around and started doing my starts.  I felt pretty good.  I decided to practice my shift down to "reasonable" stroke rates, so after 5 strokes, I was trying to get down to a nice r32 for the rest of the 20 stroke burst.
After I did 4 starts, I decided to do 40 strokes for the last one.  The plot shows a hiccup in the middle but I don't remember what happened.
Then I did the 2 x 9′ pieces.  Hard, but uneventful.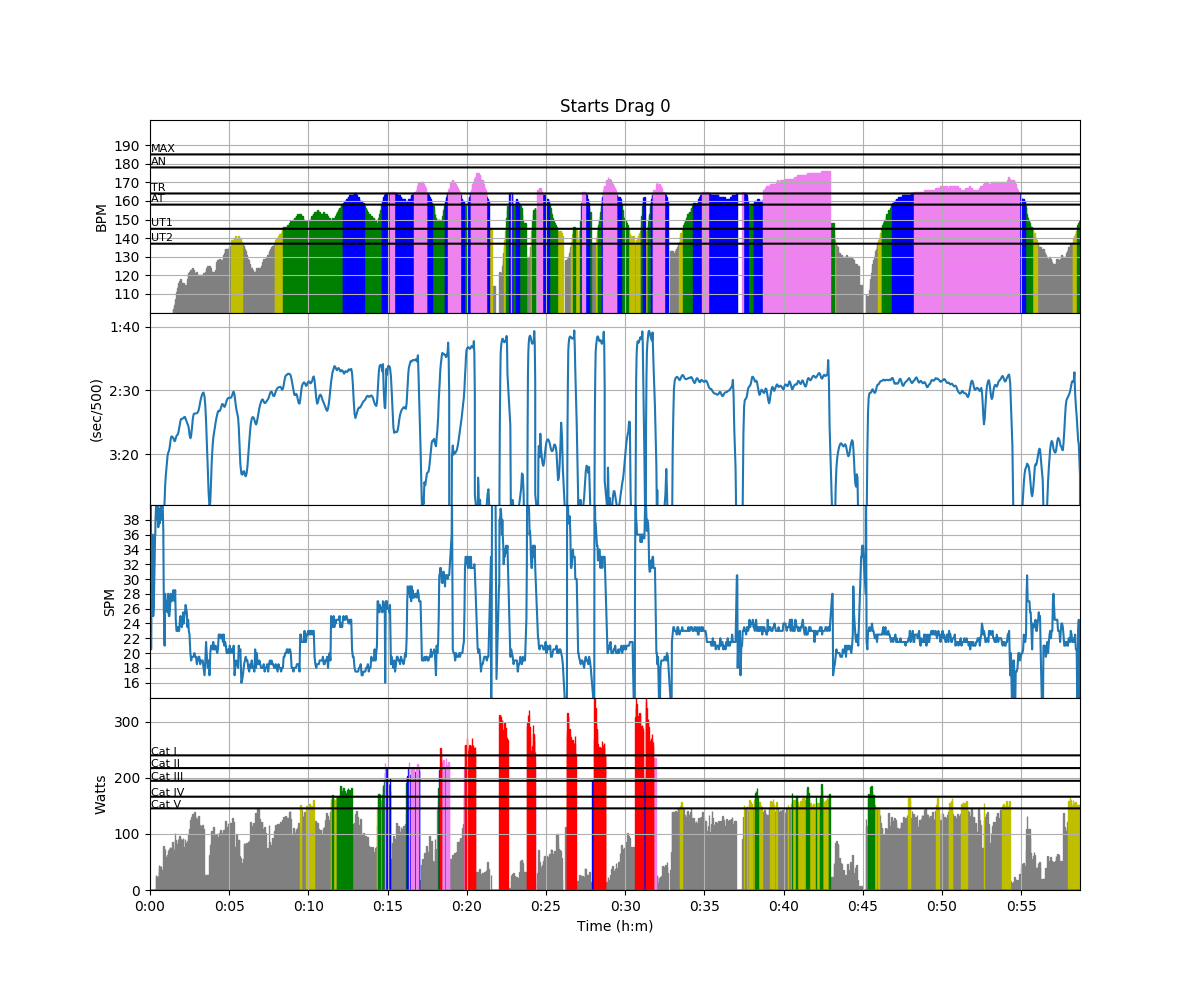 Workout Summary - media/20180620-1800250o.csv
--|Total|-Total-|--Avg--|-Avg-|Avg-|-Avg-|-Max-|-Avg
--|Dist-|-Time--|-Pace--|-Pwr-|SPM-|-HR--|-HR--|-DPS
--|10740|58:42.0|02:44.0|113.3|22.9|150.5|176.0|08.0
W-|01175|04:31.0|01:55.5|254.0|33.2|151.5|171.0|07.9
R-|09572|54:11.0|02:49.8|101.6|22.0|150.4|171.0|08.3
Workout Details
#-|SDist|-Split-|-SPace-|-Pwr-|SPM-|AvgHR|MaxHR|DPS-
01|00136|00:34.2|02:05.9|210.2|28.0|164.2|170.0|08.5
02|00123|00:29.8|02:01.1|220.8|30.3|157.0|164.0|08.2
03|00144|00:33.6|01:56.7|251.7|32.1|163.1|171.0|08.0
04|00112|00:25.6|01:53.9|279.1|35.2|134.2|155.0|07.5
05|00117|00:25.8|01:50.1|266.3|35.0|143.0|155.0|07.8
06|00120|00:26.0|01:48.5|263.8|34.4|138.7|146.0|08.0
07|00154|00:34.0|01:50.5|261.7|33.5|152.8|168.0|08.1
08|00269|01:02.4|01:55.9|271.2|35.7|150.8|165.0|07.2
Here's the two 9′ pieces
3.4 m/s is a 2:27 pace.  Ughh.
Wednesday – June 20: 4 x (2′ race pace / 1′ paddle / 2′ race pace) / 4′ rest
This is a tough workout, and I had failed miserably last time I attempted it.  Today, I was determined to make it through, so I decided to start conservatively.
I started with a race warmup.  I enjoyed it as much as I did on Tuesday.  It was another perfect morning.
I turned around, had a drink, did a KOM drill, and practiced my first stroke of the start a couple of times.
Then I did my first piece, the start was good, and I shifted my rate down to a 26 immediately for the rest of the first 2′ chunk.  That was hard enough.  After the fleetingly short minute of paddling, I spooled it back up to 28 and counted out the strokes to 56.  Well, that wasn't so bad?  Actually it was.  Slow and painful.
I paddled around the s-turn and got into position to start my next interval.  Again I had a drink of water, but instead of doing a couple of practice first strokes, I decided to just setup and go.  I got into my start position, said "ready" to myself and squared  the blades and buried them, then as the speedcoach hit an even minute, I started.  Somehow, my starboard blade was funny, and as soon as I started the stroke, I realized I was in trouble.  I tried to abort, but my blade had submarined and I flipped right over on top of it.  It happened in the blink of an eye.
My feet came out fine and I popped up next to the boat.  I got the boat back upright and made sure I had all my stuff.  Then I executed a perfectly ugly re-entry.  I flopped across the seat deck, swung my legs around, got back on the seat and took stock of my situation.
The boat was full of water, I was wet (but not that much wetter than I was before I took the dive), and I was pissed at myself.  What the hell happened?  What the hell should I do now.  Part of me just quit.  Quit the workout.  Quit racing.  Quit rowing altogether.  That seemed a bit dramatic, so I decided that I should finish out the workout.
I splashed as much water out of the boat as I could and got myself psyched up to do another interval.  This start was fine, but I pulled the plug almost immediately.  I'm not sure why.  I set up again and started again and held my rate to 26/27.  I let the rate climb in the second minute.  It was tough work.
I pulled the plug at the start of the third one, and restarted it again.  This one was pretty good.  I did the first half at 28 rising to 30 and the second half between 30 and 32.  That's a bit closer to what I want to be doing.
The last one, honestly, I was getting tired.  I did a great start and the first 2 minutes were fine.  The minute of paddling was very welcome.  Then I went into the last 2 minutes.  I made a minute, and then I got hit by a gust of headwind and that was it for me.  I decided I was done.
I got my feet out of the shoes and rowed with feet out back to the dock.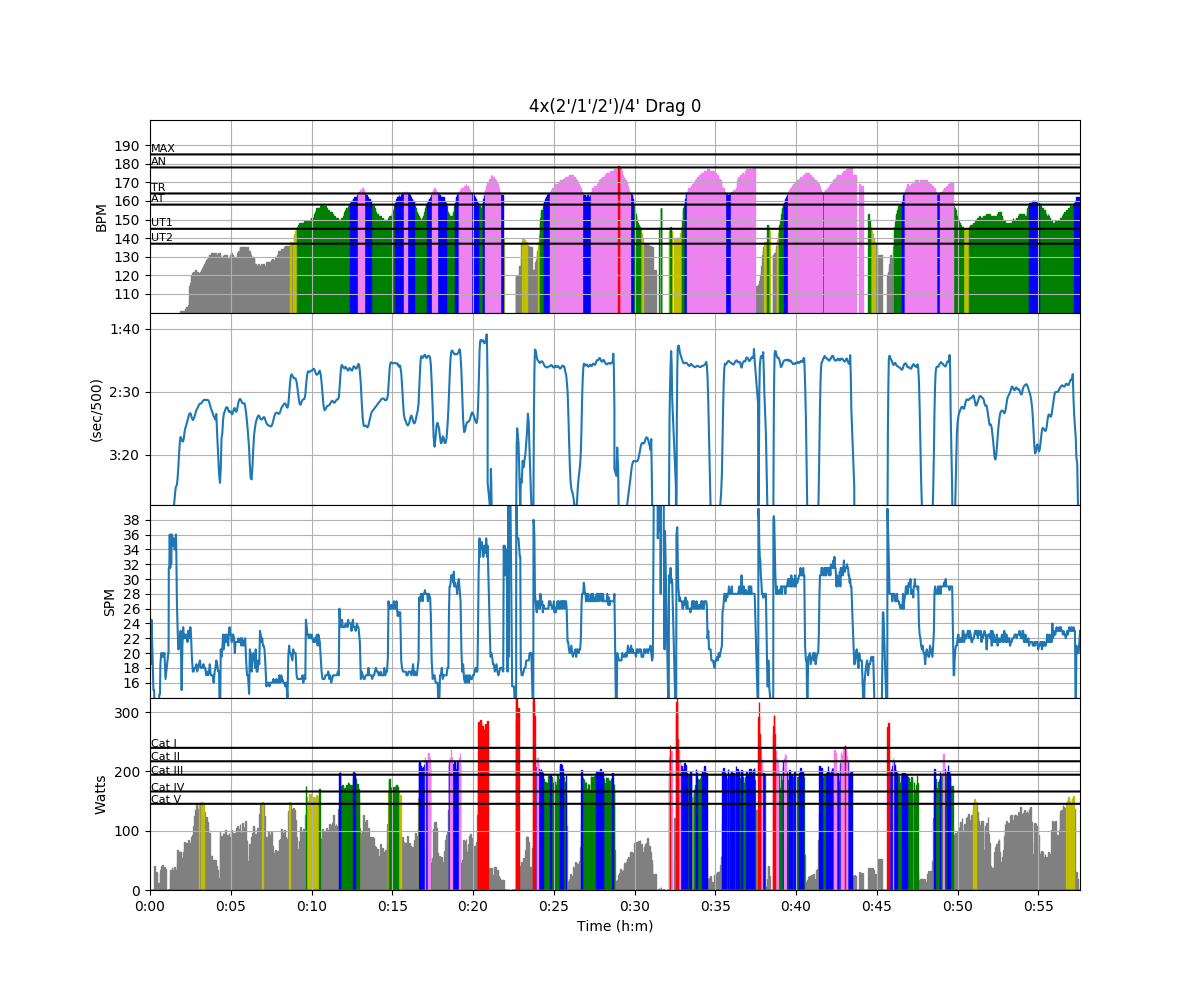 Workout Summary - media/20180620-1801080o.csv
--|Total|-Total-|--Avg--|-Avg-|Avg-|-Avg-|-Max-|-Avg
--|Dist-|-Time--|-Pace--|-Pwr-|SPM-|-HR--|-HR--|-DPS
--|10513|57:34.0|02:44.3|116.6|22.9|151.7|179.0|08.0
W-|04047|17:03.0|02:06.5|195.2|28.0|162.5|178.0|08.5
R-|06480|40:31.0|03:07.6|083.5|20.7|147.2|178.0|08.3
Workout Details
#-|SDist|-Split-|-SPace-|-Pwr-|SPM-|AvgHR|MaxHR|DPS-
01|00108|00:28.0|02:10.2|181.5|23.5|162.3|165.0|09.8 - wu
02|00144|00:36.8|02:07.8|168.2|26.0|157.7|163.0|09.0 - wu
03|00159|00:38.5|02:01.3|210.9|27.8|155.6|162.0|08.9 - wu
04|00174|00:41.0|01:58.2|204.0|29.3|158.7|166.0|08.7 - wu
05|00143|00:31.5|01:49.8|270.9|34.1|160.8|169.0|08.0 - wu
06|00441|01:53.2|02:08.5|190.2|26.4|159.8|172.0|08.8 - 1
07|00432|01:49.2|02:06.2|184.6|27.4|169.3|176.0|08.7 - 1
08|00424|01:47.6|02:06.9|192.9|26.7|164.6|176.0|08.9 - 2 (after the flip)
09|00548|02:24.4|02:11.8|192.8|27.1|159.7|178.0|08.4 - 2
10|00437|01:49.5|02:05.3|195.5|29.5|160.7|174.0|08.1 - 3
11|00428|01:46.7|02:04.5|205.9|31.0|171.5|178.0|07.8 - 3
12|00415|01:47.5|02:09.4|188.3|27.9|157.7|171.0|08.3 - 4
13|00195|00:49.8|02:07.8|193.4|28.9|165.9|169.0|08.1 - 4 (abort)
So, points for persistence.  But I have to say, it was a pretty discouraging workout.
Thursday – June 21: Drills on the fives.
Plan:
Session: 3 x 25′

Rest between: 3'
Rating/Pace:  Alternate 4' @ Cat VI pace; target SR 18-20/ 1' of drills.

Half-slide and Quarter-slide rowing to work on drive suspension.
Delayed feather rowing to work on clean release then feather away.
Open fingers on the recovery to set posture, weight over the handles.
Pause arms/body away for rhythm out of bow and setting full angle.
This was going to be something new for me.  I haven't done some of these drills in a single before.  After the hard session the day before, I was looking forward to something tame.  Because my river is not 25 minutes long, I just rowed and did the drills every five minutes.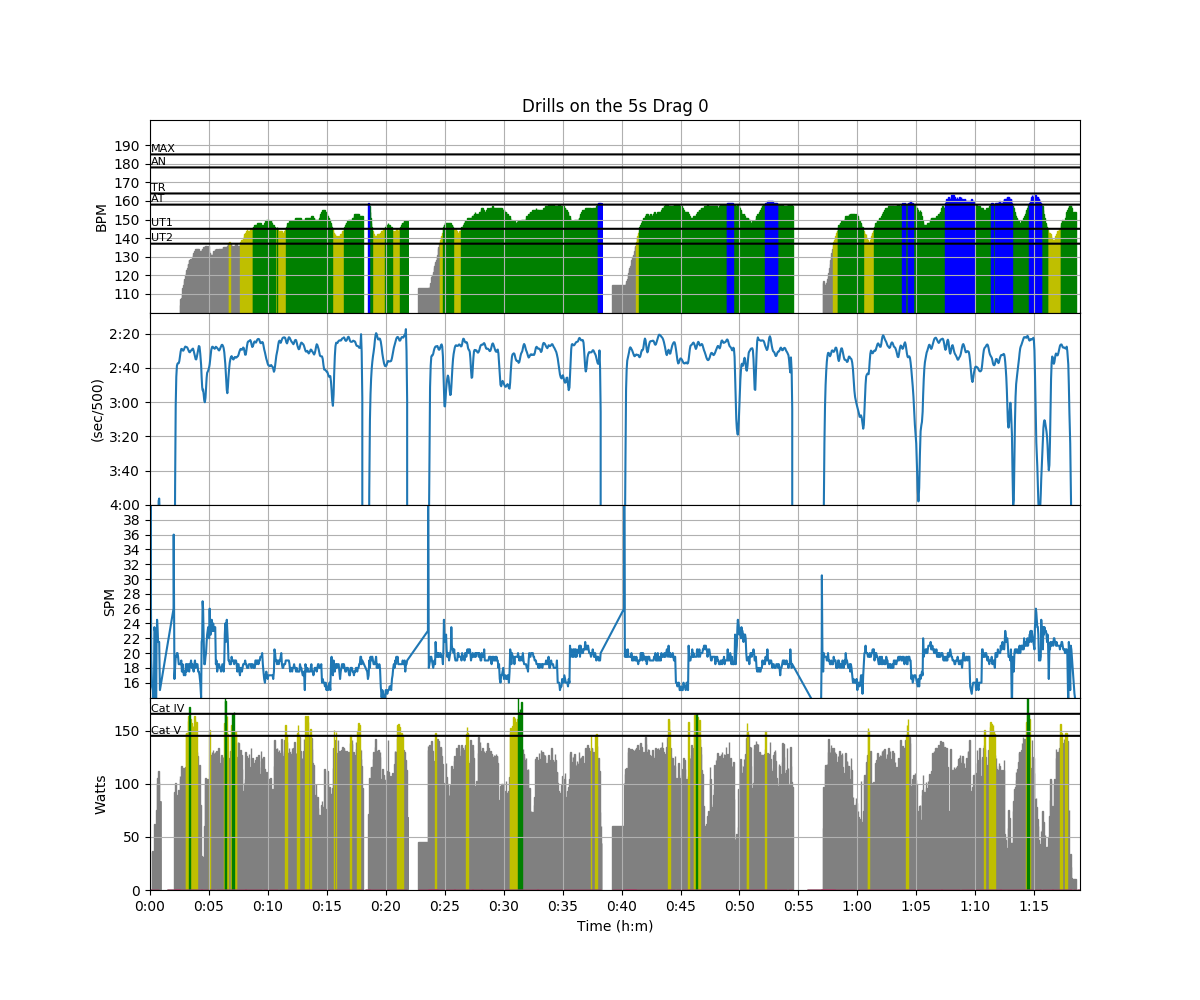 I had a blast!  The drills were a mental and technical challenge.  The half and quarter slide drill was very familiar and easy.  Delayed feather was really good to work on release and balance.  Open hands on recovery was frighteningly hard!  When it worked it was great, but the moment on recovery when you regrip the oars is a moment of great uncertainty.  Sometimes, I would smoothly regrip, square, and catch.  Other times, I would not get a clean regrip and it had a very high pucker factor.  It got easier as I went along.  Finally, pause at body over is exactly the drill I need to do all the time to continually work on getting my posture right on recovery.
Friday – June 22:  More Drills on the 5s
I had such fun with it on Thursday, that I did it again!  I had less time because I had a customer visiting us first thing in the morning.  I couldn't risk being late for that.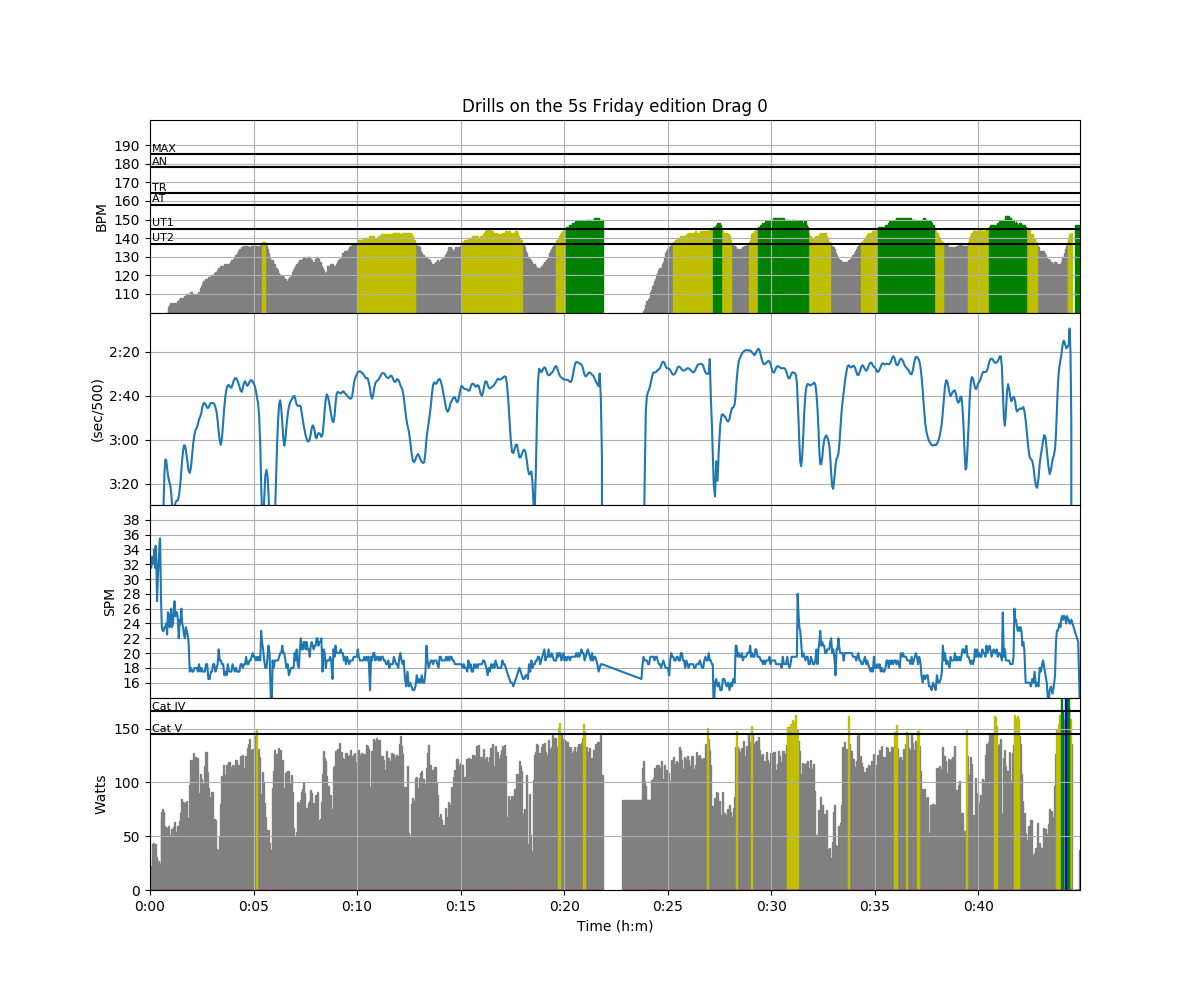 It was just as much fun on the second day.  This workout needs to be part of my weekly rotation all season long.
Saturday – June 23:  2 x 25′ / 5′ On Slides
Down on the cape.  The weather was terrible.  I ended up erging in the basement.
The plan:
2 x 25'

Rest: 5'
Rating/Pace: Cat VI; target SR 18-20.
At every 5-minute mark include an Acceleration 15 raising the stroke rate 2 spm every 5 strokes.
For example: 26-28-30, 28-30-32.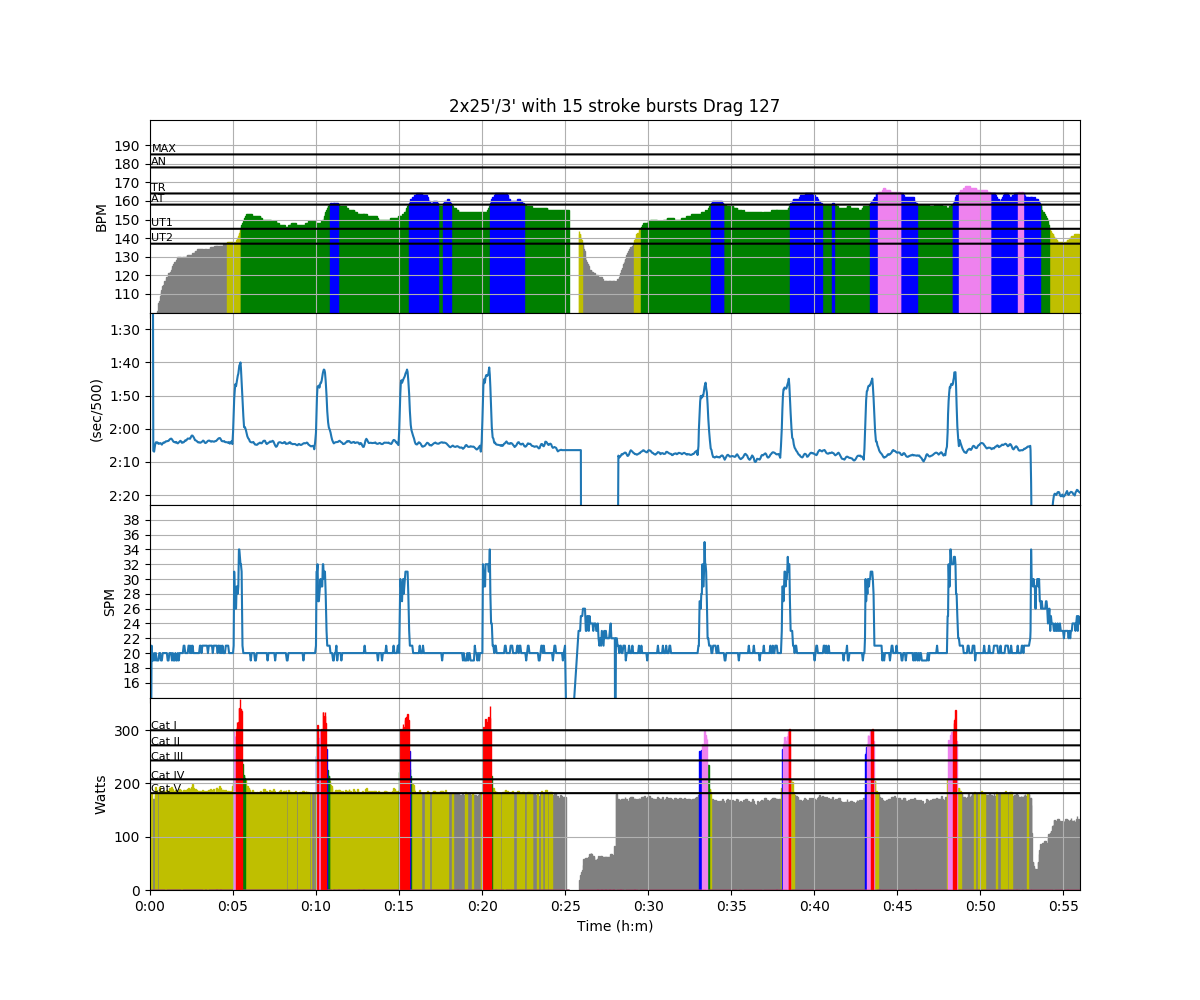 Workout Summary - media/20180623-2140240o.csv
--|Total|-Total-|--Avg--|-Avg-|Avg-|-Avg-|-Max-|-Avg
--|Dist-|-Time--|-Pace--|-Pwr-|SPM-|-HR--|-HR--|-DPS
--|13097|55:59.0|02:08.2|176.3|21.2|151.1|168.0|11.0
W-|01781|06:45.0|01:53.9|258.2|26.4|151.5|164.0|09.9
R-|11325|49:14.0|02:10.4|165.0|20.5|151.0|164.0|10.0
Workout Details
#-|SDist|-Split-|-SPace-|-Pwr-|SPM-|AvgHR|MaxHR|DPS-
01|00004|00:03.1|06:48.1|140.6|00.0|079.0|79.0|00.0
05|00012|00:03.0|02:03.0|170.1|20.0|088.0|88.0|12.2
06|00271|01:00.3|01:51.2|258.2|24.8|144.7|153.0|10.9
07|00278|01:01.9|01:51.2|260.7|25.9|152.0|159.0|10.4
08|00253|00:55.7|01:50.1|266.9|25.9|156.0|162.0|10.5
09|00196|00:42.8|01:49.0|274.1|28.0|156.1|162.0|09.8
10|00197|00:44.4|01:52.3|247.6|26.6|154.4|157.0|10.0
11|00194|00:43.3|01:51.3|255.5|27.6|156.2|160.0|09.8
12|00189|00:41.7|01:50.6|261.5|27.4|159.1|163.0|09.9
13|00186|00:40.7|01:49.5|271.0|29.7|159.4|164.0|09.2

Sunday – June 24:  80′ Coastal Row
The weather was still a bit iffy, but I really wanted to row.  I launched from the north beach and headed up toward wellfleet.  There was a bit of wind (mainly from the West) and I headed a bit toward Great Island to get a bit more shelter and flatter water.
I ended up rowing around Chequesset Pond, which was lovely.  Flat water, nice scenery.  Then I headed over toward the inner harbor.  The chop got worse as I got further away from the shelter of Great Island.
The row from the breakwater back to my launch point was difficult.  The waves were basically on my beam and very irregular.  I had trouble finding a good rhythym and keeping it.  But as I entered the lee of the island, the water smoothed out and I felt reenergized.  I raised the rate to 24 and punched out the last 3 minutes.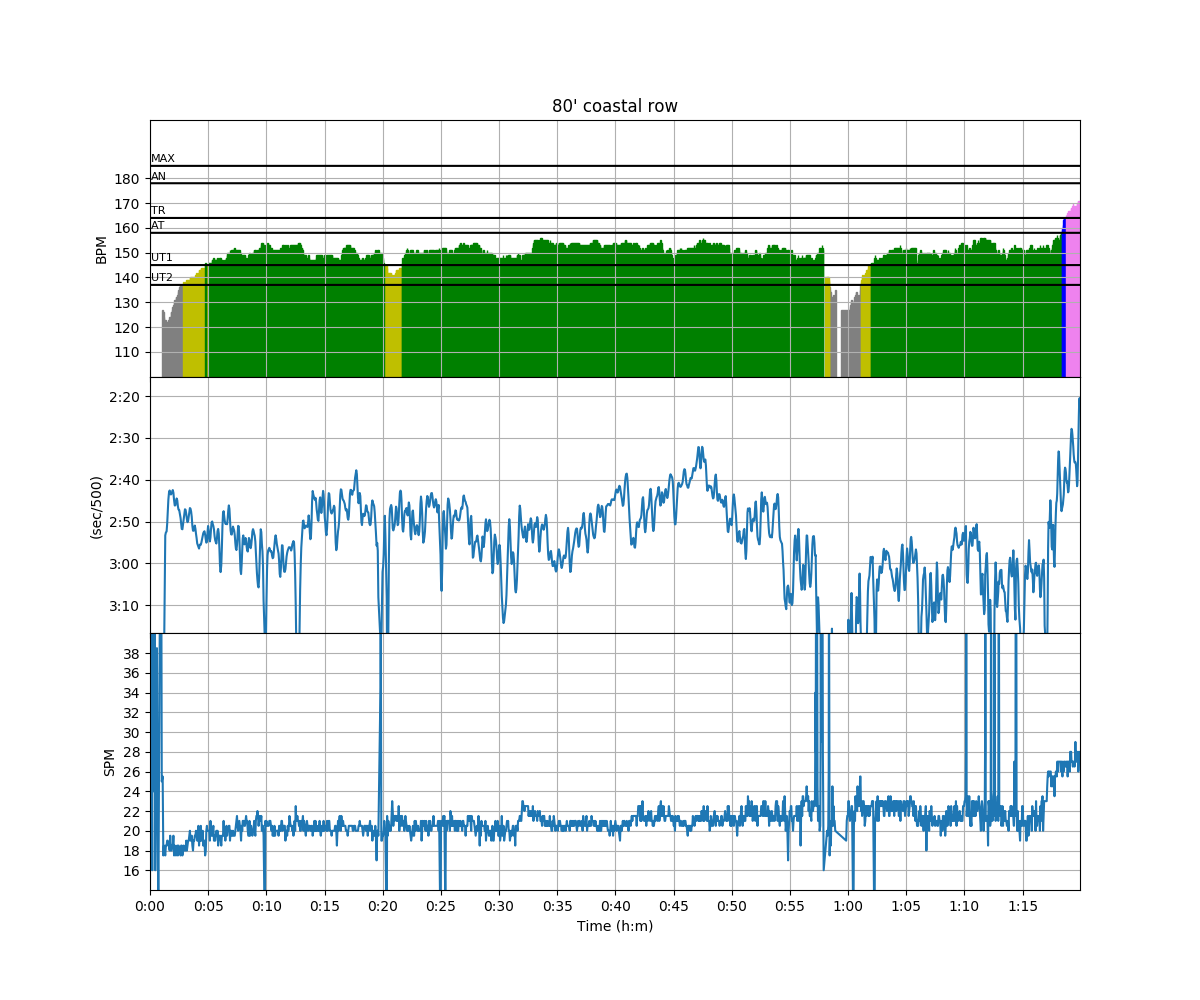 Monday – June 25: Rest Day
We left the cape really late and didn't get home until about 10.  I tried to get up, but felt very tired and went back to bed.
Tuesday – June 26: Rest Day
I was leaving for the Netherlands in the evening, but I hoped to row in the morning.  But I had another late night with work calls, and I ended up sleeping in again.  I brought my workout stuff to work with me, hoping to sneak down to gym for a quick workout before I left, but I had a lot of loose ends to tie up before I left.
Wednesday – June 27: 10K push.
I left Boston at around 8pm.  Arrived in Heathrow around 7am, and Amsterdam around 11:30.  Then we caught the train to Nijmegan, arriving around 1:30.  A quick shower, and then into a prep meeting with my colleagues.  This wrapped up around 5:00 and we decided to meet at 6:30 for dinner in the hotel.
With 90 minutes to burn and feeling pretty tired, I didn't want to risk falling asleep, so I headed to the hotel gym. Which, as it turned out, was huge, and beautiful, and had 2 Conceot2 Model E rowing machines!
I grabbed a machine and decided to do a 10K push.  I'd start slow and hopefully shave a second per 1000 meters off the pace.
The machines had PM4s, and I didn't have my cable, so I did these old style.  I used my HR monitor with the wahoo app on my phone and just saved HR.
Sadly, it ended up being just right.  I finished with my HR very close to my HRMax and the highest HR I've seen all season.  There's no way to avoid the truth.  I'm about 5 seconds off the paces that I could do when I was at my fittest.
Thursday – June 28:  Aborted session
I had a meeting at 10AM, so I slept until around 7:30 and went back to the gym.  The place was an oven.  Those big windows that you see in the picture must be facing east because the ergs we in direct sunlight.  It was right in my eyes.  And it was hot as hell.
I was going to do a 3 x 15′ easy session, but I gave up after 15 minutes.  My heart was just not in it.  I think I dug a bit too deep the day before and it was a short turn around time, only about 13 hours between sessions.
The meeting went well, and then we rushed to catch the train, and rushed to catch the flight to London.  I did a work call from Heathrow, and then hopped on the flight back to Boston, arriving at 9pm.  I was home by about 10:30.
Friday – June 29: 3 x 15′ /2′
I worked from home on Friday.  My wife and I were heading into Cambridge to have dinner with our boys, and then continuing on to the Cape after that.  I had calls scheduled from 10am to 5pm.
I got up with enough time for a quick erg session on the dreaded dynamic.  The objective was to just clear the cobwebs from all the travel.  So, I tried to keep the HR below 150.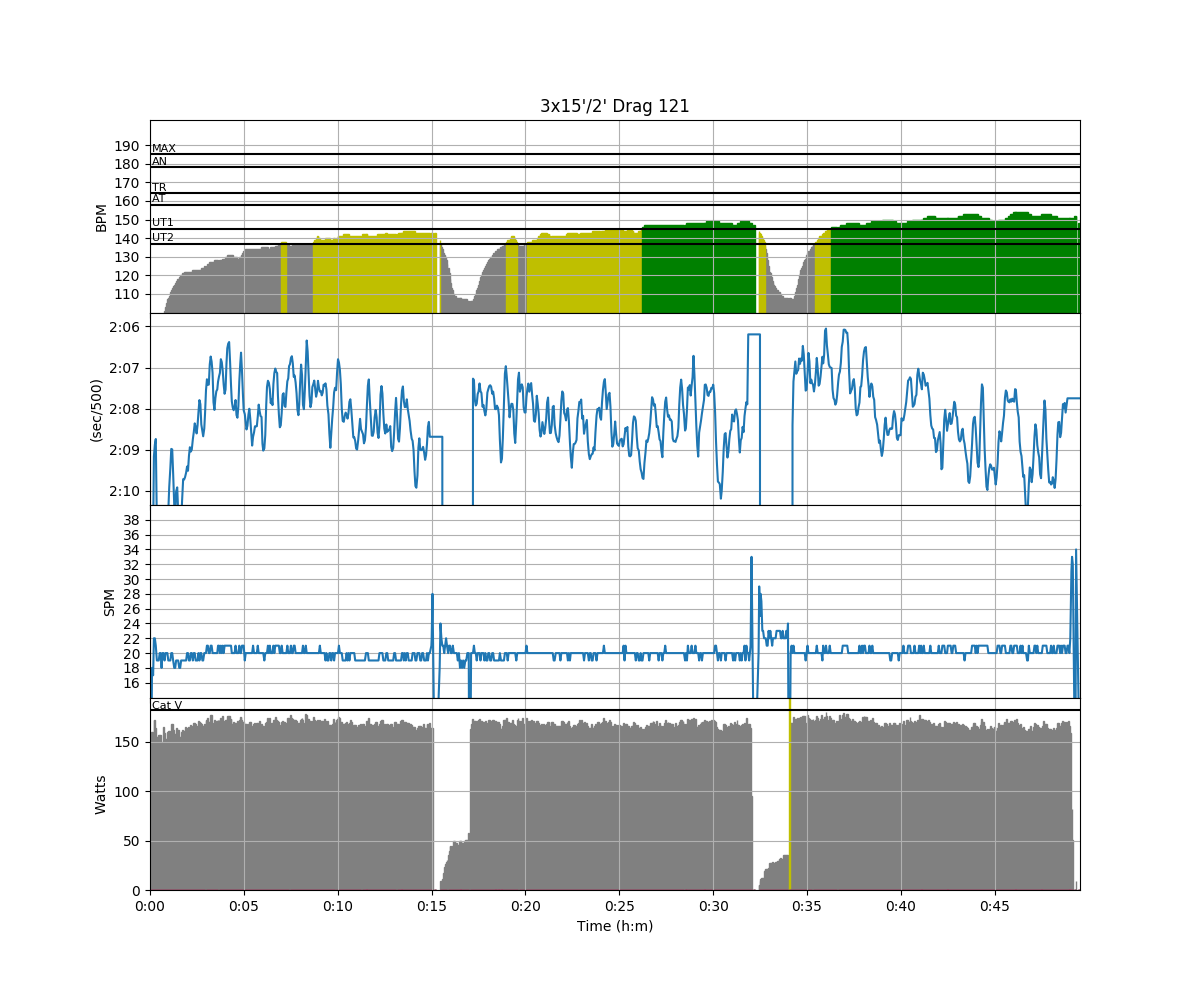 Intervals sliced at a 2:15 pace.
          Workout Summary - media/20180629-1335230o.csv
--|Total|-Total-|--Avg--|-Avg-|Avg-|-Avg-|-Max-|-Avg
--|Dist-|-Time--|-Pace--|-Pwr-|SPM-|-HR--|-HR--|-DPS
--|11116|49:33.0|02:13.7|154.8|19.8|139.2|154.0|11.3
W-|10480|44:36.0|02:07.7|167.8|20.0|140.6|154.0|11.8
R-|00638|04:56.0|03:52.6|037.8|18.3|126.3|154.0|10.0
Workout Details
#-|SDist|-Split-|-SPace-|-Pwr-|SPM-|AvgHR|MaxHR|DPS-
00|03522|14:59.5|02:07.7|167.5|19.7|132.1|144.0|11.9
01|03479|14:49.0|02:07.8|167.7|19.9|142.2|149.0|11.8
02|03479|14:48.0|02:07.6|168.3|20.3|147.7|154.0|11.6
Saturday – Jun 30: 80′ Coastal Row
We got down to the Cape around 11pm.  I did some errands in the morning and man it was HOT.  Skies were blue and there wasn't much breeze.  I hung out around the house and relaxed most of the day.
Around 4pm, I decided to go for a row.  The high tide was at 2pm, so I still had a couple of hours before beach access becomes more of a challenge.  I decided to do another row down to Eastham along the shore.
The wind was still light, and what there was of it was coming from the WSW.  The tide was ebbing, so the current was mainly behind me on the way out and I was going into it on the way home.
The chop was nasty at times.  It was a combination of lots of power boat wakes across long distances and a little bit of wind.  It made for very confused waves and challenging technical rowing.
I wanted a good UT1 workout, so I was aiming at HRs in the mid 150s.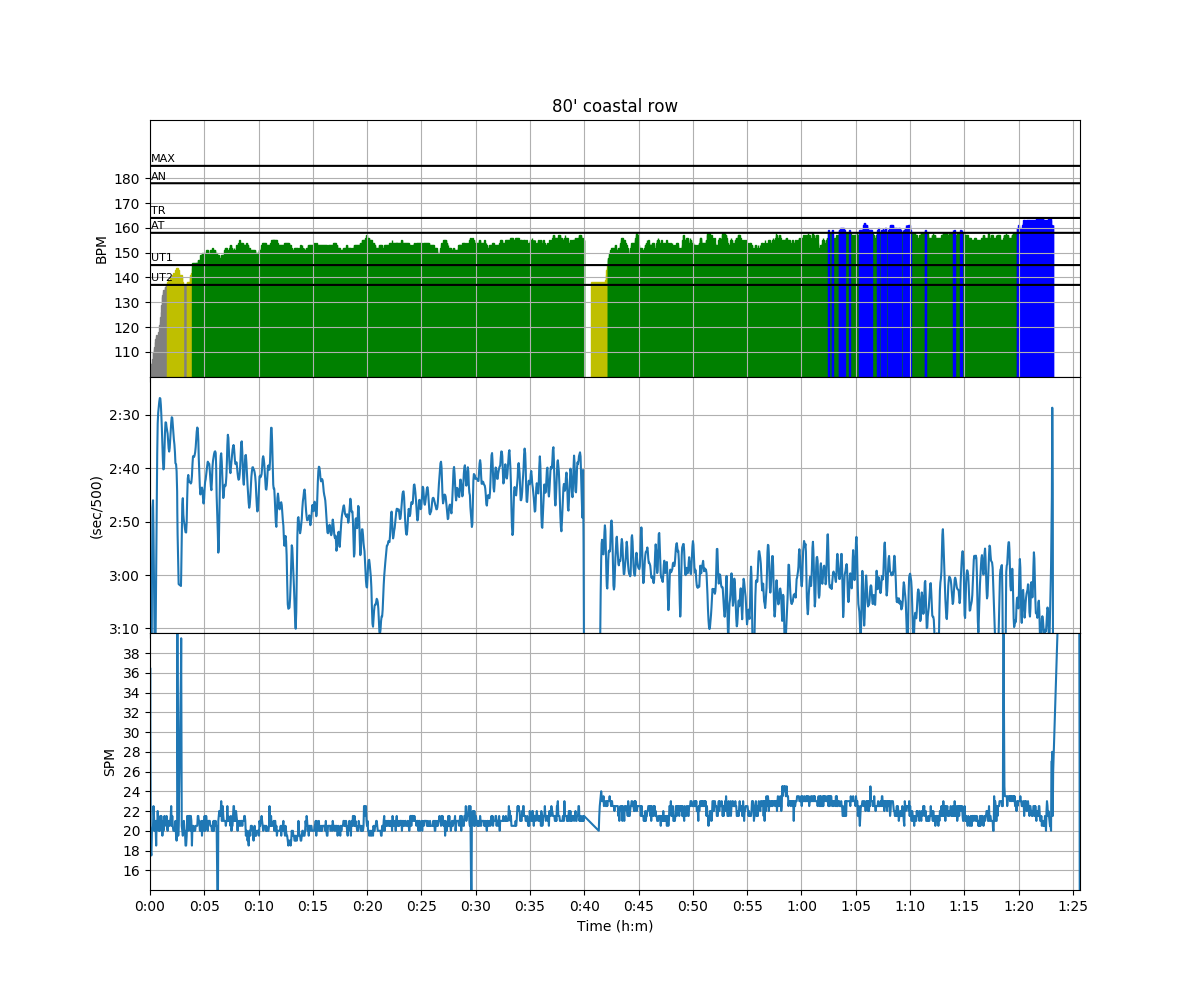 Workout Summary - media/20180701-0110230o.csv
--|Total|-Total-|--Avg--|-Avg-|Avg-|-Avg-|-Max-|-Avg
--|Dist-|-Time--|-Pace--|-Pwr-|SPM-|-HR--|-HR--|-DPS
--|14372|85:39.0|02:58.8|000.0|22.7|153.0|164.0|07.4
W-|13904|79:55.0|02:52.4|000.0|21.6|153.4|163.0|08.1
R-|00471|05:44.0|06:06.2|000.0|38.4|147.0|163.0|01.7
Workout Details
#-|SDist|-Split-|-SPace-|-Pwr-|SPM-|AvgHR|MaxHR|DPS-
00|07260|39:55.0|02:44.9|000.0|20.8|151.1|157.0|08.8
01|06644|40:00.0|03:00.6|000.0|22.3|155.7|163.0|07.4
I was reasonably tired after that!