Thursday 6 / 7 – in CA, red eye home.
After my fantastic row in San Diego on Thursday morning, I flew up to San Jose.  I had a meeting in the afternoon and a business dinner that evening.  I flew home on the Red Eye.
Friday 6 / 8 –  rest day after the red eye
I got in around 6 and was home by 7:30.  I needed to hop right in the shower and head up to the office for a 10 am meeting.  After that meeting, I had another, and another, and so on until around 5pm.  I headed home and my wife and I packed up and headed for the cape.  The forecast was sunny and warm for the whole weekend.
We got down there in the evening and settled in.  I was really tired and slept like a log.
Saturday 6 / 9 – 12km coastal steady state
I slept in until about 9, and then I went out to get delicious croissants for breakfast.  After lazing around for a while, we went out and bought some flowers to put in near the path to our door, came home and planted.  Around 5pm, it was really beautiful and there wasn't all that much wind, so I decided to go for a row.
I launched from the north beach, as usual, and headed up toward wellfleet harbor.  I didn't notice much at the time, but the tide was with me and so was a little bit of breeze.  My splits heading north to the harbor were quite fast for my tubby little aero.
After I turned around and headed out of the harbor against the tide and the breeze, it was payback time.  The splits were slow and the boat felt heavier.  Although it was just supposed to be a gentle evening row, the slow splits pushed me into putting in more effort.  Although my HR was a bit too, high, I was really enjoying myself.  On the way back, I rowed straight out to my favorite buoy and then turned due east to get back to the beach.  I did the last 3 minutes or so at a hard 24.
Another really enjoyable row.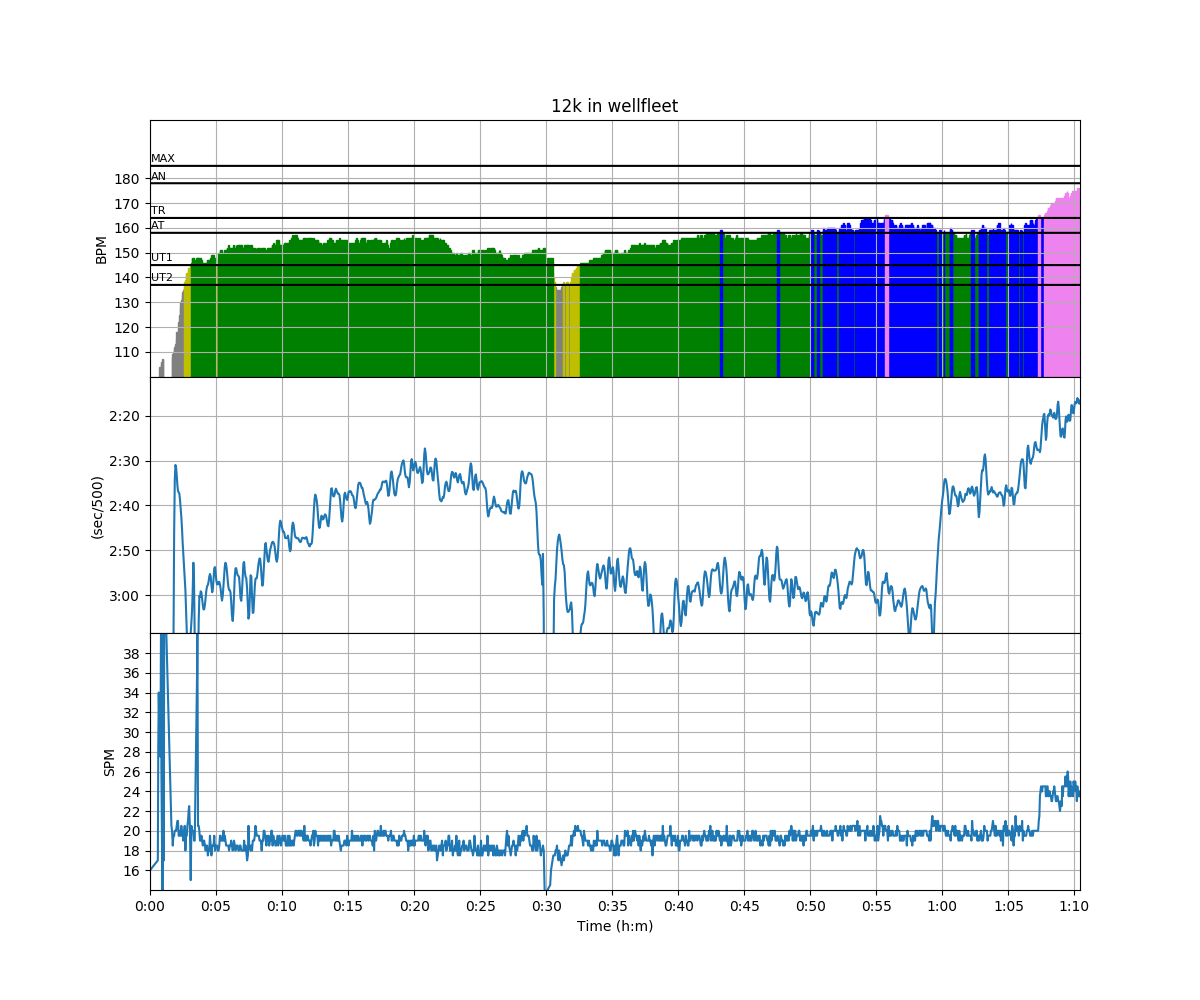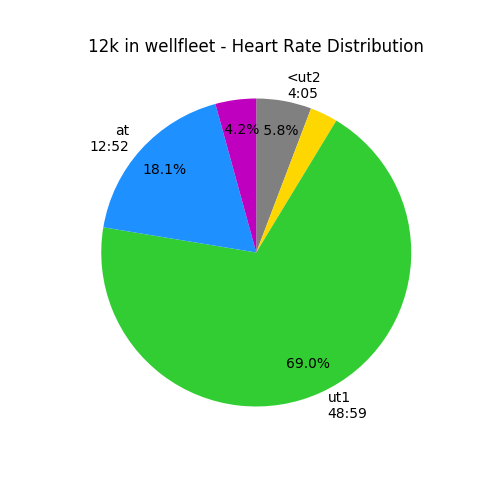 Workout Summary - media/20180610-0135230o.csv
--|Total|-Total-|--Avg--|-Avg-|Avg-|-Avg-|-Max-|-Avg
--|Dist-|-Time--|-Pace--|-Pwr-|SPM-|-HR--|-HR--|-DPS
--|12363|70:25.0|02:50.9|000.0|19.5|153.6|176.0|09.0
W-|11720|65:02.0|02:46.5|000.0|19.4|155.5|176.0|09.3
R-|00648|05:23.0|04:09.4|000.0|20.0|130.3|176.0|00.0
Workout Details
#-|SDist|-Split-|-SPace-|-Pwr-|SPM-|AvgHR|MaxHR|DPS-
01|04707|25:19.0|02:41.4|000.0|18.8|152.6|157.0|09.9
02|04849|28:50.0|02:58.4|000.0|19.3|155.4|165.0|08.7
03|01491|07:45.0|02:35.9|000.0|19.8|158.9|164.0|09.7
04|00673|03:08.8|02:20.3|000.0|23.9|170.8|176.0|09.0


Sunday – 6 / 10 – 14km coastal steady state
I was up around 8 and I decided to go for a row before the wind started to build.  It turns out I didn't quite succeed at that.
I launched from the north beach and looped around the island to go south toward Eastham.  The forecast was for the wind to be from the east, so I figured if I hugged the shore, I would be sheltered and have reasonable smooth water.
As I went, I felt the wind building a bit, but it seemed my plan was working.  The water was nice and smooth, and although I would be buffeted by some of the gusts, it was a nice ride.  I wanted to be done in about 70 minutes, so I rowed for 35 and turned around.  It was then that I noticed that the wind was really coming more from the NE or even the NNE and I had a long slog into to get home.
I rowed in as close to the beach as I could get, and slowly made my way up the Eastham shore.  I was not looking forward to leaving the lee of this shore when I got up to point where I needed to cut over to the west side of Lt Island.  When I got there, it was really tough rowing.  The waves were on my starboard bow, and they were throwing me around a bit.  I made quick decision to turn east and row straight upwind so I would be going right into the waves.  This was slow, but much better rowing.  The boat was nice and stable and I just kept pushing along.
I was looking over my shoulder every ten strokes or so, and it made me nervous every time seeing these well define rolling waves with white caps on them.
Eventually, the salt marsh on the inner side of the island finally started to get closer, and then, before I knew, I was right on the edge of the marsh.  The wind was blocked by the island, the water flattened out, and I turned to follow the shore.  Now the wind was behind me, so was the tide, and the water was flat.  I torn along the south edge of the island until I came out of the wind shadow along the westward side.
Then it was a short final slog into the wind to the beach.
It was interesting, I felt like I was working hard, but my heart rate was nice and low.  The sun was out, the sky was blue and it was the perfect temperature.  When I landed, I was so glad that I had gone out.  Coastal rowing is a very different experience from flat water rowing, but a total blast.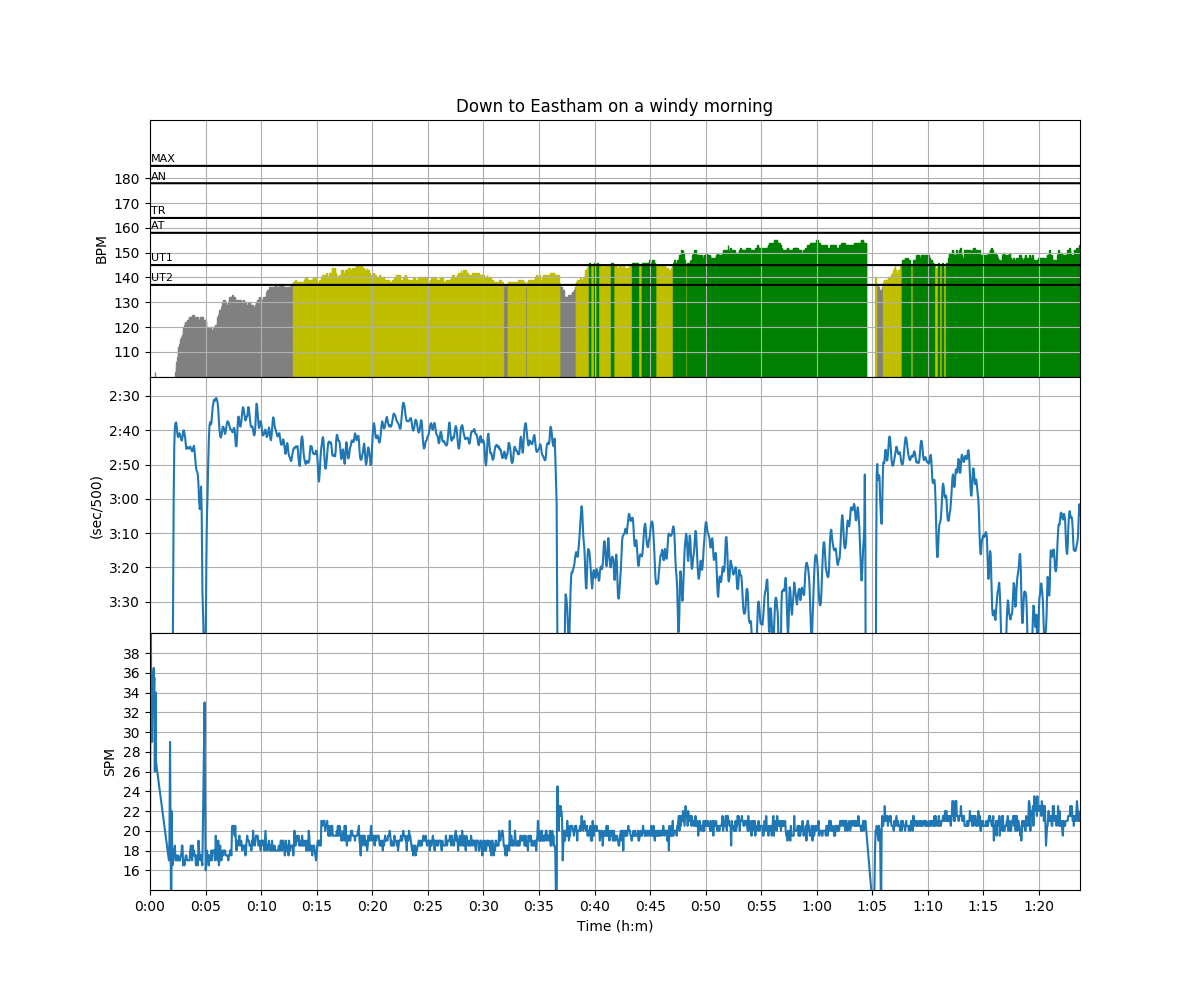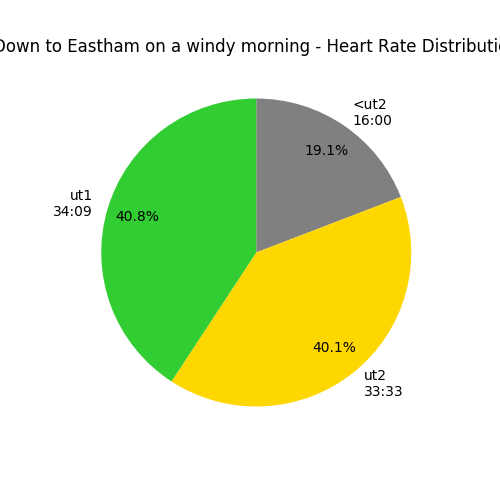 Workout Summary - media/20180610-1540220o.csv
--|Total|-Total-|--Avg--|-Avg-|Avg-|-Avg-|-Max-|-Avg
--|Dist-|-Time--|-Pace--|-Pwr-|SPM-|-HR--|-HR--|-DPS
--|13642|83:41.0|03:04.0|000.0|19.7|141.7|155.0|08.3
W-|13644|83:41.0|03:04.0|000.0|19.7|141.7|155.0|08.3
R-|00000|00:00.0|00:00.0|000.0|00.0|000.0|155.0|00.0
Workout Details
#-|SDist|-Split-|-SPace-|-Pwr-|SPM-|AvgHR|MaxHR|DPS-
00|00118|02:07.0|08:59.9|000.0|21.2|095.2|106.0|02.6 - getting set
01|06345|34:21.0|02:42.4|000.0|18.8|136.2|145.0|09.8 - downwind
02|04307|29:22.0|03:24.5|000.0|19.9|147.7|155.0|07.4 - up wind
03|01537|08:47.0|02:51.5|000.0|21.0|146.6|152.0|08.3 - sheltered
04|01337|09:04.1|03:23.4|000.0|21.0|148.7|153.0|07.0 - upwind
I was pretty worn out for the rest of the day though.
Monday – 6 / 11 – Steady State and drills
By the plan, this was supposed to be a rest day, but everything has been so disrupted, that I just decided to do a nice steady state session and work on some basics.
I started with a complete pick drill, did some legs only rowing.  I also did at least 10 reps of the KOM drill at the start and at each turn.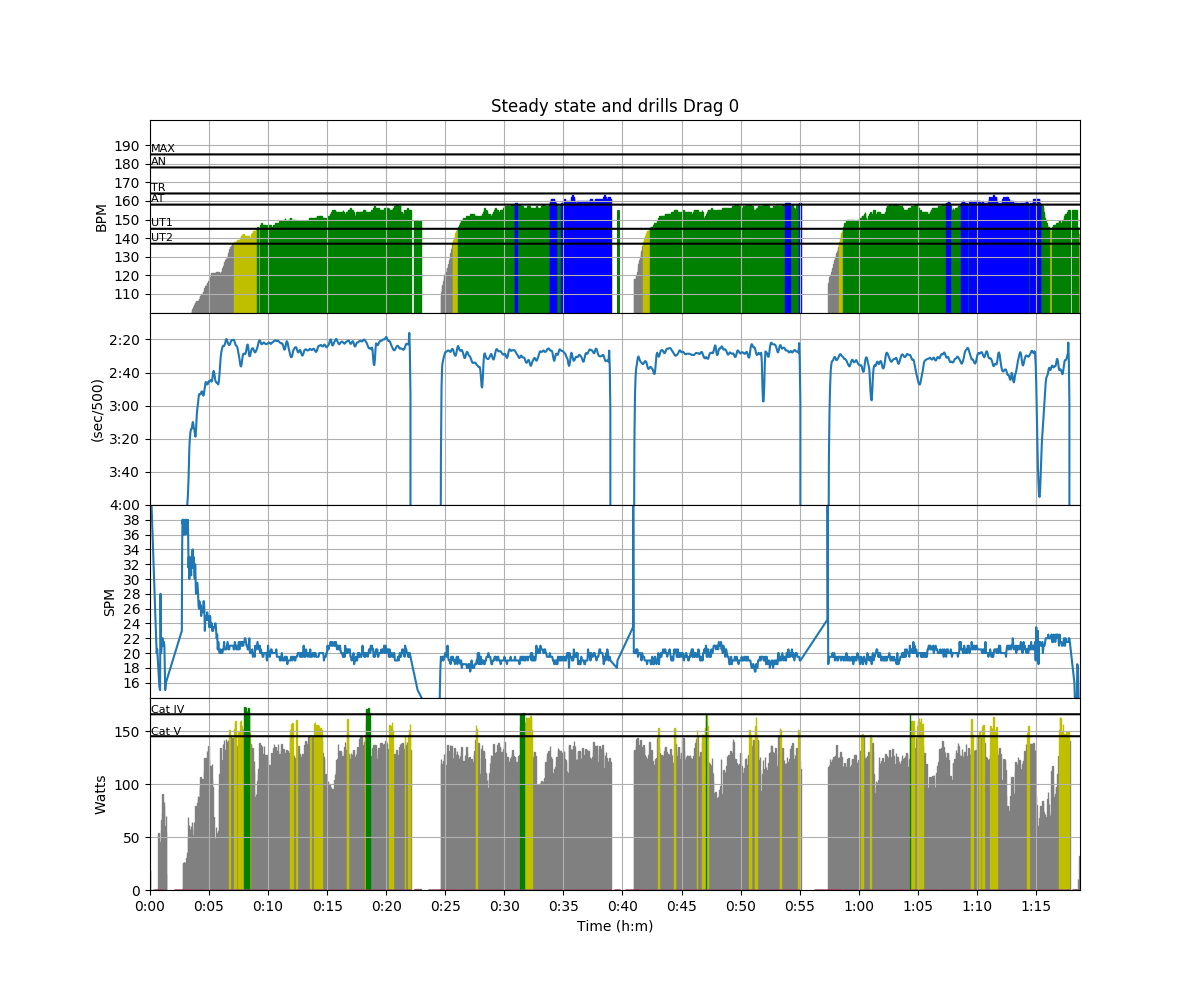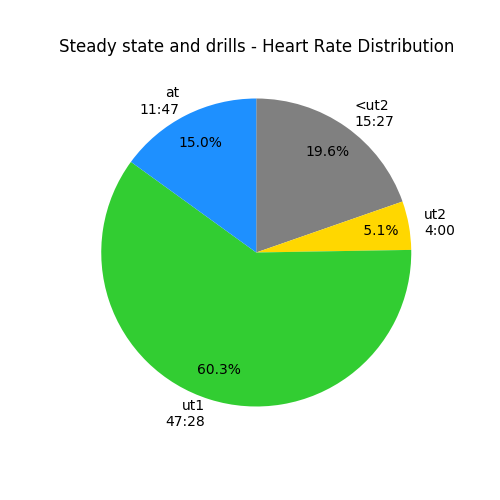 Workout Summary - media/20180611-1745210o.csv
--|Total|-Total-|--Avg--|-Avg-|Avg-|-Avg-|-Max-|-Avg
--|Dist-|-Time--|-Pace--|-Pwr-|SPM-|-HR--|-HR--|-DPS
--|13950|78:43.0|02:49.3|110.8|20.0|145.4|163.0|08.8
W-|13286|65:57.0|02:28.9|124.6|19.9|151.6|163.0|10.1
R-|00669|12:47.0|09:33.3|040.2|20.7|113.3|163.0|05.8
Workout Details
#-|SDist|-Split-|-SPace-|-Pwr-|SPM-|AvgHR|MaxHR|DPS-
01|03725|18:03.3|02:25.4|127.4|20.5|145.6|158.0|10.0
02|02878|14:17.8|02:29.0|126.0|19.3|154.2|163.0|10.5
03|02841|13:59.9|02:27.8|124.3|19.5|153.1|159.0|10.4
04|03437|17:30.0|02:32.7|122.2|20.0|155.0|163.0|09.8
05|00405|02:06.0|02:35.5|111.2|21.8|148.6|155.0|08.9

Nice fast splits for the first 3 segments.  I felt great too.
Tuesday – 6 / 12 – Starts
The plan is as follows:
Race warm up
5 x 20-stroke starts

Rest between: 3'
Rating/Pace: SR 36-40 (or your most efficient rating)
Notes: Steer straight, clean releases, same sequence as planned for your race.

2 x 9'

Rest between: 2'' easy rowing
Rating/Pace: Cat V: SR 22
Notes: Focus on your releases.
As it turns out, I deviated a bit from the plan.  I ended up doing more starts than planned, and a bit less of the steady state rowing.  I think I also skimped a bit on the warmup.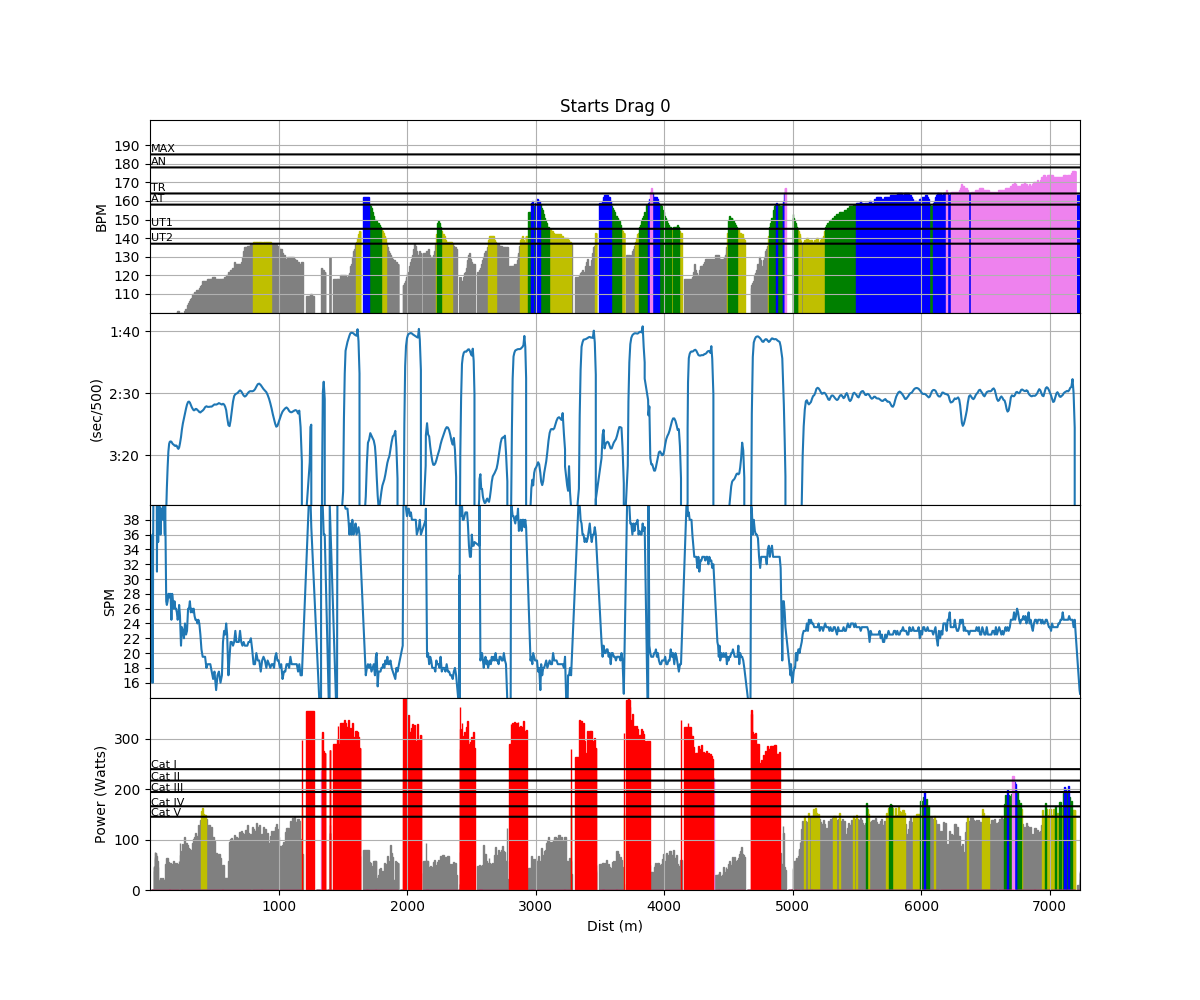 The conditions were far from perfect.  There was a reasonably strong breeze.  You can see the first 2 starts are downwind, then 2 upwind, then two down, then two up.  The last two starts, I extended out to thirty strokes and settled to race rate, around 32 after 10 strokes.
I did about 11 minutes or so of steady state rowing at the end.
6 / 13 – Rest Day
I couldn't get out of bed at 5:15.  I tried, and failed.
6 / 14 – A horribly bad workout.
It was supposed to be this.
4 x (2' with your start sequence, paddle 1' then, 2' 1k base pace)
Rest between: 4'
Rating/Pace: 1k base pace
But I just couldn't put together a good 2′ piece to save my soul.  I don't know what the hell was wrong with me, but I was ready to withdraw from the Cromwell Cup, quit racing and never sprint again.  I was a quintessential drama queen!
Ultimately, I gave up on the workout and tried to one minute on / one minute off.  That seemed to work a bit better, but I think I have to push through this problem next week.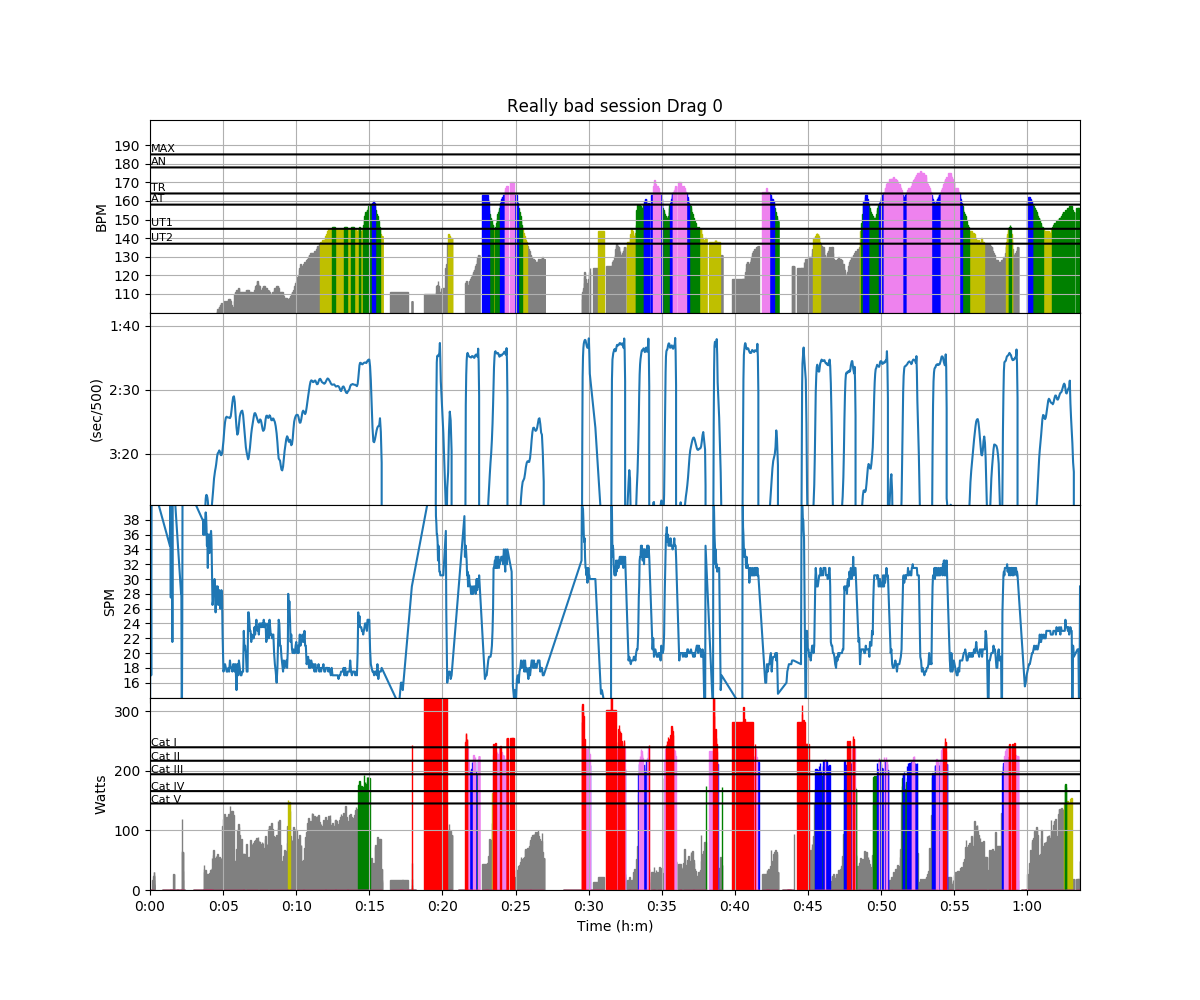 Workout Summary - media/20180614-1735190o.csv
--|Total|-Total-|--Avg--|-Avg-|Avg-|-Avg-|-Max-|-Avg
--|Dist-|-Time--|-Pace--|-Pwr-|SPM-|-HR--|-HR--|-DPS
--|09028|63:34.0|03:31.3|123.6|24.4|132.4|176.0|05.8
W-|03686|15:44.0|02:08.1|195.9|28.1|143.3|174.0|08.6
R-|05358|47:51.0|04:28.0|099.9|23.2|128.8|174.0|07.3
Workout Details
#-|SDist|-Split-|-SPace-|-Pwr-|SPM-|AvgHR|MaxHR|DPS-
01|00895|04:13.6|02:21.7|127.9|18.9|143.7|158.0|11.2
02|00075|00:18.2|02:02.0|244.1|32.9|113.0|117.0|07.5
03|00213|00:52.8|02:04.0|211.4|29.4|121.1|131.0|08.2
04|00234|00:57.2|02:02.3|226.2|32.4|156.7|168.0|07.6
05|00129|00:29.5|01:54.1|238.4|32.6|117.6|124.0|08.1
06|00224|00:52.0|01:56.1|239.2|32.2|132.4|137.0|08.0
07|00165|00:39.4|01:59.2|215.0|33.5|158.1|161.0|07.5
08|00184|00:43.0|01:56.6|246.3|34.9|158.9|168.0|07.4
09|00070|00:16.2|01:55.7|247.0|33.3|138.2|139.0|07.8
10|00256|01:00.8|01:58.5|231.3|31.6|128.4|136.0|08.0
11|00237|01:01.9|02:10.7|185.1|30.1|135.5|143.0|07.6
12|00147|00:39.6|02:14.5|228.1|30.2|126.5|132.0|07.4
13|00207|00:54.1|02:10.7|201.7|29.9|160.6|170.0|07.7
14|00218|00:56.2|02:08.6|200.4|30.9|167.7|174.0|07.5
15|00208|00:54.0|02:09.6|219.3|31.1|164.5|172.0|07.4
16|00223|00:55.7|02:04.9|231.1|31.2|136.6|147.0|07.7

One thing I've noticed.  With the technical changes that Marlene has had me working on, I can row cleanly at high rates.  Up above 32.  And I can move the boat very fast.  But I burn out very fast too.  I have to find the pace and pressure I can sustain over four minutes.
This workout left me grumpy all day long.
6 / 15 – Steady State and drills
I had an 8 am meeting so I got on the water early, and I only had an hour.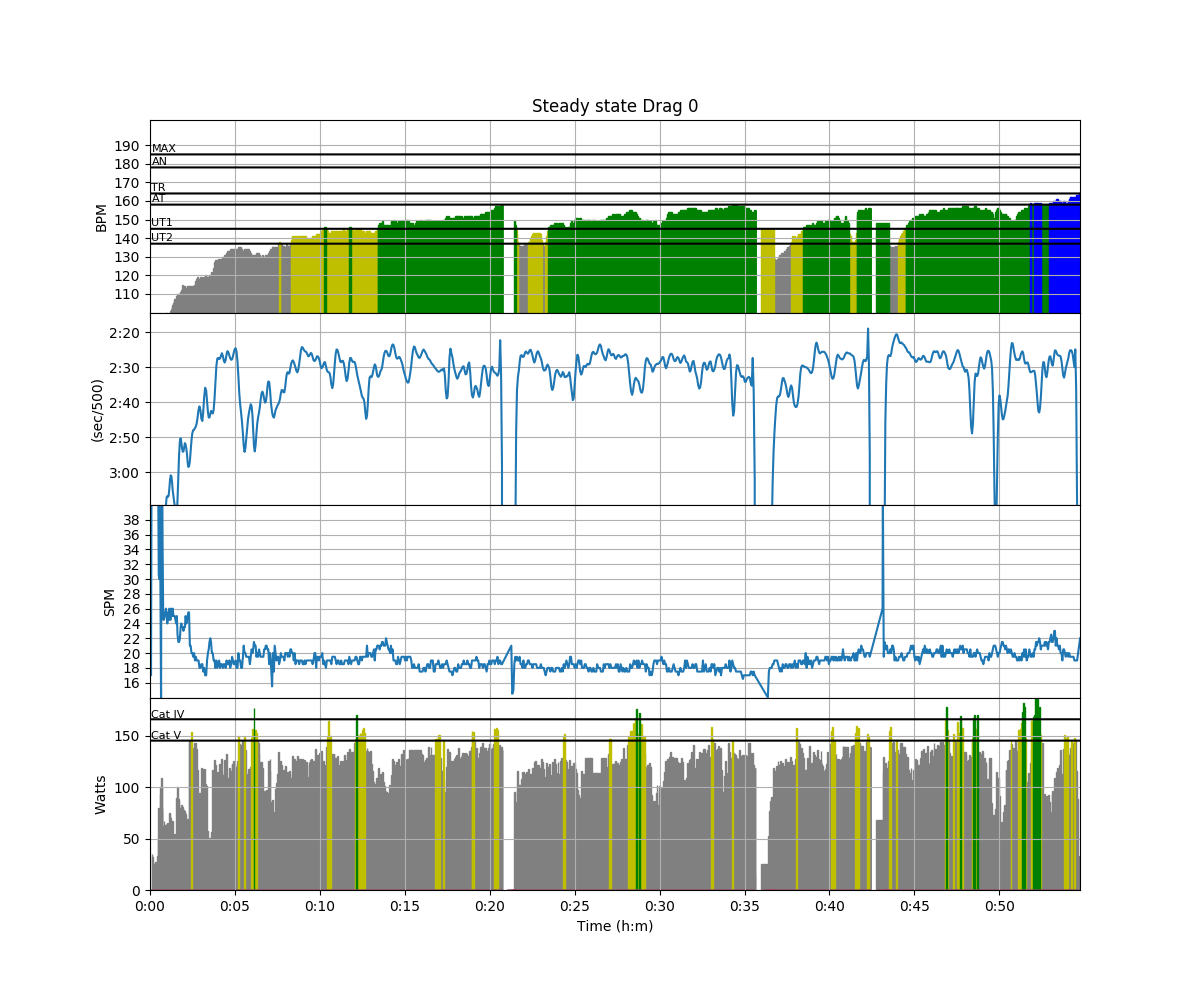 It was a bit windy and I was pretty slow.
Saturday – 6 / 16 -Random fun on Lake Quinsigamond
I went out with a mixed double.  We are reasonable well matched in speed.
We rowed low rate, but good pressure to the south end of the lake, then did some drills for a bit of the way back north.  Then a bit more steady state.  Finally when we got to the north end of the lake, we decided to play leapfrog.  That was a blast.  They would take off and when they were clear ahead, they would call "clear".  That was my cue to speed up and their cue to paddle.  When I got clear ahead, I'd call "clear" and it was their turn.
We did that for about 2km.  Then we steady stated our way back to the dock.
The only problem with the session was my speedcoach running out of memory and not recording all my leapfrog strokes.
Here's the data from RIM.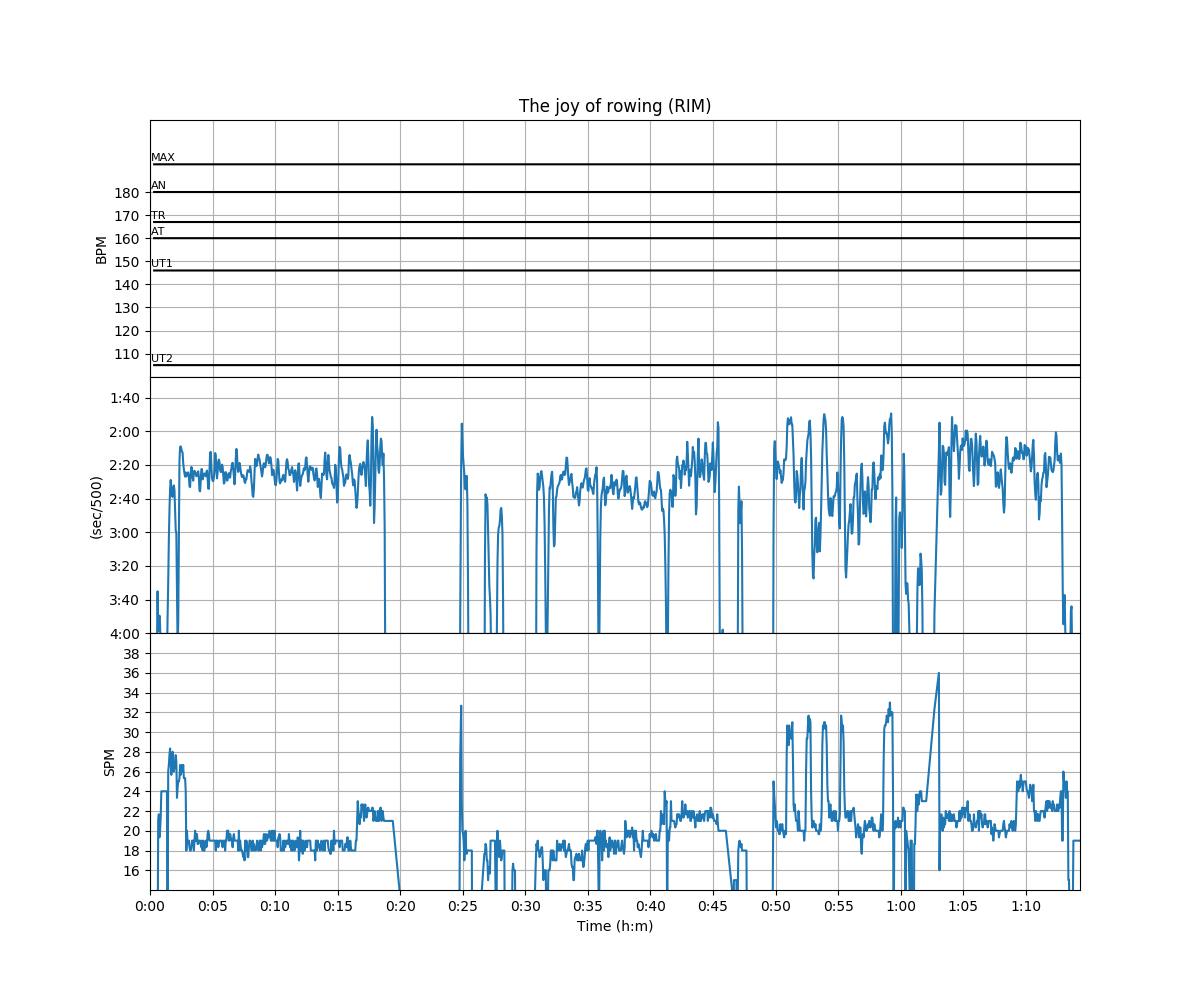 Whew!  Now I'm all caught up!