I flew out to San Diego on Wednesday.  I had a business dinner that evening.  Through facebook, I had made contact with the Dan O'Neill of the San Diego Rowing Club, and he graciously offered to row a double with me on Thursday morning.
I showed up a bit before 6am, and met Dan, along with a whole slew of other master rowers.  The SDRC is a remarkable club.  They have hundreds of members, an active and successful juniors program, a fleet of shiny well maintained boats, almost all of which are bright red, and a beautiful location, right on Mission Bay.
We launched from the beach.  I was embarrassed that I didn't know how to do a stylish beach launch.  It's sort of like the european dock launch where you push off with one foot on the seat deck and then sit down smoothly as your boat glides sideways to deeper water.  Instead, we paddled a bit from the beach and put on our socks, got our feet in the shoes and began our row.
Dan is a great rower.  He has been rowing for decades, and knows every nook and cranny of Mission Bay.  We worked our way through a pick drill and he tried to get used to my stroke style.  We rowed our warmup out to the spot where the club tends to gather to start their workouts.  We were supposed to meet a men's quad, but we didn't see them around, so we started on our own.
The planned workout was
2 x 19′ rate ladders with a few minutes rest between.

4′ at 20
3 at 22
2′ at 24
1′ at 26
2′ at 24
3′ at 22
4′ at 20
I think I was a bit too self conscious and insecure in the first pyramid.  I rowed at much higher pressure for the rates than I normally do and I think my form suffered for it.  I also suffered in general, since my HR shot up quickly and stayed there.  After the minute at 26, I managed to relax a little bit.  Or maybe I was just to winded to care too much, and my rowing seemed to improve.  My finishes got a bit better and I felt like I was doing a better job in general.
After the first piece we hung out for a while just chatting.  Dan is a really interesting guy.  He has been a principal in a number of software startups and is active in some really interesting STEM education stuff like first robotics.  We ended up resting a bit longer than we should have, but eventually got going again.  The second ladder was much smoother then the first and I didn't push quite as hard.  After that one, we did a couple of starts, which were pretty shaggy, but fun nonetheless.  Then it was time to get back to the boathouse.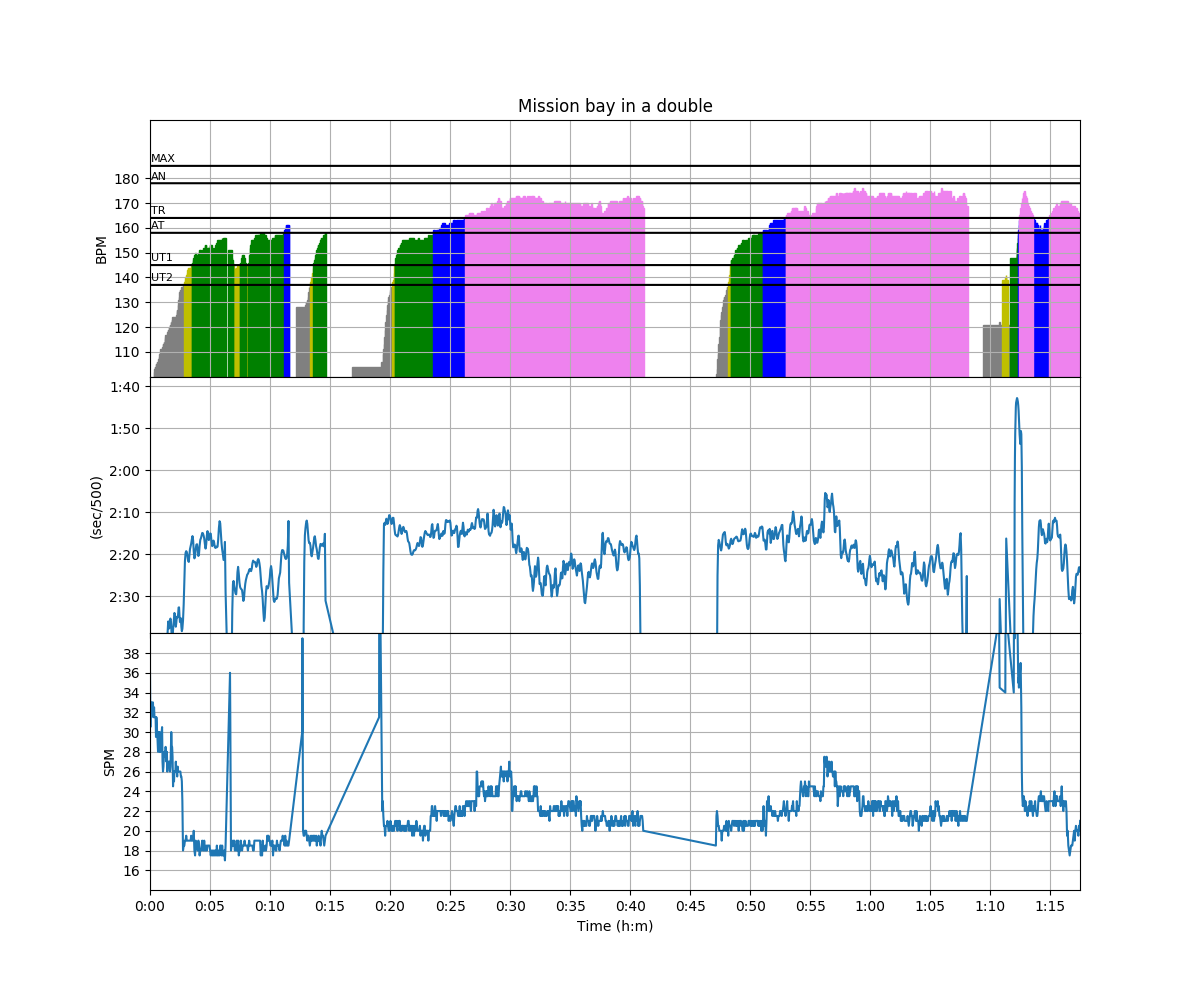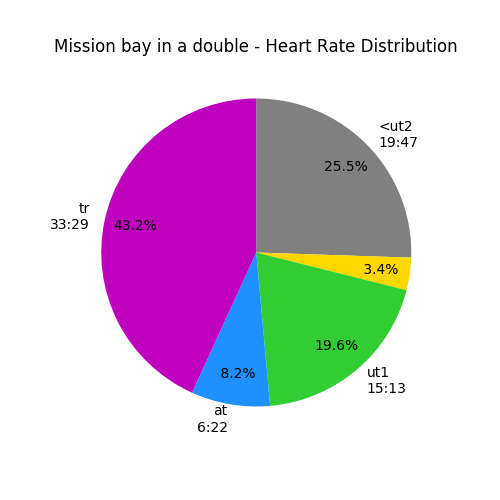 Workout Summary - media/20180607-1521040o.csv
--|Total|-Total-|--Avg--|-Avg-|Avg-|-Avg-|-Max-|-Avg
--|Dist-|-Time--|-Pace--|-Pwr-|SPM-|-HR--|-HR--|-DPS
--|13796|77:29.0|02:48.5|000.0|23.4|150.5|176.0|07.6
W-|09237|42:19.0|02:17.4|000.0|22.1|165.6|176.0|09.9
R-|04570|35:10.0|03:50.9|000.0|24.9|132.3|176.0|05.0
Workout Details
#-|SDist|-Split-|-SPace-|-Pwr-|SPM-|AvgHR|MaxHR|DPS-
01|00924|04:00.0|02:09.9|000.0|20.3|148.0|157.0|11.4 - 4
02|00837|03:44.0|02:13.9|000.0|22.0|162.1|166.0|10.2 - 3
03|00454|02:00.0|02:12.2|000.0|24.0|167.9|172.0|09.5 - 2
04|00229|01:00.0|02:11.2|000.0|25.8|169.9|172.0|08.9 - 1
05|00471|02:12.0|02:20.3|000.0|23.6|172.4|173.0|09.1 - 2
06|00757|03:38.0|02:23.9|000.0|22.2|170.3|173.0|09.4 - 3
07|01055|04:56.0|02:20.3|000.0|21.0|170.1|173.0|10.2 - 4
08|00914|04:07.0|02:15.1|000.0|20.6|147.8|159.0|10.8 - 4
09|00619|02:46.0|02:14.1|000.0|22.0|164.2|168.0|10.2 - 3
10|00447|02:00.0|02:14.4|000.0|24.0|167.4|170.0|09.3 - 2
11|00233|01:00.0|02:08.7|000.0|26.2|172.0|173.0|08.9 - 1
12|00434|02:00.0|02:18.4|000.0|24.1|174.1|176.0|09.0 - 2
13|00630|03:00.0|02:22.9|000.0|22.5|173.4|176.0|09.3 - 3
14|01234|05:56.0|02:24.2|000.0|21.4|173.3|176.0|09.7 - 4
I enjoyed this so much.  I am very grateful to Dan and all the friendly folks at SDRC.  I can't wait to get back to San Diego and row again!