Tuesday:  I was out late at a business dinner and didn't get to bed until nearly midnight.  I decided  to sleep in instead of training.
Wednesday:  A beautiful morning.  About 52F with just about no wind.  Bright sunshine and a cloudless sky.
The plan was 2 x 30′ @ r22.   This is supposed to be a Cat V workout, but I have yet to find the right stroke pressure.  Each time I have done it, I have pushed too hard and end up with heart rates way up in the TR zone.
Today, I wanted to work hard on technique, mostly on recovery.  Maintain outward pressure on the handles, and get my body angle right before starting to slide the seat.  I also spent a bit of energy trying to get better at my finishes.  I have been leaving my oars in the water too long, laying back too far, and disturbing the set of the boat as I try to extract the oars and bump my hands into my torso.  So, the past couple of sessions, I have been trying to consciously finish earlier.  Really tap down as the handles approach my chest, and maintain a tall posture in the seat.  It feels way different, I bet it looks exactly the same to an external observer!
Sander gave me some good advice after my Monday session.  He suggested that I should focus on one aspect of the stroke for blocks of 5 strokes and then move on.  I think that could be a very good way to be more mindful during these sessions.  There are 660 strokes in each 30′ piece.  It's impossible to focus on everything in every one of them.
Moving on the to the subject of equipment.  I am liking the new rigging settings, but it will take a little while to get used to the heavier load associated with the shorter inboard.  I think that helped to contribute to my high HR and RPE today.  My legs "want" a certain drive duration, but that drive duration is now trying to sweep through a bigger arc, which means I put on more pressure.  I need to lighten up a bit.
When I turned on my speedcoach today, I discovered that the battery was nearly depleted.  That was weird because I had charged it last Thursday night and I've only rowed about 4 hours since then.  I wonder if the new FW is draining the battery faster?  Anyway, the speedcoach shut down in the first half of the first 30′ piece, so I only have RIM data, and only have HR for the second piece.
The map view shows significant jagginess.  I suspect that the pace values might be a bit too fast as a result.  The row shows up as almost 14500m, when it is usually closer to 14300m.

This was originally two sessions in RIM, but I glued them together on rowsandall.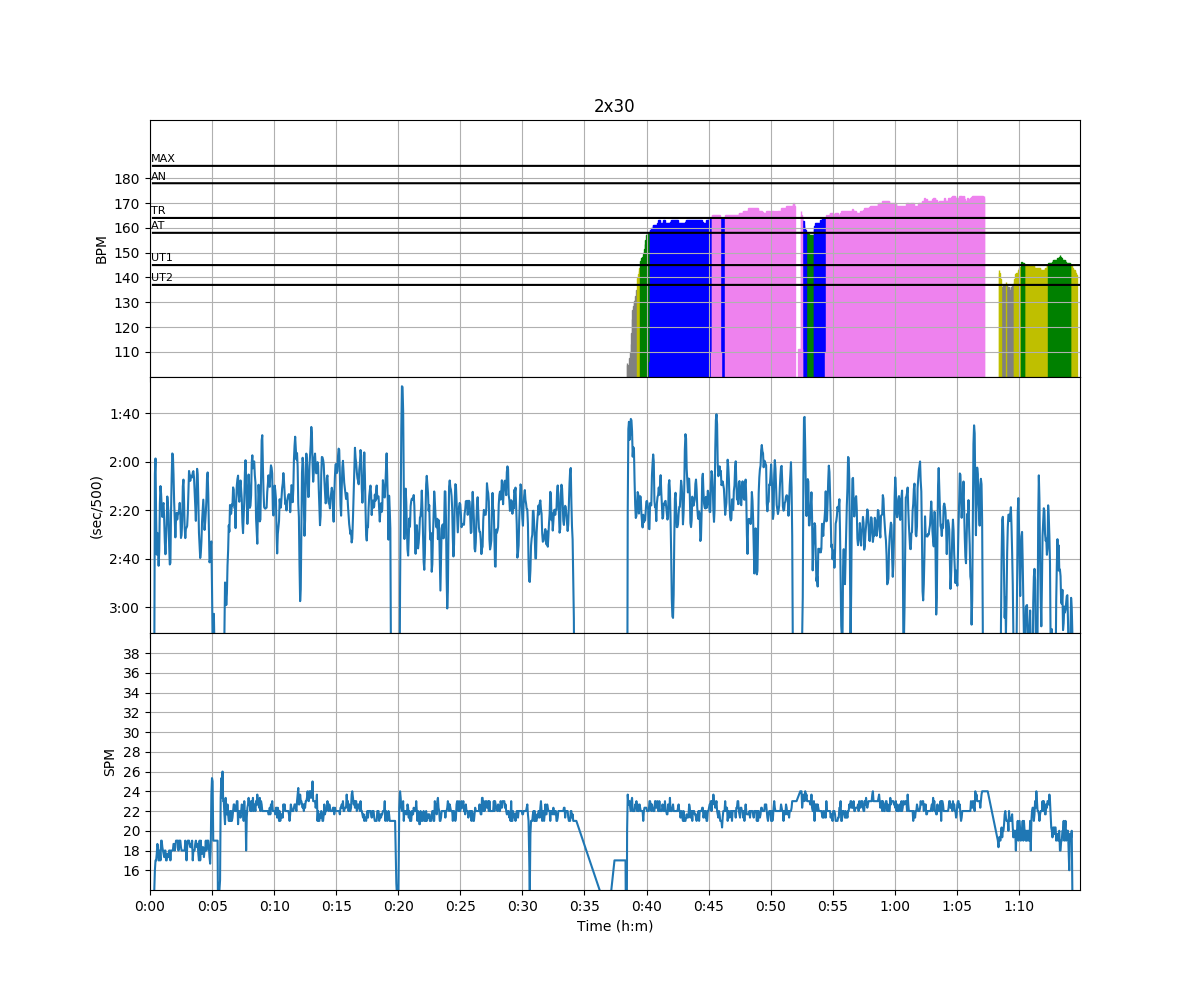 Workout Summary - media/df_20180509-174756.csv
--|Total|-Total-|--Avg--|-Avg-|Avg-|-Avg-|-Max-|-Avg
--|Dist-|-Time--|-Pace--|-Pwr-|SPM-|-HR--|-HR--|-DPS
--|14483|74:55.0|02:35.2|000.0|20.8|84.5|173.0|09.3
W-|14250|68:54.0|02:25.1|000.0|21.5|082.9|173.0|09.6
R-|00238|06:01.0|12:37.7|000.0|13.2|103.0|173.0|00.0
Workout Details
#-|SDist|-Split-|-SPace-|-Pwr-|SPM-|AvgHR|MaxHR|DPS-
00|01095|05:40.0|02:35.3|000.0|17.8|000.0|0.0|10.8 - warmup
01|03060|13:37.0|02:13.5|000.0|22.2|000.0|0.0|10.1 - 1st downstream
02|02972|14:02.0|02:21.6|000.0|21.9|000.0|0.0|09.7 - 1st upstream
03|02953|13:06.0|02:13.1|000.0|22.0|161.0|169.0|10.2 - 2nd downstream
04|03006|14:34.0|02:25.4|000.0|22.4|168.4|173.0|09.2 - 2nd upstream
05|01164|07:56.0|03:24.5|000.0|19.6|145.3|173.0|07.5 - cd SBR feet out
Tomorrow:
3 sets of:

1' on, 3' active rest,
1' on , 3' active rest
2' on, 5' active rest

Rest between: Continuous, no rest between sets.
Complete one set and then repeat the series.
The active rest is relaxed, low intensity, easy rowing.
Stop only briefly to rehydrate.
Rating /pace: Race effort, 1k pace (your best right now)  So, I'll be aiming at r30.