Sunday:  Rest Day
By the time we got home yesterday, time was short and I decided that it would be better to take a rest day and row on Monday instead of squeezing in an erg session and letting a beautiful morning pass without rowing.
Monday:  72′ of Speedplay
After I finished my row on Friday, I spent some time making additional modifications to how I am rigged.  The changes were…
Footstretcher an additional 1 cm to stern.  Now it is a full 4cm astern of original position
Shortened inboard 1cm to 84cm.  Now it is in 5 cm from 89cm originally
Lowered oarlocks an additional spacer.  Now 2 spacers lower than original.
Then I left my boat for the weekend and rowed down on the cape.  I did change my oars there to 84cm inboard to match, but I didn't mess with the footstretcher or oarlock height.
Today was my first row with the new settings.  The plan was for 80 minutes of speedplay.  I had an 8:30 meeting, so I needed to be in my car at 7:45.  That meant I needed to cut is short by just a few minutes.
The flow in the river seems to be a bit down.  The weather was perfect.  There was a bit of mist on the water when I launched, but it burnt off quickly.  The temp was around 55F when i launched, but well above 60 by the time I finished.  There was no wind when I started and just a light zephyr from the west by the time I was done.  A great day to be on the river.
I launched and within a couple of strokes, I was at a nice steady state rate and pace.  I held that through the twisty bits, and continued out into the nice straight section.  I liked the changes to the rigging.  With the oarlock height, I was able to get above the handles and I felt like my balance was better.  I was able to row a lot more strokes without touching water on the recovery.  At around 8 minutes I did my first power 20.  When I finished, I looked around and was somewhat surprised to see a naked man staring back at me from the bank of the river.  I guess he decided  that some early morning skinny dipping was his training plan for the day and I interrupted him.
The rest of the workout passed far more uneventfully.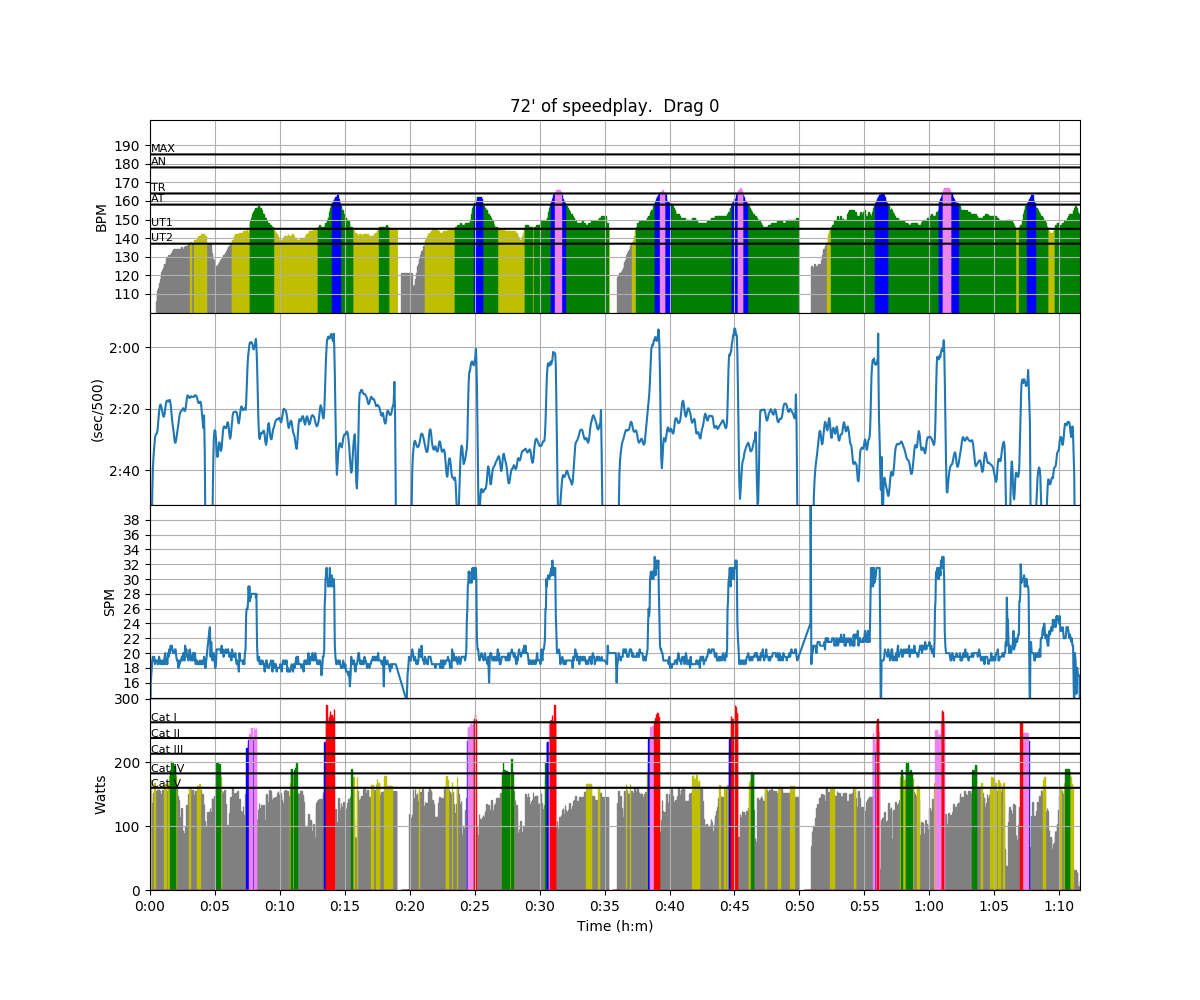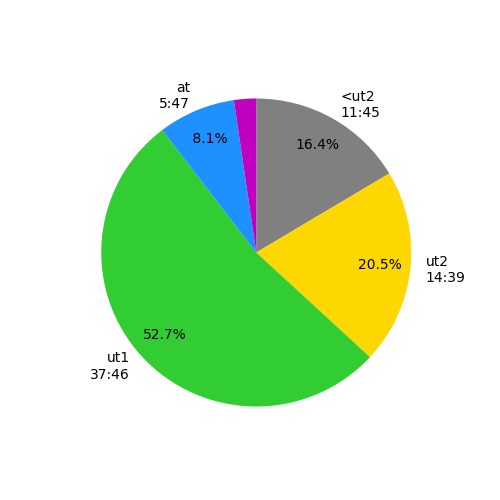 I need to change my OTW slack.  These power bins are depressing me!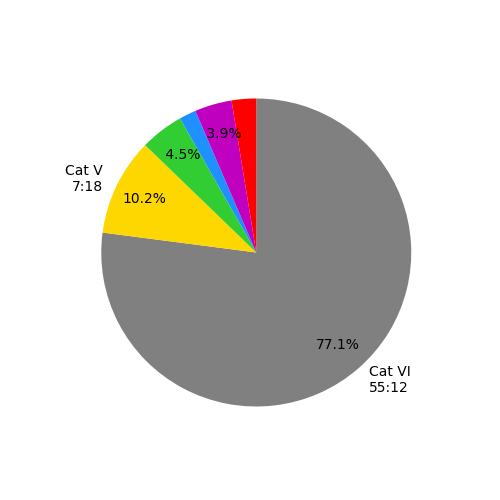 But the pace!  A lot faster than recent sessions overall.
Workout Summary - media/20180507-1700240o.csv
--|Total|-Total-|--Avg--|-Avg-|Avg-|-Avg-|-Max-|-Avg
--|Dist-|-Time--|-Pace--|-Pwr-|SPM-|-HR--|-HR--|-DPS
--|14092|72:00.0|02:33.3|141.3|20.6|146.2|167.0|09.5
W-|13572|66:07.0|02:26.1|147.6|20.7|147.7|167.0|09.9
R-|00527|05:53.0|05:35.2|069.6|18.6|129.6|167.0|05.1
Workout Details
#-|SDist|-Split-|-SPace-|-Pwr-|SPM-|AvgHR|MaxHR|DPS-
01|00856|03:59.0|02:19.6|146.6|19.3|130.2|142.0|11.1 - little gap to maneuver
02|02990|14:00.0|02:20.5|150.9|19.9|144.3|163.0|10.7 - down
03|02892|14:34.0|02:31.1|147.1|20.4|147.6|166.0|09.7 - up
04|02887|13:37.0|02:21.5|152.3|20.8|150.9|167.0|10.2 - down
05|03947|19:57.0|02:31.6|142.7|21.8|151.4|167.0|09.1 - up
I assume that the difference is because of less wind, but I don't that accounts for all of it.
Tomorrow:  2 x 30′ @ 22.