Friday night, my wife and I decided on the spur of the moment to see if we could organize Easter on the Cape.  We called our sons, who live in Cambridge to find out if they we up for an adventure and they were!  So, my wife and I headed down to the Cape on Friday night.  We arrived pretty late, around 10pm.
Saturday morning, I headed out early (ish) and went to the French Bakery.  I bought all sorts of good stuff for later and headed back to the house.
A bit later, I needed to head out to go pick up my boys.  They were taking the commuter rail about halfway to the house, but I still had about an hour of driving each way to get them.
I also had to contend with the tides.  I left quite a bit early so I didn't get trapped.  That gave me time to stop at the fish market and supermarket for the rest of our feast.
I was back at the house by around 2pm and we hung out for a while.  Around 5 I decided to go do my scheduled erg session.
The plan was:
3 x 15′ rate ladders / 4′ rest

5′ at r20 (2:04)
4′ at r22 (1:58 to 2:00)
3′ at r24 (1:52 to 1:54)
2′ at r26 (1:48)
1′ at r28 (1:45)
This was done on slides.  I was a bit dubious because this was my 8 straight day working out, but it turned out to be a good session.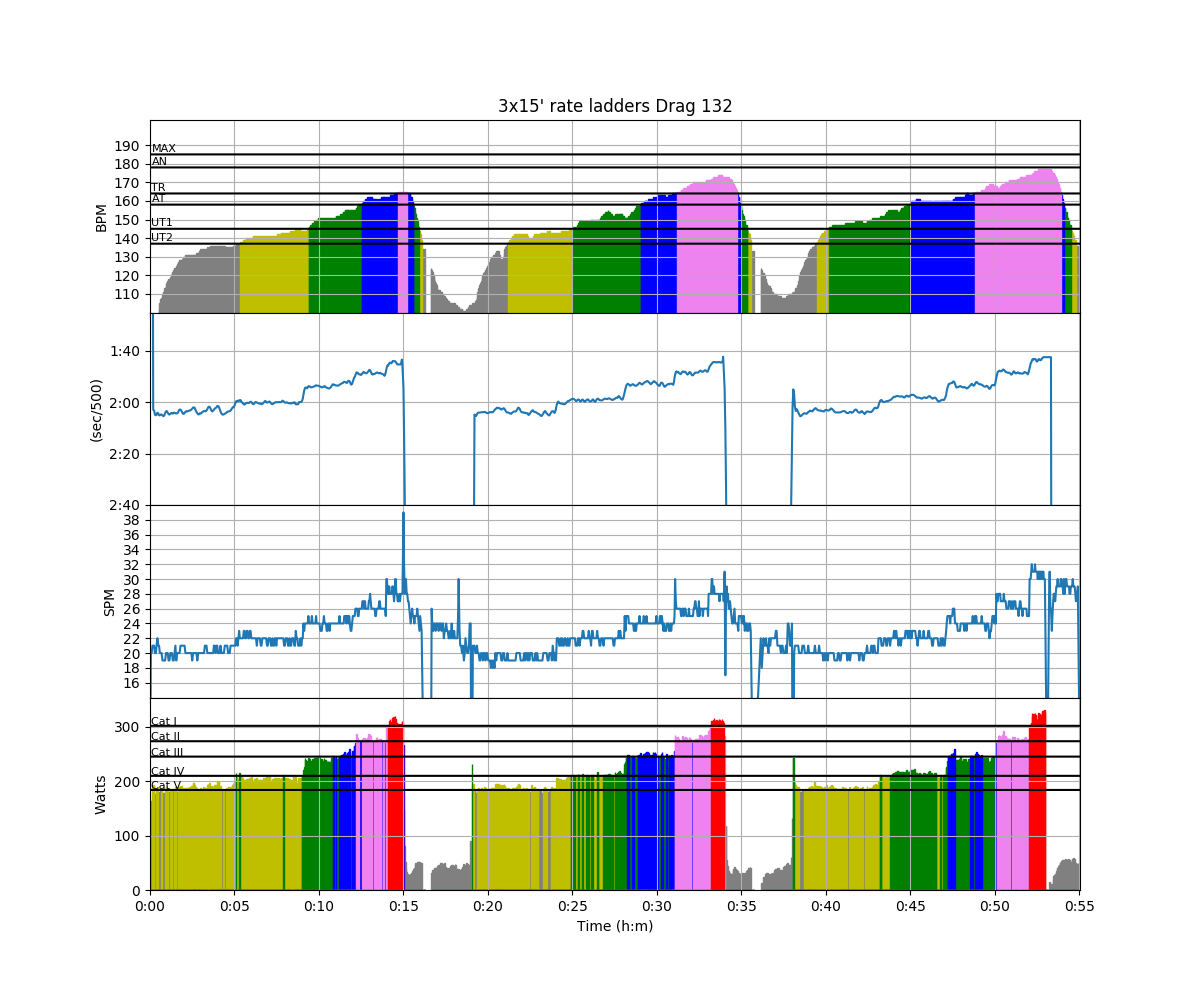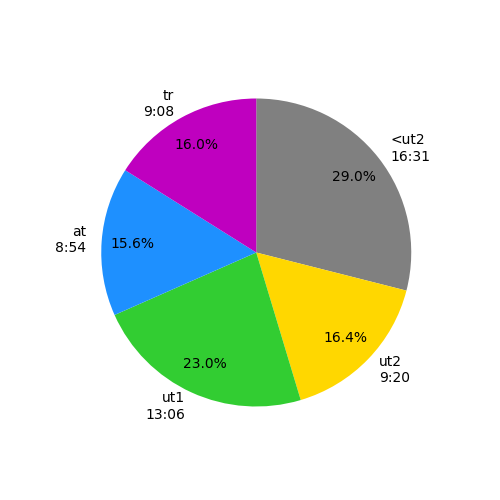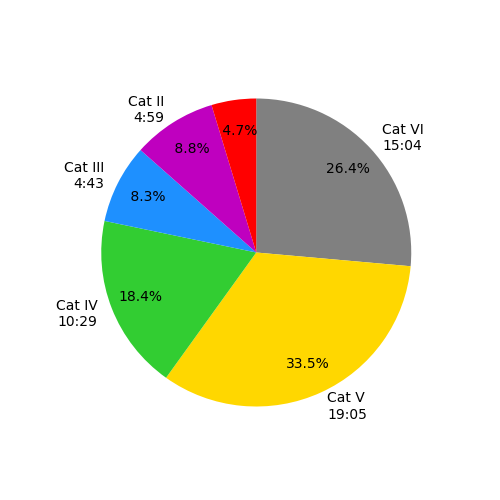 Workout Summary - media/20180331-2220260o.csv
--|Total|-Total-|--Avg--|-Avg-|Avg-|-Avg-|-Max-|-Avg
--|Dist-|-Time--|-Pace--|-Pwr-|SPM-|-HR--|-HR--|-DPS
--|12940|57:00.0|02:12.1|183.7|21.7|146.1|177.0|10.5
W-|11614|45:00.0|01:56.2|224.6|22.6|149.3|177.0|11.5
R-|01334|12:00.0|04:29.8|030.3|18.4|133.8|177.0|05.7
Workout Details
#-|SDist|-Split-|-SPace-|-Pwr-|SPM-|AvgHR|MaxHR|DPS-
00|01223|05:00.0|02:02.6|187.3|20.2|125.1|136.0|12.1
01|01003|04:00.0|01:59.6|204.4|21.8|141.3|145.0|11.5
02|00796|03:00.0|01:53.0|241.9|24.0|150.6|155.0|11.1
03|00555|02:00.0|01:48.1|275.9|26.1|160.0|162.0|10.6
04|00287|01:00.0|01:44.4|308.3|28.1|163.7|165.0|10.2
05|01215|05:00.0|02:03.4|186.6|19.3|133.9|144.0|12.6
06|01011|04:00.0|01:58.6|209.1|21.8|149.0|155.0|11.6
07|00801|03:00.0|01:52.4|245.9|24.0|159.1|164.0|11.1
08|00556|02:00.0|01:47.9|278.3|25.8|168.1|171.0|10.8
09|00288|01:00.0|01:44.3|307.8|28.0|172.7|174.0|10.3
10|01217|05:00.0|02:03.2|188.8|19.7|140.8|151.0|12.4
11|01017|04:00.0|01:58.0|213.1|22.0|157.3|161.0|11.6
12|00796|03:00.0|01:53.1|241.5|24.0|163.8|169.0|11.1
13|00556|02:00.0|01:47.9|277.6|26.4|170.7|174.0|10.5
14|00291|01:00.0|01:43.0|318.9|30.5|175.9|177.0|09.6
Turned out better than prior attempts.
lower HR
higher power
good drive length on slides
Then it was time for the "Parade of Deliciousness", all accompanied by prosecco
Appetizer: bruscetta with Mac's Seafood boursin
First course: Sauted Maine shrimp and Cape Cod sea scallops with roasted aspargus.
Second Course: roast ham with baked sweet potatoes, mashed potatoes
Green Salad
Assorted desserts
After that I was paralyzed.
Sunday:  We got a reasonably early start for us, we were out of the house by 11:00AM.  We needed to beat the tide, and get my sons to the train before 12:30.  That got us home by about 1:30pm.  The workout for Sunday was 2 hours of yardwork clearing the trees and branches that had come down in the string of 3 Nor-easters that we had in March.  It was reasonably hard work and I didn't have time for an erg session.
Monday:  9am flight to Chicago, then the long flight to Narita, then a 80 minuute car ride from Narita to Haneda, then a 2 hour flight to Kumamoto, then a 40 minute cab ride to the hotel.  I arrived at the hotel at 9:30pm, Tuesday night (having lost a day to travel) about 26 hours after leaving my house in Hopkinton.  I felt like I had been beaten up by thugs..  So, no training on Monday or Tuesday.
Wednesday:  Up at 5AM, and right into emails.  Off to the office at 7am.  Today, I am helping to dedicate our new building in Kumamoto.  Our old building was destroyed by the earthquakes there in April of 2016.  I just finished participating in the Shinto dedication ceremony.  A remarkable experience that involved a whole lot of bowing.  Now we have a luncheon to thank the architects and construction company, later on we have a big dinner for our local team and a customers.  It's a pretty big deal for us.   SO no training again.
Thursday:  I have a breakfast meeting with a customer at 7am, then a "coffee meeting" with our local team, and then I'm off to the airport to catch a flight around noon.  The return path is a one stop better…
Hotel  –> Kumamoto –> Haneda –> Narita –> Boston –> Home.
So, no training again.  That's four days without training.  Arghh.  Just when I was getting in the groove.
Hopefully, I can get a good session in on Friday.