Both literally, I haven't reviewed my training since March 22, and figuratively since I don't think anyone has experienced anything like this since 1918.
I've been working from home since March 12th, so I guess 43 days now.  My wife and I have been fortunate enough to be able to split our time between our house in Hopkinton and our vacation place down in Wellfleet.  We are also fortunate that our whole family has son far been untouched by COVID-19.
My training has been very up and down.  At times, the pace of change from COVID-19 drove some really crazy work hours, but it has been much better when I have been able to maintain a routine.
At a summary level,
So…
34 total days
26 training days (target 30)
8 days with no training

"brisk walk" on 3 days
5 days with no real activity

Only two or three sessions that could be considered high intensity
Other notable goings on…
The week of March 23rd was a horror show.  We were moving all facilities to minimal onsite headcount, and we had to adjust policies on a daily basis.  I was working very long hours and too distracted to row.  We I ended up just going for long walks in the early morning down on shore.  The weather was cold and misty, but the fresh air was good.
On April 18th, we headed down to the cape again.  I was excited to install a new solar panel for my weather station, up on the roof.  I have gone up there many times, but this time, as I reached the top of the ladder, about 10 feet up, the bottom of the ladder suddenly slid out from underneath me.  I scraped up my arms and hands as I grabbed for the eave coming down.  I landed on my arm and shoulder on top of the fallen ladder.  I had scrapes on my right leg, cuts on three of my left fingers, a badly sprained thumb, some kind of nasty contusion on my elbow, and most disturbingly an injury to my shoulder that is limiting my range of motion.  If there wasn't a global pandemic, I'd probably get it looked at, but it seems to be healing slowly, so I'm letting it be for now.  No rowing for a while, I'm afraid.
The daily doings
3/23 – three darts games.
Unremarkable scores, my best was 13890.  And I was rowing too hard for it to be good Low Intensity training.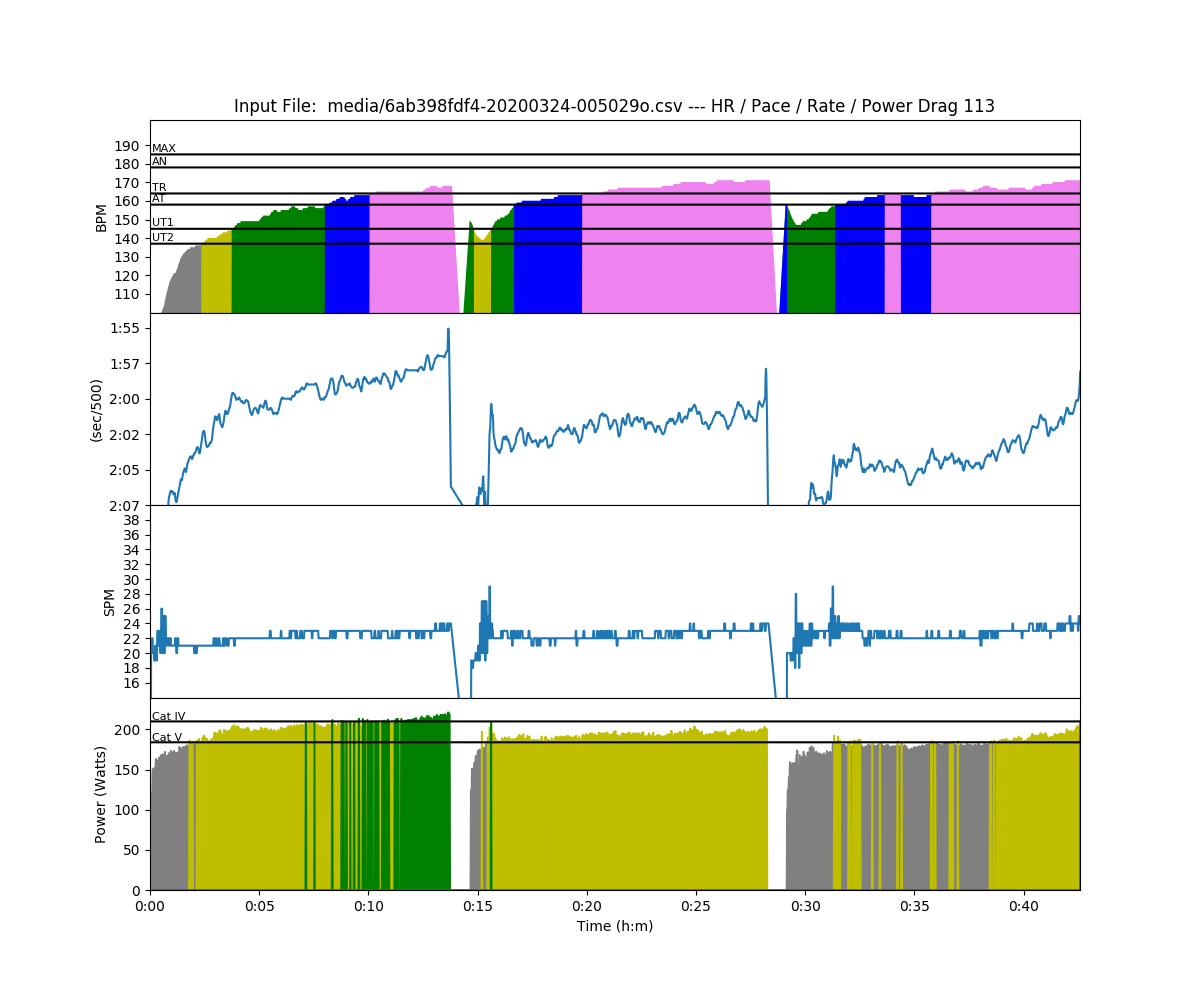 3/24 – No training
3/25 – No Training
3/26 – walk around the Island
3/27 – Walk around the Island
3/28 – Walk around the Island and a short 2 x 20'/2′ L4
Lack of rowing shows up quick!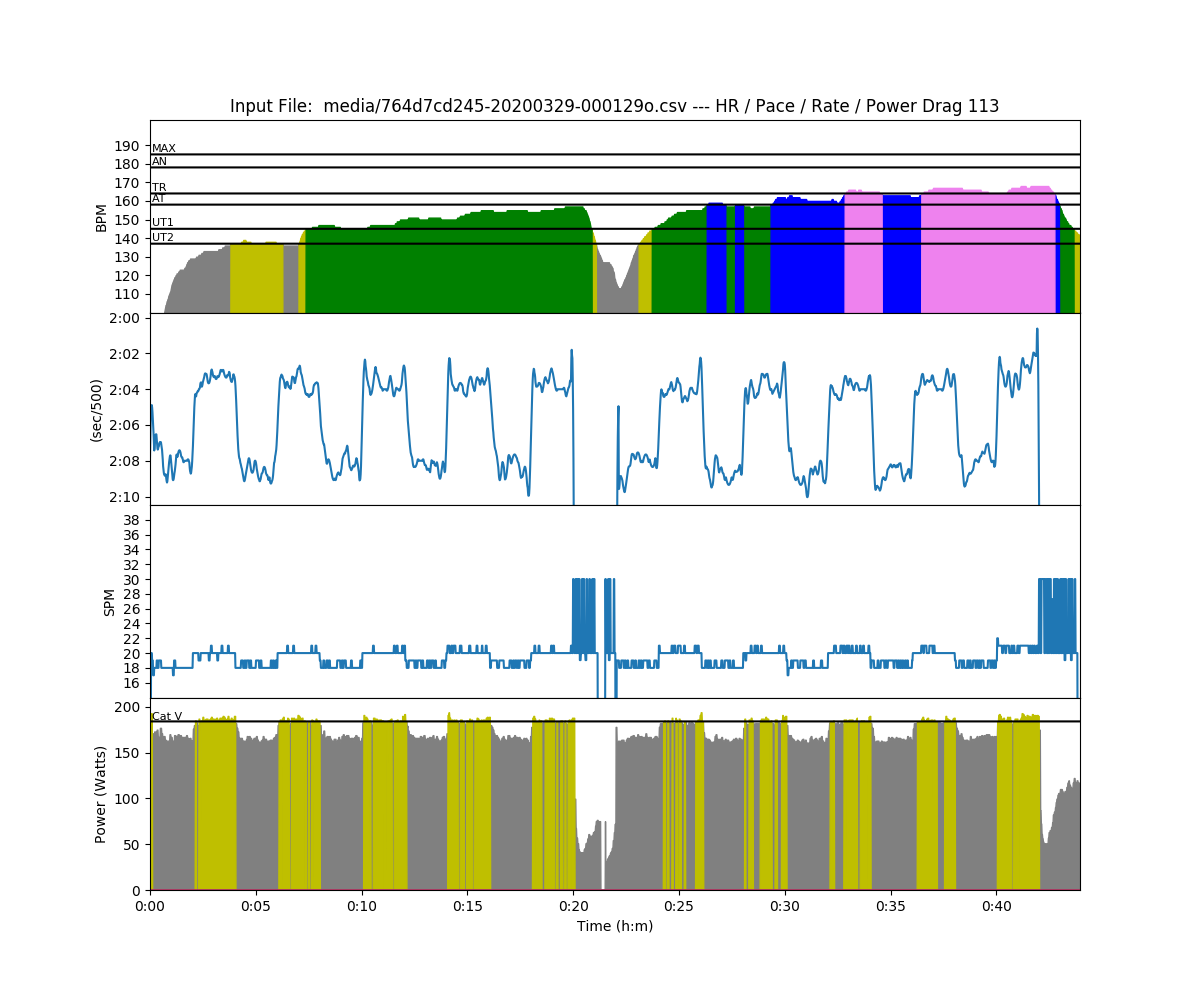 3/29 – Sunday – Walk around the Island and 4×8′ ala Eric Murray
4×8'/30″ with a 2k warm up.  This was a lot tougher than it should have been.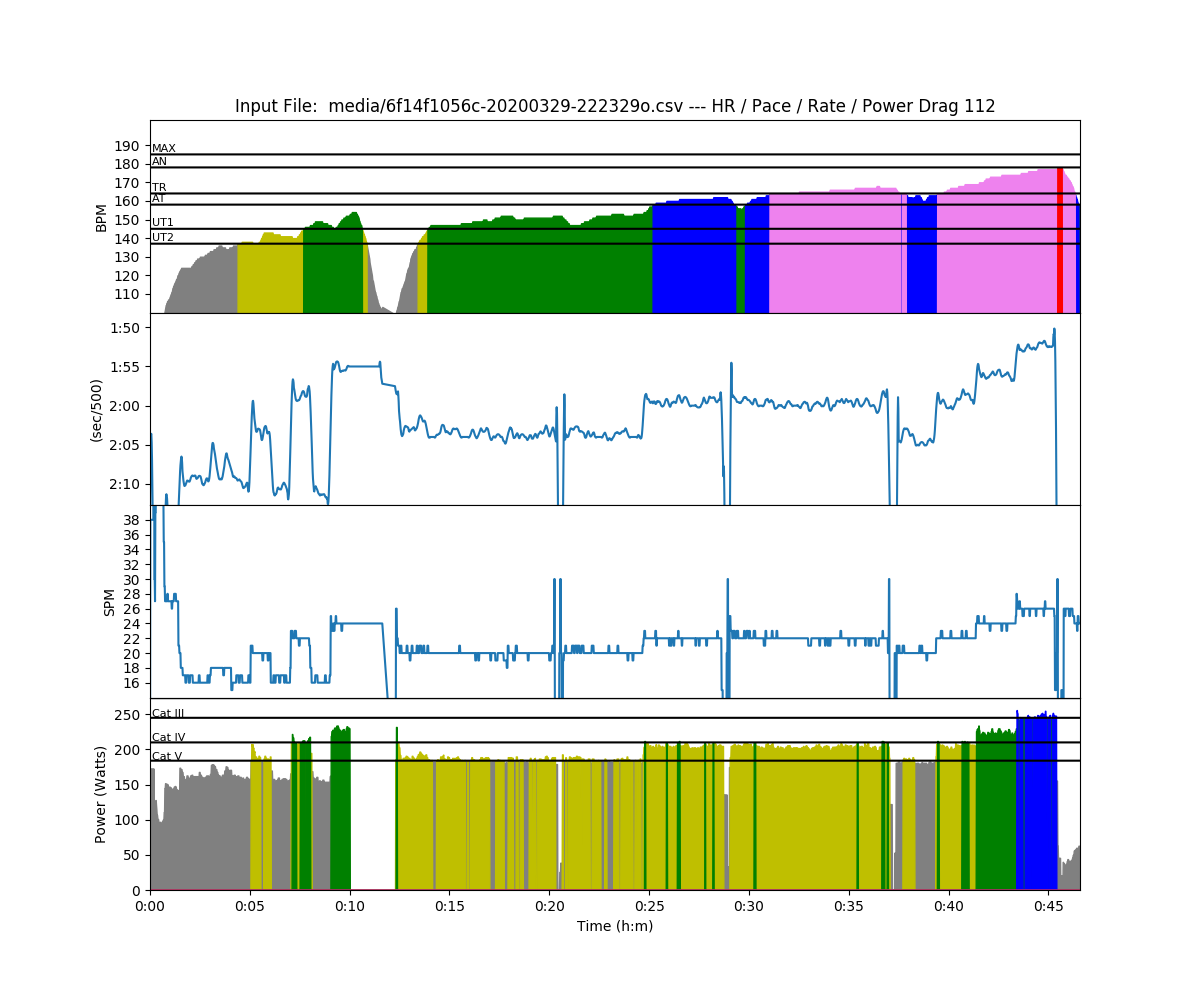 3/30 – Monday – Walk around the Island
3/31 – Tuesday – 4×10'/30″
I had all kinds of technical difficulties, but it seems like this was harder than it should have been.   Avg HR of 153, and Max HR of 176.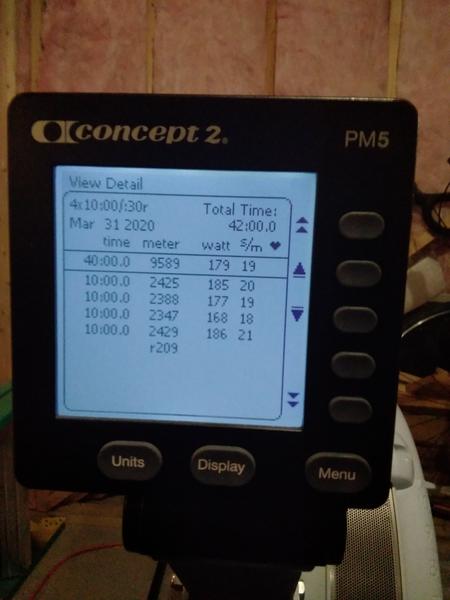 4/1 – Wednesday – 5 / 4 / 3 / 2 / 1 at increasing rates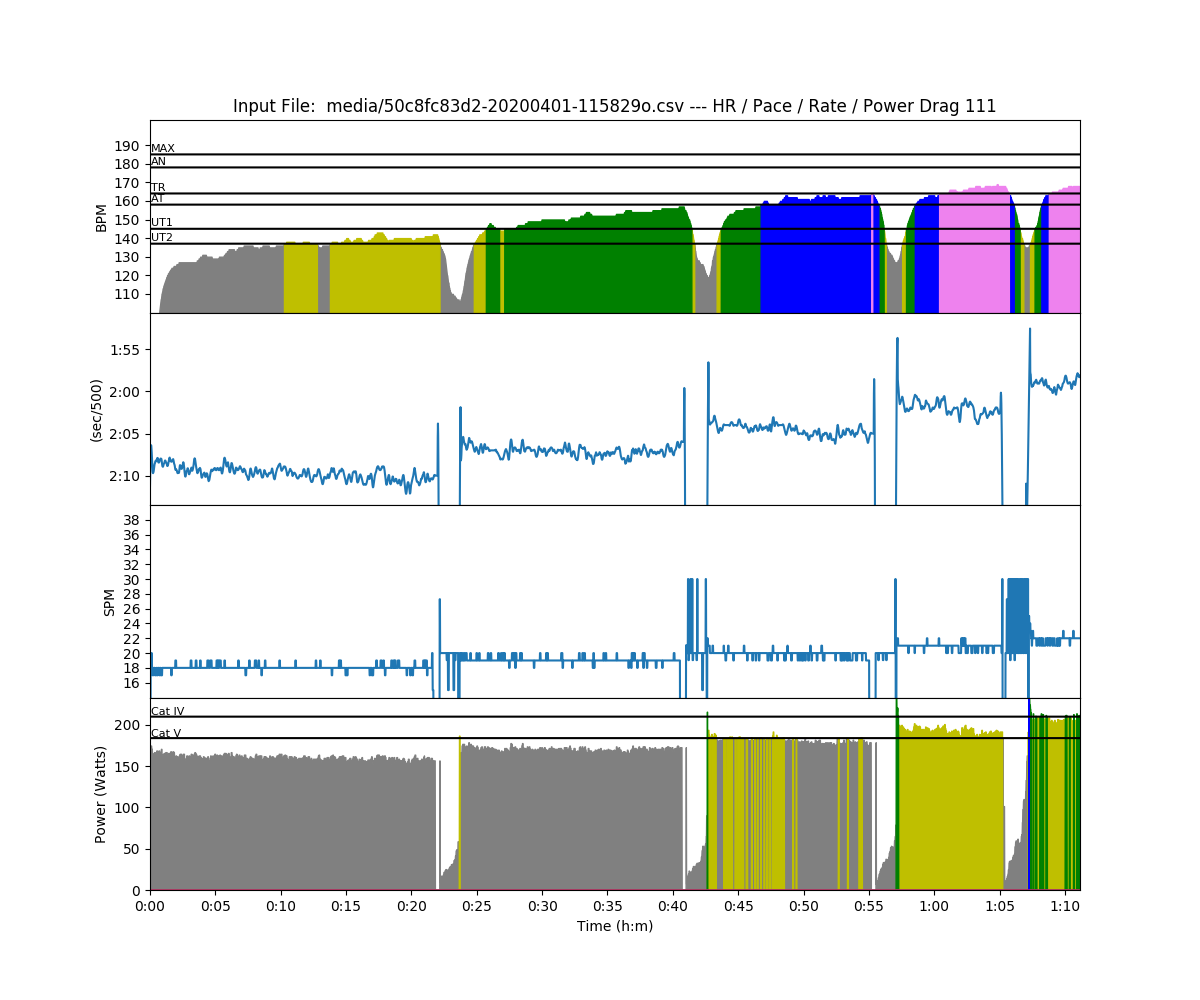 4/2 – Thursday – 4 Dart Games
Getting the hang of doing them a little easier.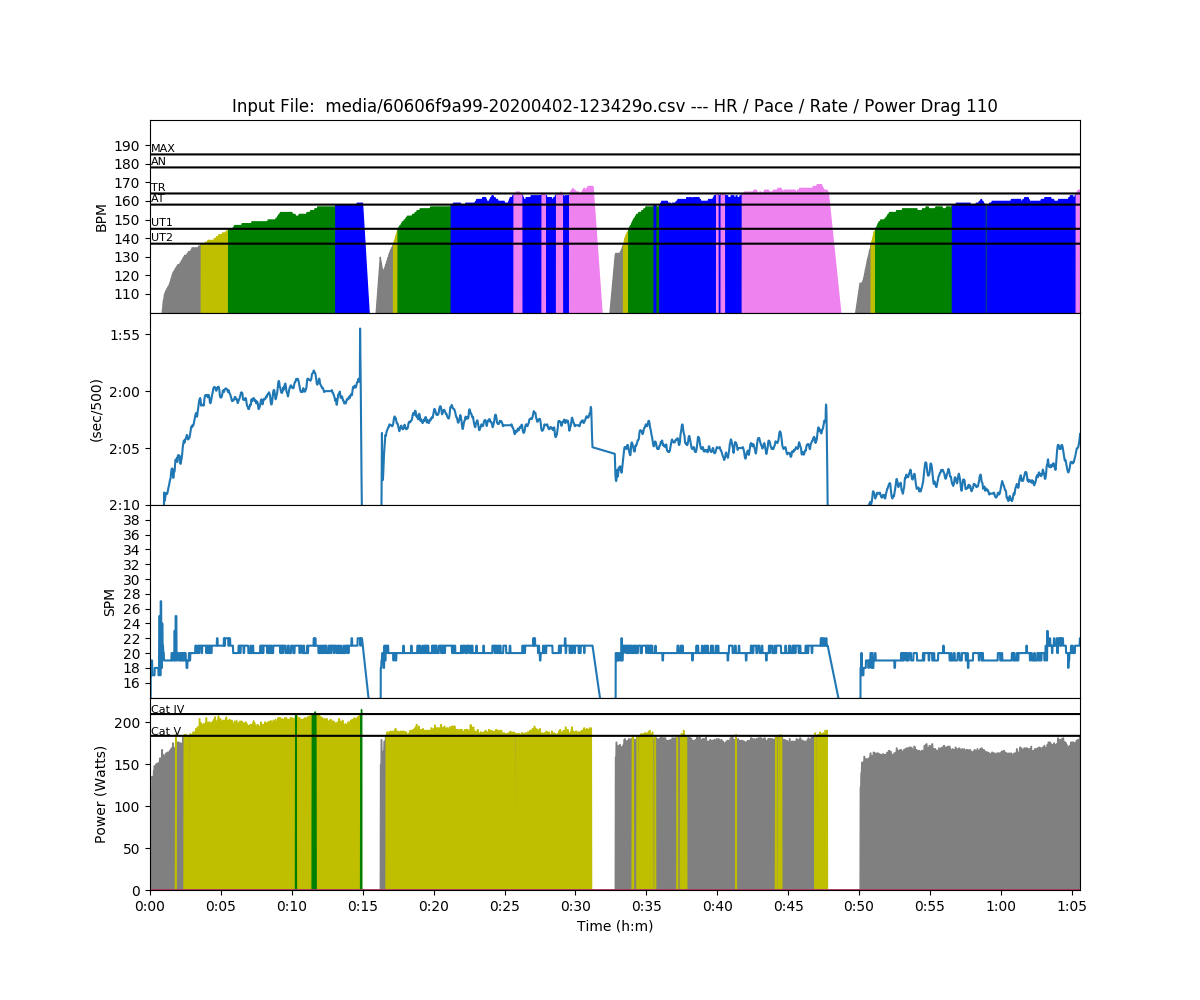 And a new high score for my self 14300!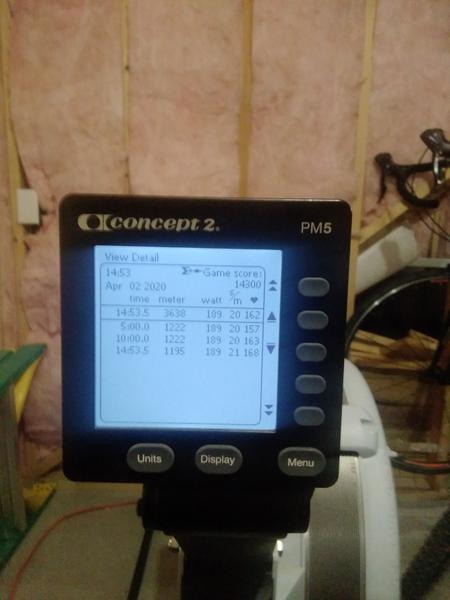 4/3 – Friday – 3 x 20'/2′ L4
Noticed that my hr was way high for this workout.  Seems the lack of low intensity rowing has had a negative effect.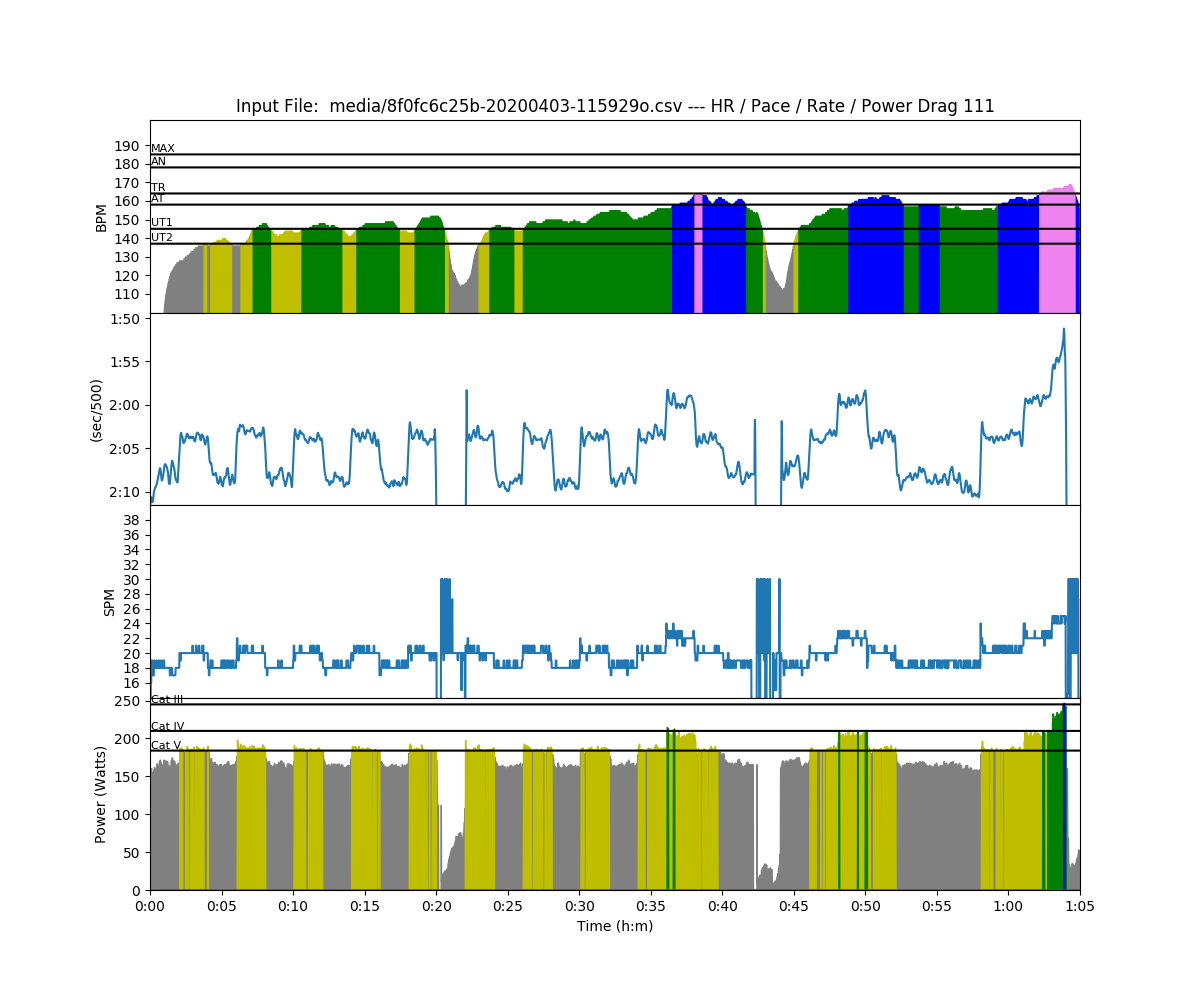 4/4 – Saturday – Perfect Body Weight Training
Not so perfect, but pretty damn hard!
4/5 – Sunday – Target Training and 3 dart games
Not up to the standard of the ones from the last session, all in the mid 13000s.  But definitely figuring out how to do them slower.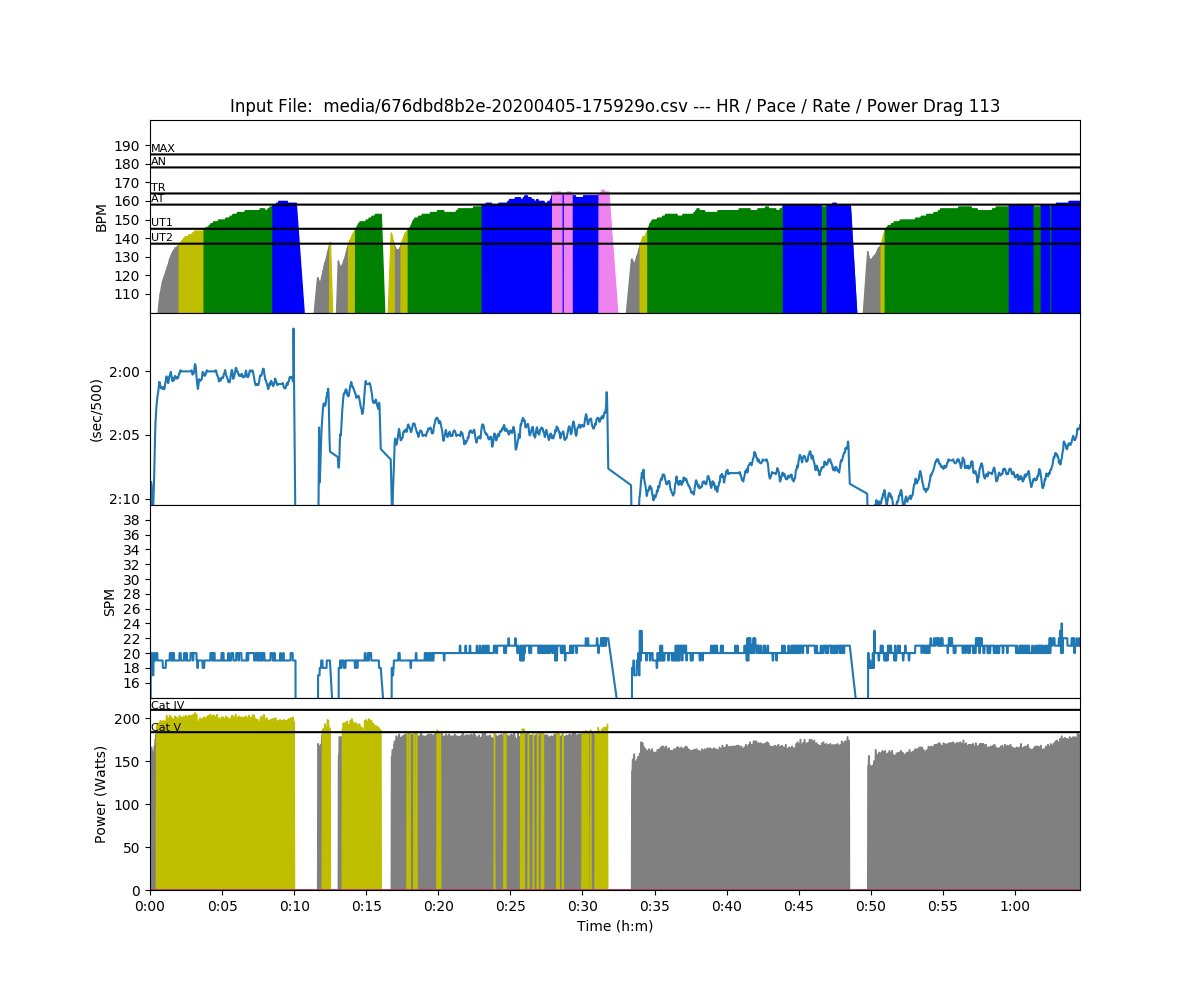 4/6 – Monday – Flatten the Curve
A SAHRC session that was supposed to be low intensity.  It wasn't.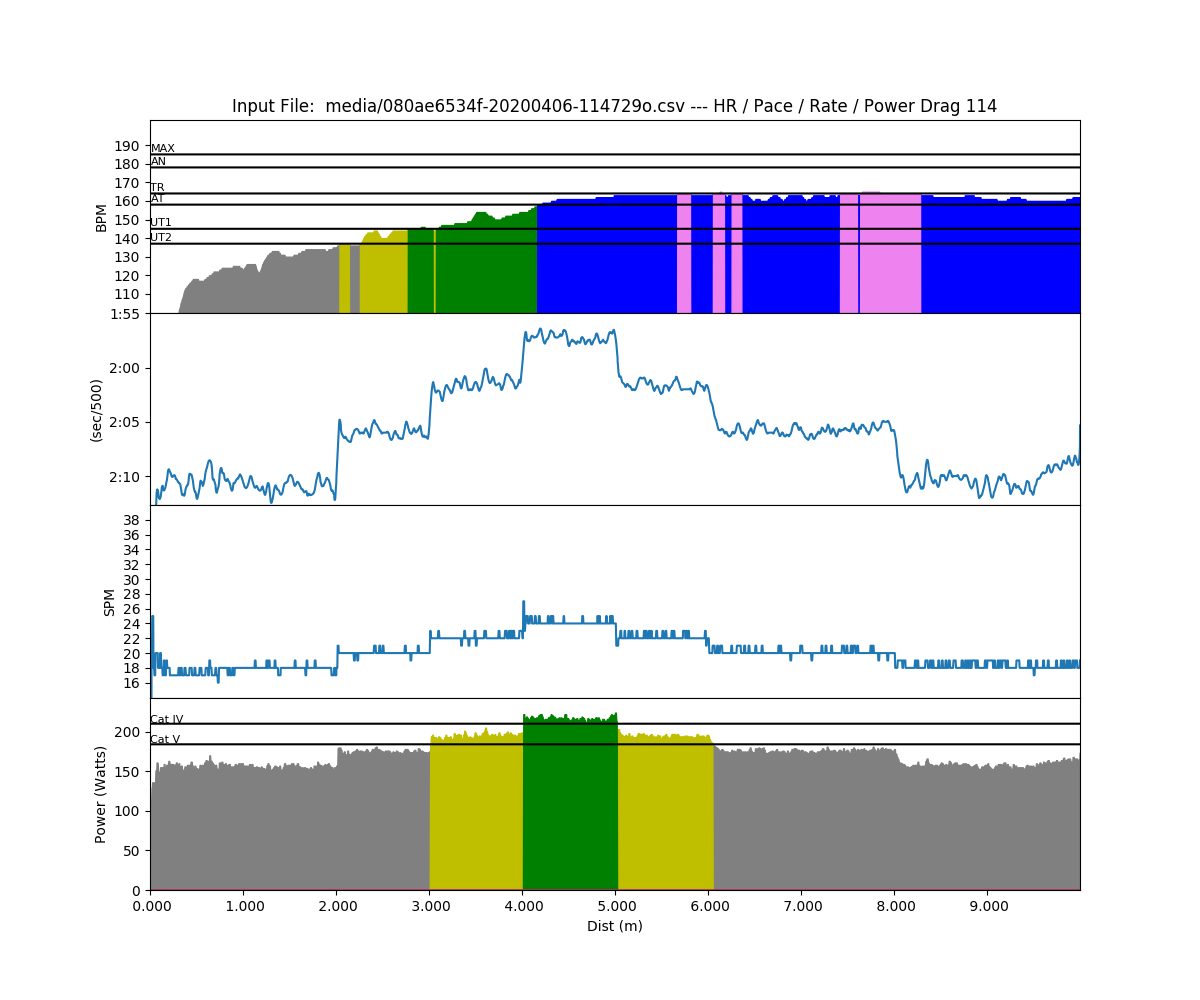 4/7 – Tuesday – 3×20'/2′ Steady State
Time to get back to basics and rebuild my aerobic base.  Just sit on r18 and listen to a good audio book.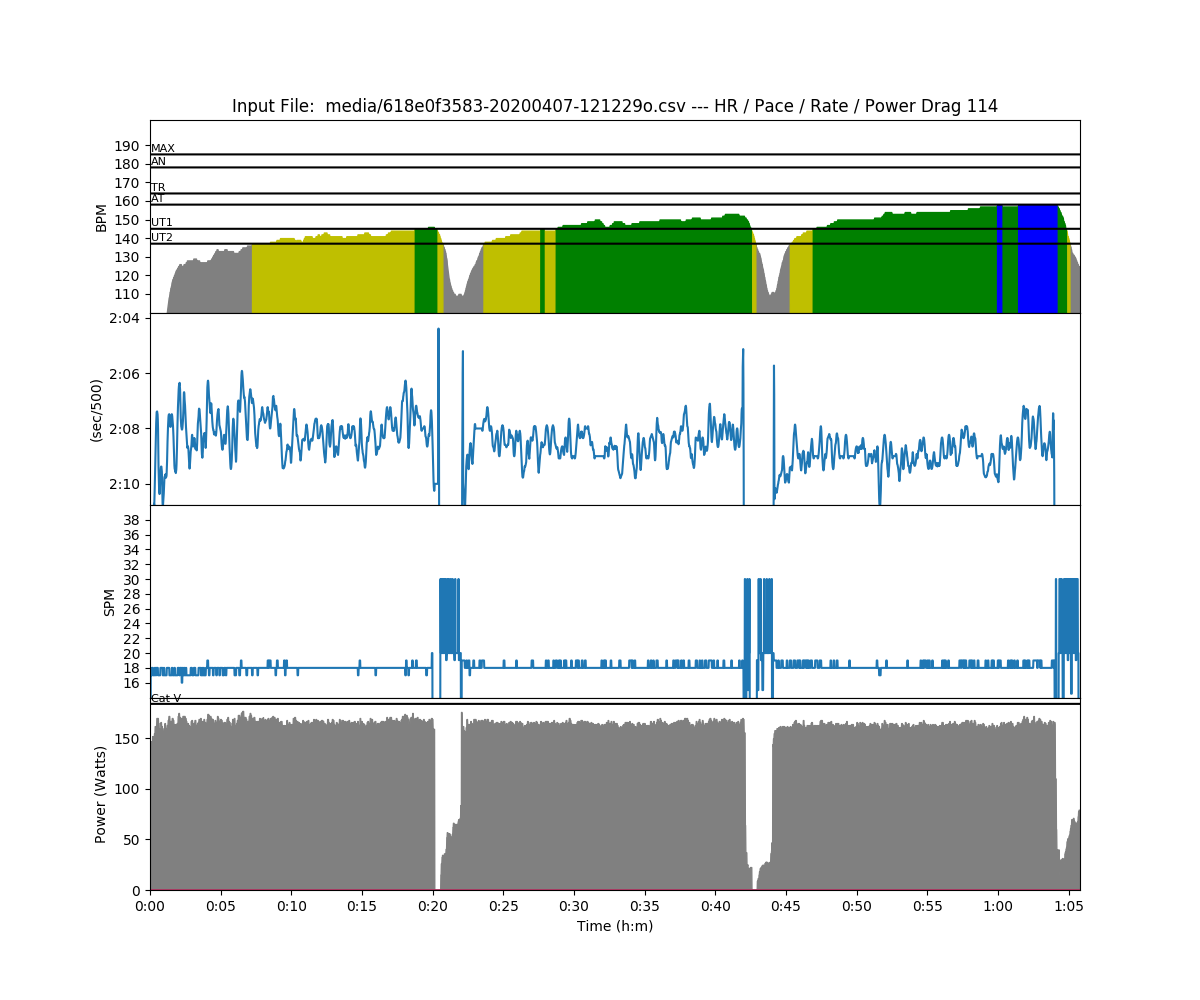 4/8 – Wednesday – 3×20'/2′ Steady State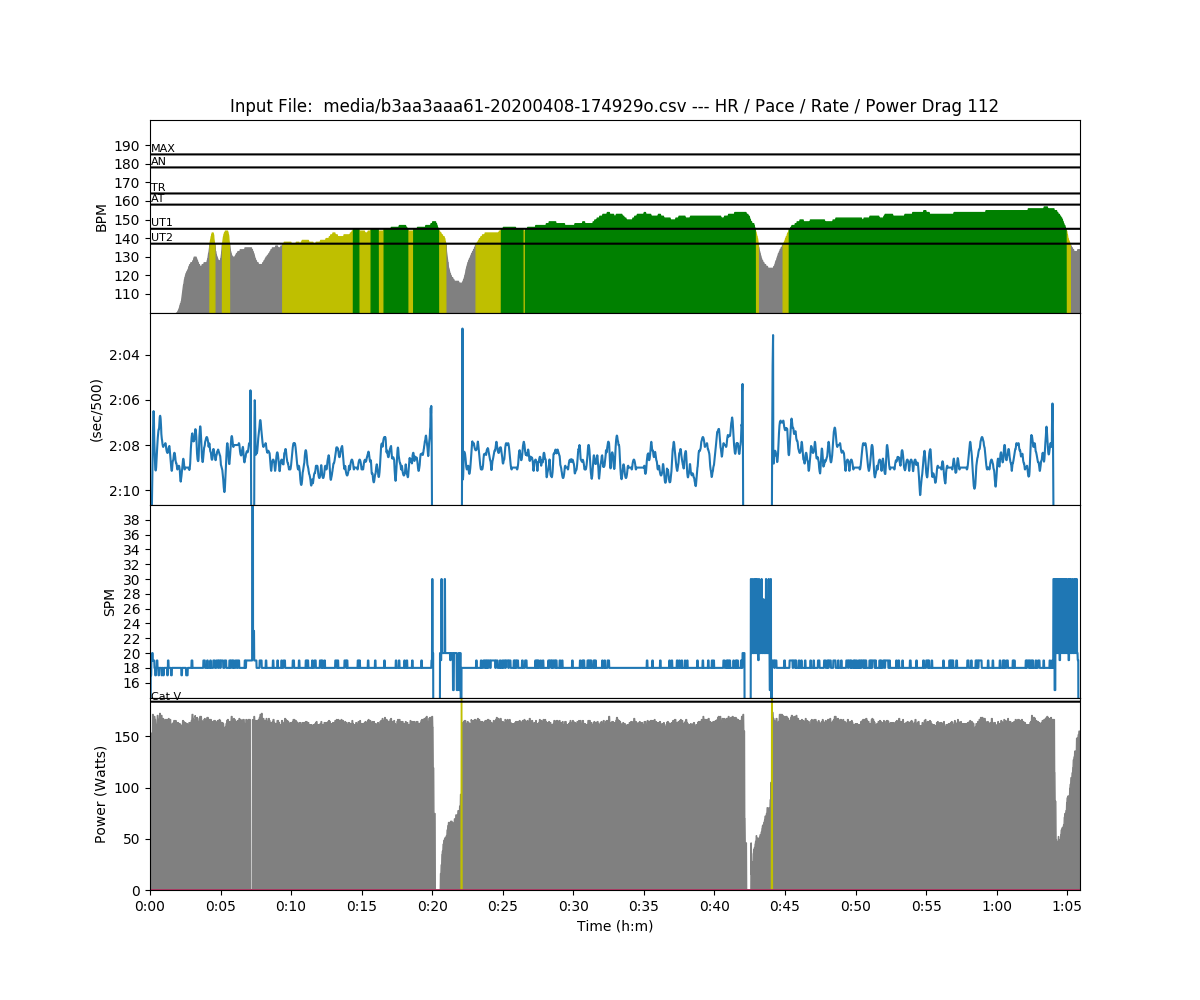 4/9 – Thursday – 3×20'/2′ Steady State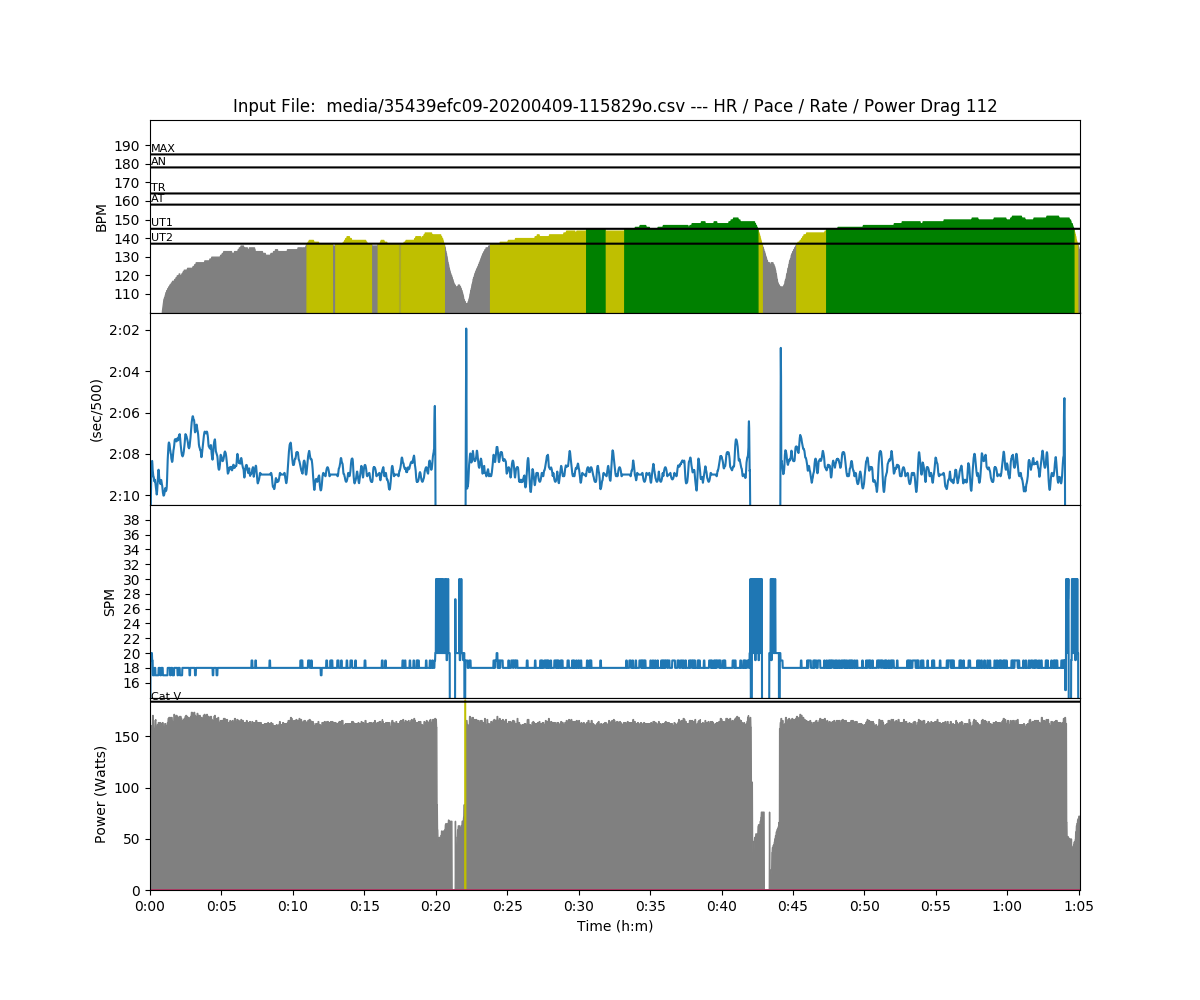 4/10 – Friday – 3×20'/2′ Steady State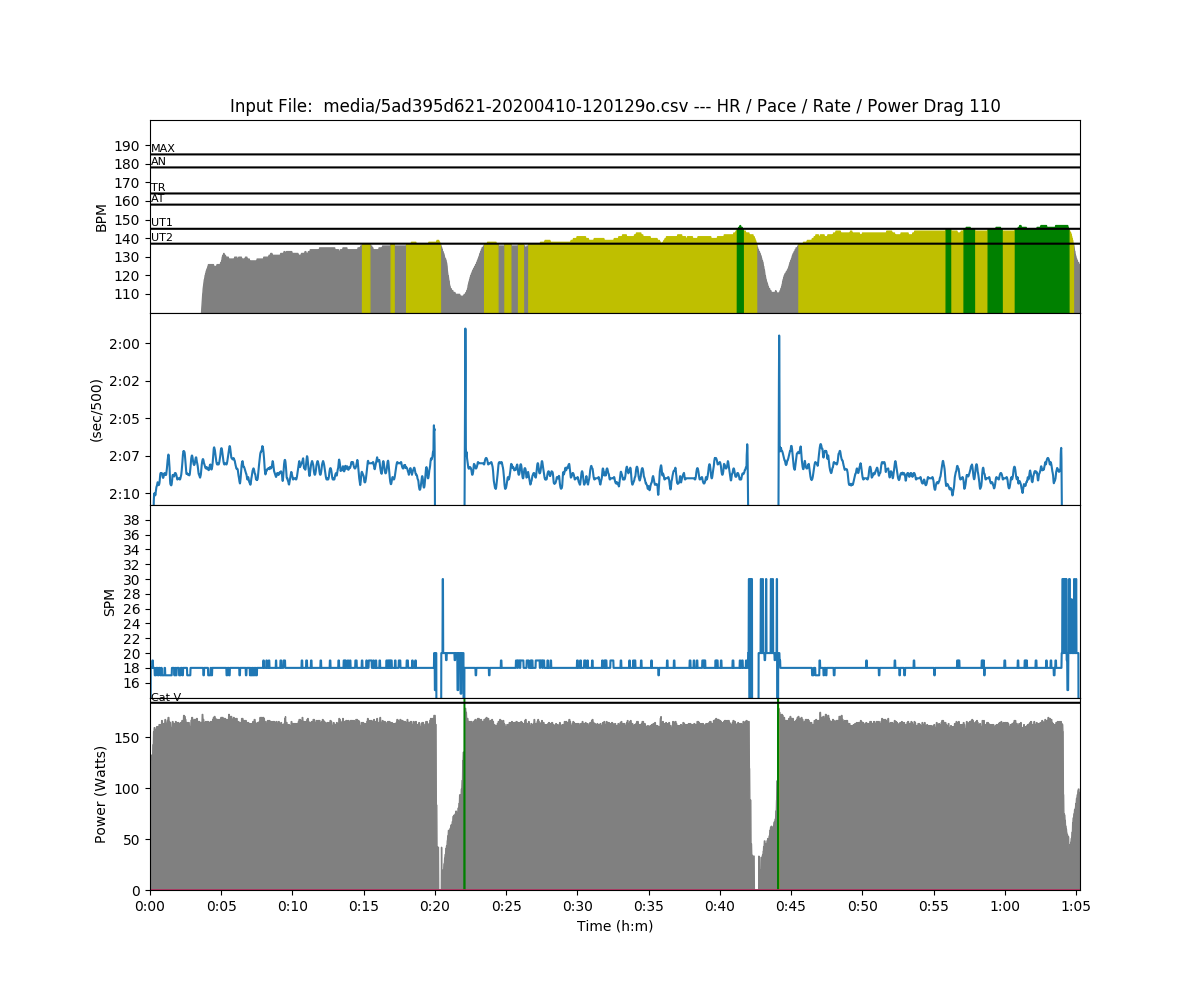 4/11 – Saturday – 3×30'/2′ Steady State
Now add a bunch of minutes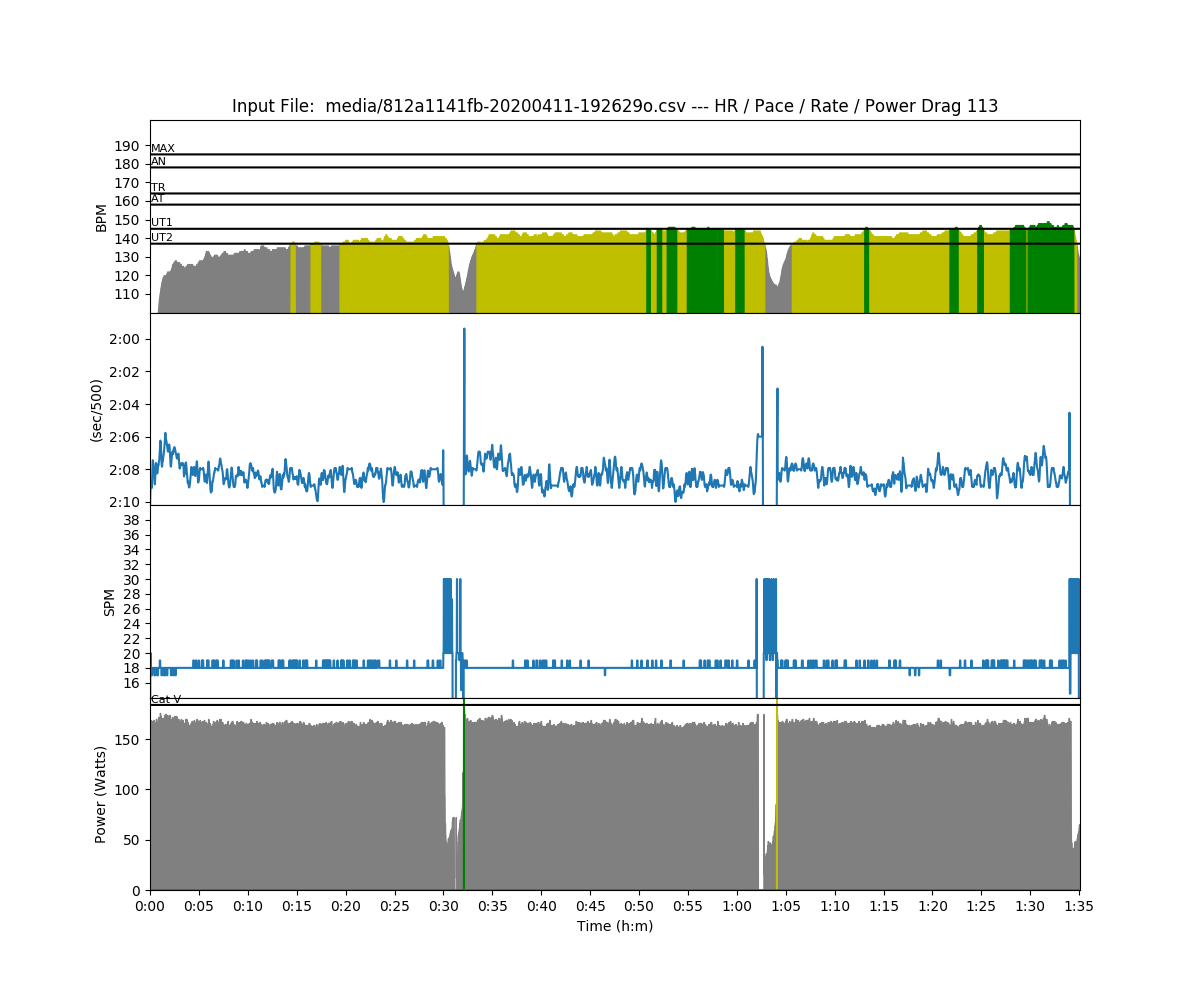 4/12 – Sunday – 28′ Eric Murray Session
Finally earned the right to do a hard session.  It was.  I even shifted it down by 2 SPM .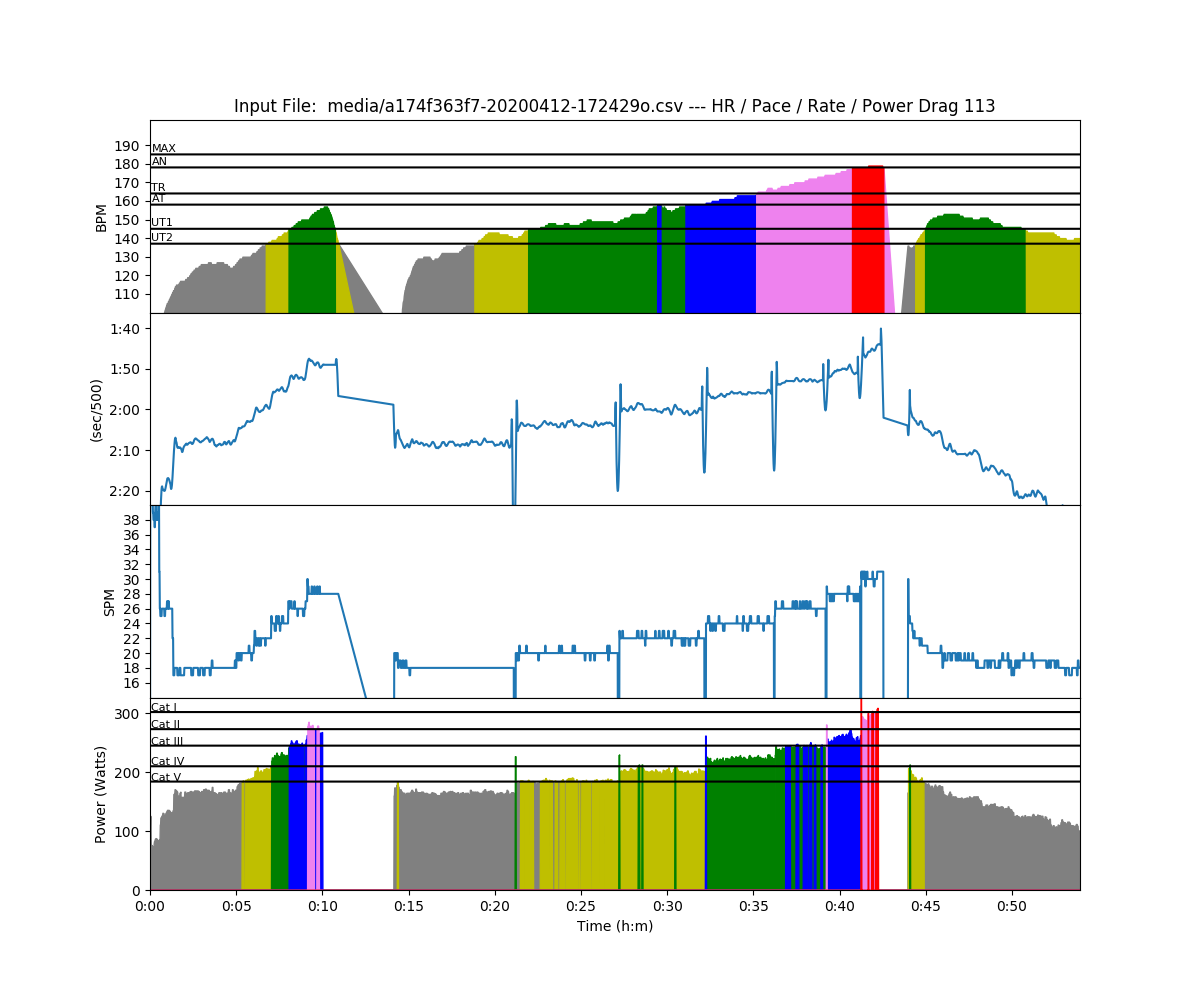 4/13 – Monday – 3×20'/2′ L4
Felt good about my aerobic base, so I decided to push it a little with an L4.  Woreked out great.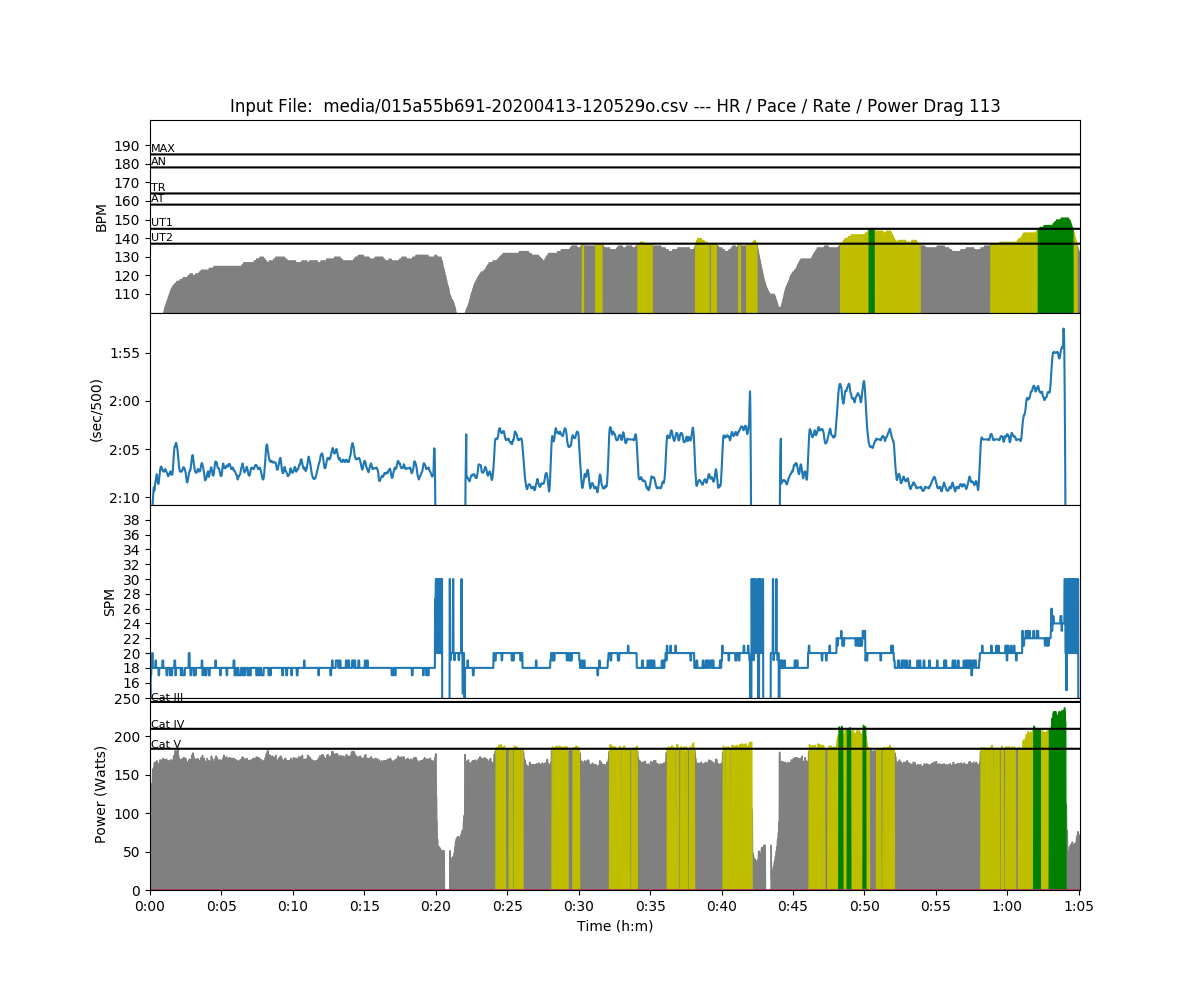 4/14 – Tuesday – 3×20'/2′ L4
Still feeling pretty good.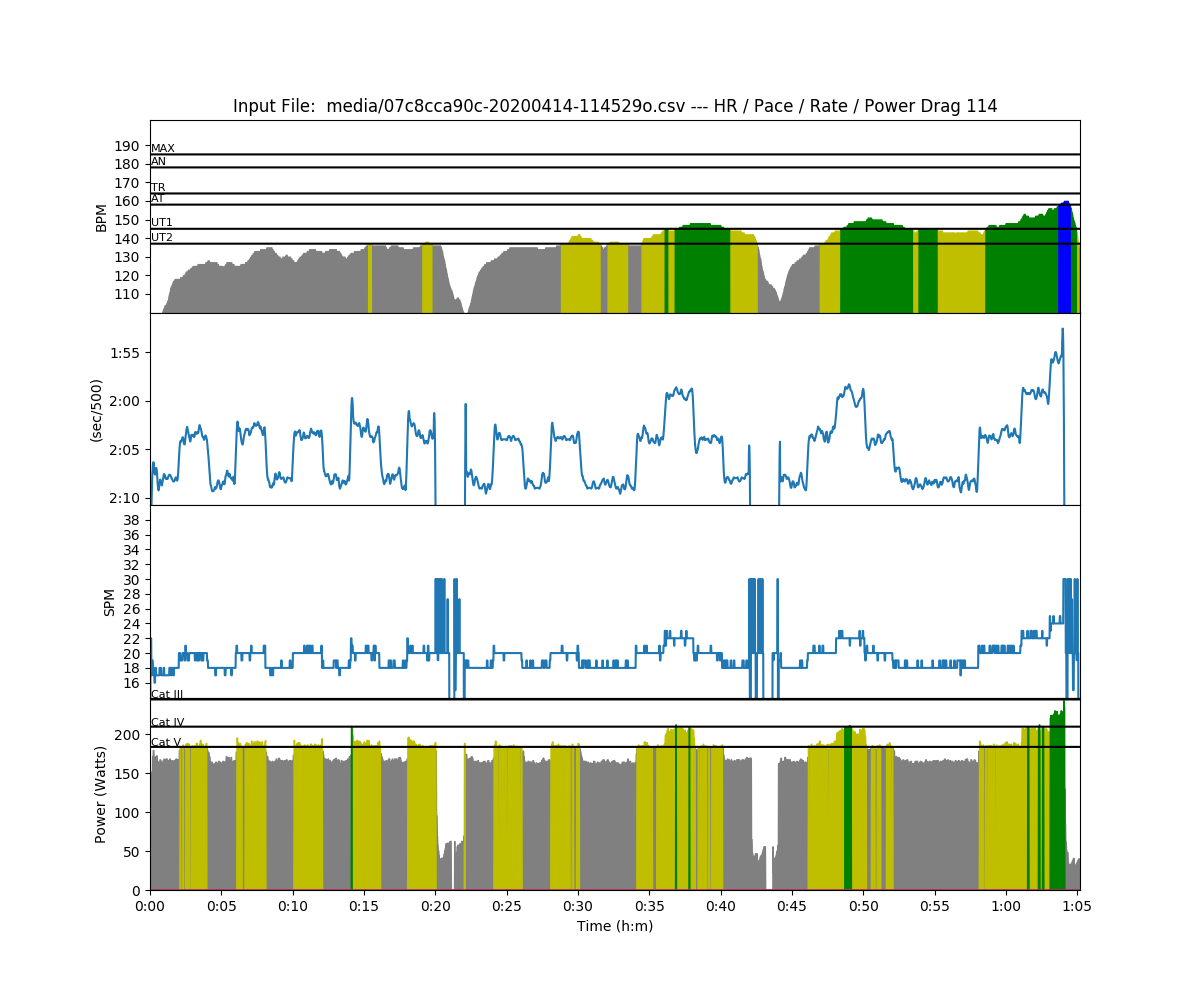 4/15 – Wednesday – 6 x 750 / 3′ L1
A hard session!  Not sure what pace I could hold.  The session turned out well.  1:47.3 avg pace thanks to a very strong last rep.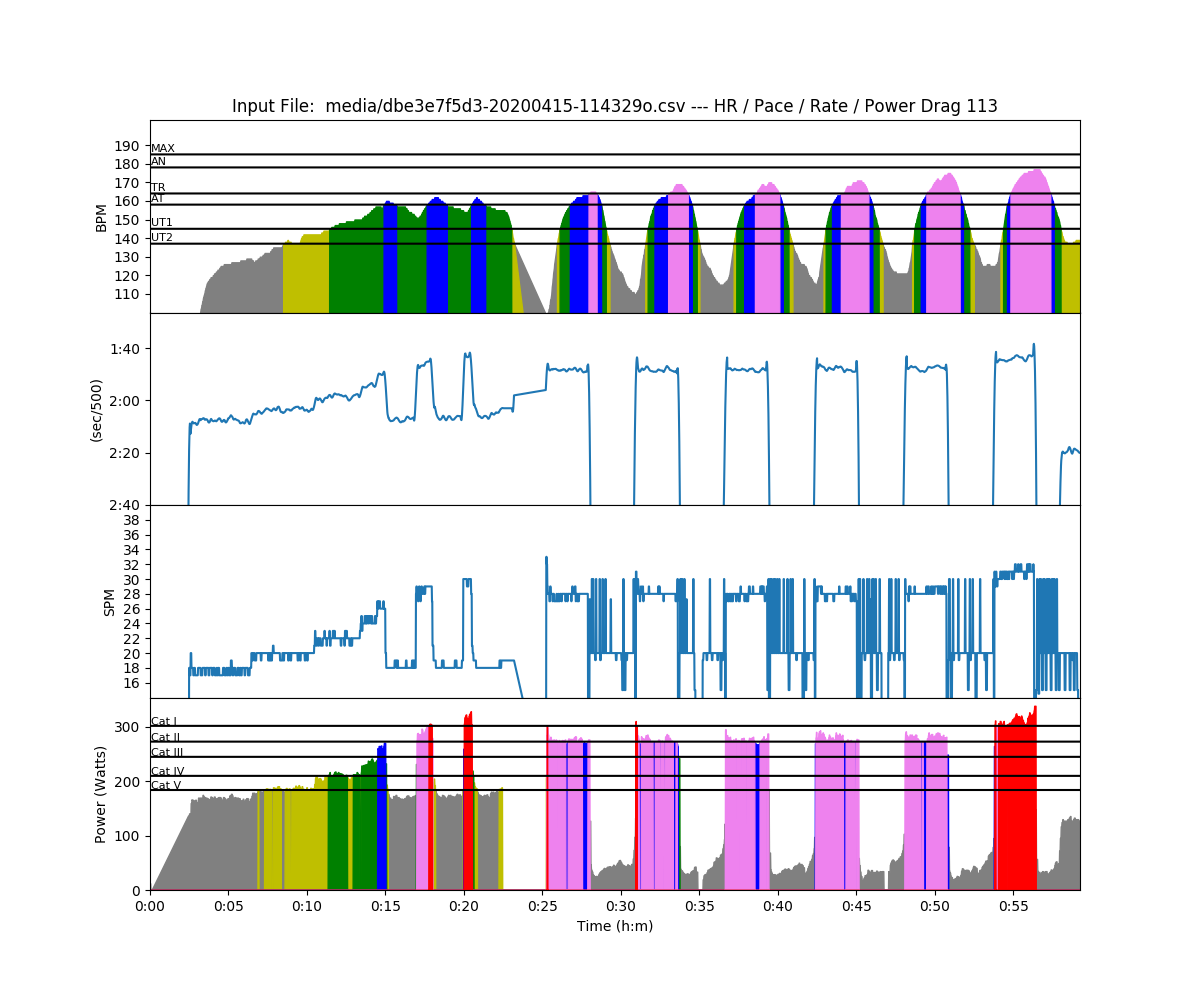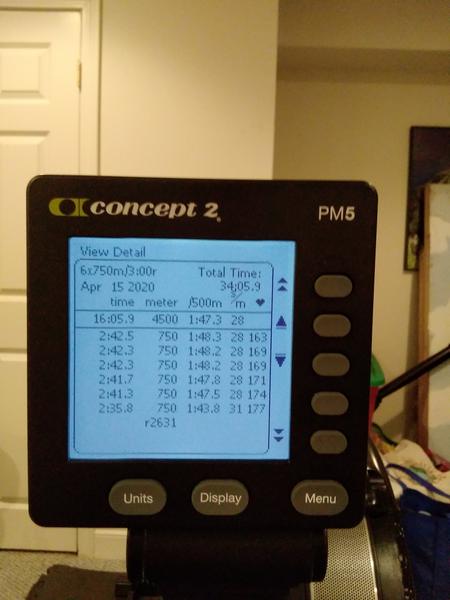 4/16 – Thursday – 2 x 20'/2′ Steady State
I was planning to do 3 20′ chunks, but I was tired and totally not into it.  I quit after two.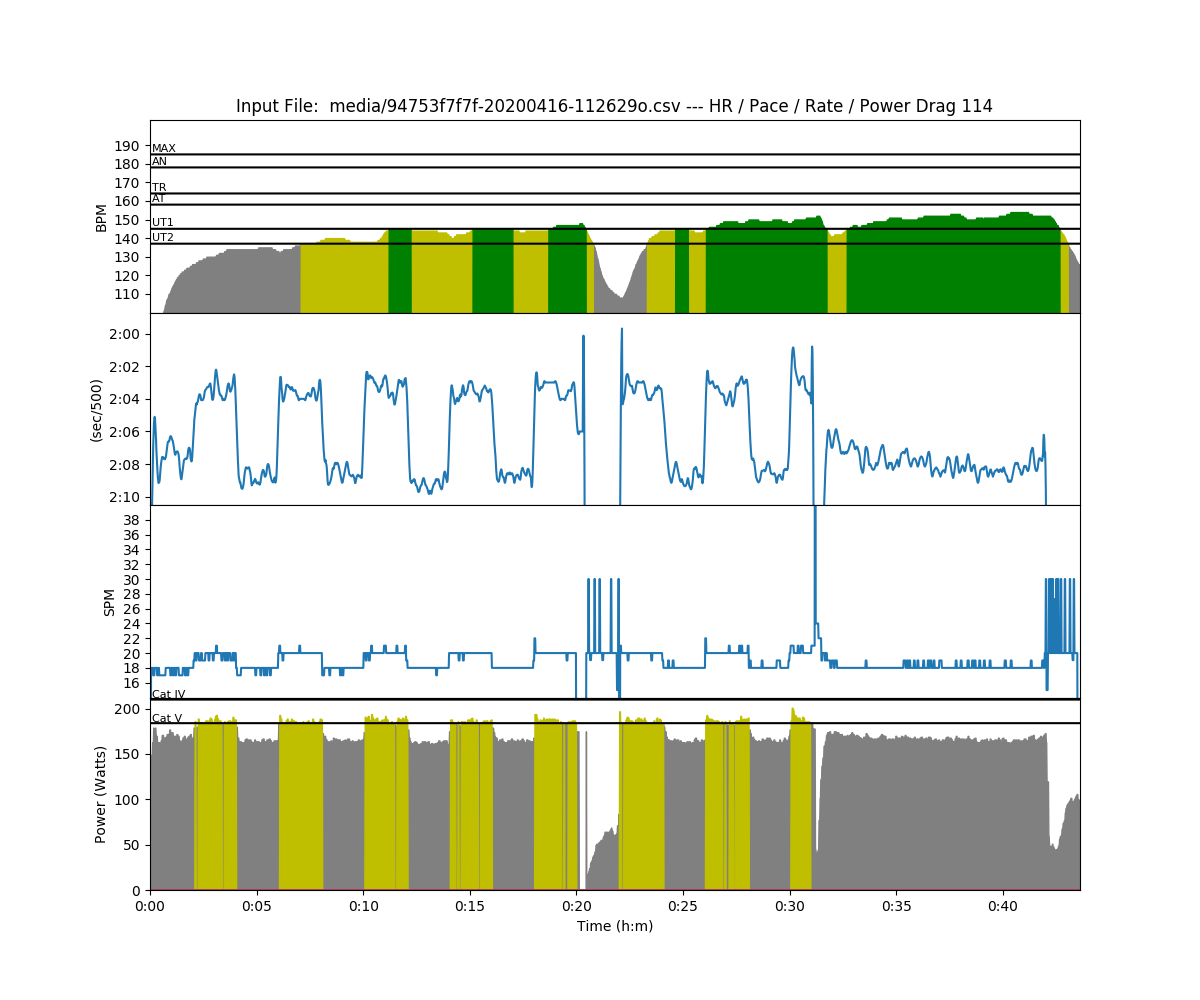 4/17 – Friday – 2 x 30'/2′ Steady State
Back to r18.  Still feeling really tired.  High HR.  Dropped the power in the last 15 minutes to try to stay under HR cap.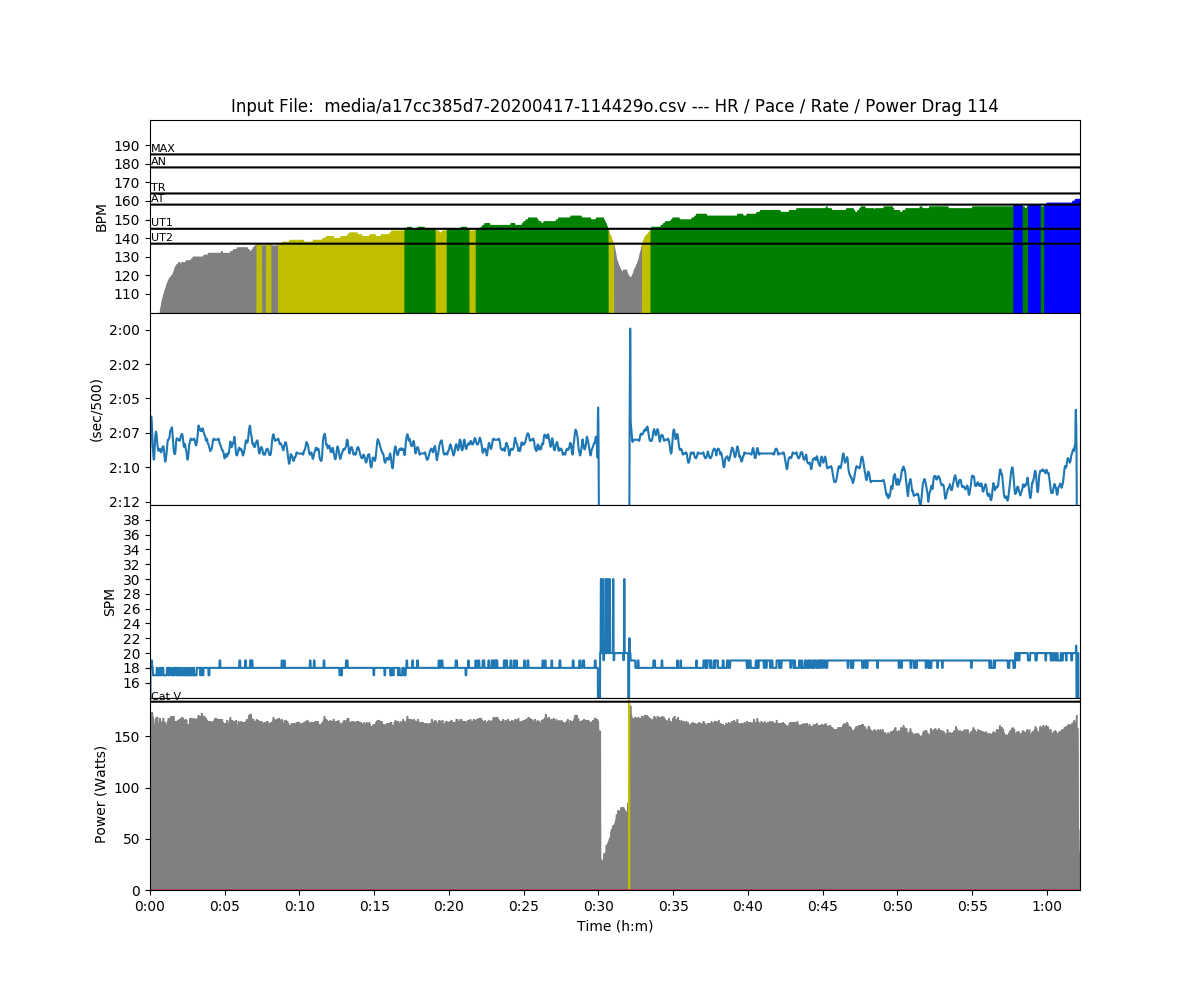 4/18 – Saturday – fell off the roof
4/19 – Sunday – Not feeling so good
4/20 – Monday – Feeling a bit better
4/21 – Tuesday – 60′ on the stationary bike
Very easy, just trying tiomaintain some base fitness.  Listening to Rebecca Caroe and Marlene Royle.
4/22 – Wednesday – 60′ Stationary Bike
Same deal.
4/23 – Thursday – 60′ Stationary Bike
Feeling a bit tired today.  Watching a documentary on the Apollo program.
4/24 – Friday – 60′ Stationary Bike
Feeling a bit more energetic.  Watching Giada in Italy.
4/25 – Saturday – 7.25 km run
It was a beautiful day, so I decided to go for a run! It was hard work.  i haven't run since Aruba and that was all perfectly flat.  But it was great to get outside and breath some fresh air.
And that brings us up to date!  I hope I'll be back on the rower in a week or so, and until then, I guess I'll be on the bike and going for runs.