I've completed the three week cycle of the plan, and then had a 1 week interruption to go to China.  Now, I am back to repeating the workouts for the second time through and have a much better idea of pace targets.
Sunday – Nov 24 – 3 x 30′ / 2′ Steady State with a bit of L4 action
I was feeling a tired and my HR was a bit higher than I expected, but it was a good session.  I got bored and decided to do the last 30 minutes in L4 format.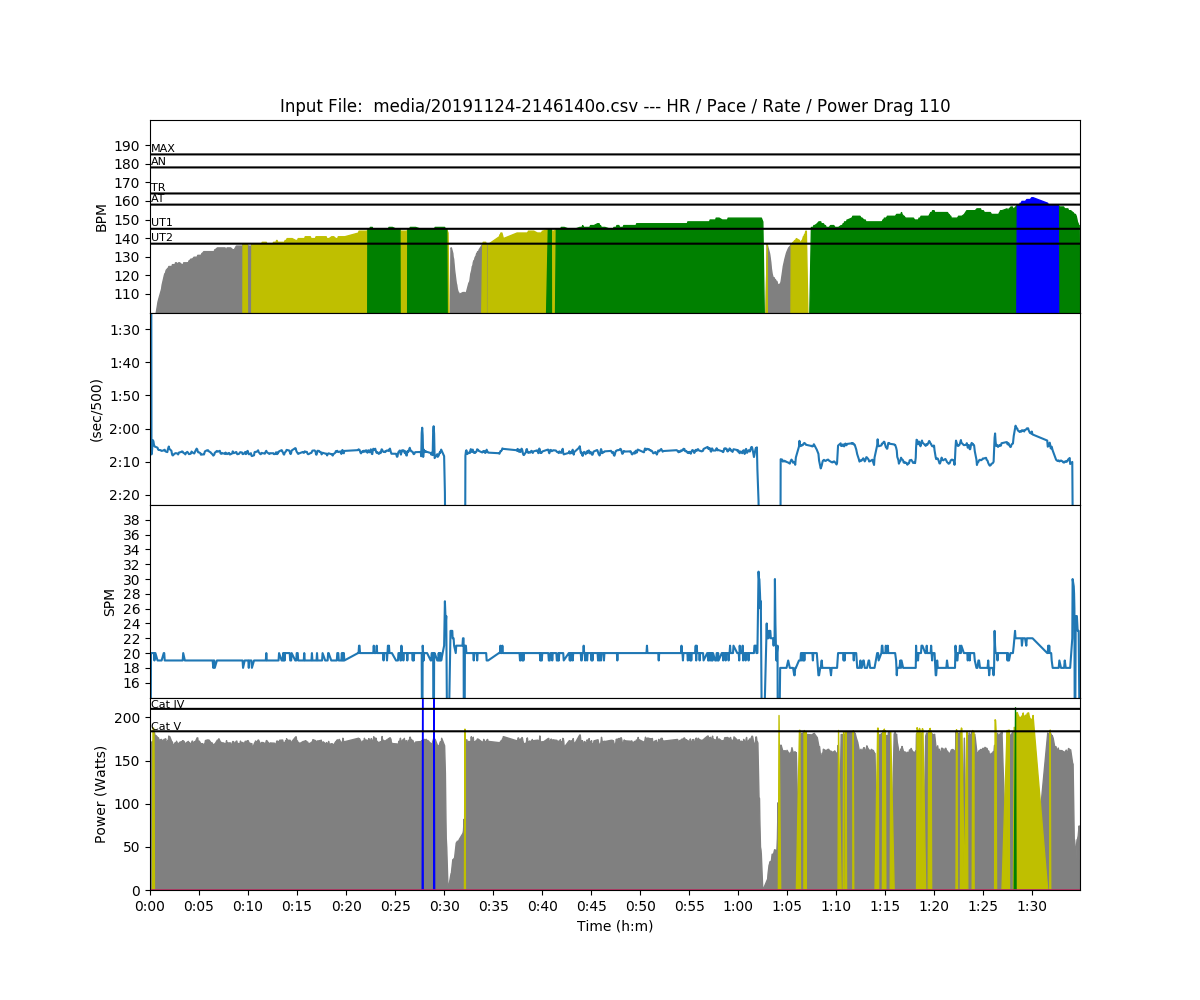 Workout Summary - media/20191124-2146140o.csv
--|Total|-Total----|--Avg--|-Avg-|Avg-|-Avg-|-Max-|-Avg
--|Dist-|-Time-----|-Pace--|-Pwr-|SPM-|-HR--|-HR--|-DPS
--|22007|01:35:59.8|02:10.9|164.8|19.3|143.9|162.0|11.9
W-|21250|01:29:33.9|02:06.4|173.4|19.4|144.5|162.0|12.2
R-|00761|00:06:00.0|03:56.4|044.8|17.4|135.4|162.0|09.4
Workout Details
#-|SDist|-Split-|-SPace-|-Pwr-|SPM-|AvgHR|MaxHR|DPS-
00|07041|29:42.1|02:06.6|172.7|19.2|137.0|146.0|12.3
01|07117|30:00.0|02:06.5|173.5|19.9|145.2|151.0|11.9
02|07092|29:51.8|02:06.3|174.1|19.1|151.1|162.0|12.4

There is something brewing with the monitor on this rower.  The spikes that you see at the end of the first 30′ piece were transients.  I saw them on the monitor too.  I was rowing along and suddenly the power went up above 200 and the stroke rate was way off too.  There is also missing strokes, something that I saw a lot more of a while ago, but is still an issue on this specific machine.
Monday – Nov 25 – 8 x 500 / 3'30"
Last time I did this session was October 25th.  I targeted a 1:45 pace, did the first 7 reps between 1:44 and 1:45, and kicked out a nice faster last rep at 1:41.9.  That brought the average to 1:44 even for whole session.
So today's target was 1:44 for the first 7 and a faster last.  But, I am getting ahead of myself.  I started with a fletcher warmup.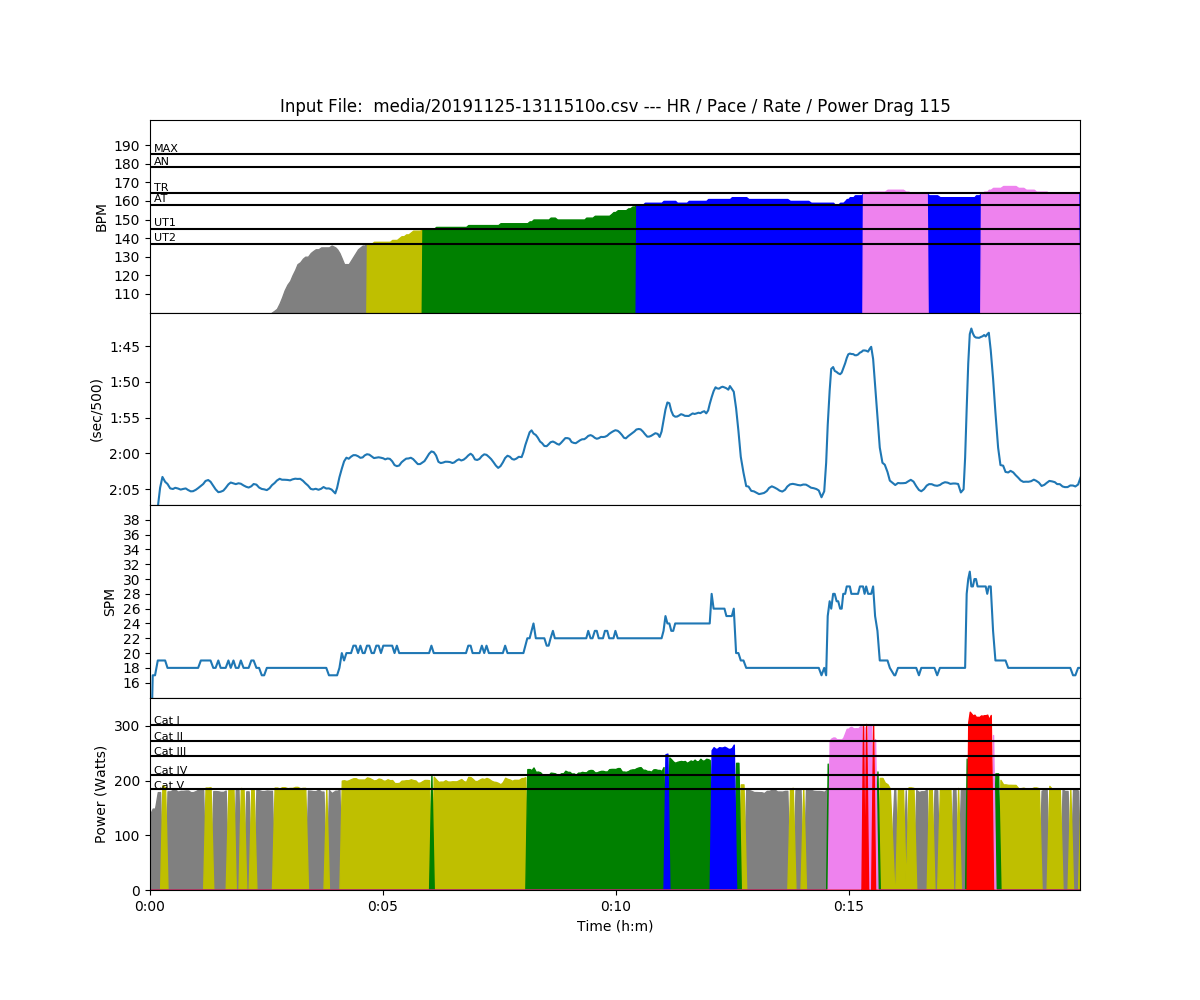 That was hard work.  I was worried that I might not be up to the session.
But, it turns out I was OK.  In fact, I was really nailing it in the middle reps.  The last couple started to bite pretty hard, but I focused on trying to keep my rate up above 30 and row nice and light.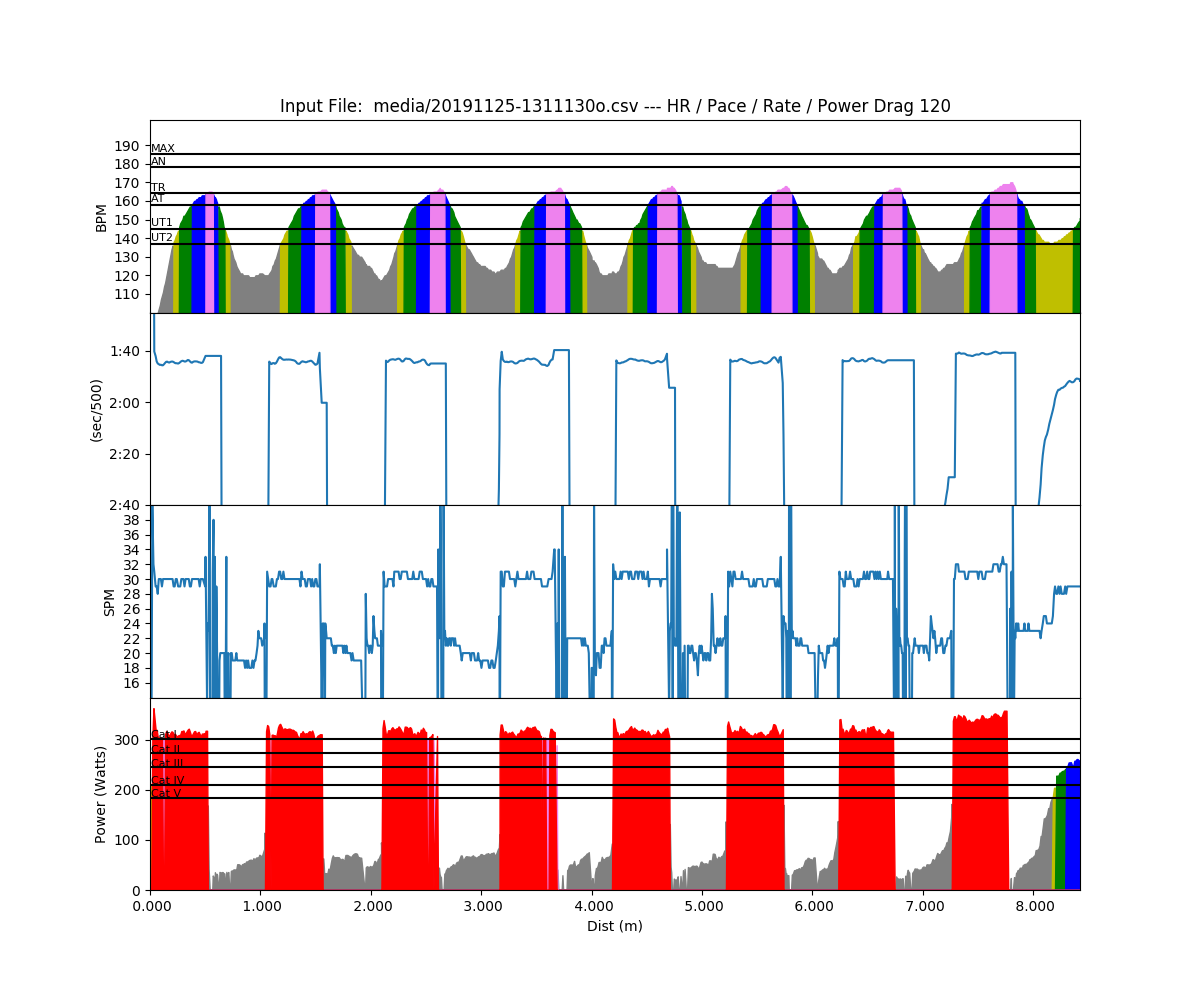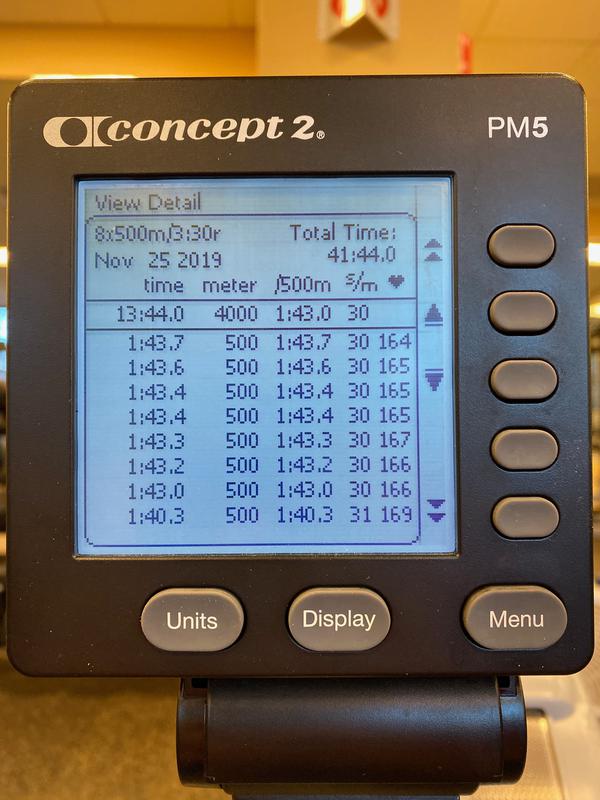 Here is the comparison between sessions.
1.2% shorter DPS (correlates with slightly higher stroke rate)
2.4% higher peak force.
1.9% higher stroke rate
3.1% higher power (up from 309 to 319W)
I'm really happy with the session.  I had an irresistible urge to lie down for a minute in the locker room afterwards, and I'm pleasantly sore now.  I've kind of missed doing these sprint interval sessions.