Sunday – November 10 – 3 x 30'/2′
When you get the target power right, these sessions are actually quite pleasant.  My target today was 170W, but I happened to end the first 30 minutes at 173W, so I tried to match that for the next two pieces.  My HR was a little higher than other sessions, but well within bounds.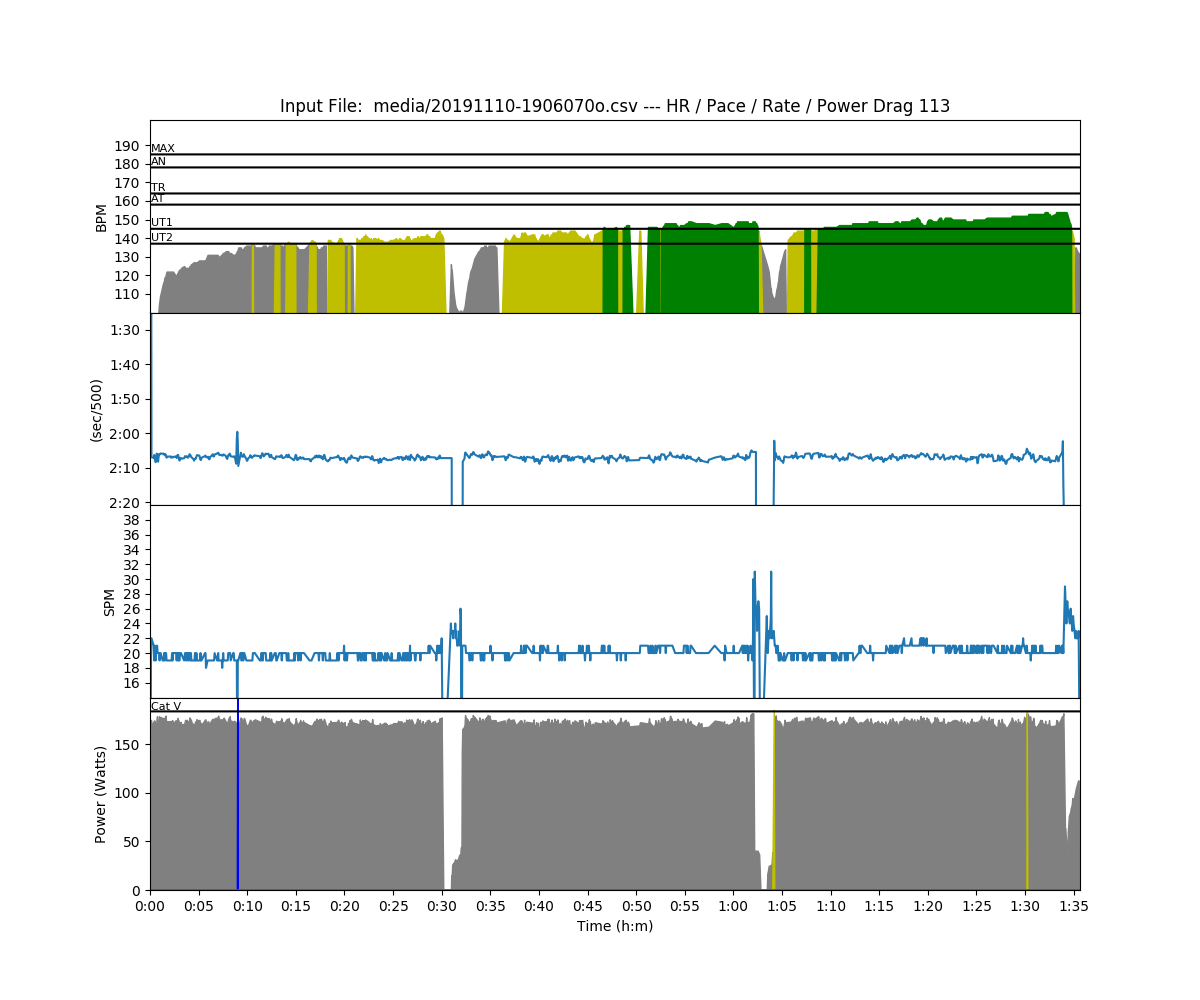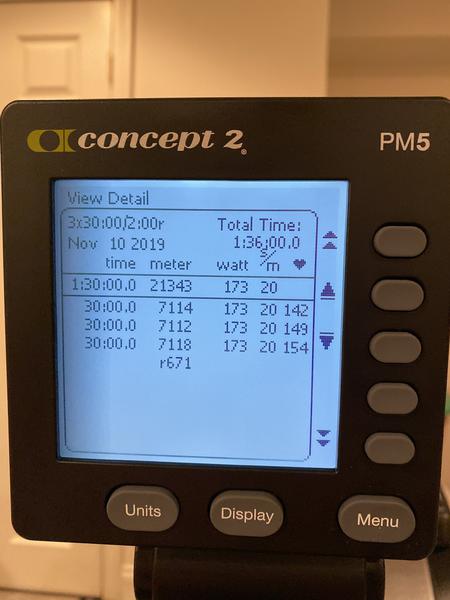 Compared to last Sunday, much higher HR and drift this week, for only 1 more watt.
Monday – 11 November – L1 Pyramid
On the older Model C static erg in the fitness center.
I slept terribly last night and woke up at 5:15 feeling not at all rested.  But there was a hard session in the plan.
Started with a fletcher warmup.  Not my best work.  I slowed way below target after the 1 minute and 30 second sprints.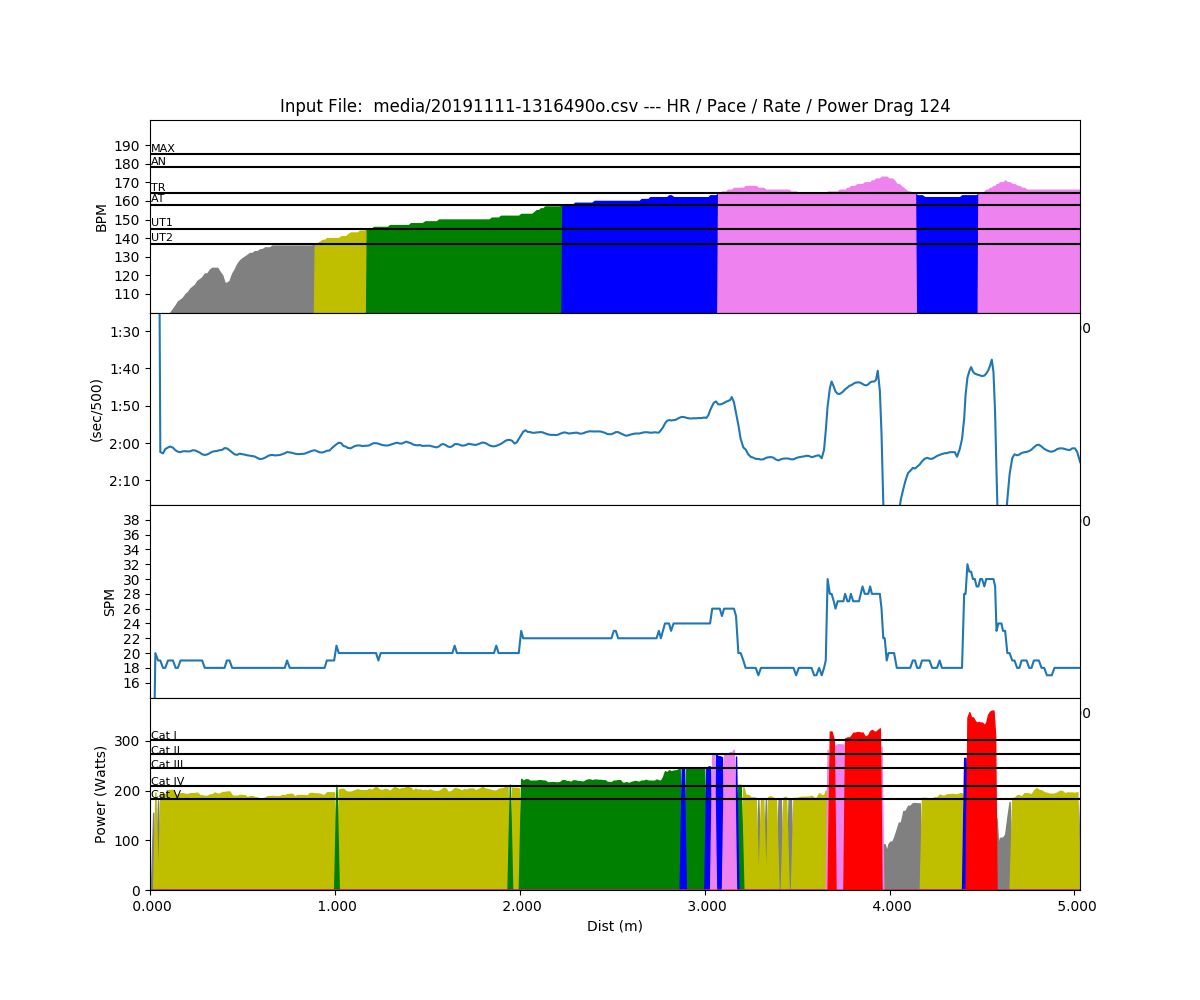 I had a target of 1:44 for the session and I was worried about it.  I probably should have backed off of it on principle, but I' dumb that way.
The first 2 intervals were no problem.  The third was really hard and I was just barely hanging on at the end of it.  I went into the 1000m interval with a bad attitude and had a mental break about 300m into it.  I paddled a few strokes and then decided to row it out to a softer target, around 1:46 or so.  The last 10 strokes were very difficult.
For the 750m, I decided to stick with 1:46 and then see if I could speed it up in the last 250m.  I was pretty shattered after I finished it, but I had 4:30 to recover.  The 500 was fine.  I started to rate up and just punched it out.  The last 250 is always good fun, and today was no exception.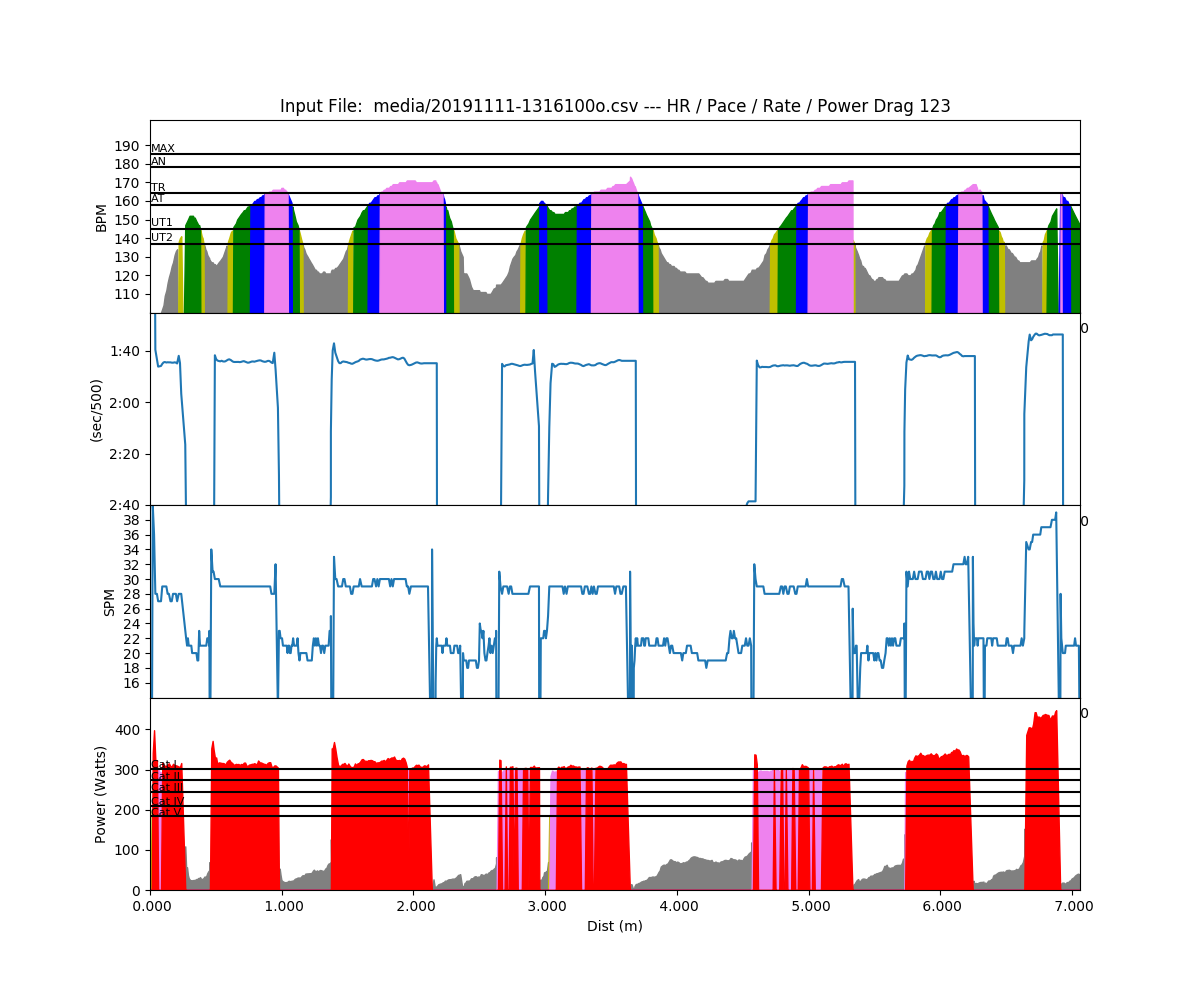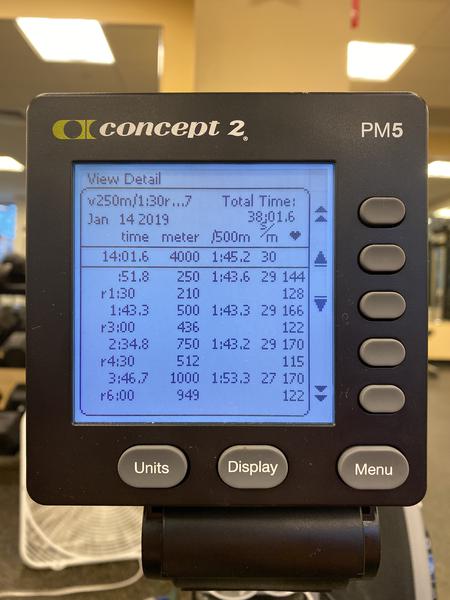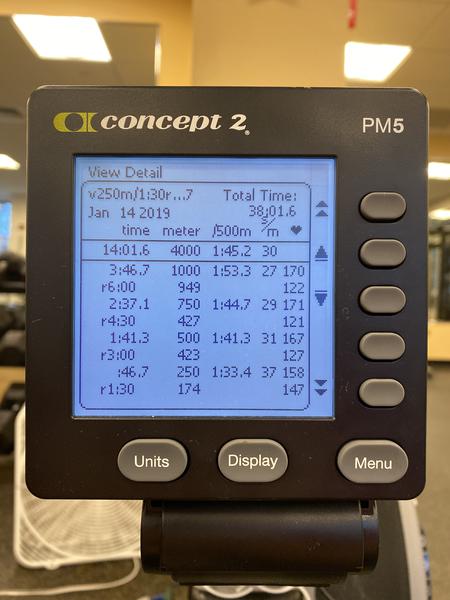 Workout Summary - media/20191111-1316100o.csv
--|Total|-Total----|--Avg--|-Avg-|Avg-|-Avg-|-Max-|-Avg
--|Dist-|-Time-----|-Pace--|-Pwr-|SPM-|-HR--|-HR--|-DPS
--|07061|00:38:06.6|02:41.9|138.3|23.4|142.2|173.0|07.9
W-|04000|00:14:05.9|01:45.7|309.6|28.9|150.1|171.0|09.8
R-|03067|00:23:10.2|03:46.7|037.9|20.1|137.3|171.0|05.7
Workout Details
#-|SDist|-Split-|-SPace-|-Pwr-|SPM-|AvgHR|MaxHR|DPS-
00|00250|00:51.0|01:42.0|311.6|27.8|115.8|141.0|10.6
01|00500|01:44.2|01:44.2|317.7|29.3|149.9|166.0|09.8
02|00750|02:34.9|01:43.3|318.2|29.1|157.6|171.0|10.0
03|01000|03:47.5|01:53.8|267.5|26.8|153.3|169.0|09.8
04|00750|02:37.5|01:45.0|302.8|28.3|154.6|171.0|10.1
05|00500|01:41.7|01:41.7|334.9|30.6|147.1|167.0|09.7
06|00250|00:49.0|01:38.0|427.4|36.5|138.9|156.0|08.4
So, with a massive issue in the middle interval, I still finished only 1.2 seconds off of target.  I could have done the middle interval around 1:48 and hit the target.  This was a useful lesson.  Stick to the target and let yourself slow down for the 1000m interval.  Same target next time.
Tomorrow.  4 x 20'/2′ at 170W