Tuesday – Nov 5 – 3 x 20′ / 1′
In the fitness center at work, static erg. b A bit short on time because I had to get to some offsite training by 8:15am.  Original plan was 4×20, I had to shorten it to 3×20.
Started at 165W and increased as I went along.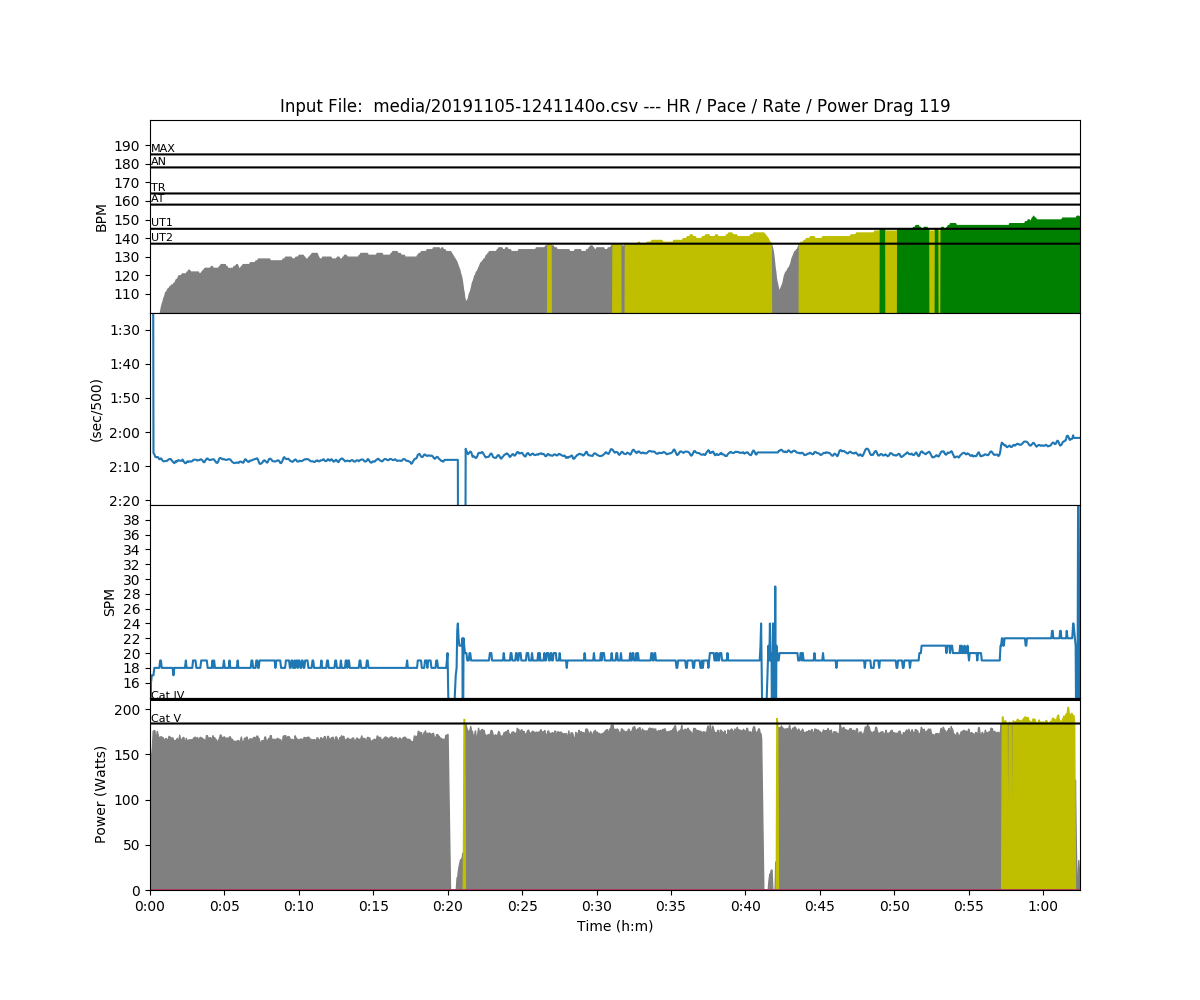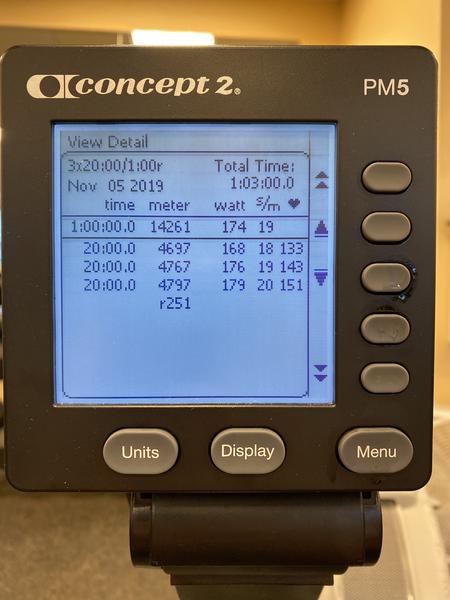 Wednesday – November 6 – 4 x 2000/5′
This is an intimidating session.  I had a reasonably good idea for the pace target because of the waterfall from last week:  1:53.0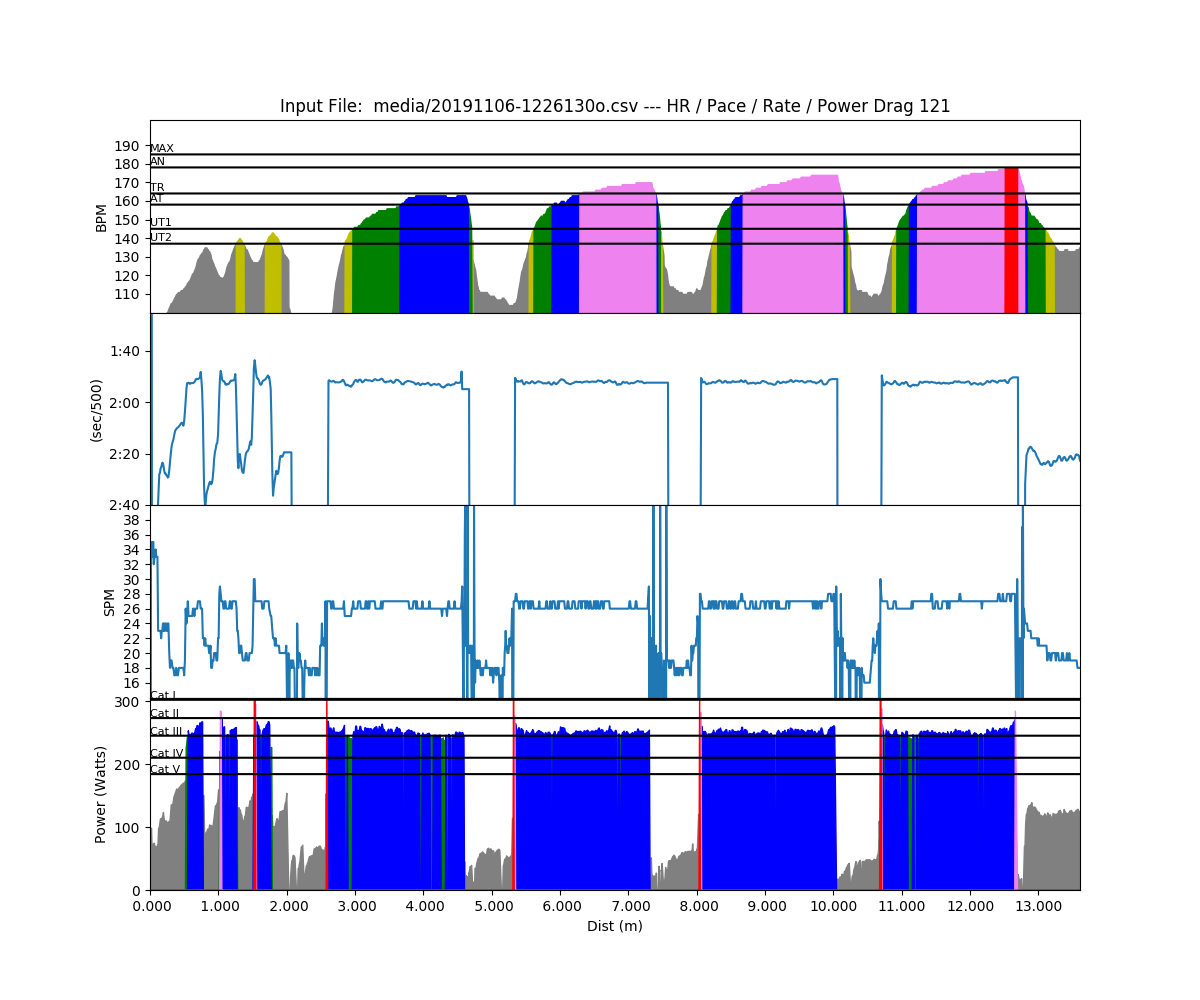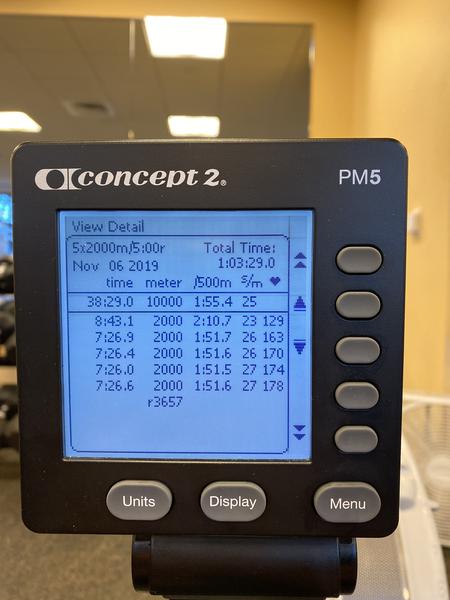 The first rep was a warmup.  The average pace for the 4 work reps was 1:51.6.  The first two were no problem, the third was tough and I was struggling to hold pace in the last one after the first 500m of it.  I'm really happy to complete it cleanly.  1:51.5 target for the first 3 next time, with hopefully a faster last.
Thursday – 7 November – rest day
I wasn't planning a rest day, but when I got to work I wanted to work on requirement definition for the "secret new feature" on rowsandall.com.  And then I discovered that I had a 8 am meeting.  So, there wasn't enough time for a row.
Friday – 8 November – 3 x 20'/1′
Another day with early meetings, but I went right to the gym and got to work.  Today, I started at 170W and pushed it a bit while trying to keep my HR below 145 through the first 40 minutes.  I loosened the cap in the last 20 minutes to 150.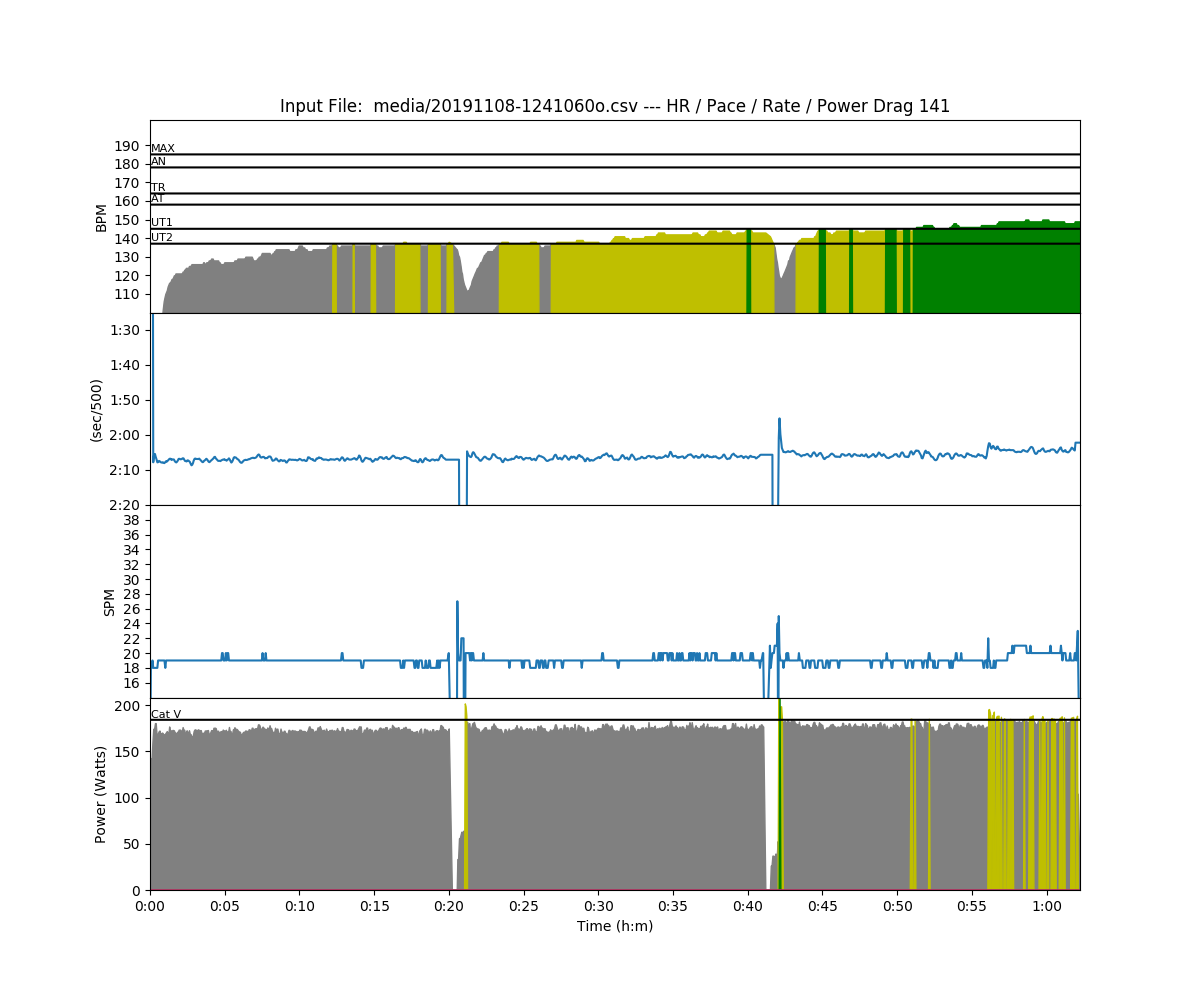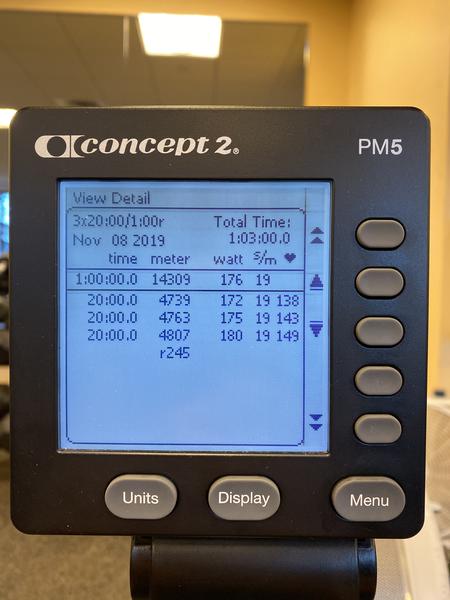 Saturday – 9 November – Hard 30′
At home on slides.  I was nervous about this session because of all the 10Ks that I bailed out on over the summer.  But based on the 1:57.2 10K that I did last week, a reasonable target for this piece was 1:56.  In my head, I really wanted to hold 1:55, but I was afraid that would be a stretch.
I started with a 2000m warmup.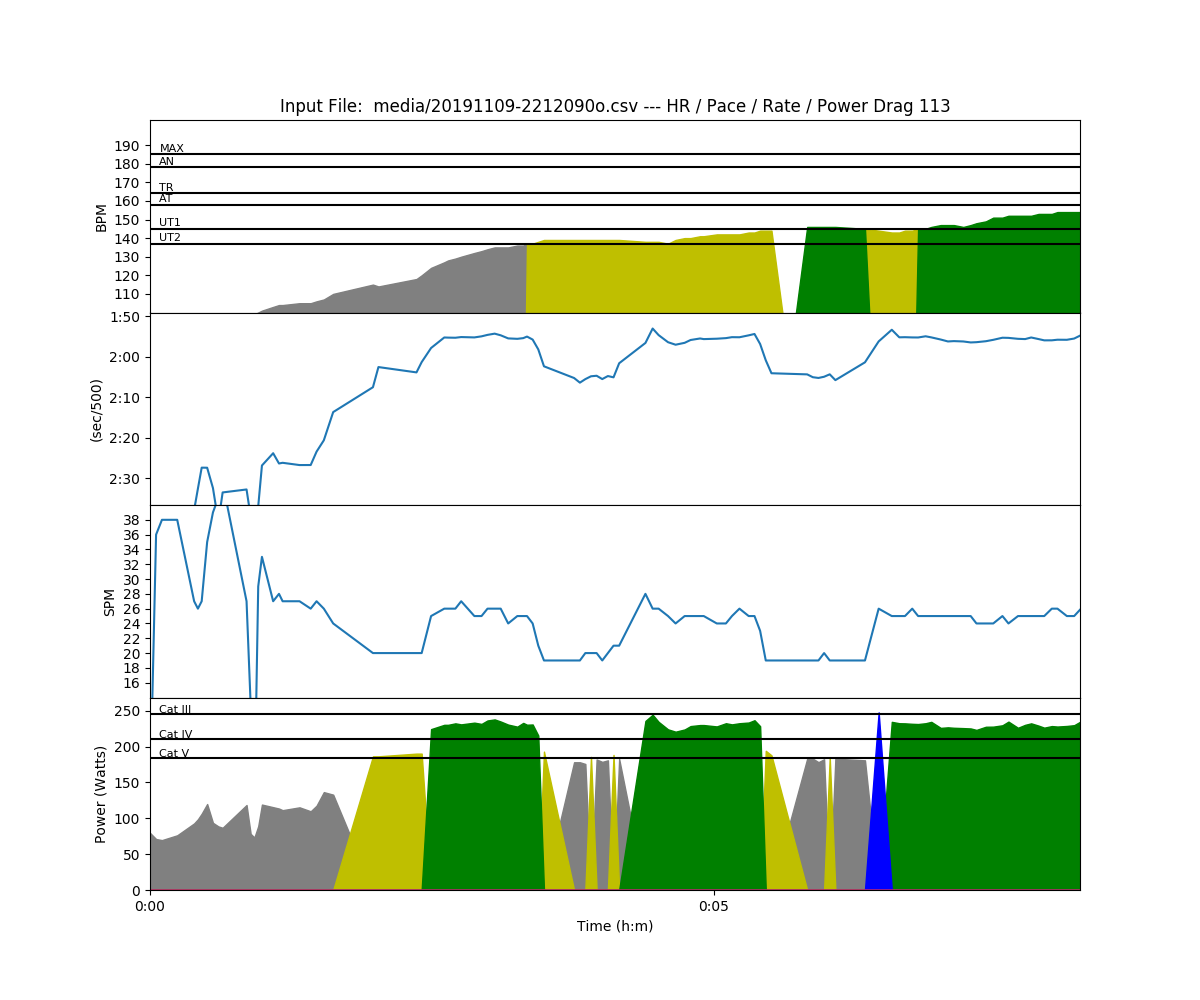 Here's the main piece.  Looks pretty boring.  It wasn't.  I was making very small adjustments to stroke rate to try to hold 1:55.  And I counted strokes for each 1000m of the piece.  The hardest bit was probably from 5000 to 6000m.  Still pretty far from the end, but deep into the hole.  When I got to 2 minutes left, I was sure I was going to make it and I rated up to try to get over 7850.  I did…7855m.  That's a 1:54.5 pace.  I have to shave 2 seconds off that to get back above 8K for 30 minutes.  I think that's doable.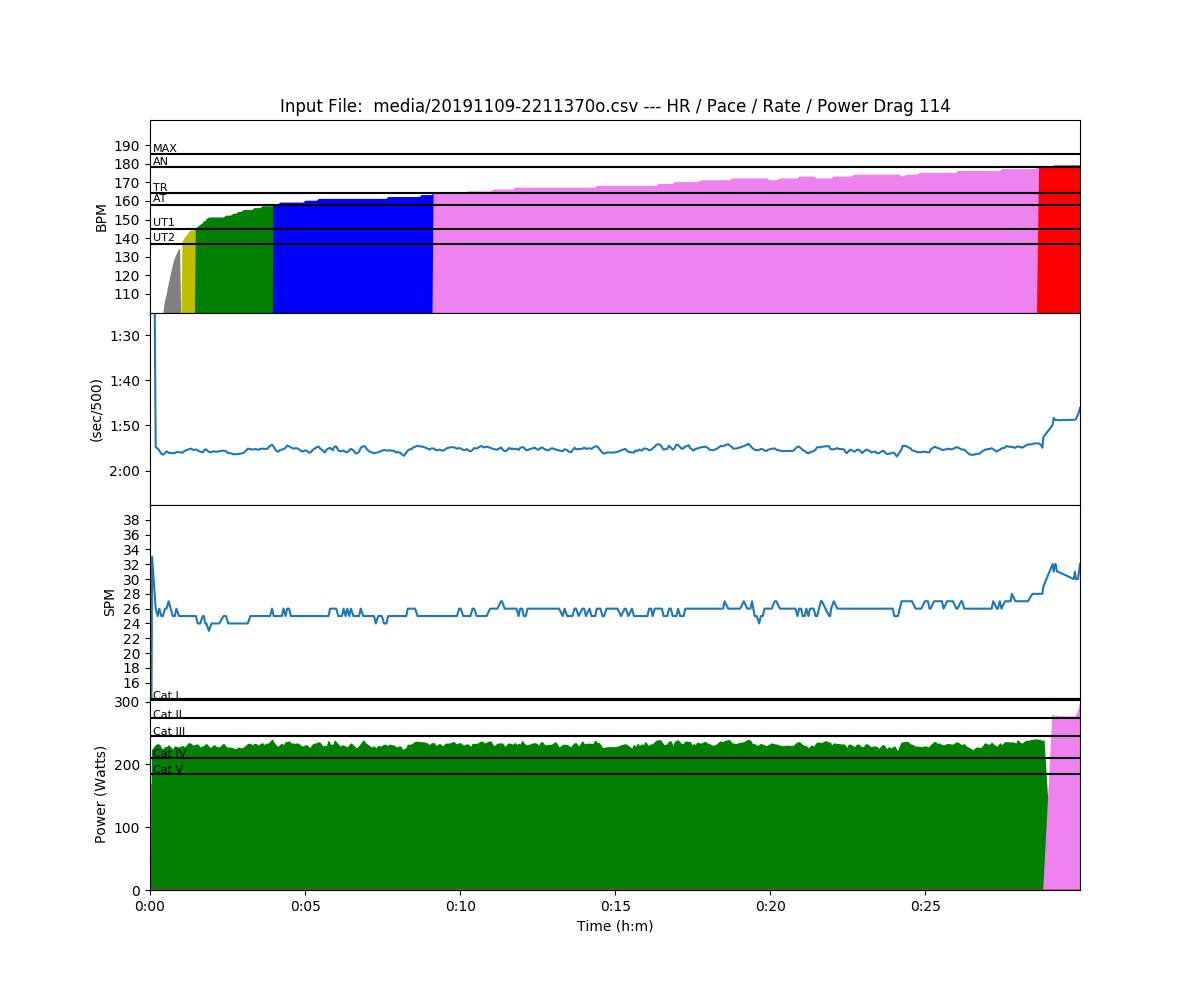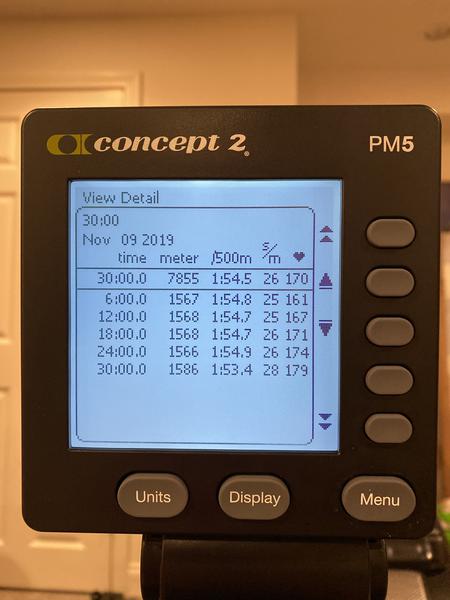 Workout Summary - media/20191109-2211370o.csv
--|Total|-Total----|--Avg--|-Avg-|Avg-|-Avg-|-Max-|-Avg
--|Dist-|-Time-----|-Pace--|-Pwr-|SPM-|-HR--|-HR--|-DPS
--|07856|00:30:00.0|01:54.6|232.8|25.8|165.5|179.0|10.1
W-|07860|00:30:00.0|01:54.5|232.8|25.8|165.5|179.0|10.2
R-|00000|00:00:00.0|00:00.0|000.0|00.0|000.0|179.0|00.0
Workout Details
#-|SDist|-Split-|-SPace-|-Pwr-|SPM-|AvgHR|MaxHR|DPS-
00|01049|04:00.0|01:54.4|228.5|24.6|141.1|158.0|10.6
01|01044|04:00.0|01:54.9|230.3|25.1|160.5|162.0|10.4
02|01046|04:00.0|01:54.7|231.8|25.4|164.4|167.0|10.3
03|01044|04:00.0|01:54.9|230.6|25.6|167.4|168.0|10.2
04|01048|04:00.0|01:54.5|233.4|25.8|170.6|172.0|10.2
05|01043|04:00.0|01:55.1|229.9|26.0|172.9|174.0|10.0
06|01044|04:00.0|01:55.0|230.7|26.5|175.4|177.0|09.8
07|00542|02:00.0|01:50.8|261.7|29.6|178.2|179.0|09.2
Then a 2K happy ending cool down.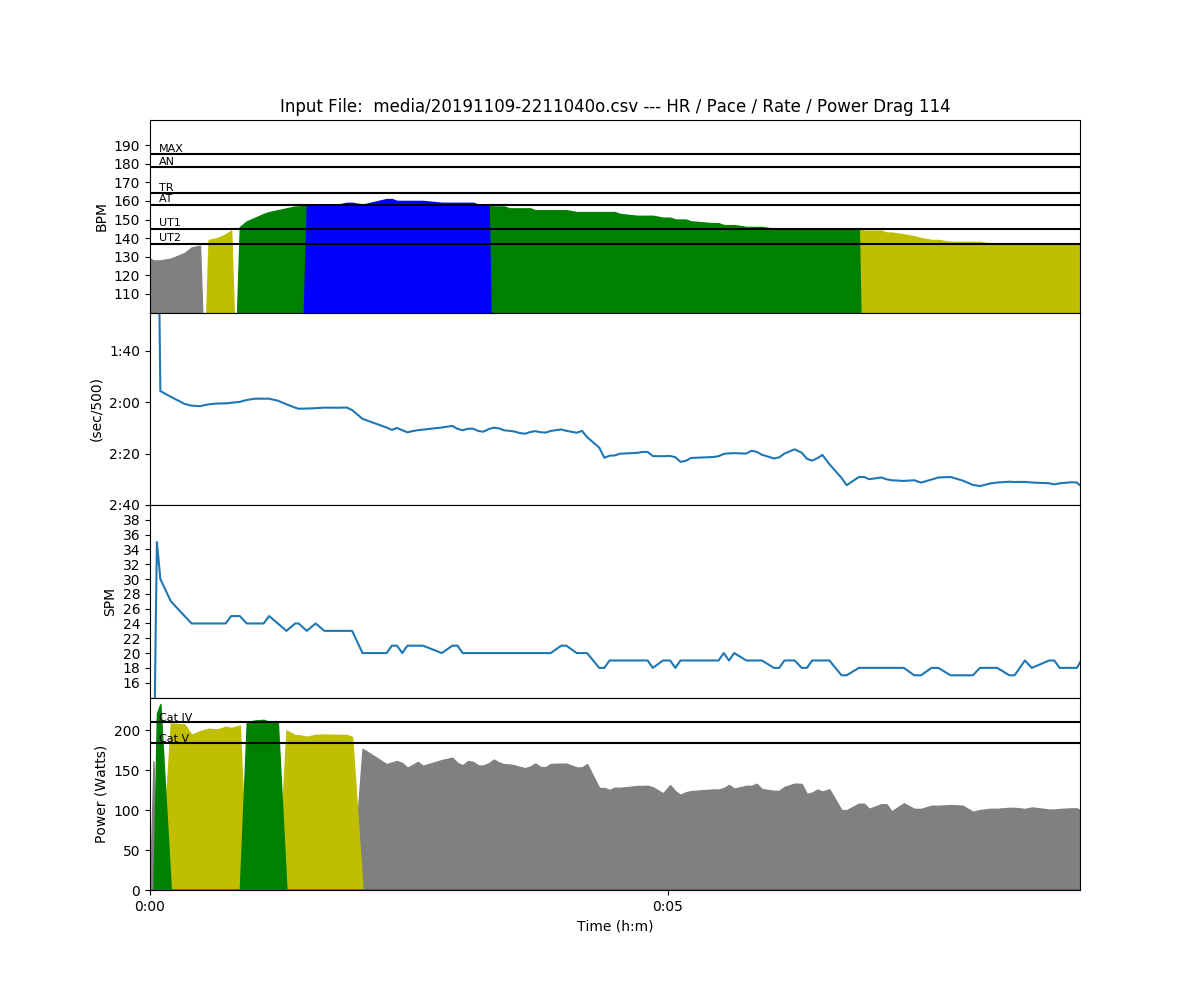 Tomorrow:  Long row — 3 x 30'/2′