I launched at about 12:15, the wind was West between 10 and 15 with gusts to 20mph.  I decided to spend as much time in lee of the island to minimize the exposure to the waves.  When the wind if from the west, they build up pretty good.
The plan for today was 4 x 10′ intervals at head race rates.  In a coastal boat, it's basically impossible to set a target pace.  Between the tidal current and the wind, my pace was varying more than 30 seconds per 500 at roughly the same pressure.  I was generally working by feel.
I warmed up by rowing way into Loagy Bay where the water was nice and flat.  I was able to get a good 3 minutes of the interval in reasonable protection, then I had to turn into the wind and slog it out.  I was still in a bit of the wind shadow of the island for all but the last few minutes of the outbound piece.  At that point, I was crashing through waves and rowing with the footwell full of water,  It was kind of fun actually.  It certainly kept my mind off the oxygen debt!
The ride back was also a blast.  The first few minutes I was surfing big waves and had a nice tail wind.  It was actually a challenge to maintain really high pressure because of the steering and oarwork required to navigate the waves.  If I did it right, I would catch the face of a wave and hear almost a sizzling noise, then the bow would dig into the trough and solid water would wash over the whole boat.
Between the 2nd and 3rd intervals I met up with a guy in Kayak.  He has house down here, but he is a member of the Saugatuck rowing club.  He has an Alden and he just bought a nice looking australia coastal boat.  Hopefully, I can meet up with him in the coming days and we can do some rowing together.
This chat extended my rest a bit beyond regulation, but I decided to atone for it by adding 30 seconds to the next rep.  This was my best rep.  I stuck closer to the island and spent more time in relatively smoother water.  When I popped out from the lee of the island with 2 minutes to go, I was again smashing through the chop.  I managed to get within a couple beats of my maximum HR, but I was having too much fun to be in much distress.
The ride home was again a surfing delight.  Not as intense as rep 3, but hard work nonetheless.
I'd say this was a good session.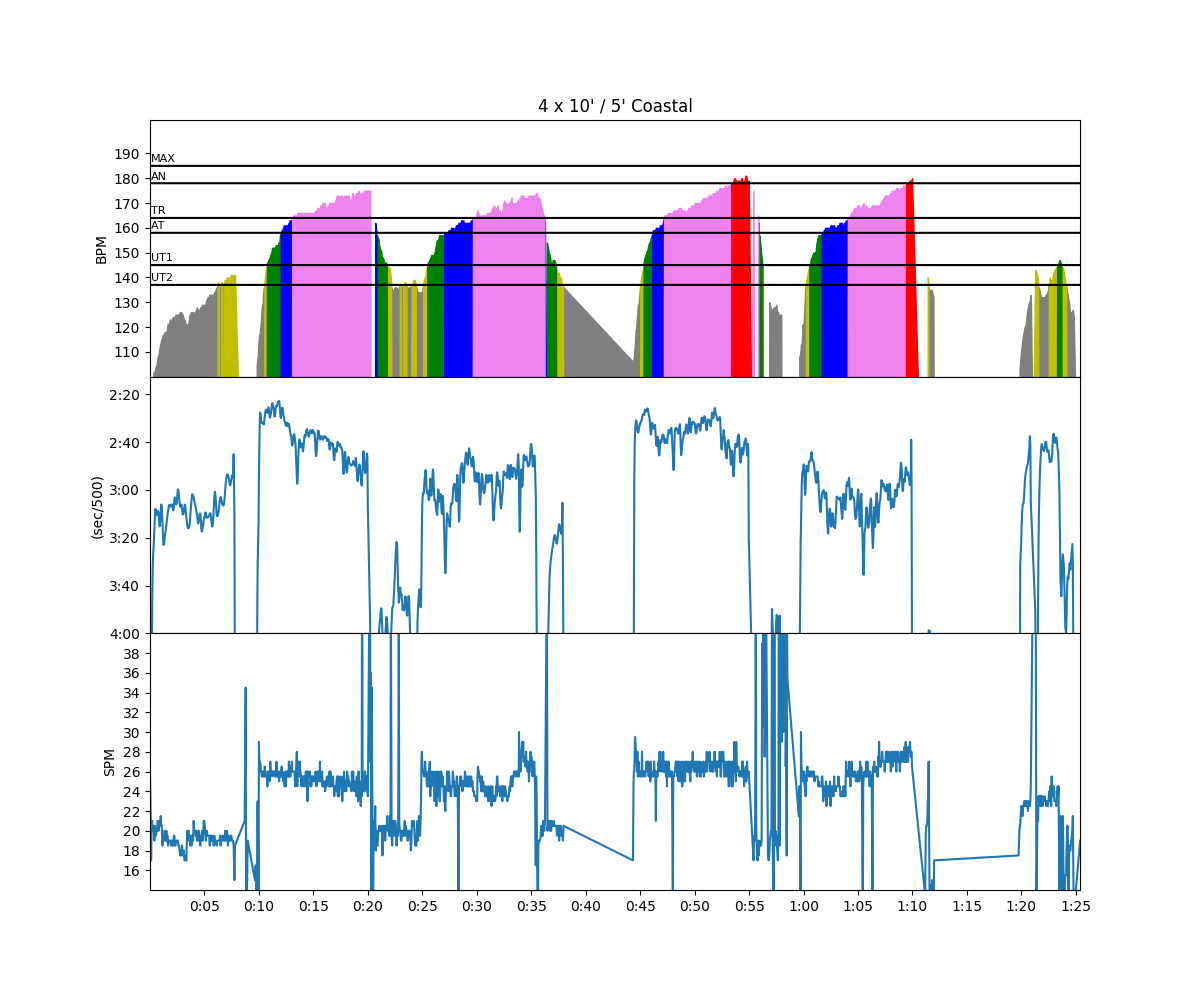 Workout Summary - media/20190812-195158-SpdCoach 2182533 20190812 1218PM 2o.csv
--|Total|-Total----|--Avg--|-Avg-|Avg-|-Avg-|-Max-|-Avg
--|Dist-|-Time-----|-Pace--|-Pwr-|SPM-|-HR--|-HR--|-DPS
--|11181|01:25:23.0|03:49.1|000.0|22.6|143.4|181.0|05.8
W-|09115|00:51:58.7|02:51.1|000.0|24.8|156.8|181.0|07.1
R-|02072|00:33:25.0|08:03.9|000.0|19.3|122.6|181.0|06.4
Workout Details
#-|SDist|-Split-|-SPace-|-Pwr-|SPM-|AvgHR|MaxHR|DPS-
01|01168|07:16.8|03:07.1|000.0|19.2|127.0|141.0|08.4
02|01905|10:03.8|02:38.4|000.0|25.3|163.2|175.0|07.5 - rep #1
03|01772|10:27.6|02:57.1|000.0|24.8|163.0|174.0|06.8 - rep #2
04|02019|10:30.6|02:36.2|000.0|26.2|166.0|181.0|07.3 - rep #3
05|01670|10:09.3|03:02.4|000.0|25.6|163.5|179.0|06.4 - rep #4
06|00581|03:30.6|03:01.3|000.0|27.8|135.0|147.0|06.0
Tomorrow:  Endurance.  Hopefully OTW, but the weather looks a bit iffy.  Might be on the erg.