Still too windy to go for a row here.  So, down to the basement for a Humon directed steady state workout.
3 x 20′ / 2′ L4
Try to minimize the time in orange.  Also, start nice and light and work my way up to target power.  I used to do this during my lactate obsession and it helped me carry higher power through the workout.  What the hell, it might help.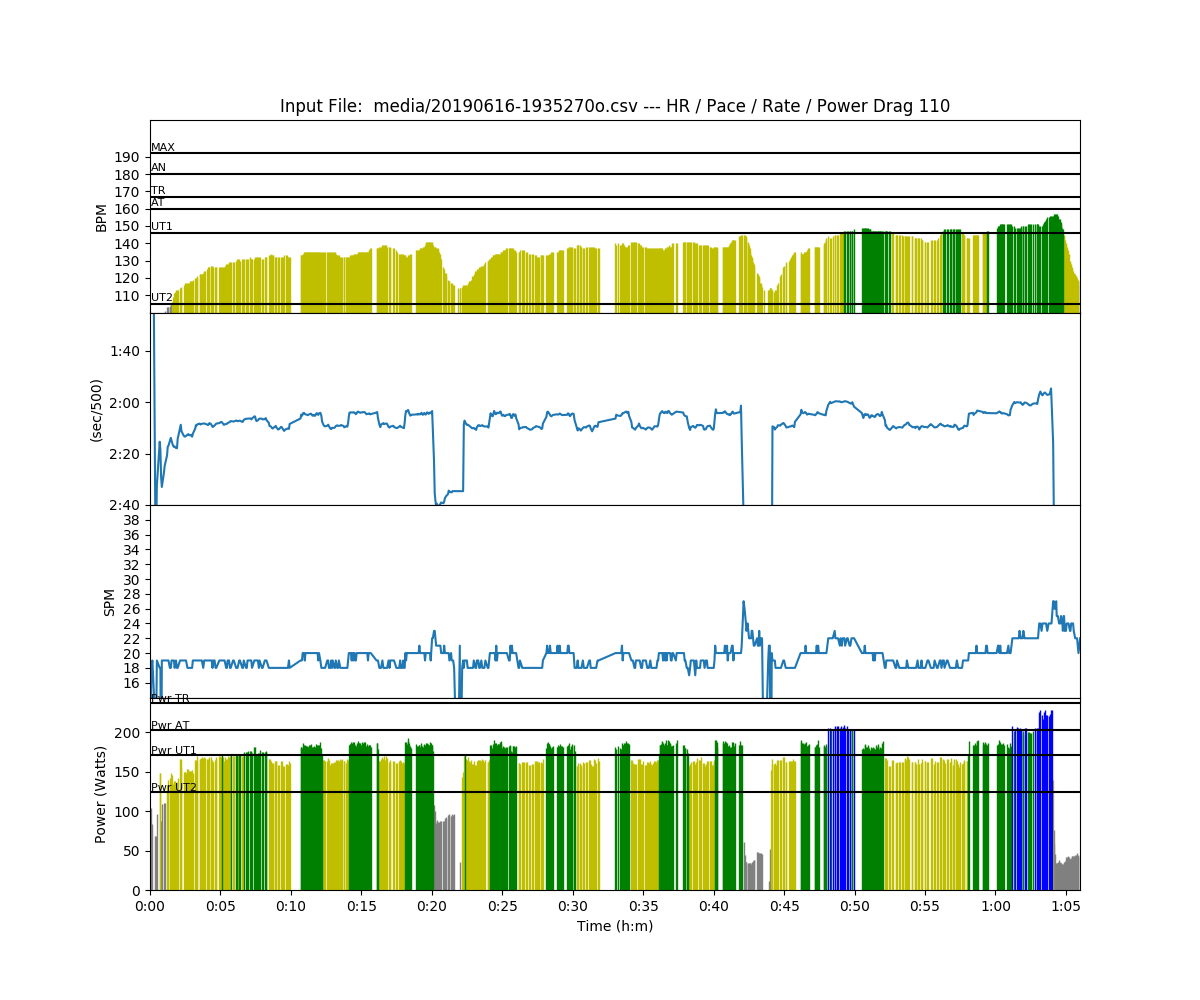 Workout Summary - media/20190616-1935270o.csv
--|Total|-Total----|--Avg--|-Avg-|Avg-|-Avg-|-Max-|-Avg
--|Dist-|-Time-----|-Pace--|-Pwr-|SPM-|-HR--|-HR--|-DPS
--|15138|01:06:00.6|02:10.8|162.7|19.4|135.6|157.0|11.8
W-|14238|00:60:00.0|02:06.4|173.7|19.2|136.2|156.0|12.3
R-|00903|00:06:00.6|03:19.8|052.3|20.7|129.6|156.0|06.2
Workout Details
#-|SDist|-Split-|-SPace-|-Pwr-|SPM-|AvgHR|MaxHR|DPS-
00|04678|20:00.0|02:08.3|166.9|18.7|128.5|141.0|12.5
01|04742|20:00.0|02:06.5|172.9|19.2|136.2|145.0|12.4
02|04818|20:00.0|02:04.5|181.5|19.9|144.0|156.0|12.1

You can see the nice steady increase in smo2% over the first 20 minutes.  My guess is that I wasn't completely warmed up, because in the next 20 minute liece, I m=pushed into the orange with the first 180W section.  After that, I was able to dance between 160 and 180 watts staying pretty much in the green the whole time.  I felt so good that I decided to push the last 20 minutes harder.  I again tripped into the orange with the first 180W chunk, but then I pushed up to 200W and by the end of that, I had gone "red", meaning that I had exceeded 4mmol lactate.  But only briefly, when I dropped back down to 180W, I returned to orange, and soon after I dropped to 160W, I was back in green.  I take this to mean that I was doing a pretty good job at clearing the lactate that I built.
Fun stuff.