Sunday – June 9: 10 x 2'/2′ – L1(ish)  On Slides
At home.  Started with a fletcher warmup.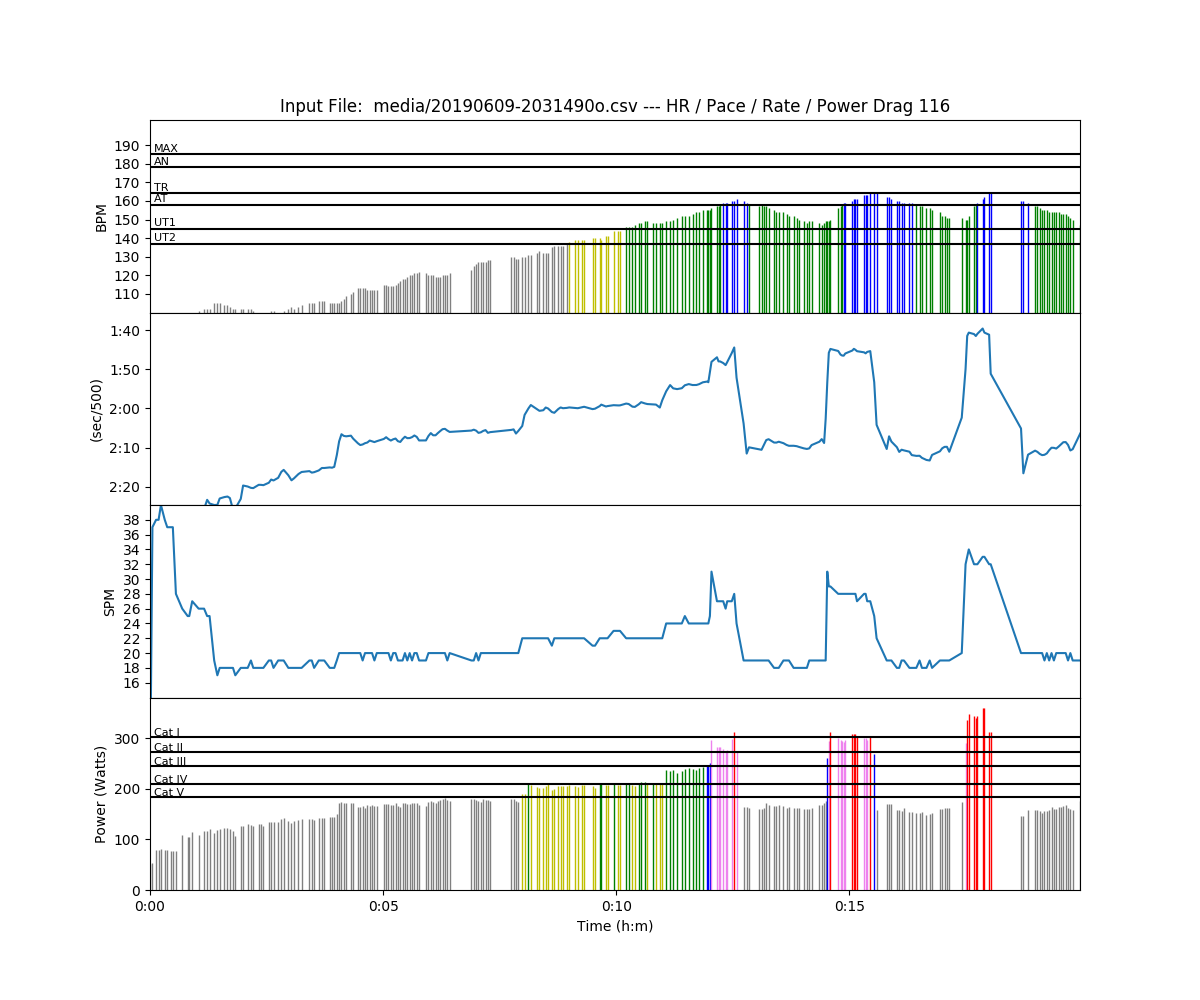 Then into the session.  Rowed at a single 40′ session and timing the intervals from the time remaining.  Some missing strokes, but a pretty consistent session.  I got tired and eased up in the 8th and ninth interval and then emptied the tanks on the tenth.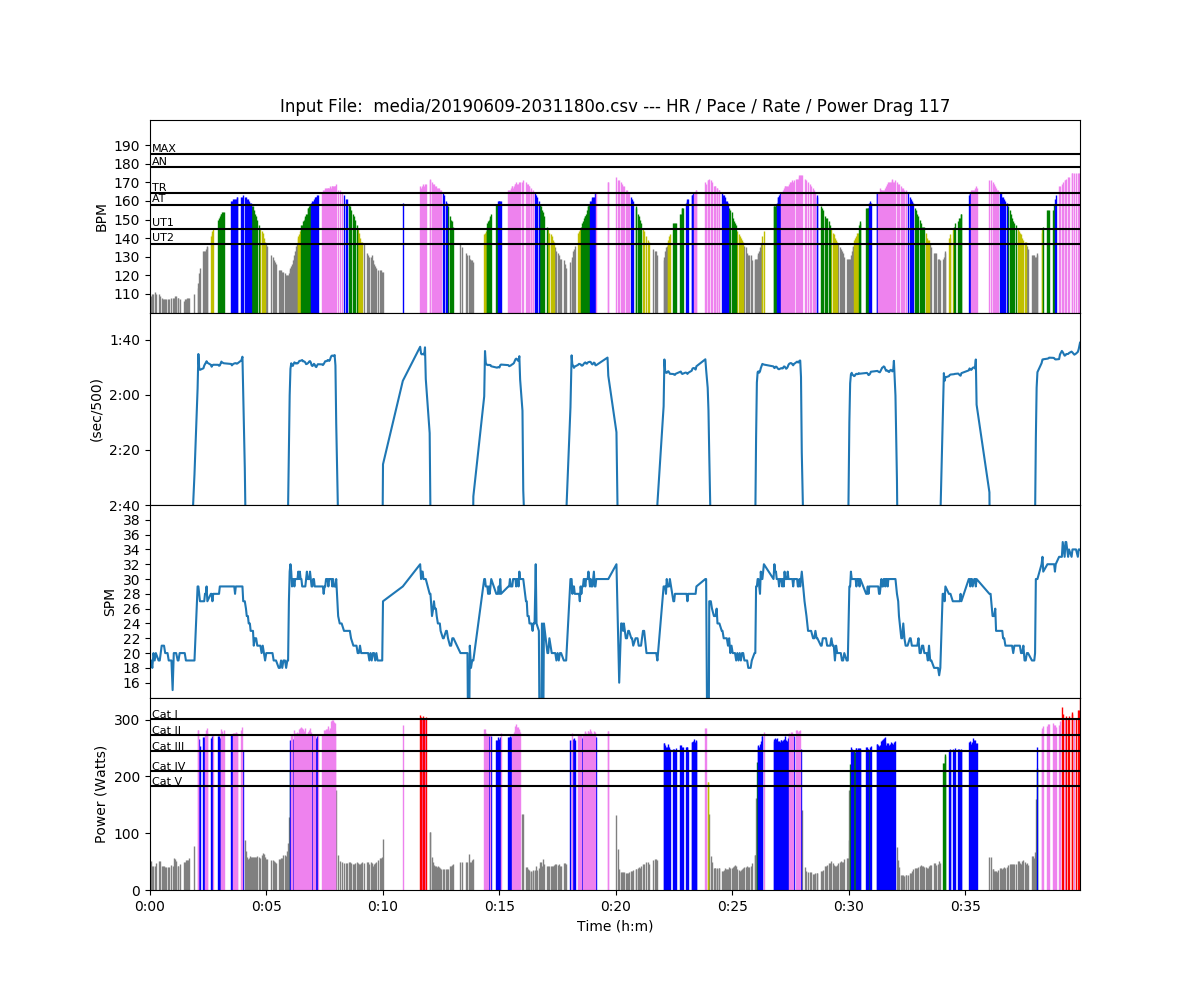 Workout Summary - media/20190609-2031180o.csv
--|Total|-Total----|--Avg--|-Avg-|Avg-|-Avg-|-Max-|-Avg
--|Dist-|-Time-----|-Pace--|-Pwr-|SPM-|-HR--|-HR--|-DPS
--|08558|00:39:53.8|02:19.9|157.8|25.4|150.8|175.0|08.5
W-|04885|00:17:43.3|01:48.8|274.0|29.5|157.9|175.0|09.4
R-|03680|00:22:11.7|03:00.9|064.9|22.1|145.2|175.0|00.0
Workout Details
#-|SDist|-Split-|-SPace-|-Pwr-|SPM-|AvgHR|MaxHR|DPS-
01|00531|01:55.5|01:48.8|273.9|28.4|149.6|162.0|09.7
02|00544|01:57.9|01:48.3|279.4|29.6|155.0|168.0|09.4
03|00516|01:50.2|01:46.7|299.5|30.4|163.9|169.0|09.2
04|00426|01:32.5|01:48.5|272.6|29.0|161.4|170.0|09.5
05|00440|01:35.4|01:48.4|276.2|29.4|155.9|170.0|09.4
06|00513|01:53.5|01:50.7|258.9|27.5|157.4|171.0|09.9
07|00511|01:51.7|01:49.2|268.7|30.0|160.1|174.0|09.2
08|00506|01:52.7|01:51.3|254.3|29.2|158.3|172.0|09.2
09|00369|01:22.3|01:51.4|253.5|28.5|153.7|168.0|09.4
10|00529|01:51.7|01:45.7|298.4|32.8|163.1|175.0|08.7
I finished off with a 2k cool down.  I did a few power bursts to sort of clear my legs.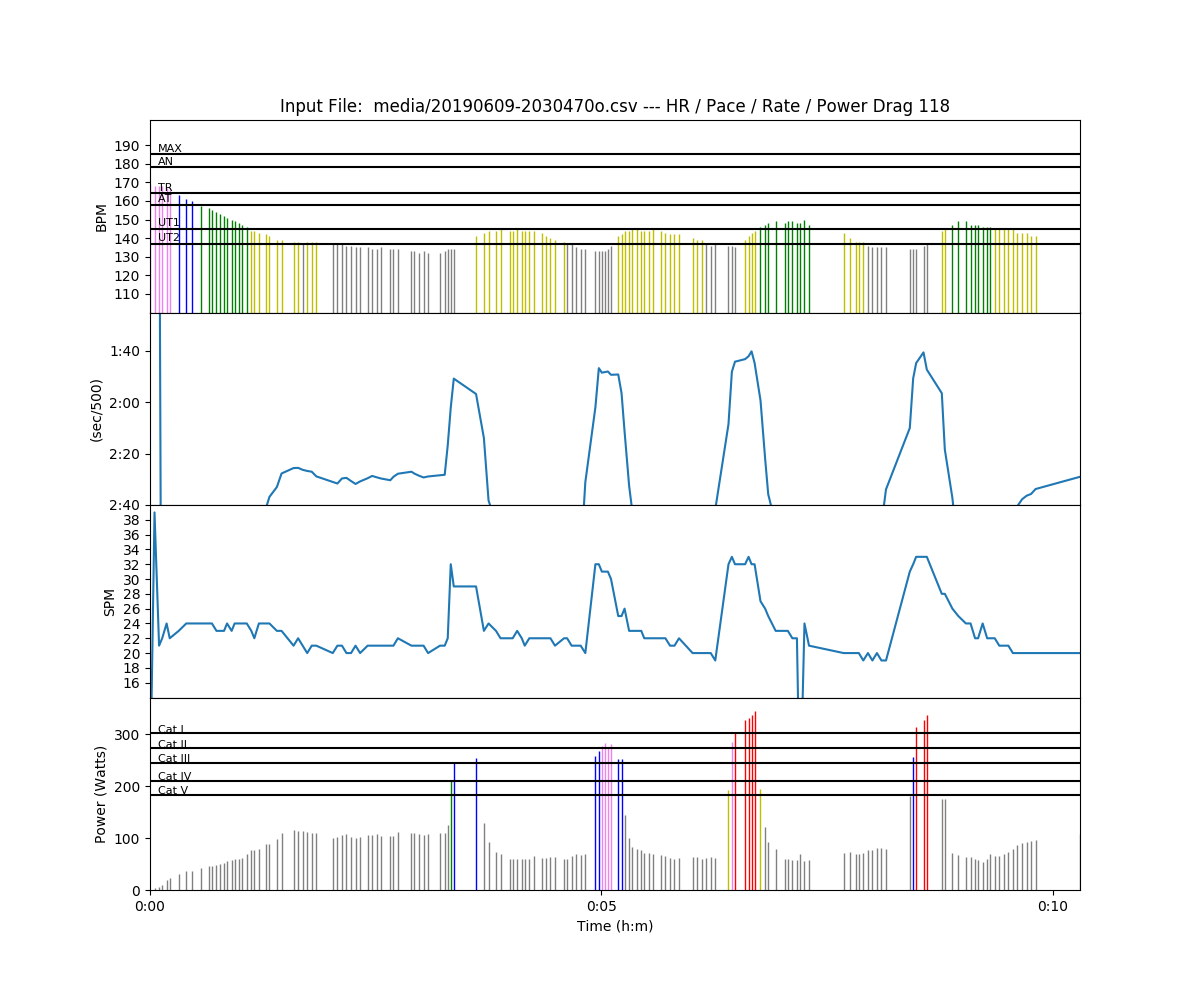 Here is the view from Humon, the notable thing to me is the effect of the warmup.  It really helped to increase the oxygen % prior to starting the real work. Notice that I have HTR in both the rowsandall and Humon plots…I wore two heart rate monitors!
Monday – June 10 – No Training
I was up late on Sunday night, and had an early meeting, so no time to workout.
Tuesday – June 11 – Steady State OTW with Humon.
I was really curious to try out Humon in the boat.  I tend to end up with higher heart rates in the boat, and if my erg session was showing high lactate levels, then I expected even more in the boat.
I struggled with the setup and the change in my routine.  I tried to wear two HR onitors and connect one the the speedcoach, and the other to the Humon app.  The trick, I thought would be to turn off BT on the phone, turn on one HR monitor, then turn on the speedcoach, get that one connected.  Then turn on BT on the phone, turn on the other monitor, and the Humon hex and pair both to the phone.  Sounded good in theory, but it didn't work for some reason.  So, I pressed on with no HR on the Humon app.
I was so preoccupied with all this, that I forgot to push start on the speedcoach (again!) and didn't get any data saved from it.
Here's the Humon data.  I row about 4k to the dam, then 3k back to the cove, then back to the dam, then 4k home.
You can see the gradual increase in smO2% over the first 4k, and then recovery to very high levels when I had my drink at the dam.  Then dropping down when I start again.  This was a very interesting way to do steady state.  I would push the pace until I saw the display flip over from green to orange, then I would focus on technique and let the splits go up a bit.  I was working to try to accelerate gently from the catch.  It seemed like I could hit faster paces without going orange that way.  Doing things this way really focused me on things like relaxing my arms and shoulders at the catch and holding my body position through the first phase of the drive.  It was probably wishful  thinking, but I felt like I was going faster at lower HR than I had all season.
Since I didn't have speedcoach data, I wanted to look at boat speed.  I figured out that I could export the Humon data to Google Earth as TCX.  My boat speed ranged from 13km/h (2:18) with the current to 11km/h (2:45).  So, nothing dramatic, but this was all at 18SPM, and my HR was a bit lower than I have been running in these sessions.
Wednesday – June 12 – More OTW Steady State with Humon
Same thing, same setup, except today I actually pushed start on the speedcoach.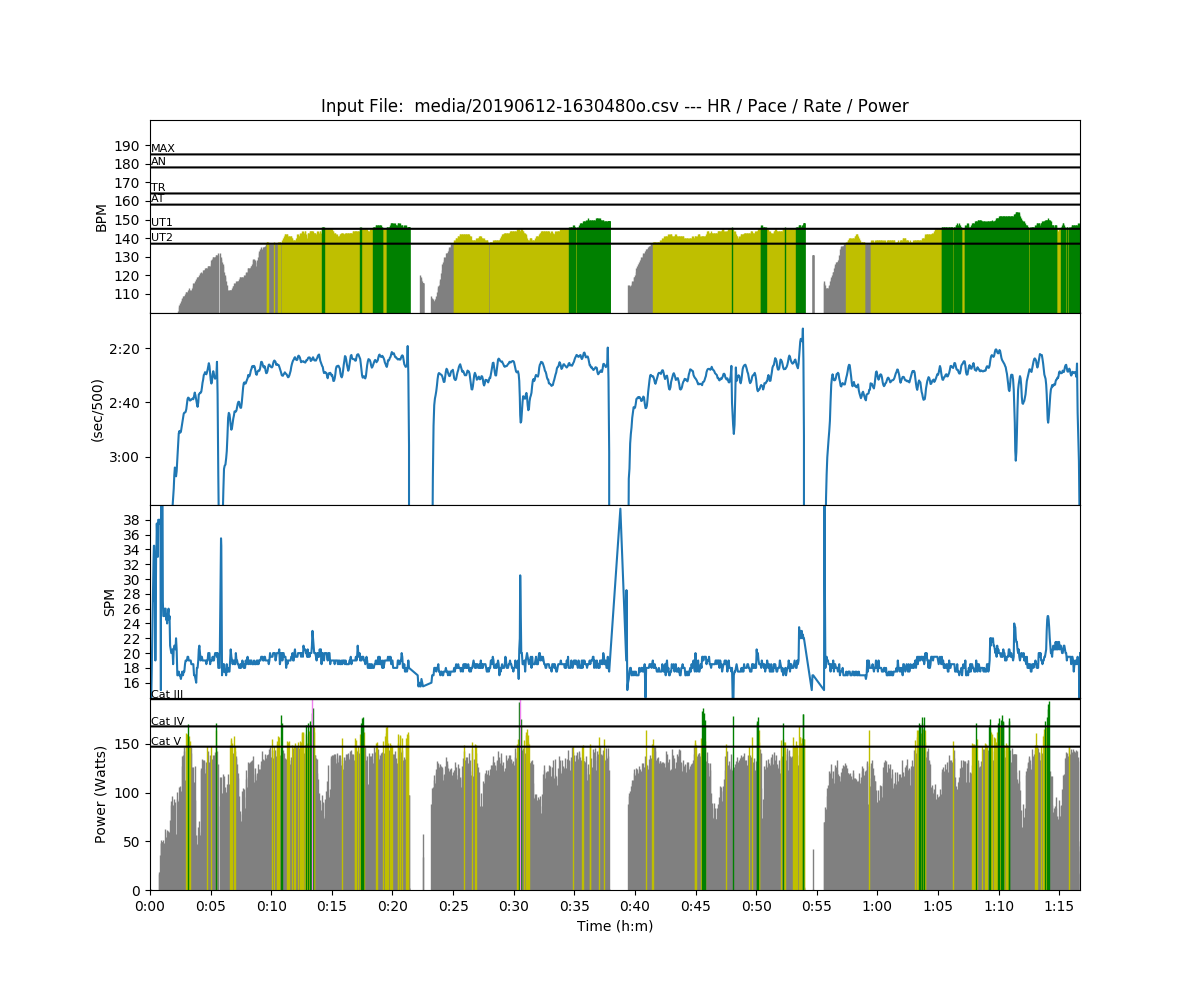 Workout Summary - media/20190612-1630280o.csv
--|Total|-Total----|--Avg--|-Avg-|Avg-|-Avg-|-Max-|-Avg
--|Dist-|-Time-----|-Pace--|-Pwr-|SPM-|-HR--|-HR--|-DPS
--|14268|01:16:43.0|02:41.3|120.2|19.0|137.2|154.0|09.8
W-|13308|01:06:17.5|02:29.4|130.2|18.6|140.9|154.0|10.8
R-|00966|00:10:26.0|05:23.9|056.5|21.5|113.7|154.0|10.2
Workout Details
#-|SDist|-Split-|-SPace-|-Pwr-|SPM-|AvgHR|MaxHR|DPS-
01|00545|02:48.4|02:34.6|126.1|18.9|120.1|131.0|10.3
02|02951|14:26.3|02:26.8|136.3|19.1|139.9|148.0|10.7
03|02909|14:25.9|02:28.8|127.9|18.4|141.4|151.0|11.0
04|02816|14:07.4|02:30.5|131.7|18.1|141.3|147.0|11.0
05|04087|20:29.5|02:30.4|127.1|18.7|143.7|154.0|10.7
This is a really good steady state session.  The combination of <2:30, 18.6SPM and Avg HR of 141 is significantly more "efficient" than I have seen in other sessions.  For example on May 16, I did a shorter session (10K) at 2:30, 20spm, 141bpm.  Not a huge difference, but it felt noticeable on the water.
Here's the Huon data for this one.  Less orange and shorter durations in the orange.
I'm liking this!
Thursday – June 13 – Guess what…Steady State OTW with Humon
I was having so much fun working on technique and learning how to use Humon that I decided to just do the same session for a third time.  Today, I felt a bit more tired.  Tuesday and Wednesday sessions had been easy, but they were longer than I've been doing lately.  The Humon agreed with me.  My SMO2% seemed to not want to get up to the lofty heights of Tuesday and Wednesday.  No matter. I could still row to the same basic plan.  push to orange and backoff working on a nice smooth easy drive.
Today, my HR started low, stayed low and didn't want to move, it was an average of 134 over all the work segments.  I was a bit slower (2:32), but my stroke rate was even lower at 18.0spm.  Again, good efficient rowing.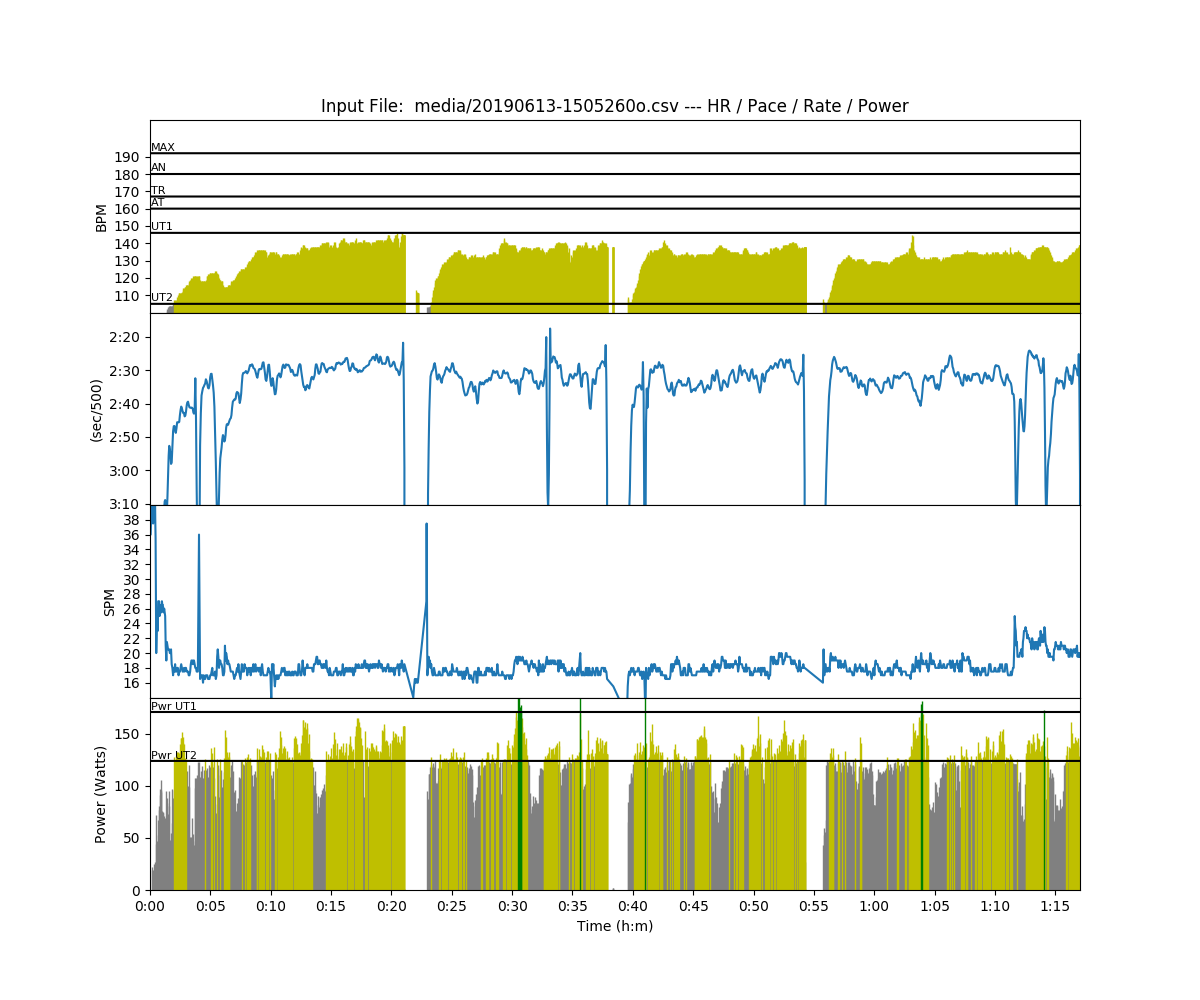 Workout Summary - media/20190613-1505260o.csv
--|Total|-Total----|--Avg--|-Avg-|Avg-|-Avg-|-Max-|-Avg
--|Dist-|-Time-----|-Pace--|-Pwr-|SPM-|-HR--|-HR--|-DPS
--|14134|01:17:02.5|02:43.5|115.6|18.2|130.6|146.0|10.1
W-|12989|01:05:48.9|02:32.0|124.2|18.0|133.6|146.0|11.0
R-|01152|00:11:14.1|04:52.5|065.1|19.1|113.0|146.0|10.2
Workout Details
#-|SDist|-Split-|-SPace-|-Pwr-|SPM-|AvgHR|MaxHR|DPS-
01|00554|02:58.2|02:40.9|111.0|18.2|118.6|123.0|10.3
02|02876|14:23.3|02:30.1|128.2|17.7|136.7|146.0|11.3
03|02910|14:43.5|02:31.8|123.7|17.7|134.7|143.0|11.2
04|02816|14:18.7|02:32.5|126.4|17.9|134.4|142.0|11.0
05|03046|15:27.7|02:32.3|121.8|18.0|131.7|145.0|10.9
06|00335|01:39.0|02:27.8|137.1|21.8|135.3|139.0|09.3
07|00453|02:18.5|02:32.8|112.8|20.4|132.2|139.0|09.6
Here's the Humon data.  It was harder to stay out of the orange today, but I was trying very hard to relax and take the drive insanely softly.  You can see the difference between Wed and Thursday.  About the same amount of orange, but a HR that was 6 beats lower.  From an RPE perspective, I don't think it felt any easier.
I think that using Humon for steady state work will be an interesting experiment.  I alway worry that I am not working hard enough, and the evidence that I got from lactate testing a few ago was that I was, in fact, pushing too hard to make optimal progress.  Now, I seem to be seeing the same thing.  It is also making me feel like there is a real opportunity for more speed through technique improvement.
Friday – June 14 – 4 x 6'/4′ L2 on slides
Down on the cape.  We drove down on Thursday night and I worked remotely on Friday.  I had a busy day of meetings starting at 8:30 and continuing through 5pm.  After that, I needed to just blow off a little steam.  I headed to the basement and set up a 40 minute time based piece with the intent to squeeze in 4 – 6 minute intervals, with 4 minute rests.
I planned to wear the Humon, but do the workout to the preset times, not the SMO2 limits.  Target pace was 1:50.
I didn't take time for a proper warmup, and afterwards I wish I had.  I just did 4 minutes of paddling at the beginning and then started the first interval.  Everything went fine.  I really needed to dig deep in the third interval and I was in trouble in the last one.  I bailed with about a minute to go, which was a bummer.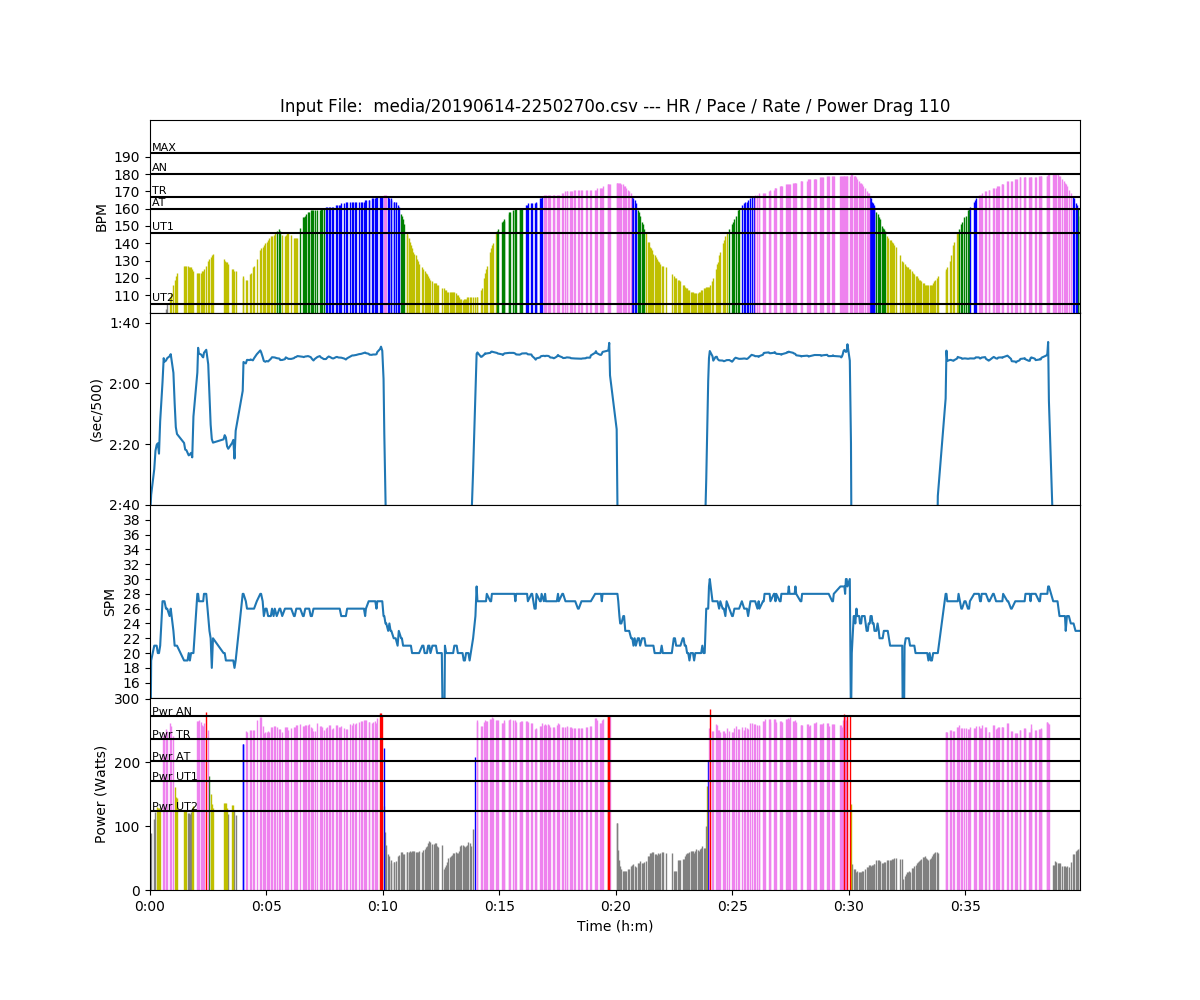 Workout Summary - media/20190614-2250270o.csv
--|Total|-Total----|--Avg--|-Avg-|Avg-|-Avg-|-Max-|-Avg
--|Dist-|-Time-----|-Pace--|-Pwr-|SPM-|-HR--|-HR--|-DPS
--|09136|00:39:56.0|02:11.1|182.4|24.8|149.7|180.0|09.2
W-|06219|00:22:56.3|01:50.7|258.6|27.0|159.6|180.0|10.0
R-|02923|00:16:07.1|02:45.4|075.3|21.9|136.9|180.0|06.4
Workout Details
#-|SDist|-Split-|-SPace-|-Pwr-|SPM-|AvgHR|MaxHR|DPS-
01|00095|00:21.1|01:50.8|253.4|26.0|105.1|111.0|10.4
02|00126|00:28.0|01:50.9|263.2|27.0|125.4|130.0|10.0
03|01621|05:59.6|01:50.9|257.7|26.0|152.5|167.0|10.4
04|01564|05:44.7|01:50.2|261.5|27.5|160.0|174.0|09.9
05|01626|05:58.8|01:50.3|260.0|27.4|166.2|179.0|09.9
06|01186|04:24.1|01:51.4|253.8|27.3|167.8|180.0|09.9
Here's what Humon thought of my adventure.  I managed to fool the algorithm in the first interval.  The transition from red to green around 8 minutes probably should not have happened.  I think it was due to inadequate warmup.  You can see how the SMO2% plateaus and climbs just a bit.  That must be part of what the algorithm looks at to determine the state transitions.  Once it was green, the change was so gradual that it did not flip back to red.  The same thing happened in the second interval, little plateau, fake state change.  In the third and fourth, I was now fully warmed up and responding to intervals the way I should have by seeing a monotonic decrease in SMO2% through each piece.  I was kind of surprised at how low the numbers got and by the seeming lack of a final plateau.  How much deeper could I possibly dig?
Saturday – June 15 – 10K coastal row
Well, that was…interesting.  I decided to go for a row around noon.  It was beautiful out.  Sunny, low seventies, and a nice 7mph wind from the west.  By the time I launched, it felt like the wind might have build a little bit, but not much.
[Narrator voice:  Little did he know what was going to happen]
Here is the data from my personal weather station at my house.  We are on top of a bluff, so the wind we see is almost exactly what it is like out on the water.  At 12:30, 7mph.  By 1pm, 25mph.  By 1:30, 30mph.
The smooth path is the one from launching up to Wellfleet harbor.  The bumpy turny one is the slog back with the wind and waves on my port bow.
I have never rowed in conditions like this and I learned a lot, pretty quickly.  The wind seemed to spring up very suddenly.  I was in Wellfleet inner harbor, heading to the end of the jetty and all the sudden there were white caps and foam streaks on the water. I turned into the lee of the jetty and had a drink.  I was hoping that the wind would calm down a bit, and getting myself ready for the likelihood that wouldn't.  I opened the bailer in the cockpit.  This is extra drag in flat water, but an insignificant factor once you have water in the boat.  I got the first blasts of wind as I turned around the end of the jetty.  Here it was still quite flat, but the wind was on my starboard bow and I had to work hard to stay in the channel.  You can see how I left the harbor a lot closer to the shore than I came in.  That was not on purpose, I just had trouble clawing my way into the wind.
I ultimately got to the point where I just needed to point straight into the wind and waves and push my way out of the harbor.  This was pretty scary.  The waves were between 1-2 feet and all the power boats were essentially making a run for it to get back in the harbor, so there was a chaos of wakes on top of the massive chop.  I was taking water over the bow as I plowed through the waves, and over the gunwales from the wakes.  The cockpit was so full that my water bottle was trying to float out.  The bailer couldn't keep up.  But I could see from the speedcoach that I was making slow but steady progress and I could see that I was slowly putting the breakwater behind me.  Once it was well behind me, then I could start to figure out how to row better in the huge waves.
I started to detect that there was a bit of a pattern in the waves.  I would get slammed by a couple of really big waves, then there would be a half dozen or so smaller waves.  I tried to see if I could spot the bigger ones coming, but I really couldn't.  Part of it was a mental block.  I found it really scary looking upwind at the white caps and waves rolling at me.  I was much more comfortable looking over my other shoulder.  But I started to be able to hear the difference.  I could tell that a big wave was coming when I heard a sizzling noise, and knowing that, I could be turn a bit towards it and try to time my stroke to be driving up the wave face.  It only worked a part of the time, but when it did I felt a lot more in control than taking a big one while my oars were in the air.
The Aero was amazing in these conditions.  Because of the angle of the waves, sometimes I wouldn't be able to extract one of my oars.  Other times, I would take a wave on the beam that would push the boat sideways.  The extra width of the boat and it's shape gave it great stability.  After 15 minutes or so, I was really confident in the capability of the boat and started to enjoy the challenge.  That lasted about another 15 minutes and I was just physically exhausted and ready to be done.
The speedcoach data is kind of fun.  I noticed this last year that the stroke detection algorithm has a bit of trouble with waves.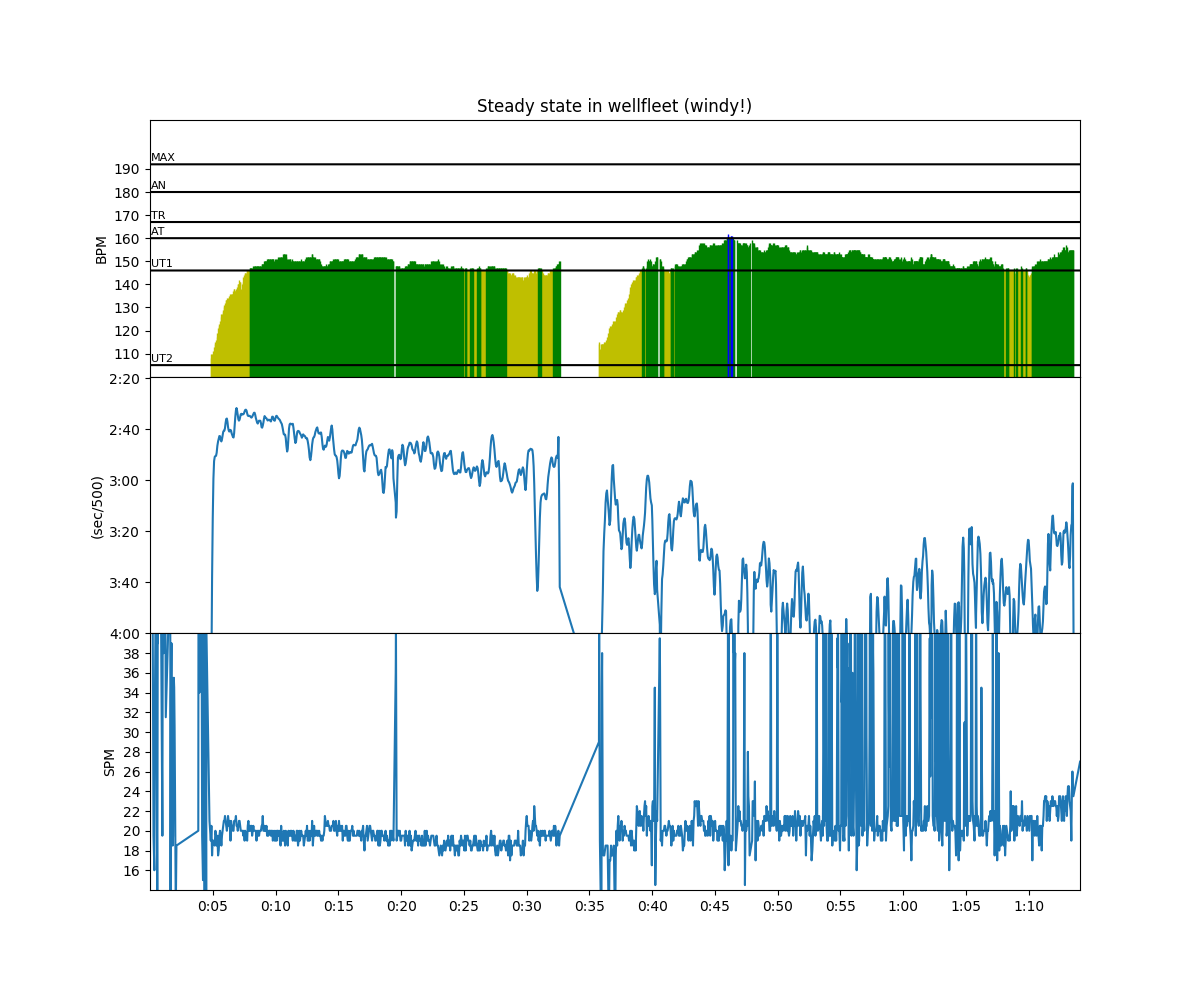 Here's a Google earth view of the row.  The arrow points to the path out of Wellfleet harbor right before the sh*t hit the fan.  You can see the big dips in speed where I got hammered by cross wakes.  Then things got a bit more restrained.  Then I was dealing with the wind on my starboard bow as I rounded Indian Head (that arced piece of land.  Then at the end, you can see abruptly where the stroke rate stops having all the noise on it.  That's when I finally rowed into the lee of the island and the water got a lot flatter.
So, that was something that I'm glad I experienced, but I don't want to experience again any time soon.
Today I am not sure what I'll do.  I might go for another quick row, or maybe just an erg session in the basement.  (It's still a little windy)