I choose to focus on my career.
It is very important to me to continue to exercise.  I have found that having training goals and identifying competitions to test myself is the best way to stay motivated about maintaining a healthy lifestyle, but when I step back and look at priorities, there is no question where I need to put my energy.  I love my job and there are a lot of people that count on me to do it well.
At the same time, it makes no sense to focus on career to the exclusion of everything else.  I am better able to focus and I am more productive if I maintain a regular training schedule.  I think (with only circumstantial evidence) that being in good shape means that I can handle punishing travel schedules better.  And frankly, I am a more pleasant person to be around if I have had a tough workout sometime in the past 24 hours.
That whole soliloquy was motivated by the fact that I missed two days of training.  I did a nice L4 on Sunday, then flew out to California very early Monday, and had very early meetings on Tuesday.  I managed to work out this morning, but part of me feels like I'm slacking off.
Anyway, onto the details
Sunday – 24 Feb – 3 x 20′ / 2′ L4 on slides
I looooved this session.  I love rowing on slides.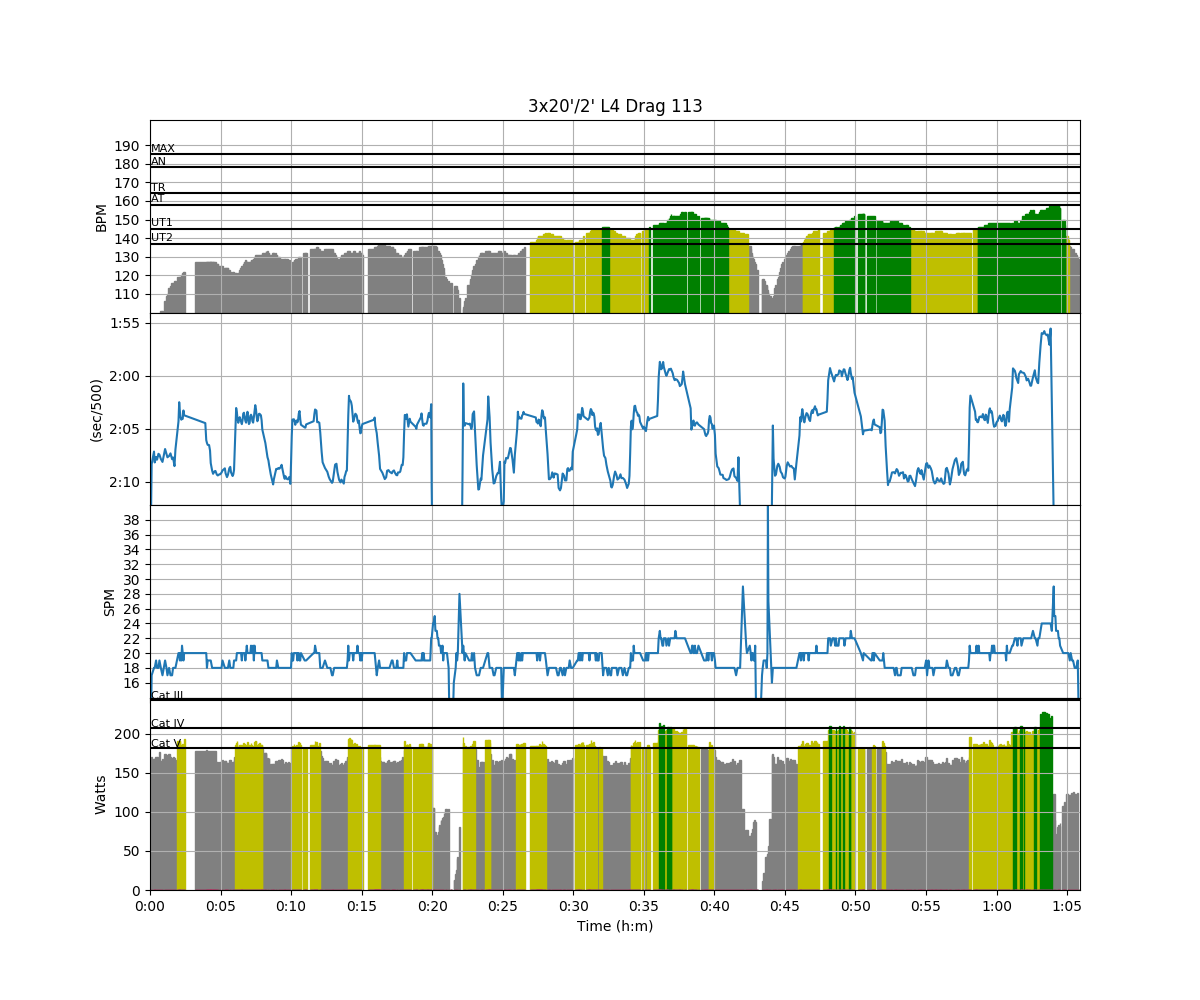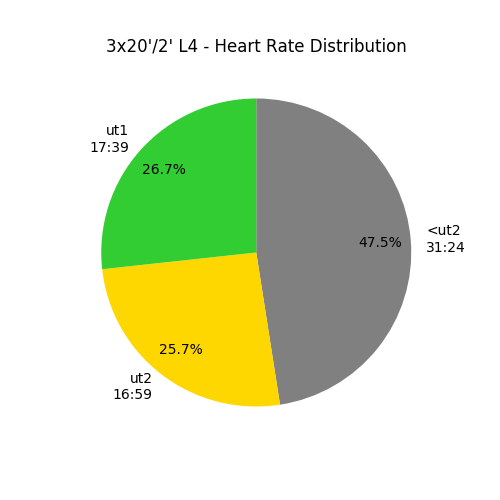 Remarkably, this was exactly the same stroke sequence as Saturday and the Heart rate was a lot lower and it felt a lot easier.  Here's Saturday's HR pie.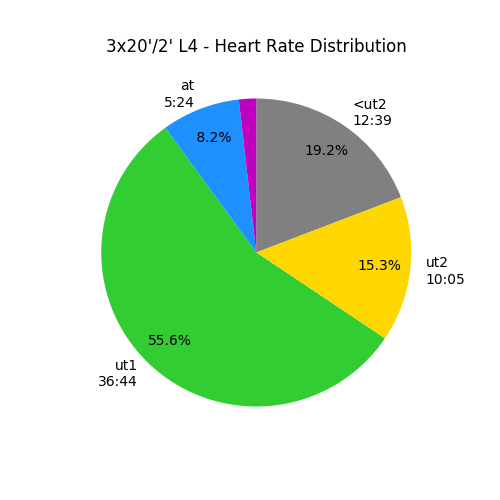 Workout Summary - media/20190224-1920360o.csv
--|Total|-Total-|--Avg--|-Avg-|Avg-|-Avg-|-Max-|-Avg
--|Dist-|-Time--|-Pace--|-Pwr-|SPM-|-HR--|-HR--|-DPS
--|15402|65:59.0|02:08.6|169.0|19.2|137.2|158.0|12.1
W-|14366|59:49.0|02:04.9|179.1|19.2|137.9|157.0|12.5
R-|01041|06:00.0|02:52.9|072.1|19.0|130.0|157.0|11.1
Workout Details
#-|SDist|-Split-|-SPace-|-Pwr-|SPM-|AvgHR|MaxHR|DPS-
00|02394|10:00.0|02:05.3|173.9|18.9|122.1|133.0|12.7
01|02390|10:00.0|02:05.5|177.3|19.0|133.2|137.0|12.5
02|02388|10:00.0|02:05.6|176.7|18.8|134.9|145.0|12.7
03|02363|09:49.5|02:04.8|180.5|19.4|147.3|154.0|12.4
04|02409|10:00.0|02:04.5|181.3|19.4|143.0|153.0|12.4
05|02422|10:00.0|02:03.8|184.8|19.9|147.2|157.0|12.2

Monday – 25 Feb – No training
Caught a 6:50 am flight to San Francisco, so I was up at 4:30.  After arriving, I went straight into meetings that continued to 7pm.  I was not in the mood to train after that, I went to bed by 9.
Tuesday – 26 Feb – No Training
I was staying down in San Jose, but I had an 8am appointment up in San Francisco, so I needed to be on the road by 6:15am to be sure to get there with the local traffic.  I made it with time to spare.  That lasted until around 1pm, then I drove back down to our offices in San Jose and worked until around 7pm.  Again, I was not very motivated to train by then.  I was asleep by 10.
Wednesday – 27 Feb – 30 minutes inclined march / 30 minutes recumbent bike
In the fitness center at the Doubletree.  Totally not motivated, but I dragged my ass to the gym.  HR was unnaturally high during the march.  The bike was easier.
Tomorrow – I have meeting starting at 6am local time.  I am hoping to get to the gym for a short workout.   I fly home tomorrow afternoon.