I last posted on Feb 13.  That was the day I visited the SDRC and went out in a quad.
Thursday, February 14 – No Training
I flew home on the red eye, and arrived in the early morning.  I went home and slept for a few hours, and then dashed around to get ready for valentines day and my wife's birthday, which was on Friday the 15th.
Friday, February 15 – 5 x 1500 / 4′ – L2
Despite the travel, I  wanted to maintain some momentum on the training plan, and Friday is L2 day, so I did the scheduled session.
What about pace?  I did the waterfall in 1:52.4 on a static erg.  I did the 4x2K on slides at 1:51.6.  The 1500s are usually a bit quicker than the 2000s, and I'm quicker on static, so I thought a 1:50 pace was doable.
It was.  I started with a 1500 warmup rep.  Then I just tried to stay on or below a 1:50 pace.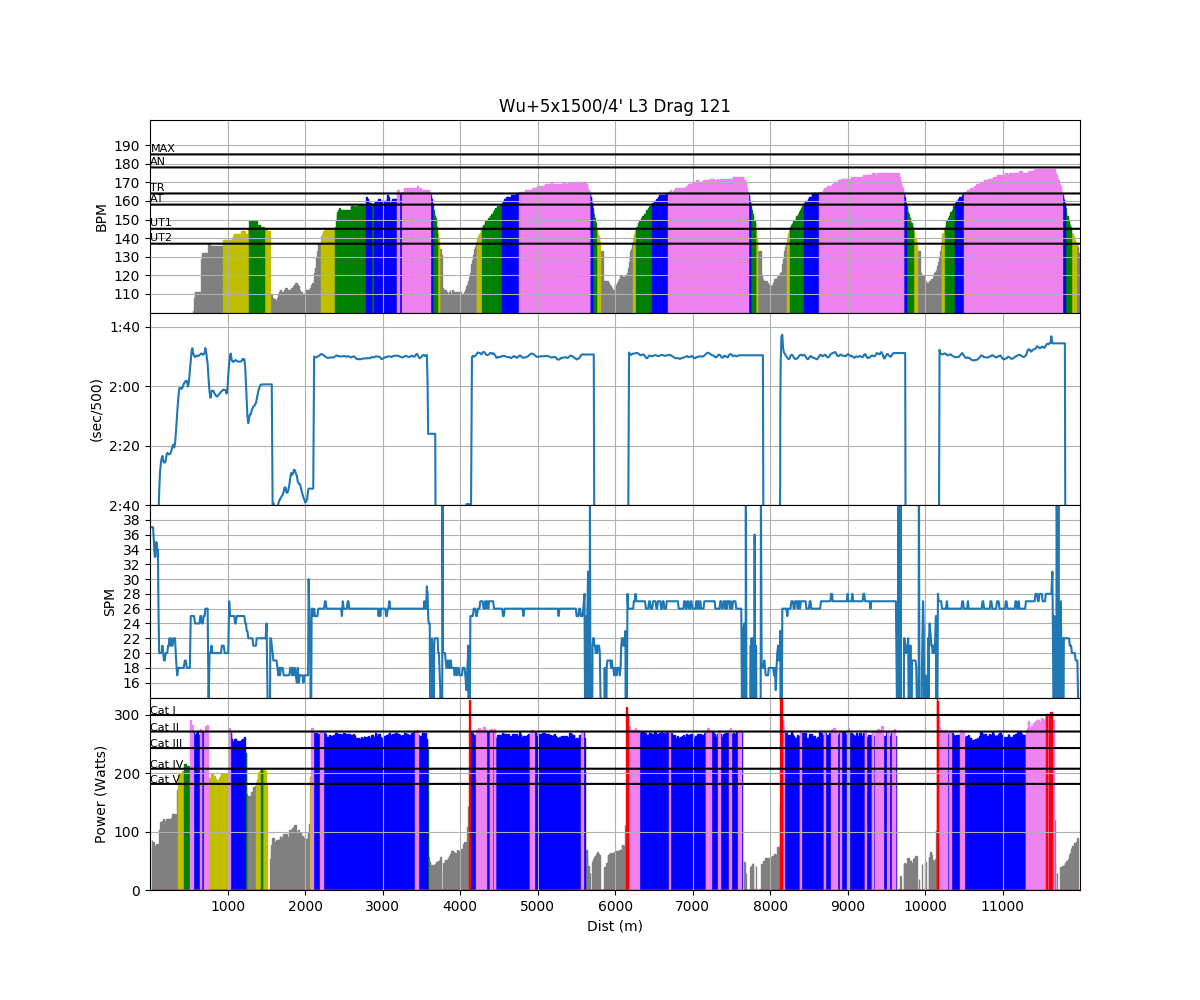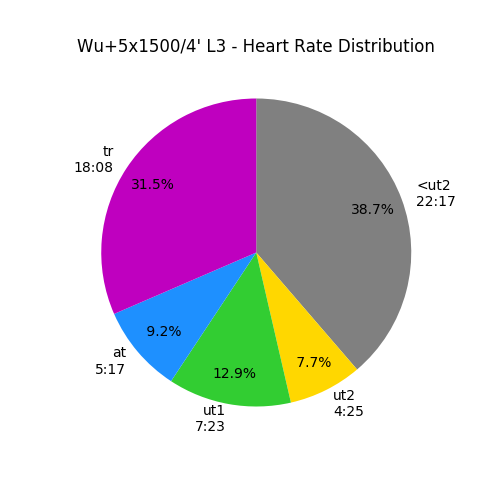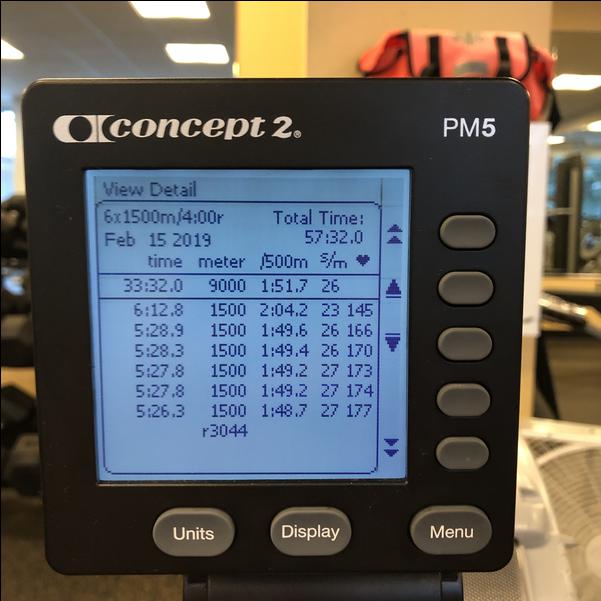 Workout Summary - media/20190215-1255390o.csv
--|Total|-Total-|--Avg--|-Avg-|Avg-|-Avg-|-Max-|-Avg
--|Dist-|-Time--|-Pace--|-Pwr-|SPM-|-HR--|-HR--|-DPS
--|11995|57:29.0|02:23.8|163.9|20.3|144.6|177.0|10.3
W-|07500|27:22.0|01:49.5|268.2|26.2|162.6|177.0|10.5
R-|04496|26:05.0|02:54.1|058.1|14.3|129.9|177.0|10.4
Workout Details
#-|SDist|-Split-|-SPace-|-Pwr-|SPM-|AvgHR|MaxHR|DPS-
01|01500|05:30.5|01:50.2|265.4|26.0|155.9|168.0|10.5
02|01500|05:28.3|01:49.4|267.1|25.8|161.0|170.0|10.6
03|01500|05:27.9|01:49.3|268.3|26.4|163.4|173.0|10.4
04|01500|05:28.7|01:49.6|268.6|26.5|165.4|175.0|10.3
05|01500|05:26.7|01:48.9|271.5|26.2|167.7|177.0|10.5
On the PM, that's a 1:49.2.  On rowsandall, a less happy 1:49.5.
Saturday – 3 x 20′ / 2′ L4 (on slides)
After years of complaining, I decided to do something about my home erging situation.  I decided to get a model D and set of slides instead of being stuck erging on the dynamic.
Saturday was my maiden voyage.  I set up the erg on slides in the basement on some interlocking foam pad squares.  I was a bit worried when I set them up because they were squishier than I expected.  My concern was that the erg would sink in a bit.  It was a valid concern.  When I was rowing, the erg was drifting to the back end of the slides and would bump every once in a while.  I checked the alignment and it looked ok, so I just kept going.
The workout itself was fine.  HR a little bit high.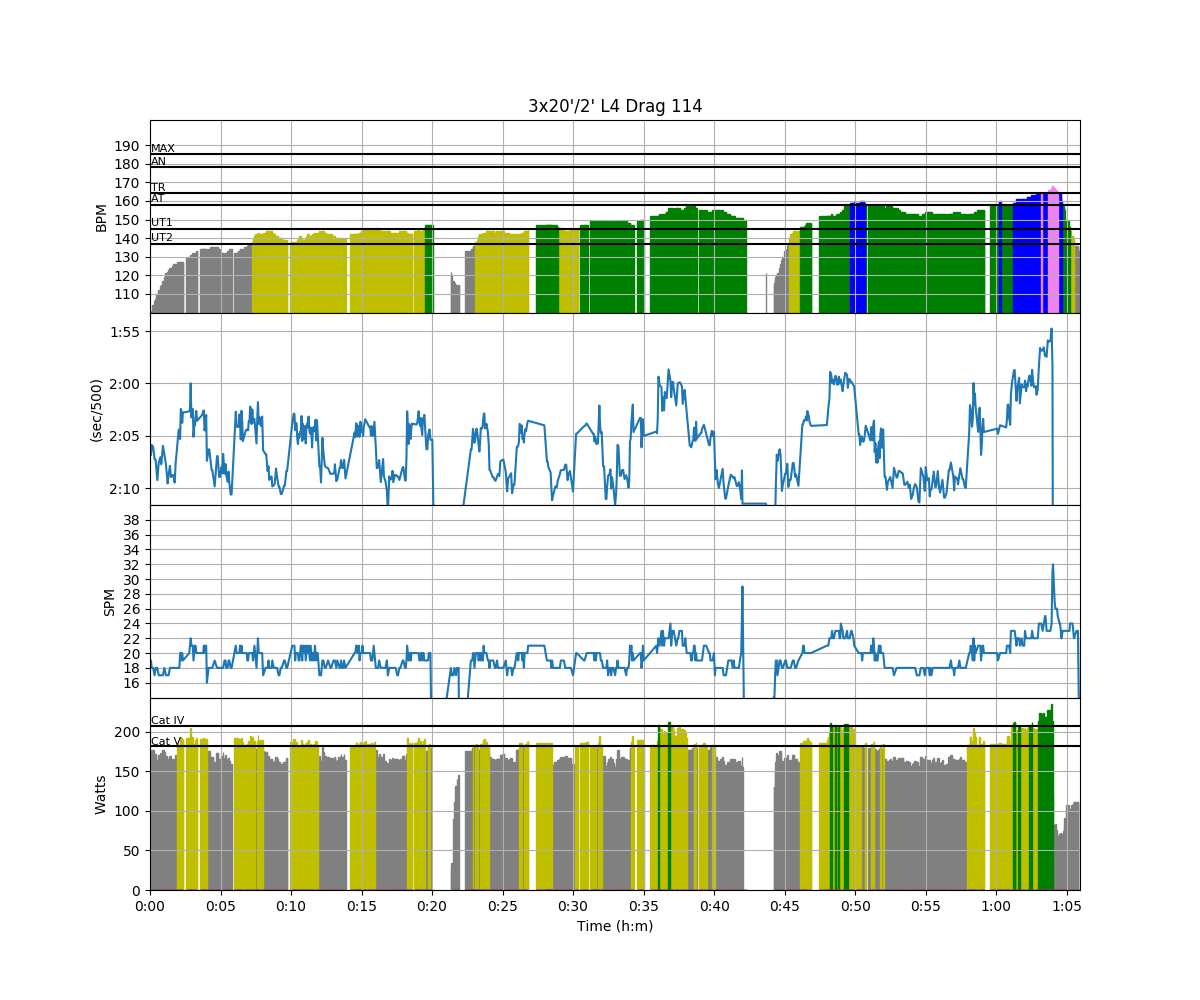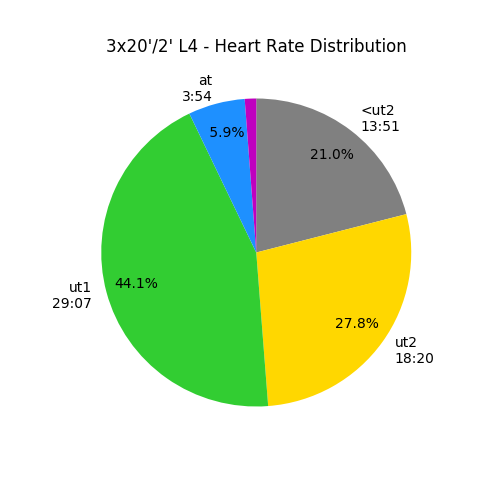 Workout Summary - media/20190217-0145360o.csv
--|Total|-Total-|--Avg--|-Avg-|Avg-|-Avg-|-Max-|-Avg
--|Dist-|-Time--|-Pace--|-Pwr-|SPM-|-HR--|-HR--|-DPS
--|14953|65:59.0|02:12.4|166.3|18.8|145.0|168.0|12.0
W-|14362|59:53.0|02:05.1|178.8|19.5|146.4|168.0|12.3
R-|00594|06:00.0|05:02.9|043.5|12.5|131.9|168.0|08.8
Workout Details
#-|SDist|-Split-|-SPace-|-Pwr-|SPM-|AvgHR|MaxHR|DPS-
00|02346|09:43.5|02:04.3|176.8|18.9|131.9|144.0|12.8
01|02424|10:09.7|02:05.7|177.0|19.2|142.6|147.0|12.4
02|02383|10:00.0|02:05.9|175.9|19.2|143.9|149.0|12.4
03|02397|10:00.0|02:05.2|179.2|19.7|152.5|157.0|12.1
04|02394|10:00.0|02:05.3|179.2|19.8|149.9|160.0|12.1
05|02418|10:00.0|02:04.1|184.7|20.1|156.9|168.0|12.0

Even with the banging, it was a lot more pleasant than rowing on the dynamic.
Sunday – No Training – Flying to Aruba
Monday – 5km Barefoot beach run
It was slow.  I was hot.  But it was glorious.  All data collected by my apple watch, and then exported to Strava using RunGap.
Tuesday – 20 minute treadmill march / 30 minute run on the beach.
Treadmill, 15% grade, 3 mph.
Then out to the beach for another run.  I wanted to go easy, so I walked through the soft sand around the ends of each of the piers.
We were staying at the ritz, and as you run along the beach, the major milestones are the piers.
First is the fishing pier
Then comes Pelican Pier
Then Peit's Pier.
Then finally, the best pier…DePalm Pier.  Home of Bugaloe's  the best place to drink a Balashi and watch the sun go down.
After DePalm pier, there is a longer stretch of beach until Palm beach terminates at the breakwater at the Divi Resort.
Then you turn around and run home.
Wednesday – The vacation tri. 20 min treadmill. 20 min stationary bike. 20 min swim.
Treadmill – 20 minutes, 15% grade, 3 mph
Stationary bike – 20 minutes, random resistance
Then I walked out to the beach, set my apple watch to record a swim and went for it.
It turned out that the swimming area at the hotel is a bit too shallow.  My hands would brush the sand or grass on the bottom at times, which was disconcerting.  Since I don't swim very much, I had issues with technique, style and pacing.  I was OK heading in one direction where I was breathing on the downwind side, the sun was on my non-breathing side and I was able to watch the rope line.  Going the other way was a lot harder.  The wind would blow spray in my face, and I had trouble navigating without seeing the rope line clearly.
None the less it was a blast!  And the apple watch worked great!  One cool feature is that the watch locks itself for swimming, and when you spin the digital crown to unlock, it actually expels water from the speaker.
I am so glad that I went swimming.
Here's what the RunGap application shows you about a swimming workout.
The apple activity app takes this a step further and tells you what stroke you were using.  I mostly did freestyle and a little bit of breast stroke to keep my bearings.
Thursday – Outdoor run and swim.
It was our last full day, and I didn't want to spend any of it in the fitness center.  So, I decided to go for a run, and then a swim.
The run was nice.  I found a comfortable pace and cruised the beach.
And the swim was awesome too.
I did about the same distance, but mixed freestyle and side stroke.  And I found out the the apple watch doesn't know the difference between sidestroke and breast stroke.
Friday – No Training – Travel back home
Saturday – 3 x 20′ / 2′ L4
Easy session to get back into rowing.  I decided to test my foam compression theory of why the slides were banging.  I put a piece of 1/2″ plywood under the back end of the back slide.  Problem solved.  The slides stayed very nicely centered.
It makes sense.  With a rower on the erg, more of the weigh is on the back slide than the front.  If the slide is on a surface that is compressible, it will sink more than the front slide.  As soon as the back is lower than the front, then you get a little bit of gravity pulling the whole system to the back end of the slides.
Long term, the solution is a floor surface that doesn't compress.
The workout was a bit harder than I would have hoped, but I guess for the first erg session in a week, not so bad.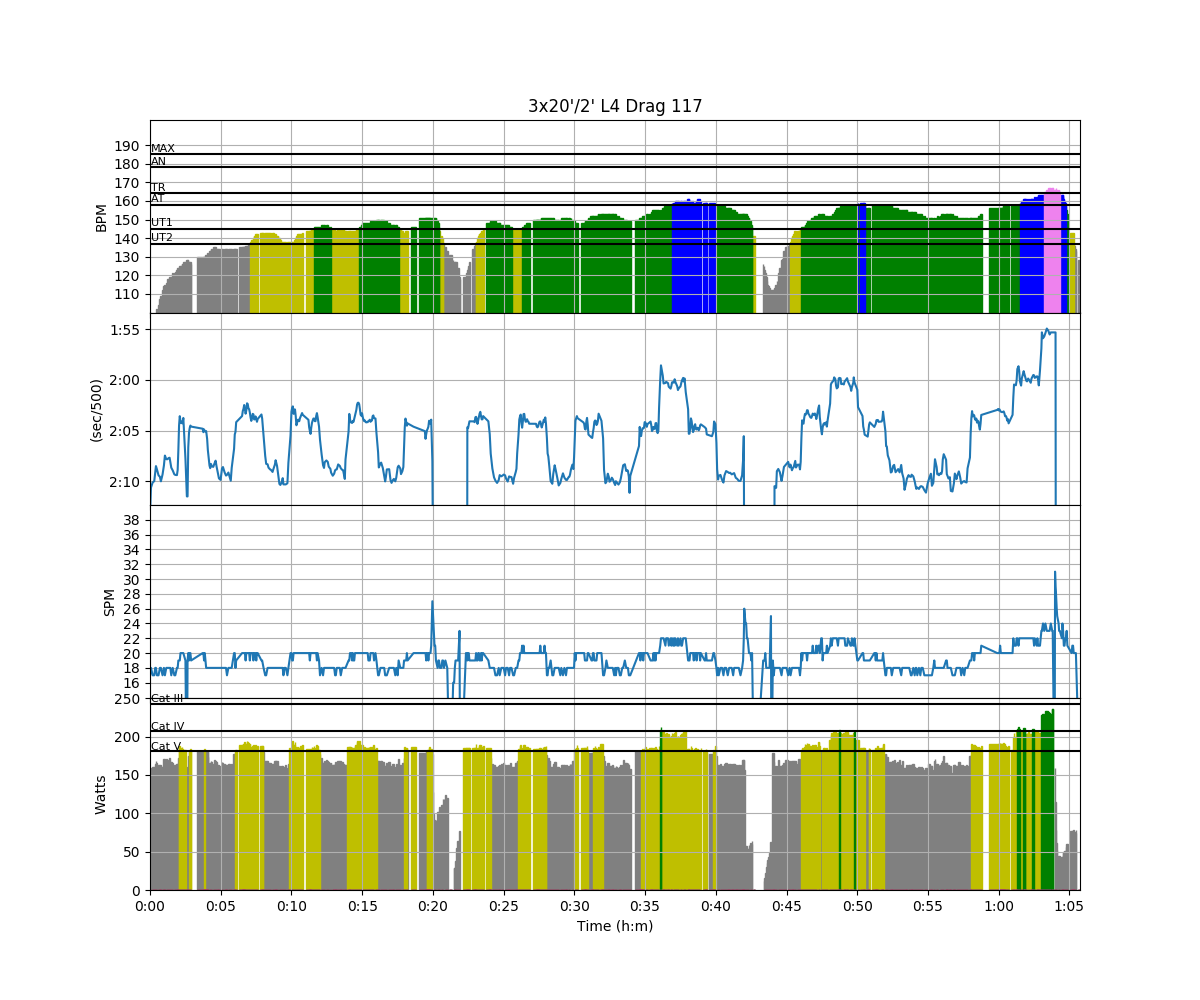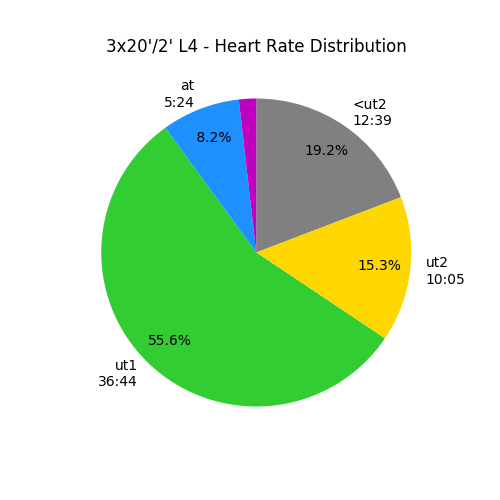 Workout Summary - media/20190223-1825390o.csv
--|Total|-Total-|--Avg--|-Avg-|Avg-|-Avg-|-Max-|-Avg
--|Dist-|-Time--|-Pace--|-Pwr-|SPM-|-HR--|-HR--|-DPS
--|15241|66:00.0|02:09.9|166.3|18.8|146.6|167.0|12.3
W-|14403|60:00.0|02:05.0|178.2|19.1|147.5|167.0|12.6
R-|00840|06:00.0|03:34.3|046.7|16.4|137.2|167.0|09.2
Workout Details
#-|SDist|-Split-|-SPace-|-Pwr-|SPM-|AvgHR|MaxHR|DPS-
00|02389|10:00.0|02:05.6|173.2|18.4|130.4|143.0|13.0
01|02392|10:00.0|02:05.4|177.6|19.1|146.4|151.0|12.5
02|02392|10:00.0|02:05.4|176.5|18.9|146.5|153.0|12.7
03|02398|10:00.0|02:05.1|178.7|19.3|155.4|161.0|12.4
04|02412|10:00.0|02:04.4|180.8|19.3|150.6|159.0|12.5
05|02420|10:00.0|02:04.0|182.6|19.5|156.0|167.0|12.4

So this L4 uses
r18/160w
r20/180w
r22/200w
r24/220w
The stroke sequences were 188/192/192/196/196/200.  From the SPM in the summary, you can see I understroked each section.  The power for each section should have been 168/172/172/176/176/180.  So, I was a bit over on power.  I'd like to get this to be more precise.
Today, I will do another L4.