I'll get the the deep thoughts.  But first, a quick rundown of the spotty training that I've been doing.
Saturday, July 28:  10K hard.
Well, it wasn't supposed to be that hard.  I just wanted to do 10K at around a 2:00 pace.  2:00 turned into 1:59, and I broke around the 7500m mark.  I got it back together and finished at pace.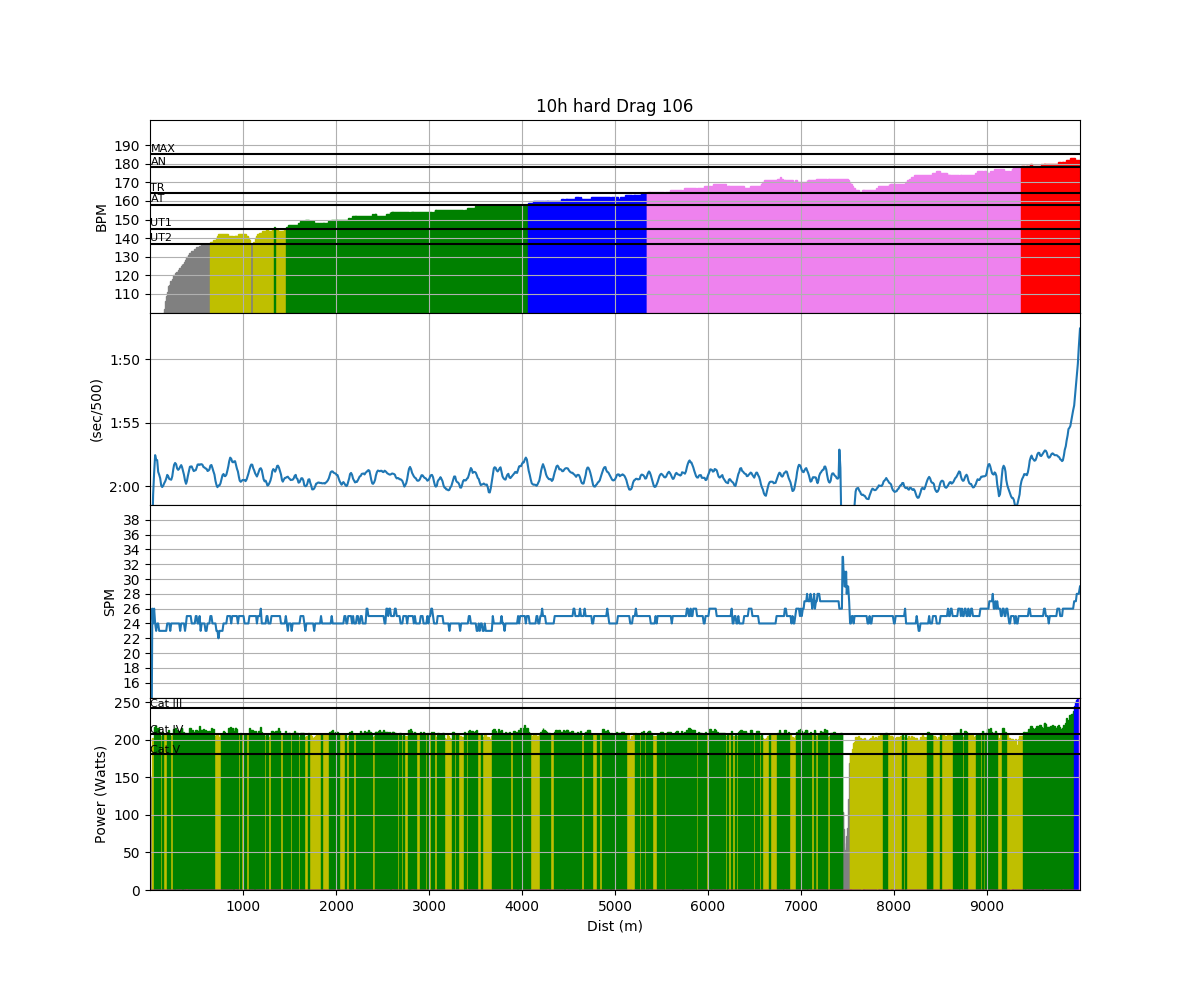 Workout Summary - media/20180728-1350240o.csv
--|Total|-Total-|--Avg--|-Avg-|Avg-|-Avg-|-Max-|-Avg
--|Dist-|-Time--|-Pace--|-Pwr-|SPM-|-HR--|-HR--|-DPS
--|10000|39:40.0|01:59.0|207.8|24.8|159.9|183.0|10.2
W-|10000|39:40.0|01:59.0|207.8|24.8|159.9|183.0|10.2
R-|00000|00:00.0|00:00.0|000.0|00.0|000.0|183.0|00.0
Workout Details
#-|SDist|-Split-|-SPace-|-Pwr-|SPM-|AvgHR|MaxHR|DPS-
00|01000|03:56.2|01:58.1|210.0|23.8|126.2|142.0|10.7
01|01000|03:57.7|01:58.9|208.4|24.3|145.7|150.0|10.4
02|01000|03:57.5|01:58.8|208.7|24.7|152.7|154.0|10.2
03|01000|03:57.8|01:58.9|208.2|24.0|156.4|158.0|10.5
04|01000|03:57.3|01:58.6|209.7|24.8|160.7|162.0|10.2
05|01000|03:57.6|01:58.8|209.0|24.9|165.0|168.0|10.1
06|01000|03:57.7|01:58.8|208.5|24.9|169.3|173.0|10.1
07|01000|04:05.2|02:02.6|193.2|26.2|169.4|172.0|09.3
08|01000|03:58.6|01:59.3|205.8|24.9|173.7|176.0|10.1
09|01000|03:54.8|01:57.4|216.8|25.6|179.0|183.0|10.0
Sunday, July 29:  75km bike ride.  Cape cod rail trail.
I was with my friend Jon and it was a great ride.  Parts of it were reasonably fast, but overall it was low intensity.  It did take nearly 3 hours, so it was a fair amount of work.
Later in the day, I decided to go kayaking.  I was launching the kayak from the top of the seawall and i let it go a little too soon.  I slid down the rocks and launched itself.  It was heading out to sea without me in it.  I rushed after it, lost my footing and stumbled on the rocks, scraping my left ankle pretty badly.
After swimming to go get the kayak, I jumped in and looked at my ankle.  It was bleeding pretty freely, but there was no way I was going to be denied my voyage.  I paddled for a about 40 minutes or so.  Back at the house, I washed the scrape and put on a bandage.  As it turned out, I should have taken the wound a bit more seriously.
Monday, July 30: 3 x 20′ / 2′ on Slides
Down on the cape, in the basement.  A bit too windy for a real row.  Just bopping along.  My ankle was throbbing in pain after I finished from my sock rubbing on the scrape.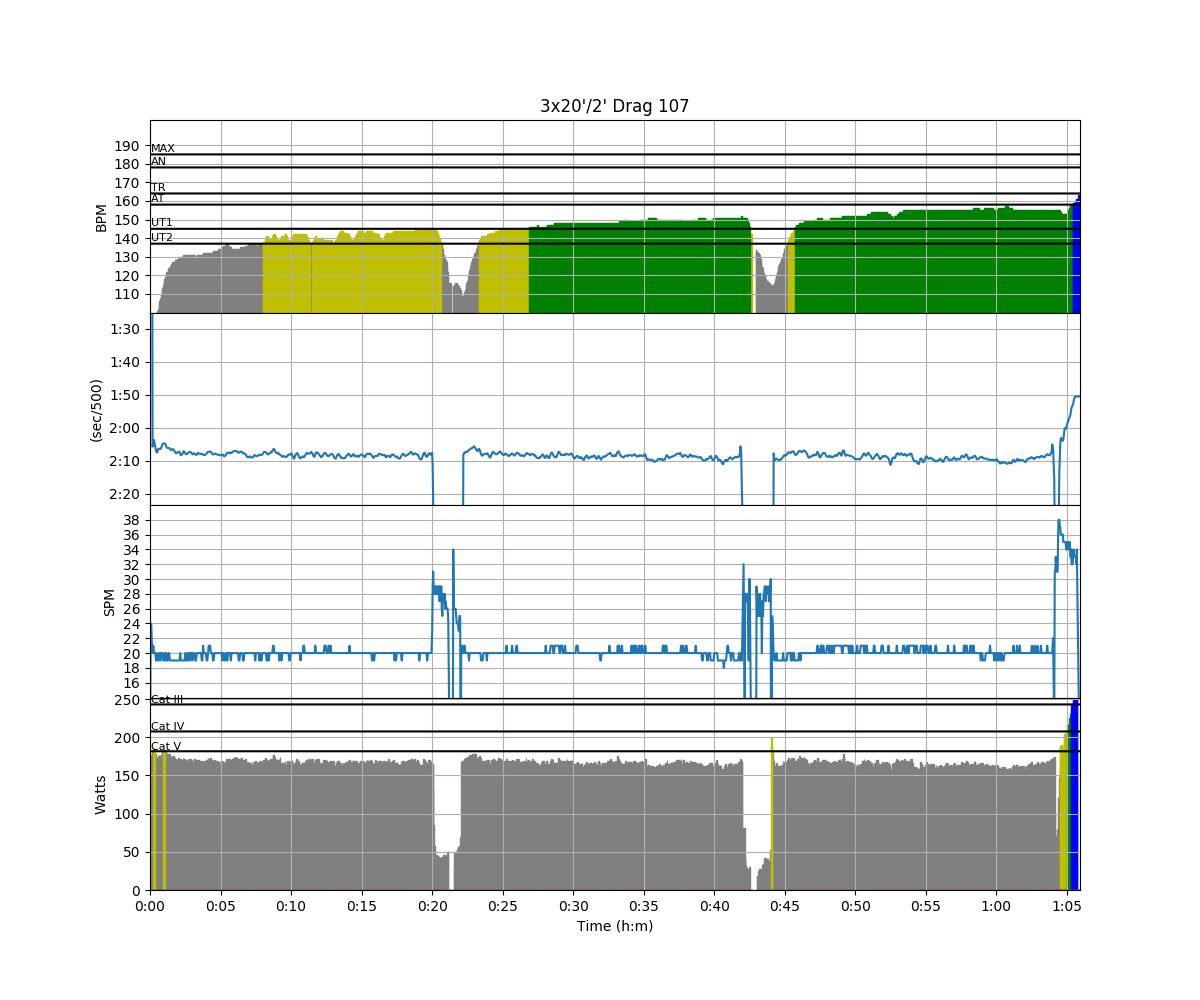 Workout Summary - media/20180731-0125260o.csv
--|Total|-Total-|--Avg--|-Avg-|Avg-|-Avg-|-Max-|-Avg
--|Dist-|-Time--|-Pace--|-Pwr-|SPM-|-HR--|-HR--|-DPS
--|15048|66:00.0|02:11.6|158.8|20.3|144.2|163.0|11.2
W-|14069|60:00.0|02:07.9|167.0|20.0|144.8|157.0|11.7
R-|00982|06:00.0|03:03.3|077.1|23.7|138.9|157.0|08.3
Workout Details
#-|SDist|-Split-|-SPace-|-Pwr-|SPM-|AvgHR|MaxHR|DPS-
00|04712|20:00.0|02:07.3|169.1|19.9|136.3|145.0|11.9
01|04685|20:00.0|02:08.1|166.7|20.0|146.4|152.0|11.7
02|04671|20:00.0|02:08.4|165.2|20.1|151.6|157.0|11.6

Tuesday, July 31:  No Training
I needed to drive from the Cape to work.  It took nearly 3 hours, from 5am to 8am.  Then I was in meetings all day and into the evening.
Wednesday, Aug 1: No Training
I had an 8am meeting, and I didn't get to sleep until after midnight, so I blew off rowing in the morning, intending to row in the afternoon.  As it turned out I was at work until 8pm, so no rowing.
Thursday, Aug 2: 8km steady state OTW
Pressed for time, because of an early meeting, but I really wanted to do something!  First time in my Fluid since July 11th.  I was very rusty.  But it was very nice to be back rowing.  I really enjoy the feeling and the concentration it requires.
Friday, Aug 3:  No Training
My wife and I headed down to New York City.  We had tickets for the Saturday performance of Harry Potter and the Cursed Child, a play on Broadway.
Saturday, Aug 4: No Training
In NYC.
Sunday, Aug 5: No Training
Came home from NYC.  Had a bunch of work stuff to do once we got back.  Starting to get very frustrated at not having time to workout.
Monday, Aug 6: No Training
Staying up late on Sunday, resulted in getting up late on Monday, resulted in not rowing.
Tuesday, Aug 7: 14km steady state OTW
In Newton.  focused on technique, at r18.
Wednesday, Aug 8: 14km steady state OTW
In Newton.  today I was working on rowing with a lighter touch at r20.
Thursday, Aug 9: 14km steady state OTW
In Newton, same as Wednesday.  Just trying to get back some form and basic aerobic fitness.  My ankle was not healing right.  It was swelling up, and was red and hot around the area.  It also felt tingly in the area.  I decided to get it looked at by a professional.  After a very long wait, the doctor pronounced it infected, gave me a tetanus shot, had the nurse clean and debride the wound (which hurt, a lot), bandaged it up, and sent me on my way with a prescription for an oral antibiotic and instructions to change the dressing twice a day.
Friday: Aug 10: 8km technique work OTW
In Newton. After so much spotty training, having 3 days in a row was pretty cool, but I was sore and tired on Friday morning.  I decided to focus on technique, especially balance by alternating 2 minutes of square blade rowing with 2 minutes of r20 steady state.
After the workout I had a jam packed day until around 2pm.  Then I left to go home and then head to the cape.
Saturday, Aug 11:  No Training
My wife's sister, her husband and two teenagers arrived in the morning for a visit.  The day was a blur of swimming, eating, drinking and talking.
Sunday, Aug 12:  3 x 20'/2′ on slides
At the cape.  We had a nice day, we kayaked around the island.  Jumped off the bridge at high tide, went out for a giant feast of fried seafood, and then went minature golfing.  We got home around 8pm, and I had to make a choice.  Have a beer, or go workout.  I chose the latter.  I did an hour of steady state on slides.
The rules of this workout are:
r20
HR limits

1st rep: 145
2nd rep: 150
3rd rep: 155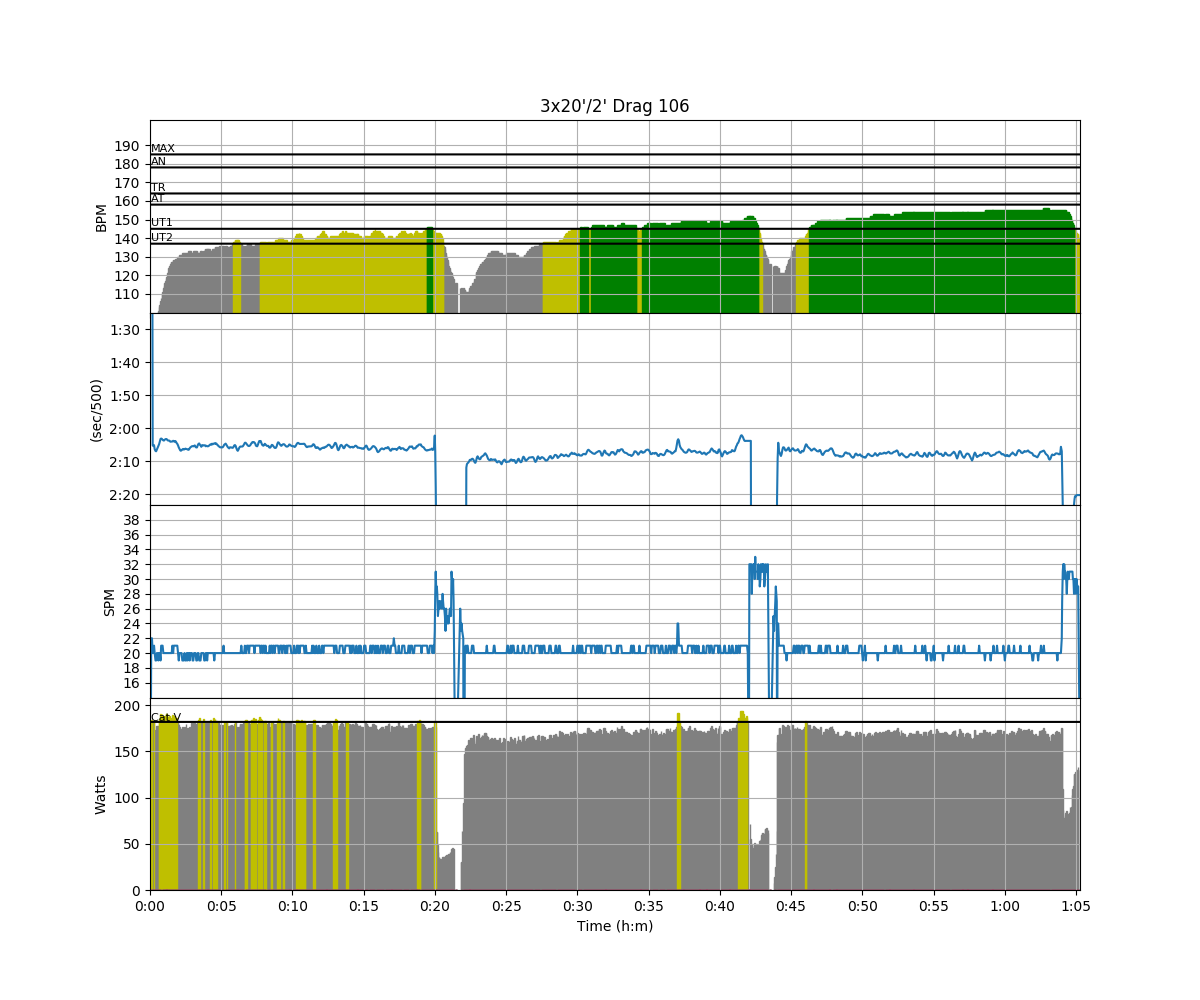 Workout Summary - media/20180813-0140260o.csv
--|Total|-Total-|--Avg--|-Avg-|Avg-|-Avg-|-Max-|-Avg
--|Dist-|-Time--|-Pace--|-Pwr-|SPM-|-HR--|-HR--|-DPS
--|15003|66:00.0|02:12.0|161.2|20.5|142.4|156.0|11.1
W-|14232|60:00.0|02:06.5|172.8|20.3|142.9|156.0|11.7
R-|00774|06:00.0|03:52.5|045.2|22.9|136.5|156.0|07.3
Workout Details
#-|SDist|-Split-|-SPace-|-Pwr-|SPM-|AvgHR|MaxHR|DPS-
00|04804|20:00.0|02:04.9|179.1|20.3|136.4|146.0|11.8
01|04711|20:00.0|02:07.4|169.2|20.4|141.6|152.0|11.6
02|04717|20:00.0|02:07.2|170.0|20.1|150.9|156.0|11.7
Monday, Aug 13: 3 x 20′ / 2′
On Saturday, I felt like my ankle was getting much better.  I decided to leave off the dressing to let it get some air and scab up.  Then on Sunday, I think water immersion was a bad thing.  It hurt a little in the evening and then in middle of the night, it hurt enough to wake me up and keep from getting back to sleep.  I finally gave up and redressed the wound.  The ointment and the pressure did the trick and the pain calmed down after a little while and I got back to sleep.  I decided to stay out of the water on Monday.
Monday afternoon my sister-in-law and her family went off for a nature walk.  My wife and I stayed home and that gave me a window for an erg session.  Same rules as the Sunday session.  I needed to slow down a bit more in the 2nd and third interval to respect the HR cap.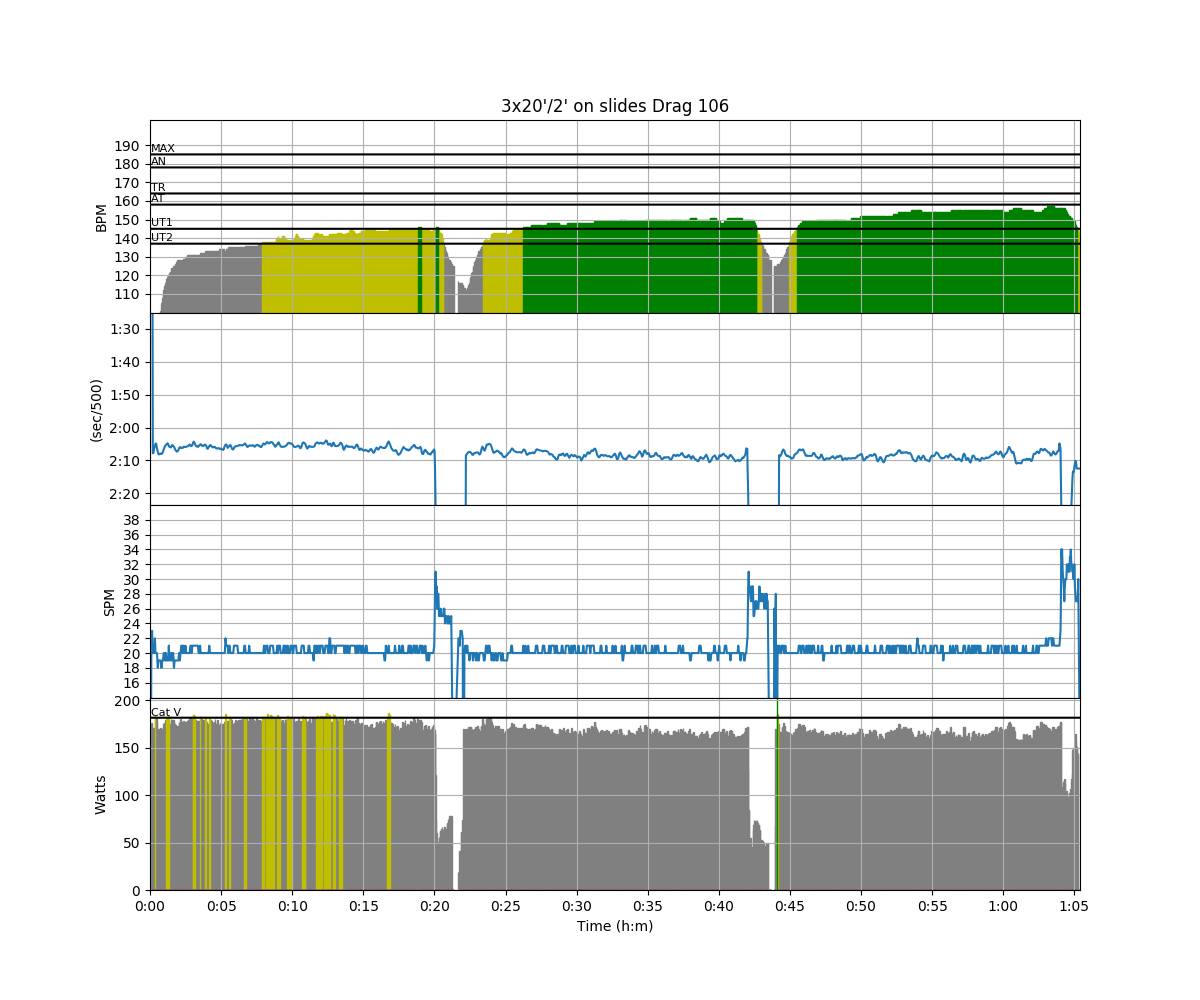 Workout Summary - media/20180813-2135260o.csv
--|Total|-Total-|--Avg--|-Avg-|Avg-|-Avg-|-Max-|-Avg
--|Dist-|-Time--|-Pace--|-Pwr-|SPM-|-HR--|-HR--|-DPS
--|15016|66:00.0|02:11.9|160.3|20.3|144.2|157.0|11.2
W-|14160|60:00.0|02:07.1|170.3|20.2|144.7|157.0|11.7
R-|00861|06:00.0|03:29.2|060.3|21.0|138.6|157.0|07.6
Workout Details
#-|SDist|-Split-|-SPace-|-Pwr-|SPM-|AvgHR|MaxHR|DPS-
00|04787|20:00.0|02:05.3|177.4|20.2|136.0|146.0|11.8
01|04694|20:00.0|02:07.8|167.5|20.1|146.4|151.0|11.7
02|04680|20:00.0|02:08.2|166.1|20.3|151.8|157.0|11.5
Tuesday, August 14:  No Training – Travel
This morning at 3:45am, I got up, showered and headed out for the airport from the cape.  It's about a 2:15 drive and I had a 7:13am departure.
I got to the airport exactly an hour before my plane took off, and by the time I got to the gate, my flight was boarding.  I didn't even have enough time to grab a coffee at the airport.  I guess I'm lucky I didn't run into more traffic.
I'm heading out to San Jose today for a couple of customer meetings, and then tomorrow I head to Austin for more customer meetings on Wednesday night and Thursday.  I head home on Thursday night.  I'm hoping I can get fitness center sessions in on Wed and Thursday mornings.
Whew!  I'm glad I took the time to write this out.  It pretty clear that I have to re-evaluate my goals.  One of the most important training principles is consistency, and right now I am not succeeding at being consistent.  I am trying to do too many things to be able to sustain the same training load that I was carrying a couple of years ago.  All of these things are, arguably, more important than competitive rowing.
My job has gotten harder.  There a big organization that is relying on me for strategic leadership and we have some serious issues to confront and solve.  I worked thirty years to get to this job and I want to be successful.
My relationship with my wife and family.  Some people have spouses with a common interest in sports.  I do not.  Time that I take for rowing is time that I take away from being a good partner.  That's fine, up to a point.  But, especially since we got the cape house, there is a lot of logistics that we need to work on together.  I love being there, but the travel time and visitors have reduced the amount of free time that I have to train.
My health.  I have learned that I perform better in my job and I am a better person to be around if I am getting at least an hour of exercise a day.  With my families history of heart disease, I think it is also critical to make sure I don't drop dead at an early age.  So, it's a big deal to maintain some sort of structured training plan.  But I have also lost the habit of doing my PT exercises and I've noticed that my hip is starting to hurt again.  I'm making some bad choices right now.
I tried numerous times in my adult life to lose weight, and never succeeded until I took up rowing.  I think the main difference was that the purpose of exercising changed from "getting exercise" to "getting faster", and the online community for indoor rowing provided a way to measure my progress and hold myself accountable for my training.  I need to continue to train "publically" and try to be honest about how I'm doing.  I think the primary change has to be in the ambition of my goals and structure of my training.
So, here's what I'm thinking:
Keep racing, just a little bit.  Maybe one or two small races in the fall.
5 sessions a week, not 6.  If I have extra time, I can add a sixth.
Simple workout plan, basically a variation of the Pete Plan

2 "hard" sessions a week.  Aiming at <=60 minute work plus rest in each.
2 endurance sessions.  As much duration as have time for
1 Technique session 60-80 min.

Regular testing.  This is the hardest one to do because I hate to see the results.  But I think I need to at least do one 6km test per month.
Daily PT exercises.  Instead of doing these at the start of a session, change to do them at night after dinner.