Tuesday:  I went for another nice walk.  This time a bit closer to low tide.  Again, Itraced out the water's edge.
Here is Monday and Tuesday's walk superimposed.
It was about a 5km walk.  My wife and I went into Wellfleet for lunch and some exploring, so no row in the afternoon onTuesday.
Wednesday, July 4:  2 hour row
On the right morning, I would really like to row down to Rock Creek Harbor.  Today was not the day.  I would need nice flat conditions, no wind, or a light breeze from the east, and close to high tide.  Today there was a wind from the northwest and nearly low tide.  The coast off of Eastham is really a huge sand flat goes out a mile or more from shore.  That means that when there is an onshore breeze, the chop really piles up, and I was essentially trying to row across it.  It was slow, tough going.
But I get ahead of myself.  I knew that today would be a reasonably busy day, and I wanted to do a long row.  I knew that I would be rowing around low tide, but I figured it would work out OK.
I launched from  the north beach on Loagy Bay and headed out following the deep water as near as I could tell.  I rowed west until the big rock was on my beam, and then I turned south.  These first two parts were great fun.  Light wind, flat water.  But as soon as I hit the shoals off of Eastham (at 28 mimutes in the time plot), things got a lot more difficult.  The chop became much steeper and more irregular, the water was less than 2 feet deep.  I don't know if it was my imagination, but rowing in the shallow water made the boat feel heavier.  It was certainly slower.  On the plus side, every now and then I could see lobsters crawling along the sand.  Some of them were big!
The goal for today was a 2 hour row, so I slogged along until I reached the 1 hour mark.  When I turned around, I was hoping that the wind would be a bit behind me, but it seemed like it was still right on my beam, and I was still rowing beam on to the waves.  I experimented with rating up and that seemed a bit more effective in these cross seas.  I steered a bit farther off shore on the way north, at least at first.  Ultimately I turned back  to the northeast and this was a bit easier going with the waves on my stern quarter.
I kept going this way until I spotted the big rock.  I had come a fair bit too far onshore, and I needed swing around and row out to the rock.  I could see my oar blades stirring up the sand on the bottom.  I swung around the rock and headed in to channel on the north side of the island.  I managed to lose the channel and had to get out and walk to find the way to go to get back to the beach.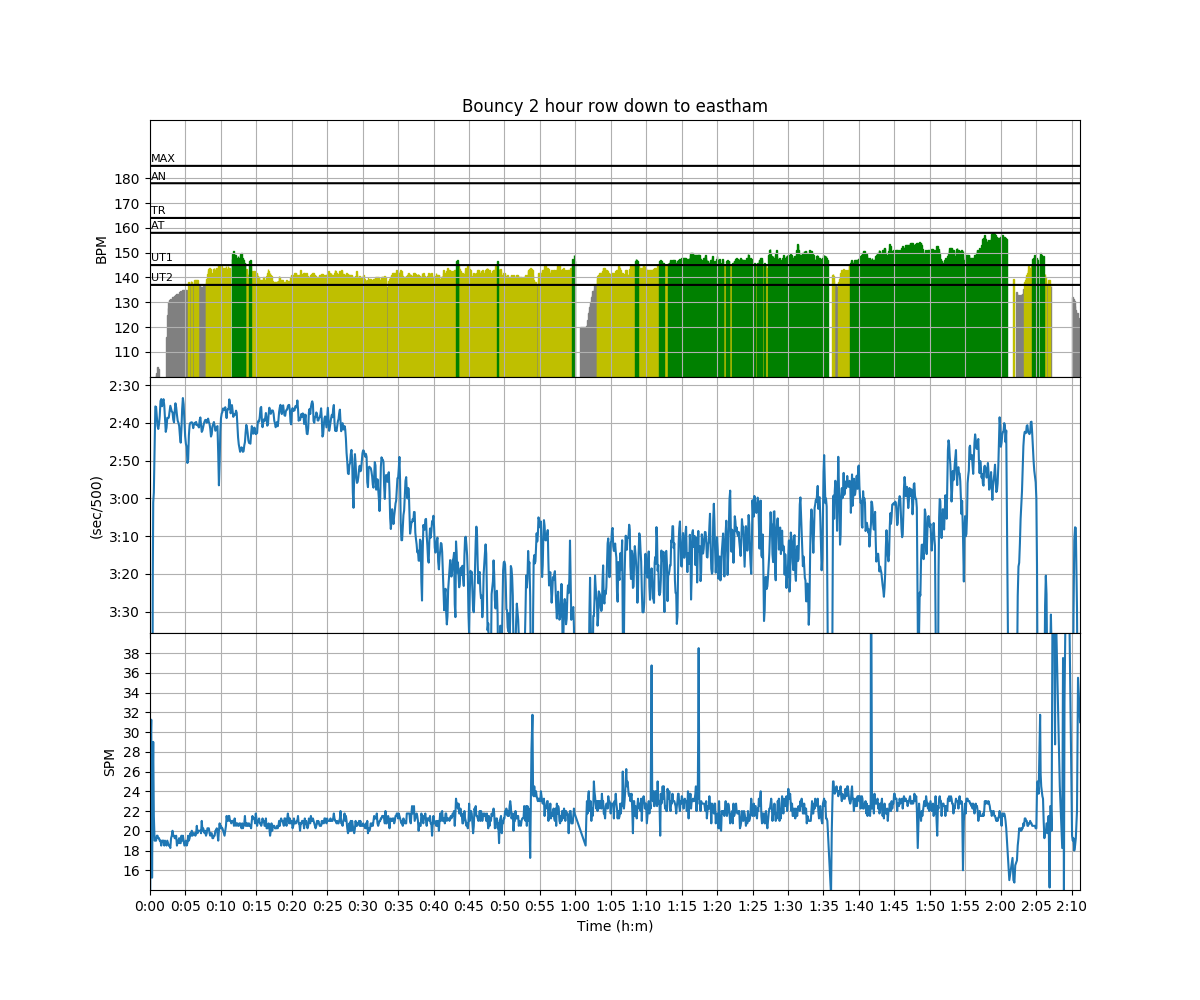 Workout Summary - media/20180704-1555230o.csv
--|Total|-Total-|--Avg--|-Avg-|Avg-|-Avg-|-Max-|-Avg
--|Dist-|-Time--|-Pace--|-Pwr-|SPM-|-HR--|-HR--|-DPS
--|20744|131:21.0|03:10.0|000.0|21.9|142.5|158.0|07.2
W-|19870|120:08.0|03:01.4|000.0|21.7|143.5|158.0|07.7
R-|00881|11:13.0|06:22.1|000.0|24.1|132.3|158.0|02.4
Workout Details
#-|SDist|-Split-|-SPace-|-Pwr-|SPM-|AvgHR|MaxHR|DPS-
01|05138|27:15.0|02:39.1|000.0|20.3|137.4|151.0|09.3 nice water
02|05007|32:13.0|03:13.0|000.0|21.4|141.5|149.0|07.3 shallow choppy
03|05246|33:57.0|03:14.1|000.0|22.4|145.7|154.0|06.9 choppy way home
04|01958|11:56.0|03:02.8|000.0|23.1|148.2|154.0|07.1 after water break
05|00401|02:36.0|03:14.4|000.0|21.9|151.5|155.0|07.1 
06|01661|09:36.0|02:53.4|000.0|22.1|151.8|158.0|07.8
07|00458|02:35.0|02:49.2|000.0|20.5|141.3|149.0|08.6
Very tired after this.
Here are the last 4 rows that I have done to the south.
Blue:  90 minutes, hot, flat water (launched from stairs)
Green:  70′ row, launched from stairs.
Yellow: 80′ row, tough northerly wind
Red:  Today, 120′ row, launched from beach, low tide, choppy
Today's row was about 20.5km, and 120 minutes.  Rock Harbor is about 12km from the bottom of the stairs, so I think on the right day, I could totally make the run.