I got back to my house from Japan around 8pm on Thursday night.  I slept well on the plane and surprisingly well Thursday night.  I slept until around 7:30am Friday morning.
Friday:  14k steady state – OTW 1x
It was cold and windy on Friday morning.  Snow was in the forecast for later that day.  The plan for the session was just to work on technique and get some steady state volume.  Cat VI, r18-20.
I was a little bit irked that I forgot to start the speedcoach until I was about 800m into the row.  The wind was coming southwest, so I had a tail wind and tail current heading towards waltham and a head wind and head current the other way.  It made for a pretty dramatic difference in pace.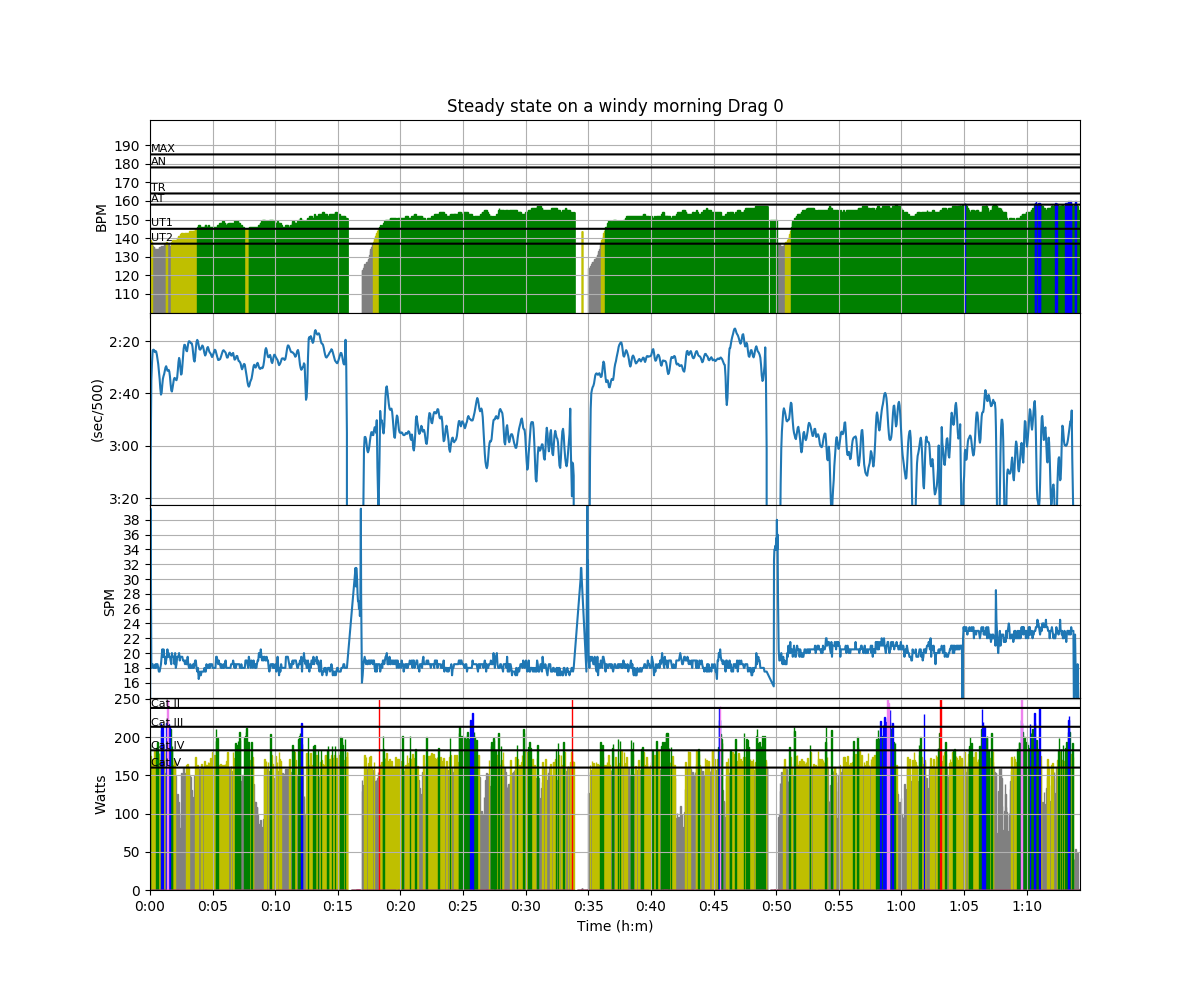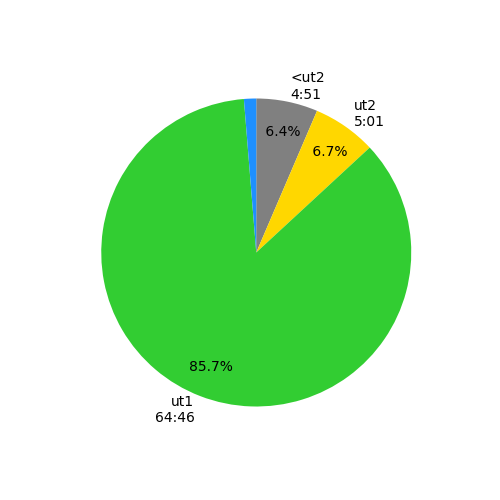 Workout Summary - media/20180406-1655240o.csv
--|Total|-Total-|--Avg--|-Avg-|Avg-|-Avg-|-Max-|-Avg
--|Dist-|-Time--|-Pace--|-Pwr-|SPM-|-HR--|-HR--|-DPS
--|13276|75:36.0|02:50.8|150.8|19.4|150.9|160.0|09.0
W-|12944|69:39.0|02:41.4|161.6|19.3|151.5|160.0|09.7
R-|00336|05:57.0|08:50.9|024.2|20.3|143.6|160.0|03.7
Workout Details
#-|SDist|-Split-|-SPace-|-Pwr-|SPM-|AvgHR|MaxHR|DPS-
00|03251|15:40.0|02:24.6|159.8|18.5|146.6|154.0|11.2 - missing 800m
01|02896|16:43.0|02:53.2|163.6|18.3|151.8|157.0|09.5
02|02894|14:05.0|02:26.0|162.5|18.4|151.3|157.0|11.2
03|03904|23:11.0|02:58.2|161.0|21.3|154.6|160.0|07.9 - tried higher rate
My objective for the row was to achieve the best possible pace while respecting the HR cap at 155.  What was interesting was the consistency of power between head wind and tail wind cases.
The pace was different by 30 seconds, but the power was matched within 4 watts across all four intervals.
Saturday: 2 x 15′ rate ladders on the Oartec DX
I had lots going on all day, and I didn't have a chance to train until about 9pm.  The scheduled session was the 3×15′ rate ladders.  I was going to try to do them on the Oartec DX.  I decided to cut it back to 2, and either I was having a bad day, or I discovered that I can't do as well on the Oartec as I can on slides.  I ended up HDing in both ladders and finishing with a HR with 5 beats of my max.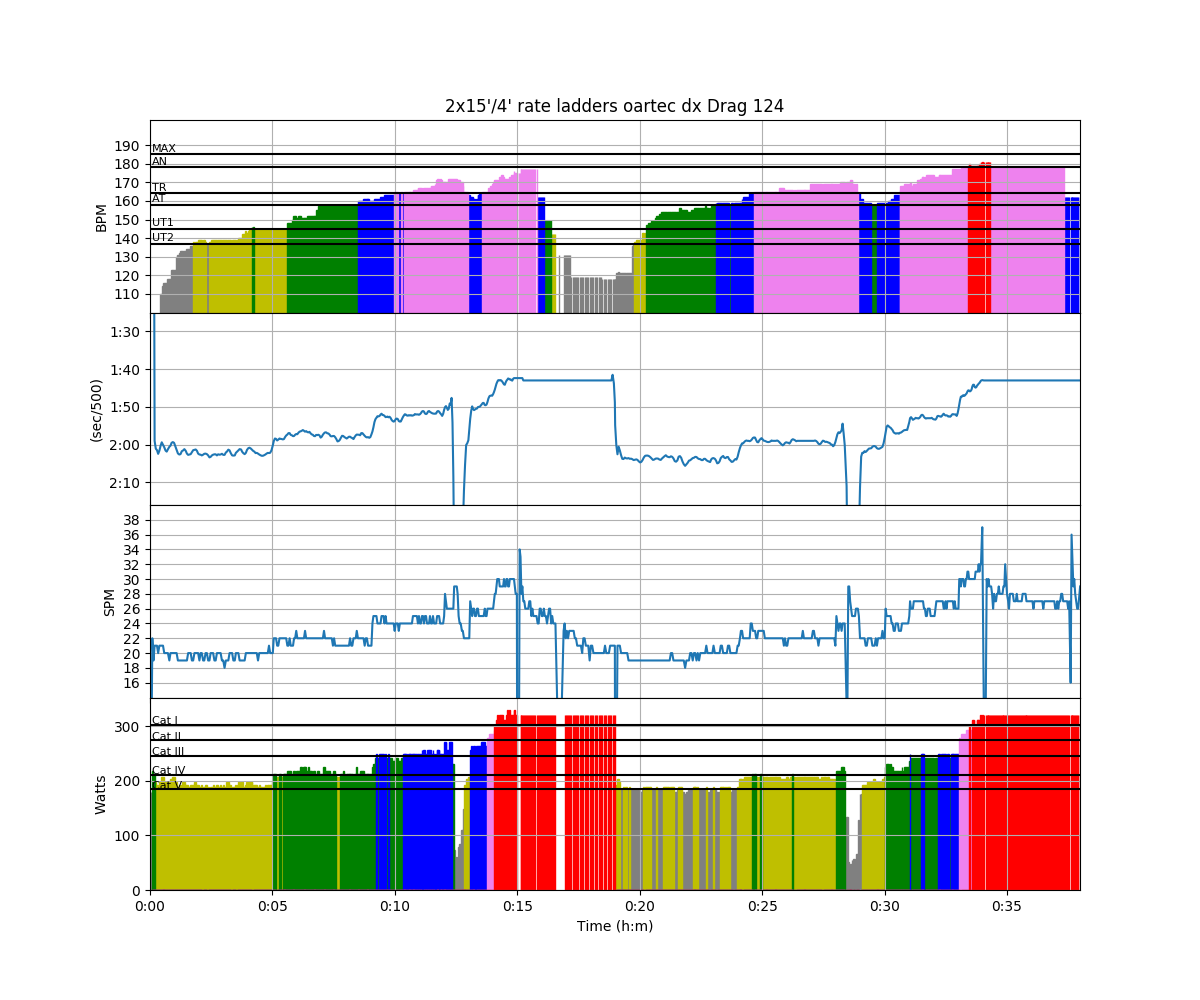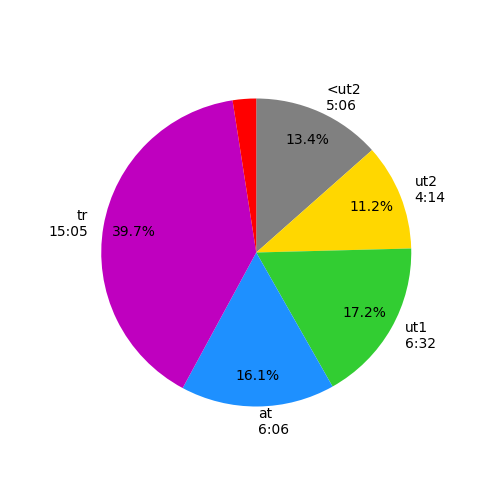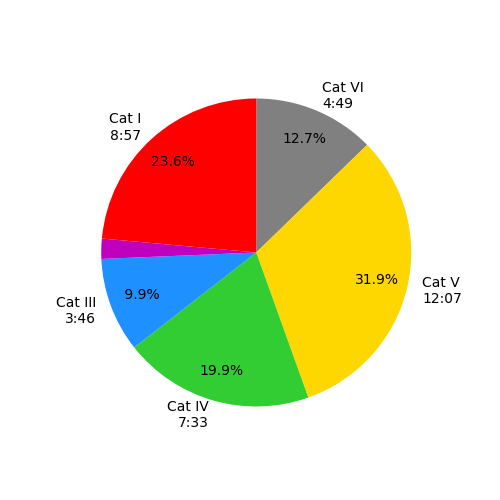 Workout Summary - media/20180408-0200250o.csv
--|Total|-Total-|--Avg--|-Avg-|Avg-|-Avg-|-Max-|-Avg
--|Dist-|-Time--|-Pace--|-Pwr-|SPM-|-HR--|-HR--|-DPS
--|09056|38:00.0|02:05.9|232.3|22.9|157.0|181.0|10.4
W-|07602|30:00.0|01:58.4|213.5|22.5|157.0|181.0|11.4
R-|01461|08:00.0|02:44.3|302.7|24.3|157.1|181.0|07.6
Workout Details
#-|SDist|-Split-|-SPace-|-Pwr-|SPM-|AvgHR|MaxHR|DPS-
00|01235|05:00.0|02:01.5|193.4|19.6|133.0|146.0|12.6
01|01021|04:00.0|01:57.5|214.9|21.7|154.2|161.0|11.7
02|00800|03:00.0|01:52.5|246.1|24.2|165.3|172.0|11.0
03|00506|02:00.0|01:58.7|219.7|25.3|166.9|172.0|10.0
04|00290|01:00.0|01:43.4|312.1|28.7|172.8|176.0|10.1
05|01212|05:00.0|02:03.8|184.8|19.4|148.9|159.0|12.5
06|01007|04:00.0|01:59.2|206.3|22.1|165.9|169.0|11.4
07|00714|03:00.0|02:06.0|184.3|23.1|164.0|171.0|10.3
08|00533|02:00.0|01:52.6|244.8|26.4|173.2|177.0|10.1
09|00284|01:00.0|01:45.5|297.9|30.7|178.8|181.0|09.3
Sunday:  2 x 2k + 2 x 1k + 2 + 500 – OTW 1x
After the late night workout the day before, I decided to push my sunday workout a bit later in the day.  I had brought my boat home with me hoping that I could get out to row on Quinsig, but it was too cold and windy both mornings.
I needed to get my boat back to Newton before I took off on my trip monday morning, so I decided to bring it back in the late afternoon and go for a row while I was there.  Even when its windy, the river is narrow enough that it remains nice and rowable.  Today, it was a bit tough because the wind was coming generally out of the west, which was a cross wind through the widest section.  This kicked up enough chop to make it more technically challenging than I can handle easily at this stage of the season.
The first 2k was great.  Right on target, but I felt like I was digging a bit too deep.  I failed in the second 2k.  I came through the s-turn and got hit with the head wind and chop and I just didn't have the drive to finish out the rep.
The same thing happened with the 1Ks.  The downriver one was fine, but I bailed out on the up river one going into the headwind when I managed to take a crappy stroke and just kind of gave up on it.
In both cases, I took a couple of paddle strokes and then brought it back to target for the end of the rep.
The 500s were fun.  Short enough that I wasn't tempted to give up!  The wind seemed to be rising throughout the workout.  The biggest gusts seemed to happen as I came back up river in the last 500.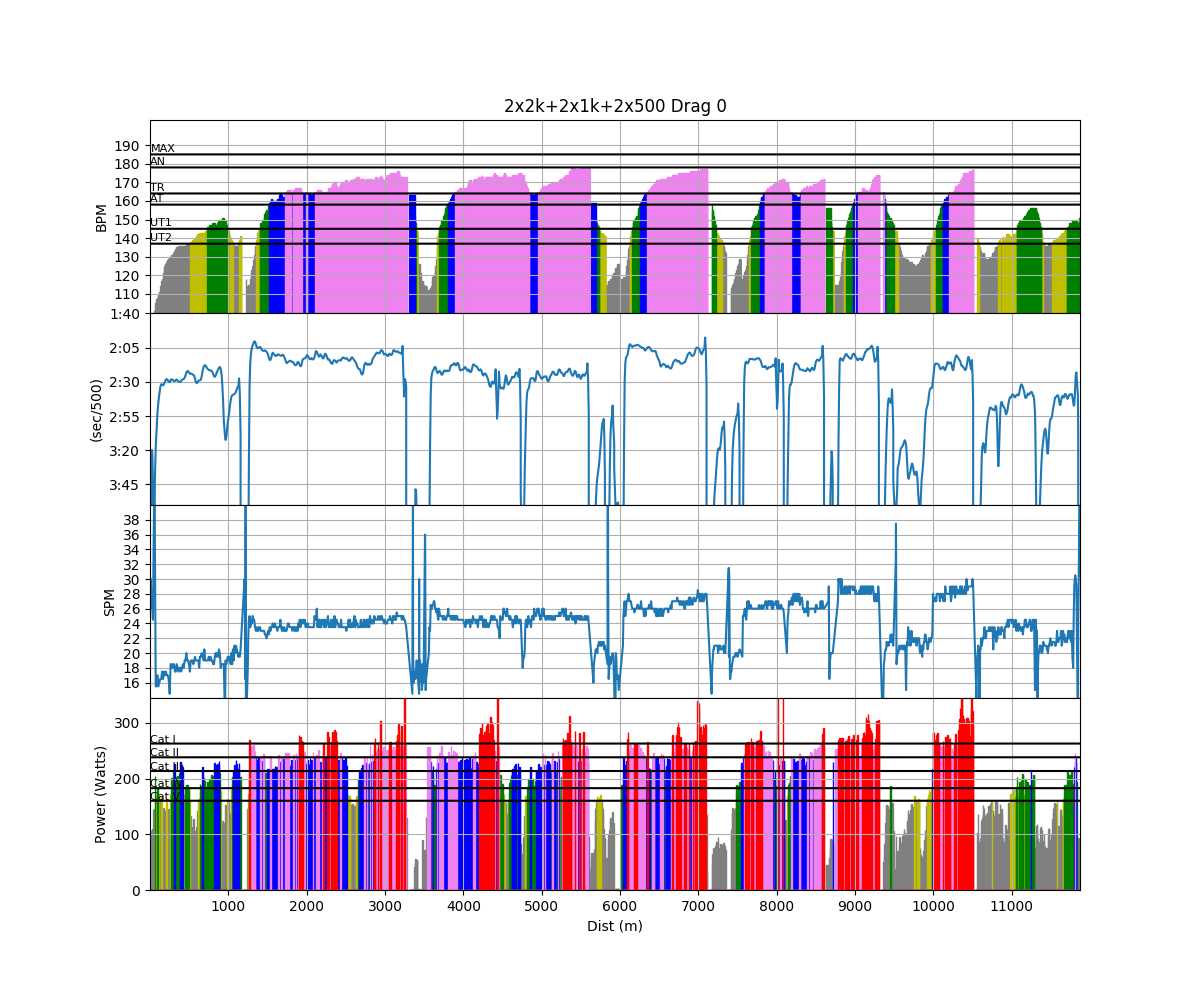 The summary shows the advantage and disadvantage of using power.  You can see that the power is more consistent upwind vs down, but you can also see how the power is effected by steering.  In the first 2000, the higher power from 1000 to 1200 meters is starboard turn going into the s-turn, and the power dip right after is the turn to port coming out of the turn.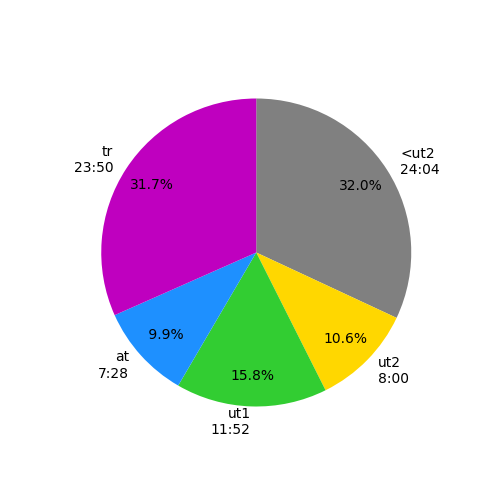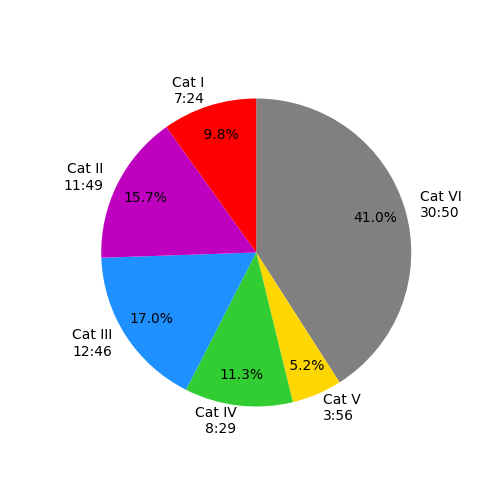 Workout Summary - media/20180409-0040240o.csv
--|Total|-Total-|--Avg--|-Avg-|Avg-|-Avg-|-Max-|-Avg
--|Dist-|-Time--|-Pace--|-Pwr-|SPM-|-HR--|-HR--|-DPS
--|11862|75:16.0|03:10.4|167.9|23.1|148.0|178.0|06.8
W-|08857|41:50.0|02:21.7|218.2|24.4|159.8|178.0|08.8
R-|03015|33:26.0|05:32.7|104.9|21.4|133.3|178.0|00.5
Workout Details
#-|SDist|-Split-|-SPace-|-Pwr-|SPM-|AvgHR|MaxHR|DPS-
01|00830|04:01.0|02:25.2|173.2|18.4|137.1|150.0|11.2
02|01961|08:36.0|02:11.6|231.7|23.9|165.2|176.0|09.5
03|02002|09:51.0|02:27.6|217.7|24.6|168.0|178.0|08.3
04|01050|04:33.0|02:10.0|248.9|26.5|166.5|177.0|08.7
05|01016|04:57.0|02:26.2|228.4|25.8|162.8|172.0|08.0
06|00501|02:10.0|02:09.7|265.7|28.5|158.3|174.0|08.1
07|00511|02:20.0|02:17.0|274.0|28.2|164.1|177.0|07.8
08|00617|03:23.0|02:44.4|152.2|23.5|142.8|156.0|07.8
09|00369|01:59.0|02:41.2|151.6|21.8|143.4|150.0|08.5
This workout put me into a bit of a contemplative mood.  I can remember when bailing out on reps would have made me so angry with myself.  in this workout, I was happy to be in the river, I felt a little bit like a quitter for not sticking with it, but it seemed like a good workout none the less.  Then I start to second guess myself.   Maybe that anger came out of a stringer drive to succeed?  Is this a sign that I'm losing the desire to really compete and get to deliver my very best.
When I started, it seemed like trite little quotes like "Winners never quit, quitter never win" were always in my head.  Over the past 10 years, I've put in enough sessions to know that sometimes you don't hit your session objectives, and frankly, if you always do, then you are not pushing yourself enough.   Now, I need to figure out a way to get the most out of the training time that I can afford to spend.  It's useful contemplation.
Monday:  No Training
Up at 5am to get to the airport.  Flew out to San Francisco for a couple of customer meetings.  Got to the hotel around 8pm, had a quick dinner and crashed.
Tuesday:  No Training
I had intended to get up at 5 and do a quick session in the hotel gym, but I felt very tired when the alarm went off and decided to sleep another hour.  Caught a 8:25 flight from SFO back home.  I got back to the house around 6:45pm.
Wednesday:  3 x 1500 + 3 x 500
I intended to do this session on the water, but when I woke up this morning, it was 26F and foggy outside.  I didn't know that was atmospherically possible!   Wouldn't the fog just freeze?
Anyway, those conditions, combined with the horrifying discovery that I had a 8:00am put an end to getting out on the water this morning.  Instead, I found an hour in the middle of the day to workout and did the session on the erg.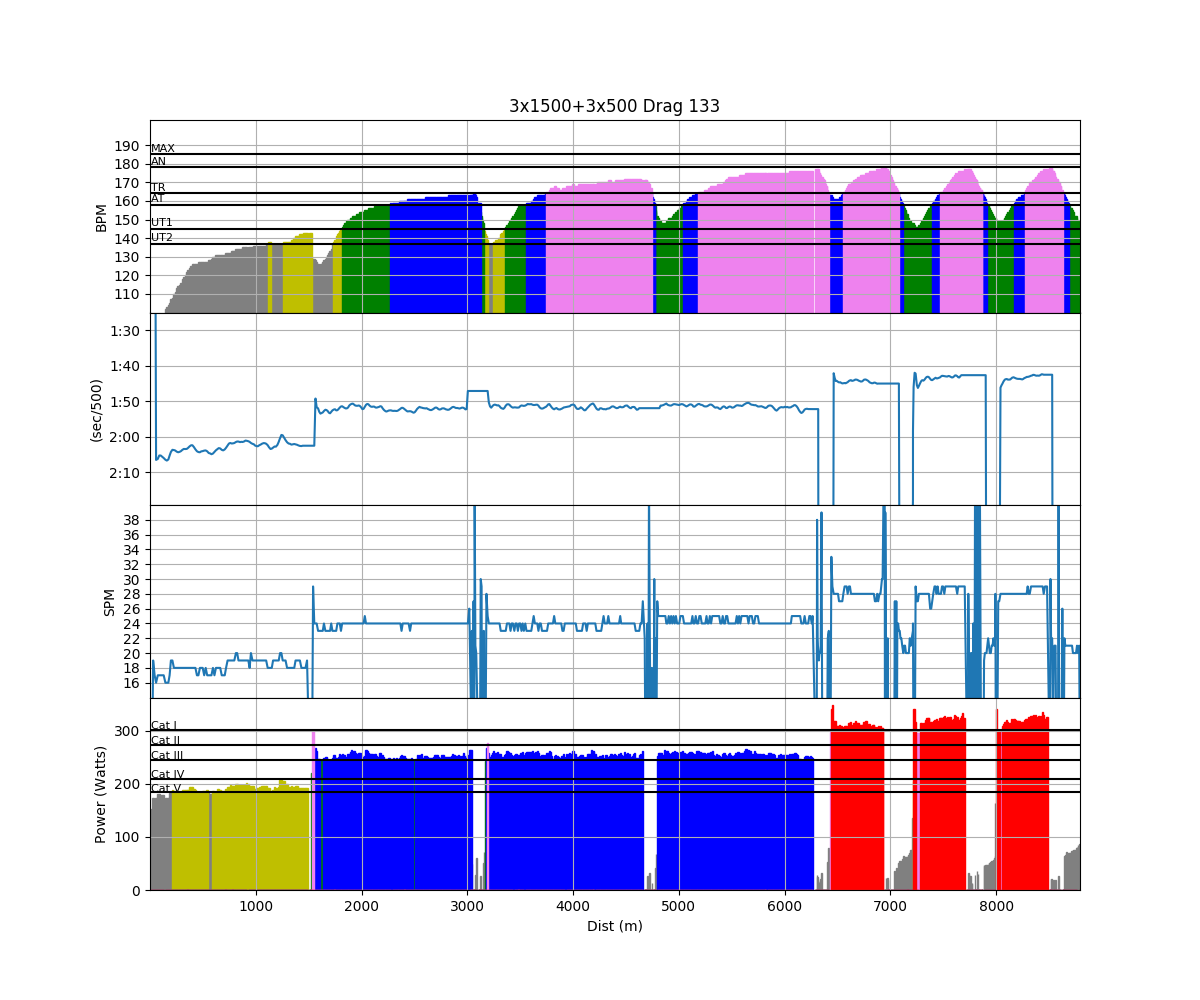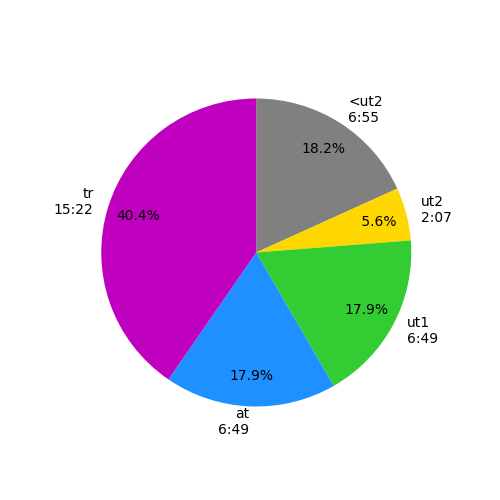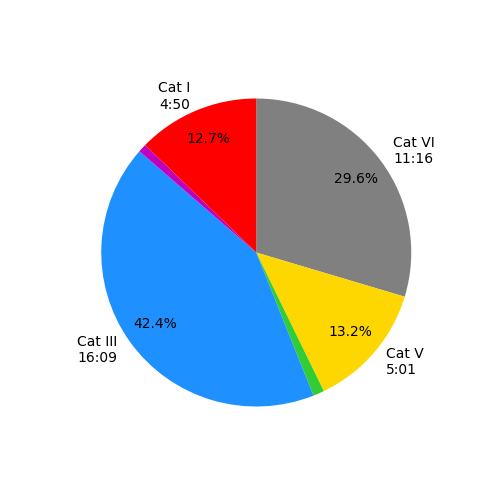 Workout Summary - media/20180411-1725250o.csv
--|Total|-Total-|--Avg--|-Avg-|Avg-|-Avg-|-Max-|-Avg
--|Dist-|-Time--|-Pace--|-Pwr-|SPM-|-HR--|-HR--|-DPS
--|08789|38:00.0|02:09.8|192.7|20.7|156.9|178.0|11.2
W-|07500|27:58.0|01:51.9|251.7|23.3|154.8|178.0|11.6
R-|01293|10:02.0|03:52.8|028.1|13.4|162.9|178.0|09.4
Workout Details
#-|SDist|-Split-|-SPace-|-Pwr-|SPM-|AvgHR|MaxHR|DPS-
00|01500|06:06.7|02:02.2|189.7|18.1|126.9|143.0|13.6
01|01500|05:35.0|01:51.7|251.0|23.6|153.7|163.0|11.4
02|01500|05:35.0|01:51.7|255.4|23.7|162.6|172.0|11.3
03|01500|05:32.9|01:51.0|256.2|24.4|168.6|176.0|11.1
04|00500|01:43.2|01:43.2|312.7|27.9|170.5|178.0|10.4
05|00500|01:43.1|01:43.1|320.9|27.7|163.2|177.0|10.5
06|00500|01:43.0|01:43.0|318.3|27.6|163.7|177.0|10.6
Pretty good workout.
Thursday: 14km Steady State OTW 1x
It was sunny and cold, just above freezing, with almost no wind.  The water was glassy smooth.
The goal of this workout was steady state meters at low rate. HR limit at 155.
Nothing of note happened except during the first trip down the river at about 10 minutes the speedcoach complained that it was low on memory.  I pushed a few button to see if I could delete a couple of old sessions.  You can't.  So, I decided to just keep going and hope that I didn't run out.  I didn't.
I did the first three legs at r18, but decided to up the rate to r20 in the last leg and lighten up enough to still stay under the HR cap.  I was pushing right up to it at the end.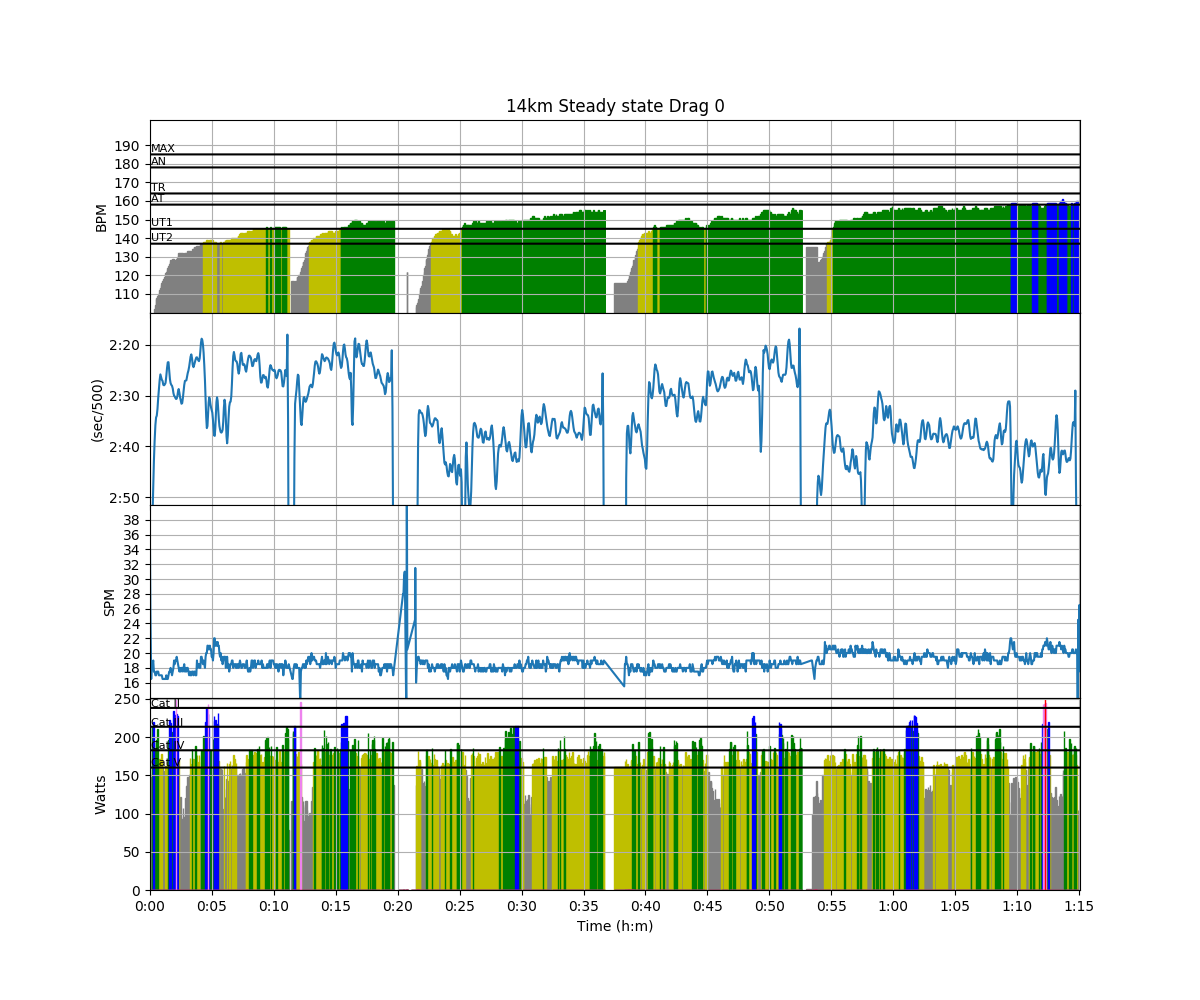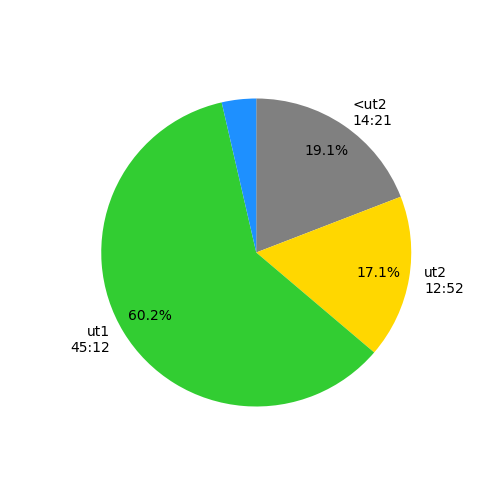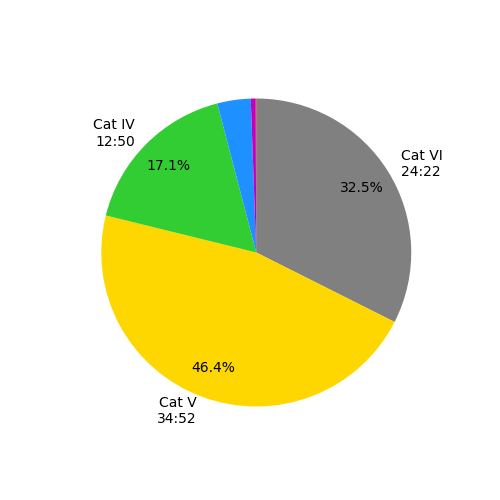 Workout Summary - media/20180412-1515250o.csv
--|Total|-Total-|--Avg--|-Avg-|Avg-|-Avg-|-Max-|-Avg
--|Dist-|-Time--|-Pace--|-Pwr-|SPM-|-HR--|-HR--|-DPS
--|14050|76:45.0|02:43.9|158.6|18.9|145.5|161.0|09.7
W-|13518|68:30.0|02:32.0|167.1|18.8|147.4|161.0|10.5
R-|00536|08:15.0|07:41.6|088.2|20.2|130.4|161.0|01.1
Workout Details
#-|SDist|-Split-|-SPace-|-Pwr-|SPM-|AvgHR|MaxHR|DPS-
01|02197|10:42.0|02:26.1|170.0|18.4|136.8|146.0|11.2
02|01637|07:51.0|02:23.9|170.7|18.6|142.9|150.0|11.2
03|02870|15:00.0|02:36.8|166.6|18.3|147.4|155.0|10.4
04|02857|14:03.0|02:27.5|167.5|18.3|147.8|156.0|11.1
05|03956|20:54.0|02:38.5|164.5|19.7|154.1|161.0|09.6
6 more watts than the prior last steady state session and a lower HR.
Nice consistent power despite the pace difference.
Friday:  60′ Speed Play
Thursday afternoon, I received an email back from my coach based on her review of the video that I had sent her.  It seems like I have lots of "opportunities to get faster".
Her first thought was I need to change my rigging.
Reduce the amount of inboard (I reduced the inboard from 88 to 86.25 cm)
Lower my oarlocks to get my CG a little bit above the oar handles, so I am more "over the work". (I moved them down 1 spacer)
Move the footboard to stern to get my hips a bit further through the pin. (I moved it 1 cm)
She also had comments on my posture and
Adjust the way you are sitting so you can hinge.

Get connected to the boat, structural posture- King of the Mountain Drill

Keep glutes and lats engaged all the time on the drive, drive through heels after the cross over. This supports the posture.

Keep your weight into the rigger at all times, work the handles around the pin all the time, stay on the path of the handle.
That's a lot to process.  She also provided my training plan for April/May.  There is a new type of session in this program…Speed Play.
60' with speed play
Rest: n/a only to rehydrate
Rating/Pace: Cat VI; target SR 18-20.
Once every 10 minutes take the stroke rate up to 28 spm for 20 strokes.
I modified the session to fit in the KOM drill.  I did about 2 minutes of the drill each time I turned on the river.  It was a bit windy.  Because of the time I took doing the rigging, I needed to cut a couple of km out of the session by turning at the old stone bridge instead of going all the way back to the dam.
The King of the Mountain drill was challenging.  It was a little windy so the boat was getting pushed around and I had trouble holding the blades clear.  I was really tensed up in the first set, a little better after that.  I think it makes sense to break it up into small chunks like that.
During the row, I really enjoyed the 20 stroke fast bits.  I decided to target r30 for those and focus on stroke mechanics.  Get my blades clear on recovery.  Get my heels down on the drive.  Keep hinging at the hips.  Usually when I rate up like that I just pull like a dog.  Today, I tried for a bit more finesse.  I doubt it would have looked any different to a bystander.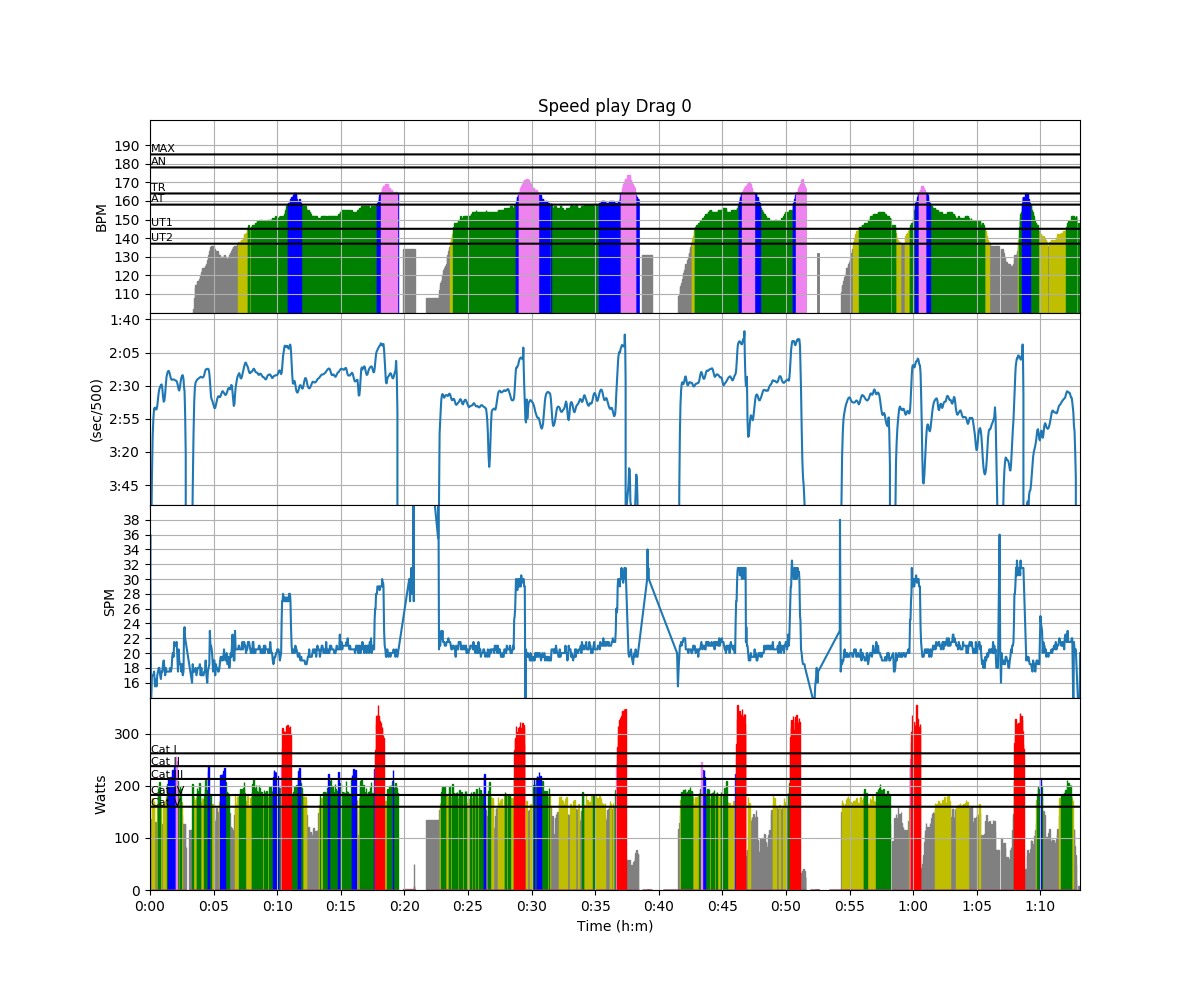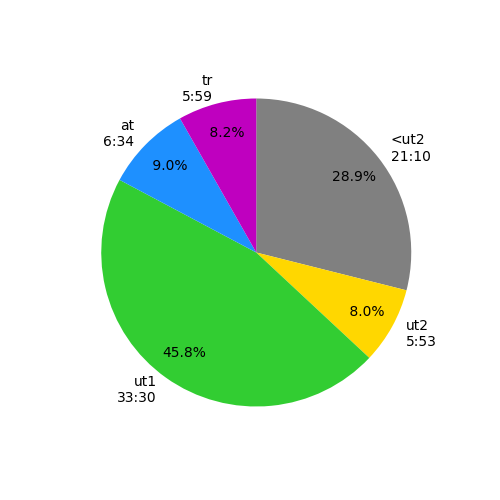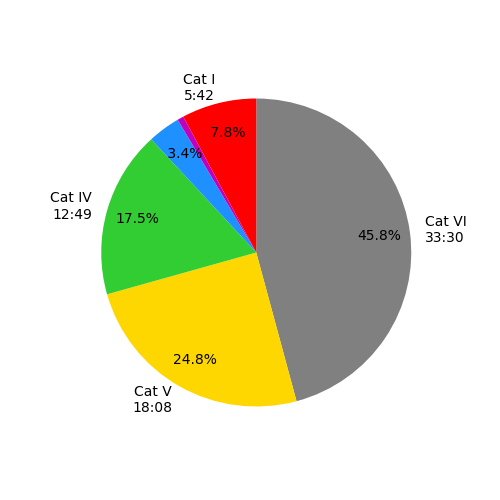 Workout Summary - media/20180413-1305250o.csv
--|Total|-Total-|--Avg--|-Avg-|Avg-|-Avg-|-Max-|-Avg
--|Dist-|-Time--|-Pace--|-Pwr-|SPM-|-HR--|-HR--|-DPS
--|12436|73:07.0|02:56.4|153.6|21.6|143.4|174.0|07.9
W-|12436|73:07.0|02:56.4|153.6|21.6|143.4|174.0|07.9
R-|00000|00:00.0|00:00.0|000.0|00.0|000.0|174.0|00.0
Workout Details
#-|SDist|-Split-|-SPace-|-Pwr-|SPM-|AvgHR|MaxHR|DPS-
00|12436|73:07.5|02:56.4|153.6|21.6|143.4|174.0|07.9
Here is a comparison of the stroke profile for the r30 strokes and the steady state strokes (around r20).
So, I am not losing length.  Actually, I'm about 4 degrees longer at r30.  And the slip and wash both look good.  The peak force angle is a bit earlier (28 deg vs 33deg).  I think that correlates to the early hump in the acceleration curve that shows up at speed.
Mostly in the row, I was trying to focus on maintaining outward pressure on the oarlocks during recovery and sit up taller.  When I did it right and managed to finish cleanly, I felt rock solid as I travelled up the slide with the blades clear of the water.  However, it was really hard to keep everything in focus every stroke.  I'd focus on finishes and forget to keep pressure out, or do OK on both of those, but slump in the seat.
But, seeing the difference in my erg form by focusing on keeping my knees down and hinging at my hips makes me feel like this is struggle is worth it.  It would be great if I could put together a thousand of those beautiful clean strokes in one session.
Friday afternoon, Jill and I headed down to the cape, where we are now.  I'll be erging this weekend.  Today's session.
4 x 12'
Rest between: 6'
Rating/Pace:

6' @ Cat VI; target 18-20
4' @ Cat IV; target SR 24
2' @ Cat III; target SR 28.