Last post was on March 8th, and although COVID-19 was already affecting people in my company, and all over the news, I had no idea how quickly and completely everything would be turned upside down.
Today is March 22nd, so 14 days have elapsed, and I keep trying to focus on the positive. My family, my friends and my coworkers are all still healthy. I am proud of how my company is responding to the crisis. I see hope in the decreased rate of new cases in places like China. But, it has been a massive adjustment to my daily life.
I've been working remote since March 12th. Seven work days. My wife works in an elementary school, and has been out since March 16th.
Something funny, though. I was quite happy in the week of March 9th, because it was unseasonably warm, and I was able to row on the water three times. Since then, the weather has turned, and the club is shuttered due to COVID-19 so I'm not sure when I'll row again. It was brilliant to get back on the water though, and I'm so glad I got the chance.
Since we've been locked in, my friend, Sander, and I have started a Facebook group, the Stuck at Home Rowing Club (SAHRC). It started innocently enough. We were thinking that a lot of people who were used to training with others might be looking for community and structure to take the place of now cancelled or postponed races and shuttered clubs. It kind of took off (on the scale of a tiny sport like rowing) and currently has 564 members. We post 6 workouts a week, which we select by polling members. We are currently running a contest to create a logo, and I'm just delighted by the whole thing. If you are interested, ask to join. We are letting in just about anyone who want to join.
In terms of training. Being locked in has allowed me to be a bit more consistent. On Tuesday, all I could manage was short walk after work. And Friday, I just never had a window without interruptions because of work issues related to COVID-19. If I am to be as honest with myself as possible, I am also staying up too late and not getting up early enough to reliably workout before work. I need to fix that next week.
Here's the day by day
Monday – March 9 – 12K on Lake Quinsigamond in a double
The weather was great, and I met Joe at 6 at the boathouse. The water level in the lake is controlled by a dam at the extreme south end, and it is always allowed to get quite low in the winter. So, getting the boat down on the dock is a little bit of a production involving two sets of slings and some fast foot work.
Since this was the first row of the year for me. We just played it by ear. A nice long build during the first leg to the south end of the lake. Then a bit of pyramid on the way back north. There was a building breeze from the south during the workout, so the last bit from the north end of the lake was a bit of a slog.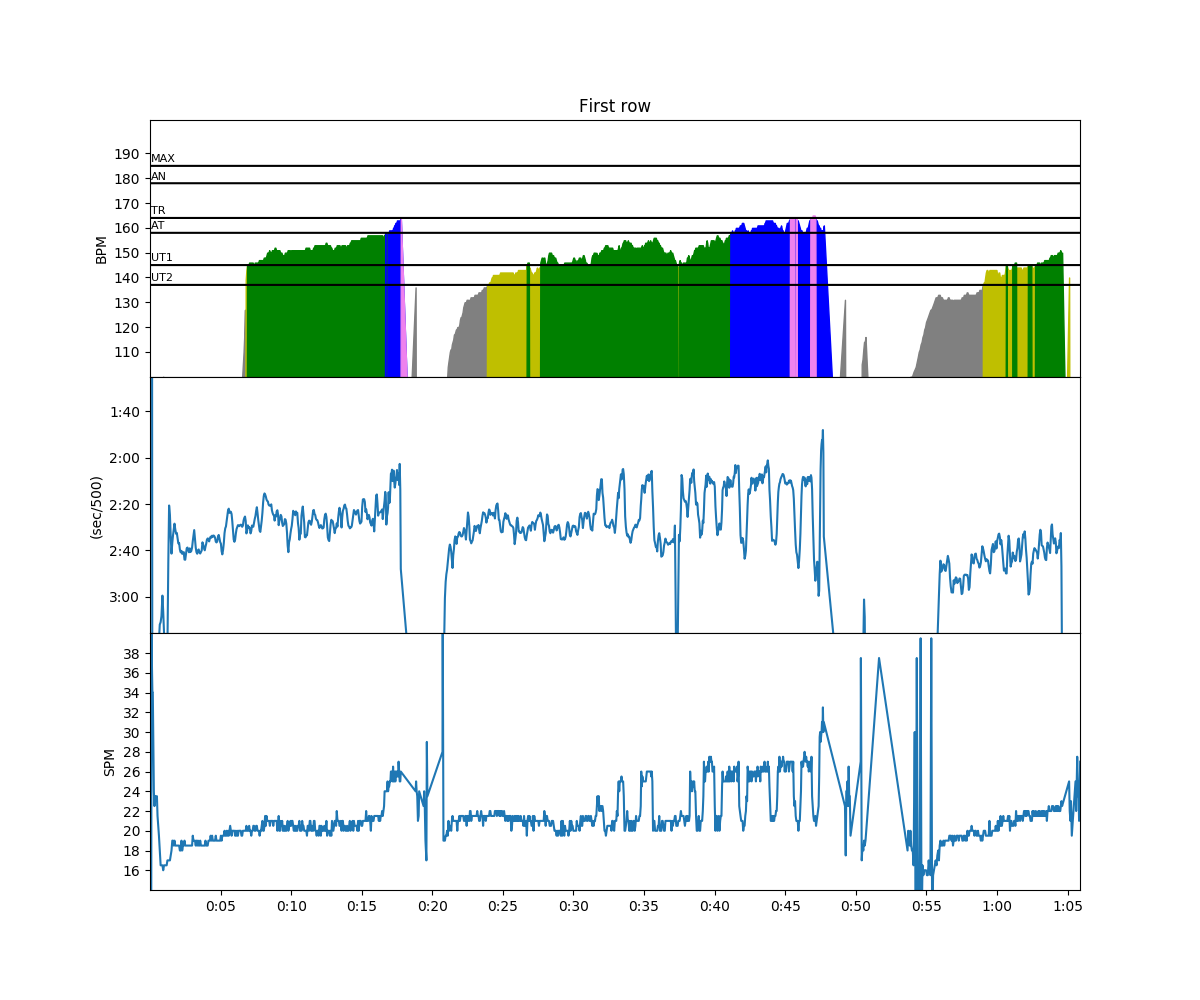 Workout Summary - media/0c93b6017b-20200309-115105o.csv
--|Total|-Total----|--Avg--|-Avg-|Avg-|-Avg-|-Max-|-Avg
--|Dist-|-Time-----|-Pace--|-Pwr-|SPM-|-HR--|-HR--|-DPS
--|11593|01:05:53.3|02:50.5|000.0|21.8|134.8|165.0|08.1
W-|10471|00:51:43.3|02:28.2|000.0|21.5|141.4|165.0|09.4
R-|01126|00:14:10.4|06:17.7|000.0|22.7|111.1|165.0|03.2
Workout Details
#-|SDist|-Split-|-SPace-|-Pwr-|SPM-|AvgHR|MaxHR|DPS-
01|03308|16:17.8|02:27.8|000.0|20.4|129.3|164.0|09.9
02|05579|26:47.4|02:24.1|000.0|22.5|149.1|165.0|09.3
03|01585|08:38.1|02:43.5|000.0|20.5|140.2|151.0|08.9
It was great to be back on the water again.
Tuesday – 10 March – 12K on Lake Quinsigamond in a Quad
Joe and my adventure was great, and a couple more folks signed up for Tuesday morning, so we were able to take out a quad. I stroked, and they let me pick the workout. I decided to do a nice, easyish rate ladder session.
4′ @ 18, 3'@20, 2'@22, 1'@24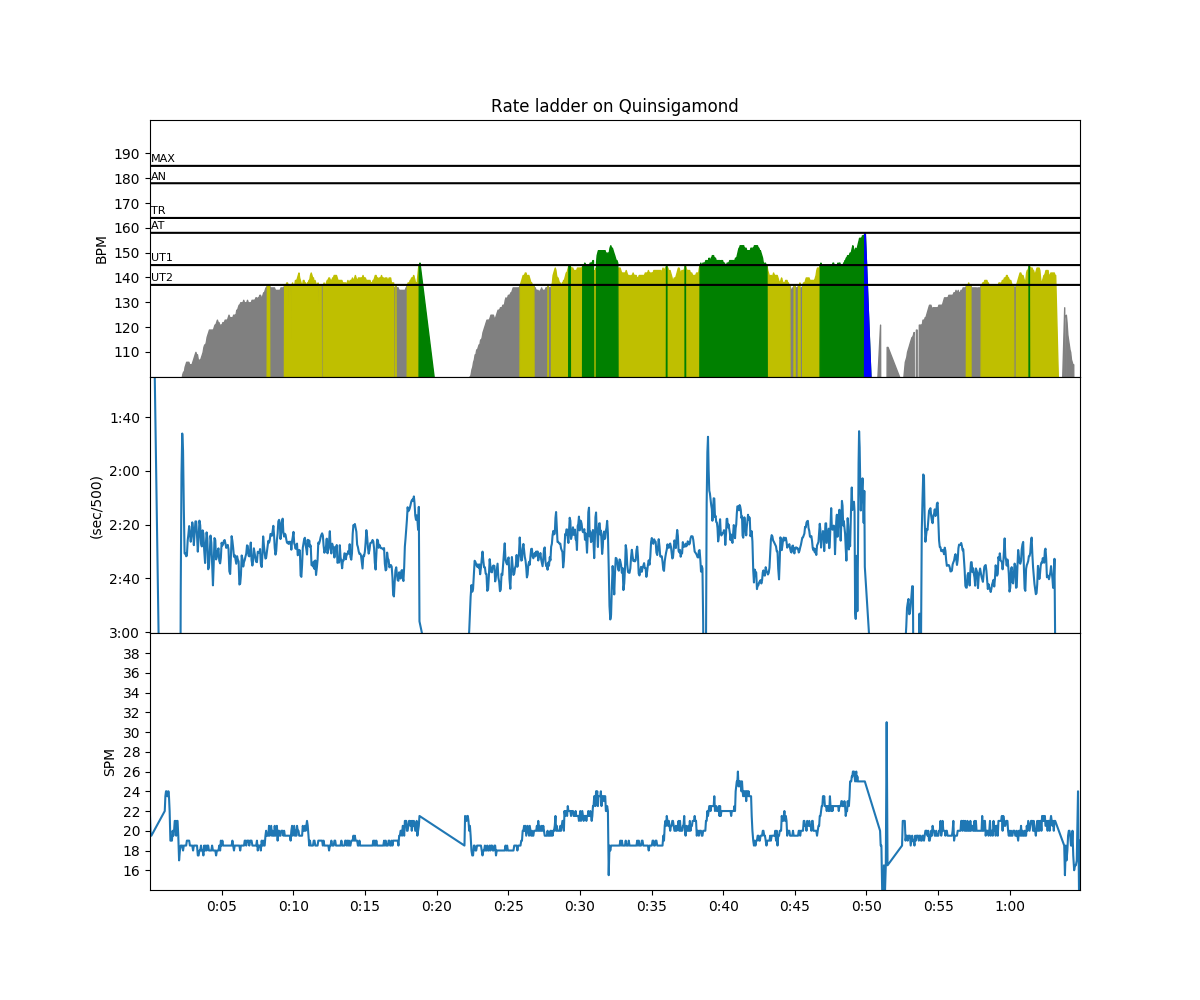 Workout Summary - media/46a1d0dd94-20200310-135808o.csv
--|Total|-Total----|--Avg--|-Avg-|Avg-|-Avg-|-Max-|-Avg
--|Dist-|-Time-----|-Pace--|-Pwr-|SPM-|-HR--|-HR--|-DPS
--|11751|01:04:54.2|02:45.7|000.0|19.8|131.3|158.0|09.1
W-|10533|00:52:23.9|02:29.2|000.0|20.0|138.1|158.0|10.1
R-|01221|00:12:30.6|05:07.4|000.0|19.2|102.8|158.0|04.9
Workout Details
#-|SDist|-Split-|-SPace-|-Pwr-|SPM-|AvgHR|MaxHR|DPS-
01|03267|16:11.1|02:28.6|000.0|19.0|132.8|145.0|10.6
02|05527|27:18.2|02:28.2|000.0|20.5|141.7|158.0|09.9
03|01738|08:54.6|02:33.8|000.0|20.2|136.9|145.0|09.7
Wednesday – 11 March – Stock Interval Stack in the Double
It was a bit colder, but not so bad at all. Mid-30s. Joe and I met at 6. He asked me what I wanted to do for a session. I inquired if he was up for something different, knowing that the answer is always yes. I suggested we do one of the short interval stack workouts that Stephen Seiler posted a 2 part video about.
The session was 2 x (15 x 30″ on 15″ off) / 5′ rest between.
It was wonderful. We did the fast bits at r30. It feel so good to go fast. And doing it in such short intervals meant that we could focus a bit on technique, at least in the early reps. By the end of each set, I was definitely feeling it.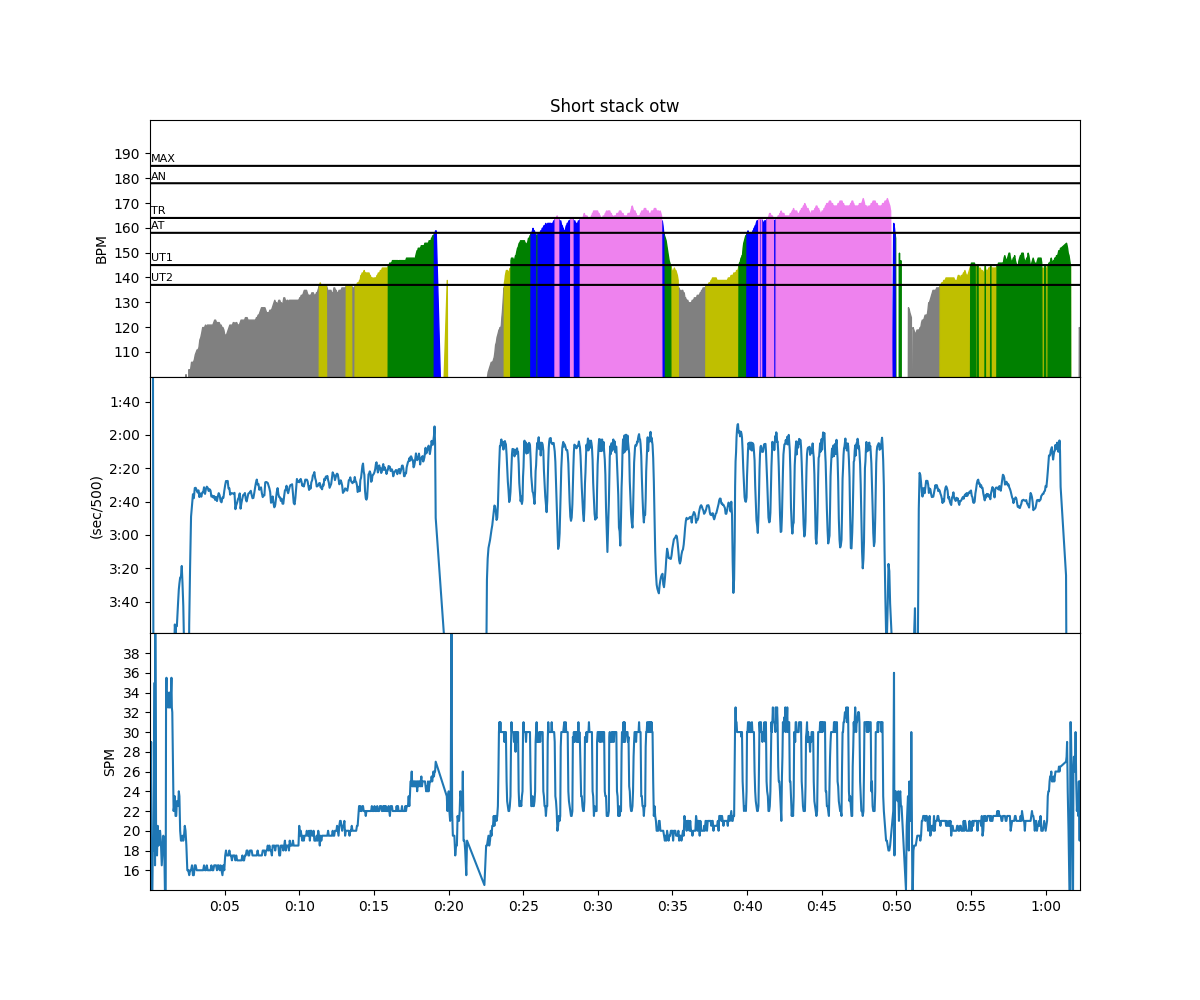 If I don't get to row on the water for a while, this was a great workout to remember.
Thursday – 12 March – 2 x 30'/2′ L4
At home in the basement on slides. Isolation begins! I had a window in my schedule in the afternoon and took advantage to row.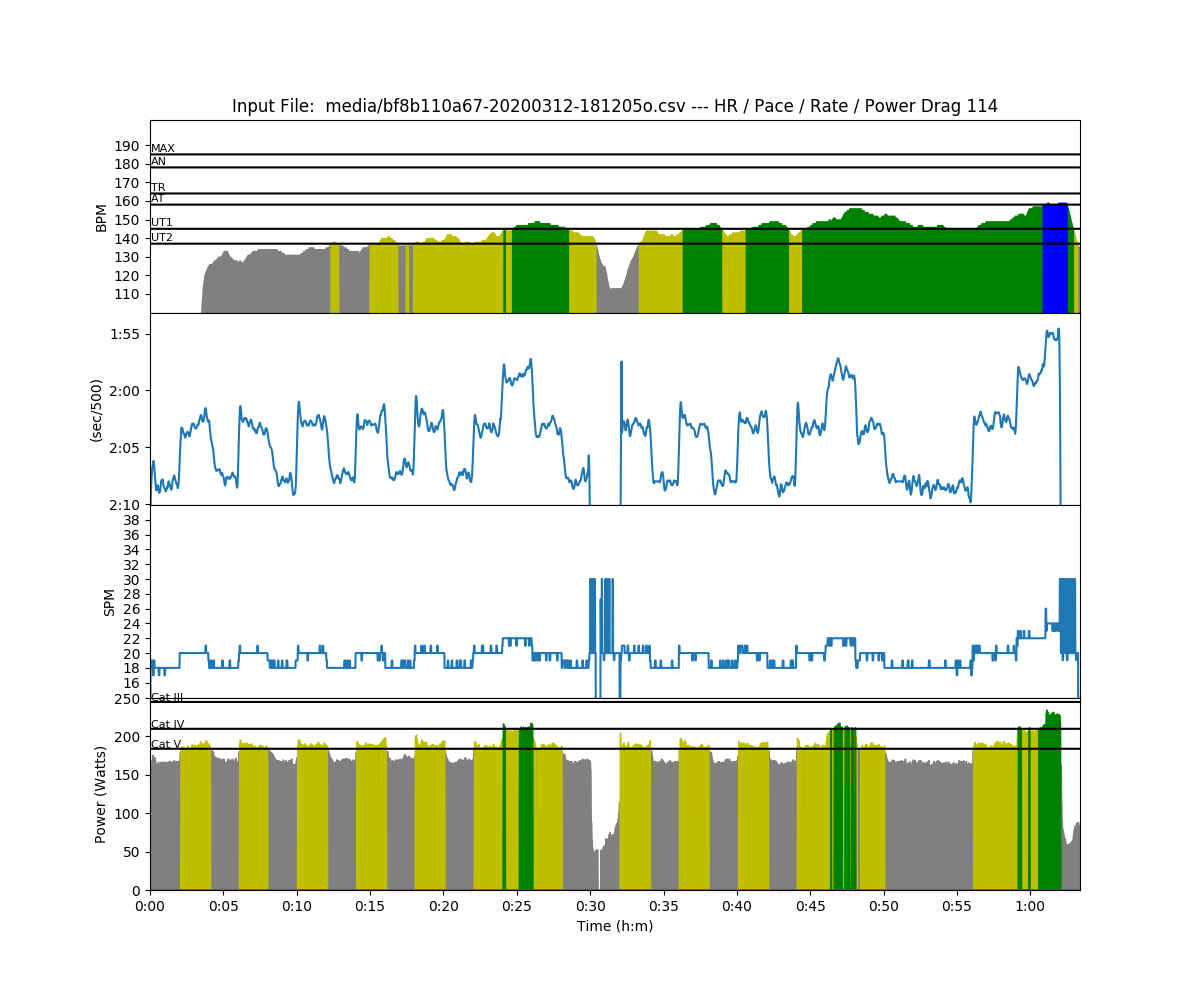 Friday – 13 March – 2 x 30′ / L4
Another mid day row. Another L4. Slightly better HR response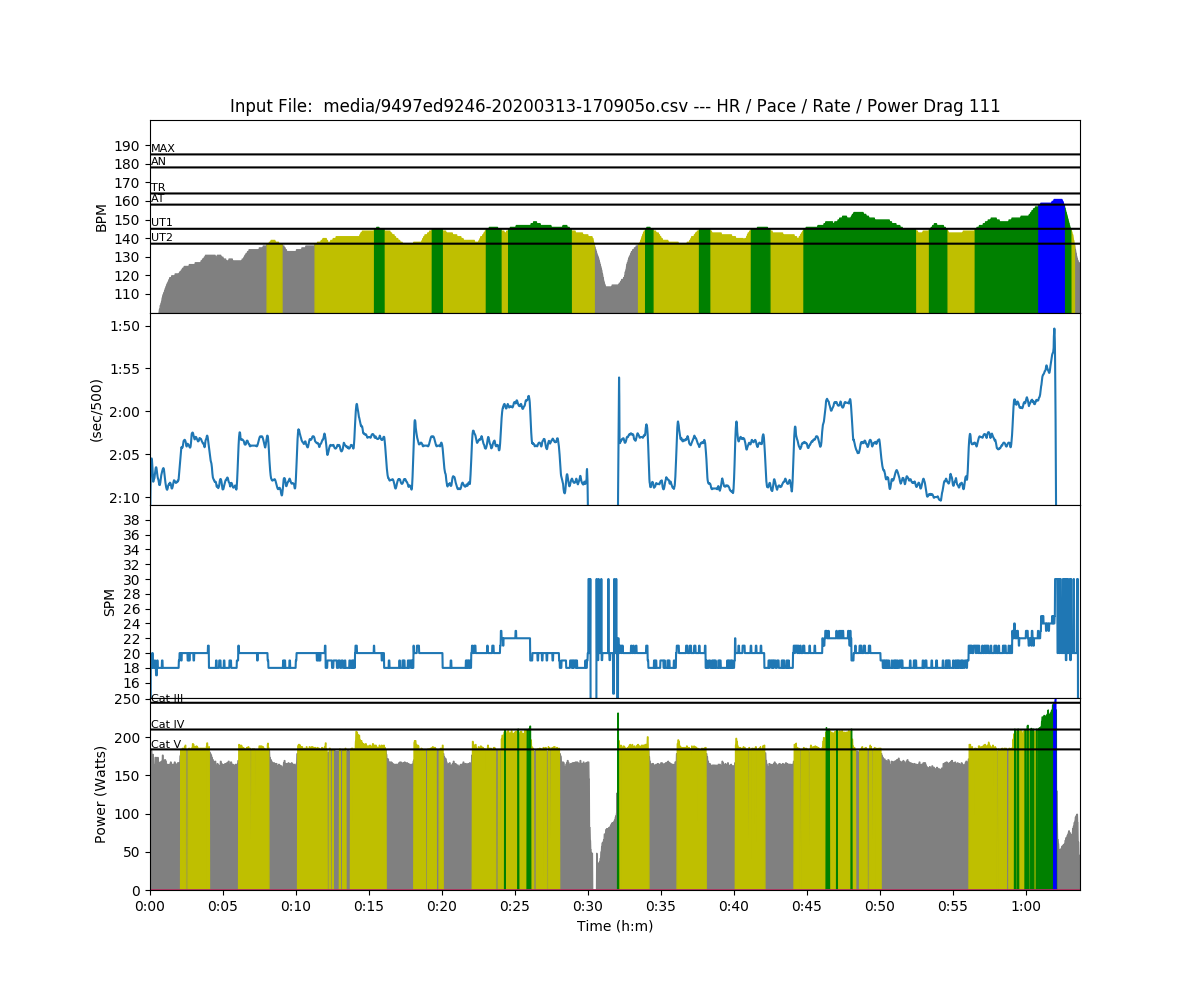 Saturday – 14 March – 3 x 30′ steady state
On slides. Low intensity base builder.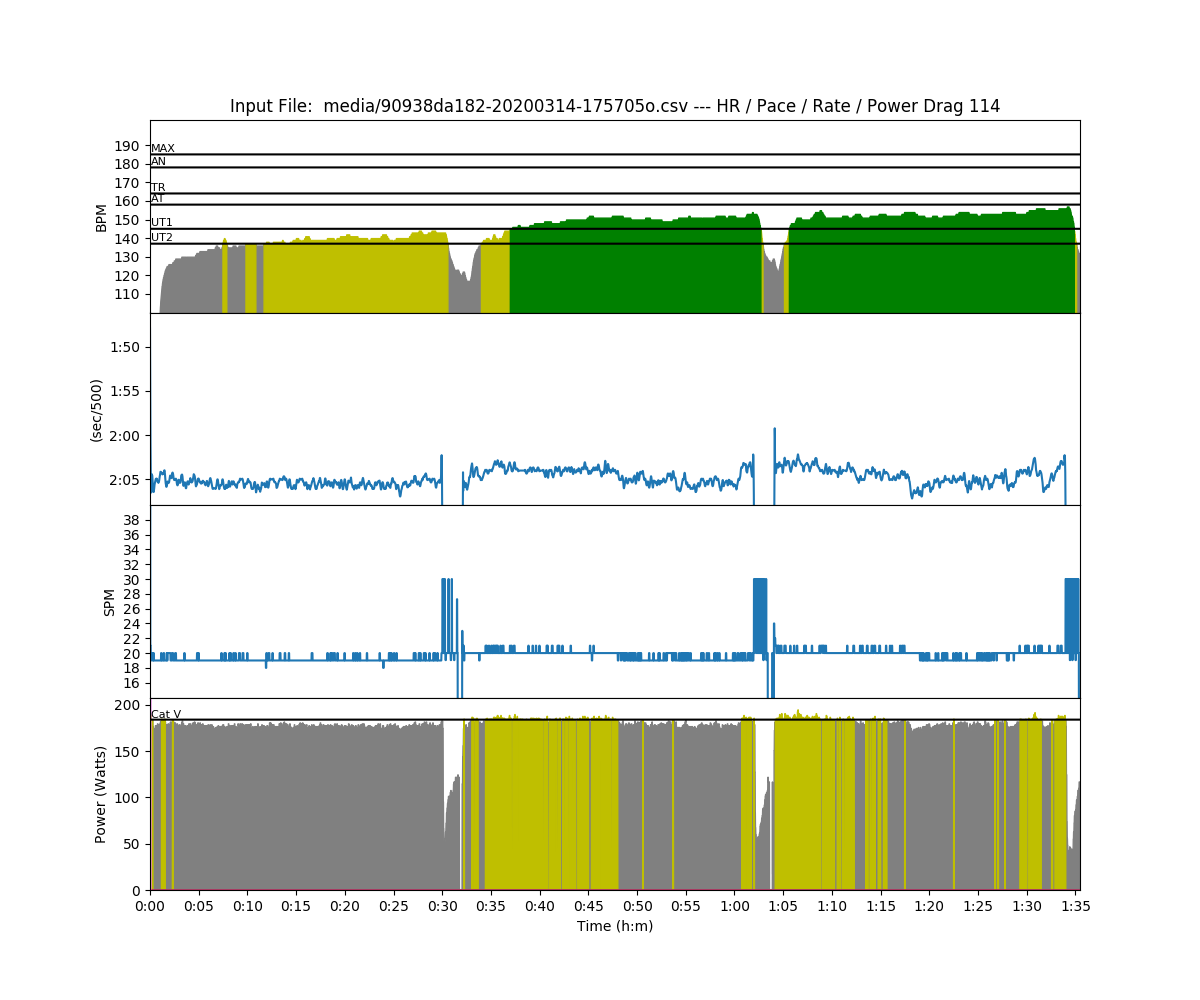 Sunday – 15 March – 20 minute test (SAHRC Session)
We are recommending to SAHRC member to do a 20 minute test to get a reasonable threshold power estimate for other workouts. Today it was my turn to get it done.
Down on the cape. If we are going to be isolating, it might as well be someplace nice!
On slides, which is new. Previously I have done all testing on a static erg. Not happy with the result 230 W (1:55.0). High HR, fade at the end. Not so great, but a good marker for upcoming SAHRC workouts.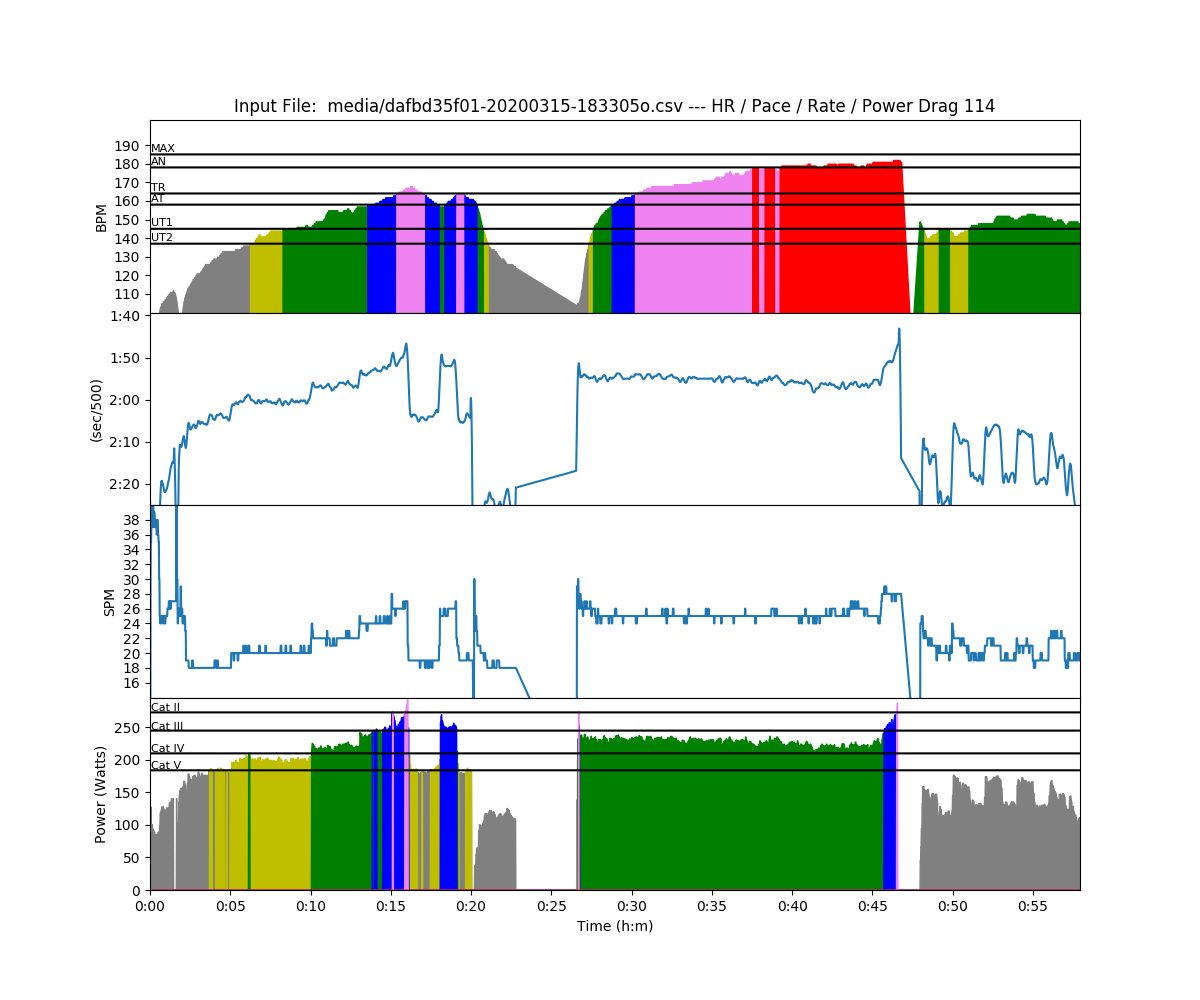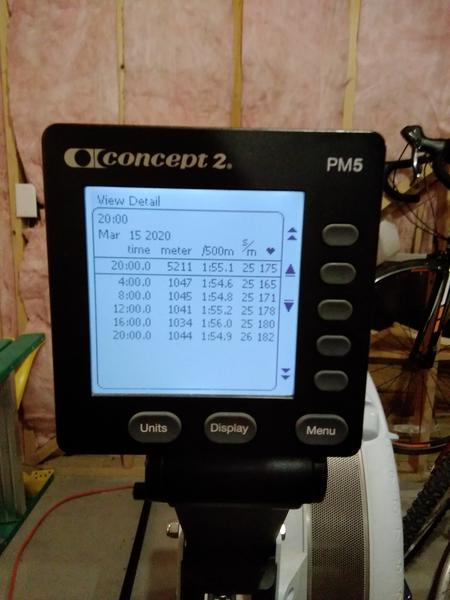 Monday – 16 March – 3 x 20′ rate ladders (SAHRC Steady State Session)
This was harder than I hoped it would be. Very close rate changes. Leaving out the rests didn't help!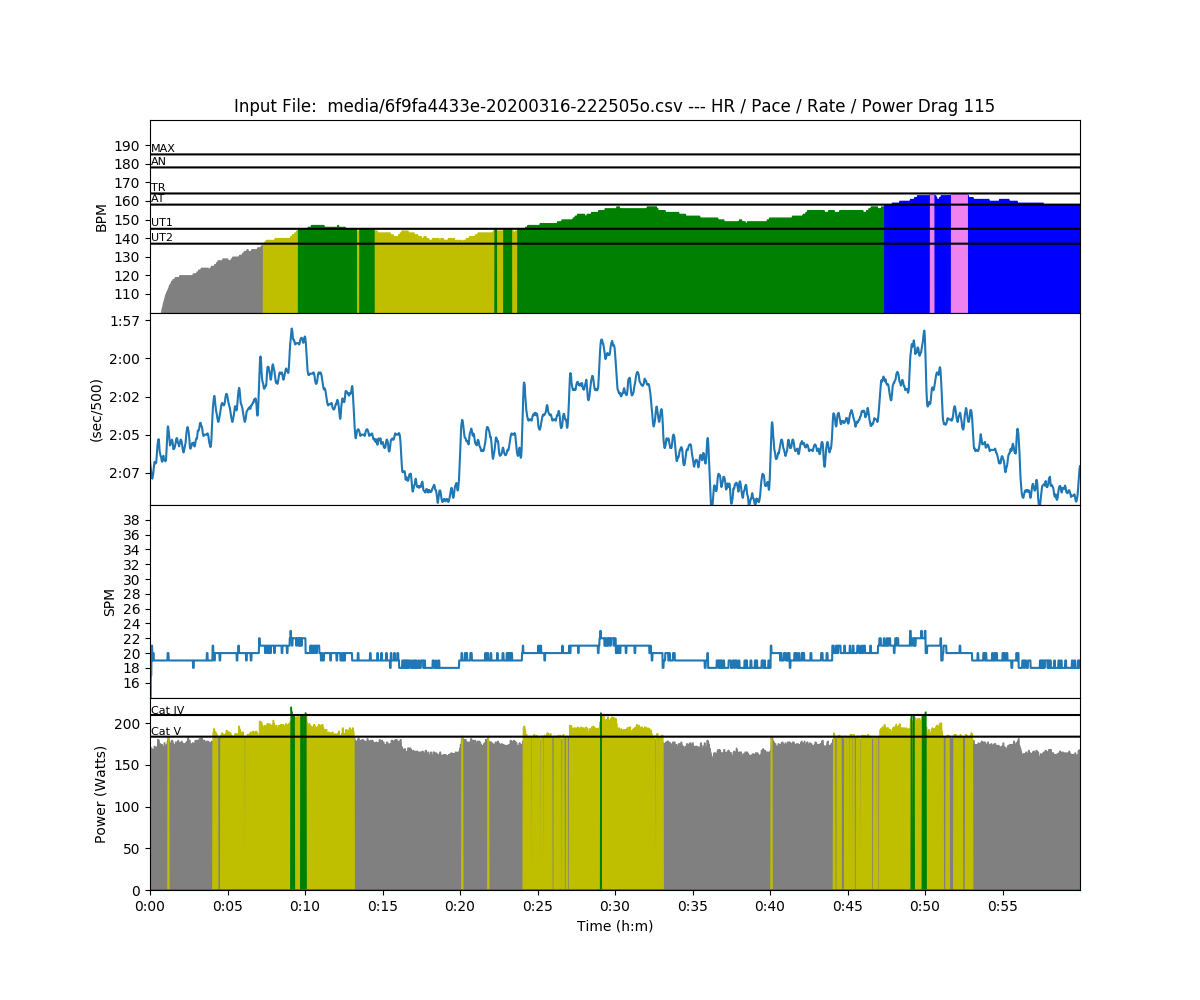 Tuesday – 17 March – 30 minute walk
On the cape. I had a busy and stressful day, with no breaks. When I quit around 6pm, I just needed to stretch my legs and get some fresh air.
Wednesday – 18 March – 40′ HR limit at 75 HR Max (SAHRC Steady State Session)
On the cape, On Slides. I managed to get up early to do the session. Good thing. My day was a tornado of COVID-19 task force meetings and other tasks. Oh, and it was my 57th birthday. Yay.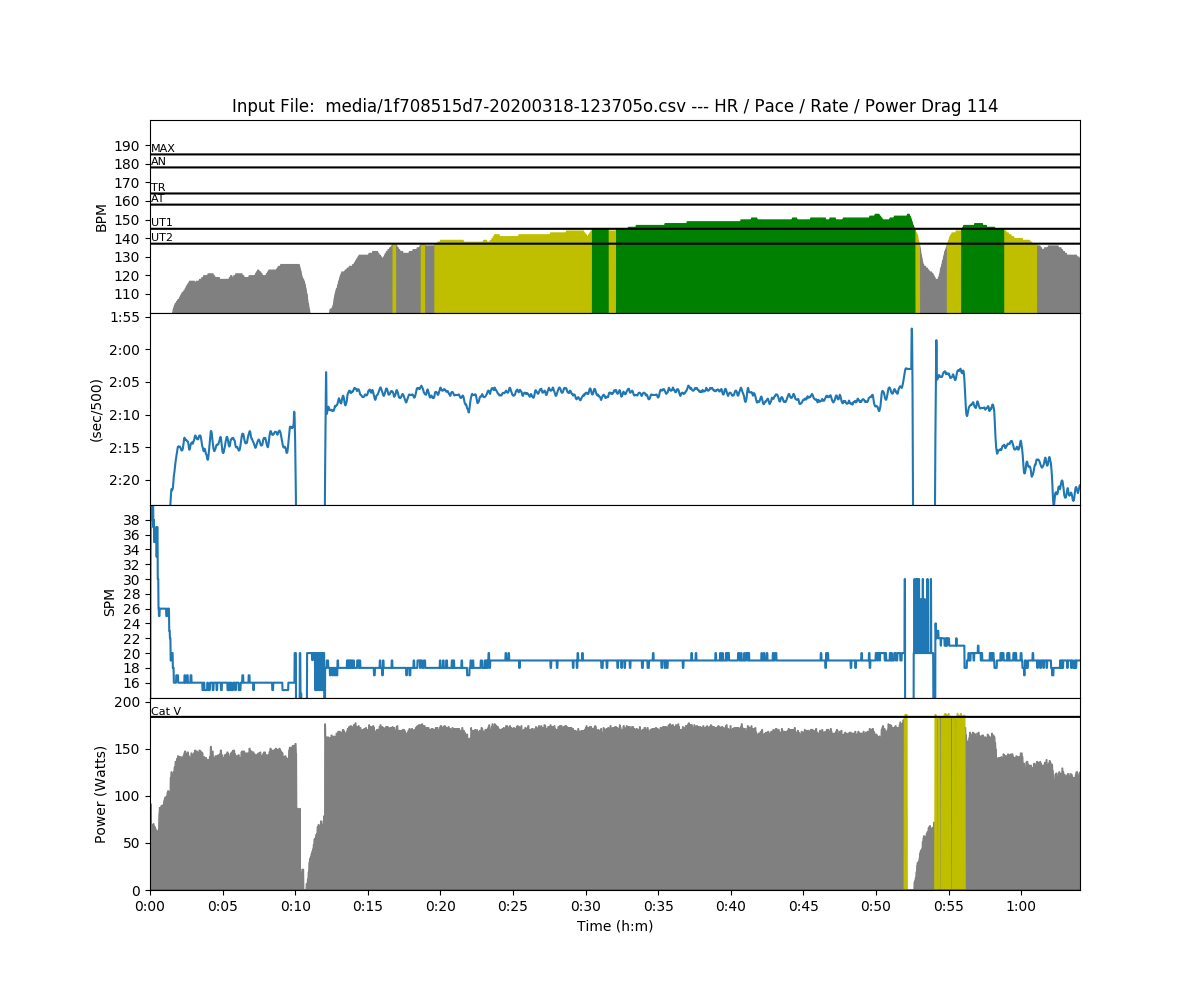 Thursday – 19 March – 8 x 2'/4′ (SAHRC Hard Session)
Back in Hopkinton. A slight variation on the classic 8x500m. Using time based intervals to make it better for a wider range of rowers to use. I did this at the end of the work day and I didn't have time for a warmup, so I just dove right in. I took it easy on the first couple reps, then got into a good groove. I killed the last rep! That felt good.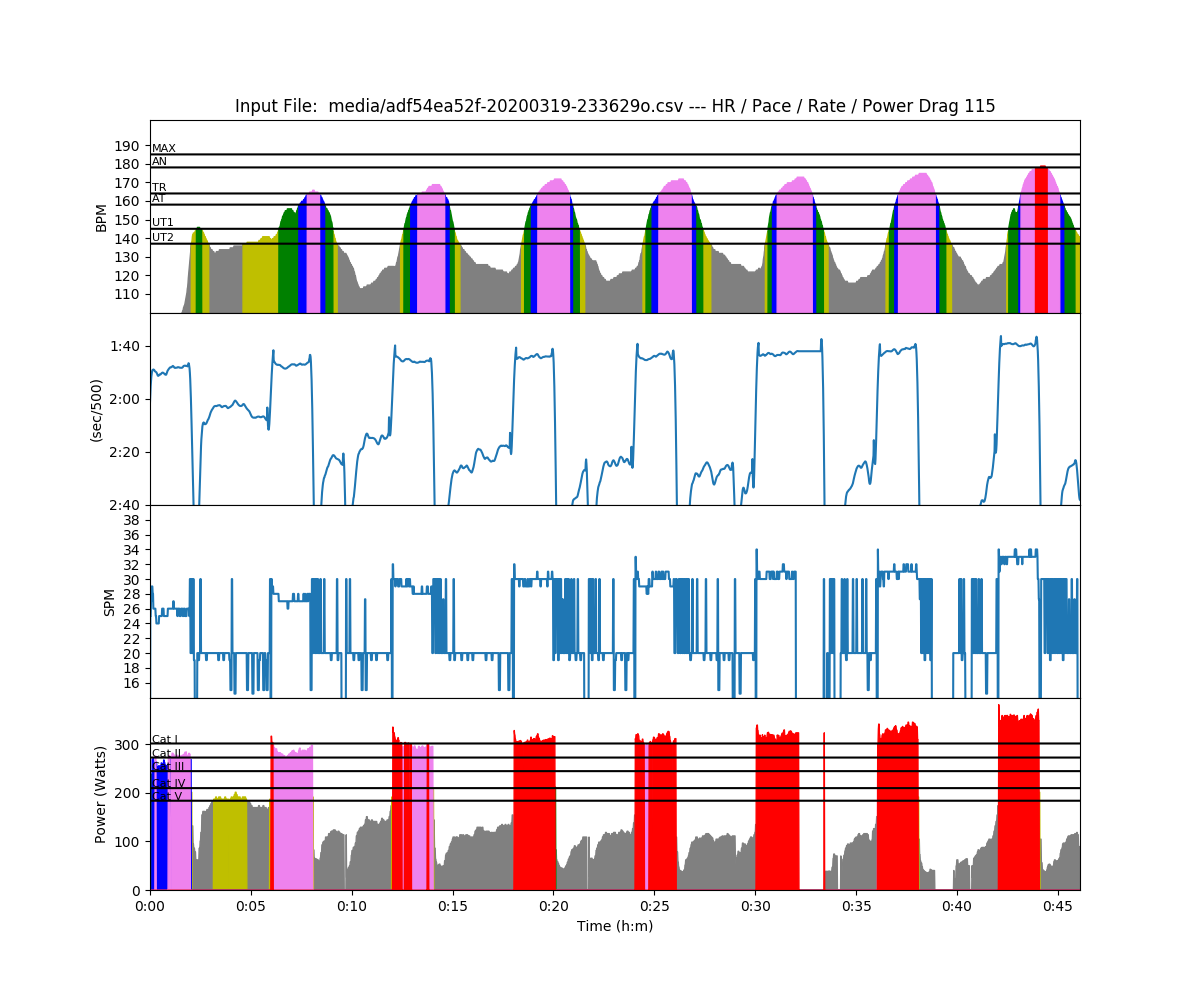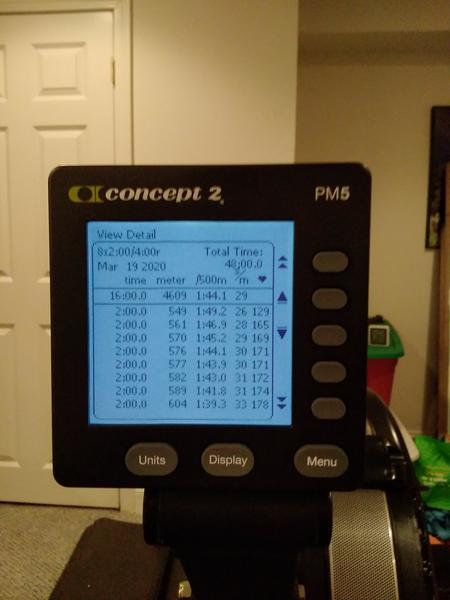 Friday – 20 March – No Training
I had an 8am meeting and I was going strong for work stuff until about 7 at night. I never came up for breath.
Saturday – 21 March – 2 x 30′ L4 in the morning, strength in the afternoon (SAHRC Body weight session)
I felt crappy in the L4. High HR. I was originally wanting to do 3 x 30, but I decided I'd had enough after 2.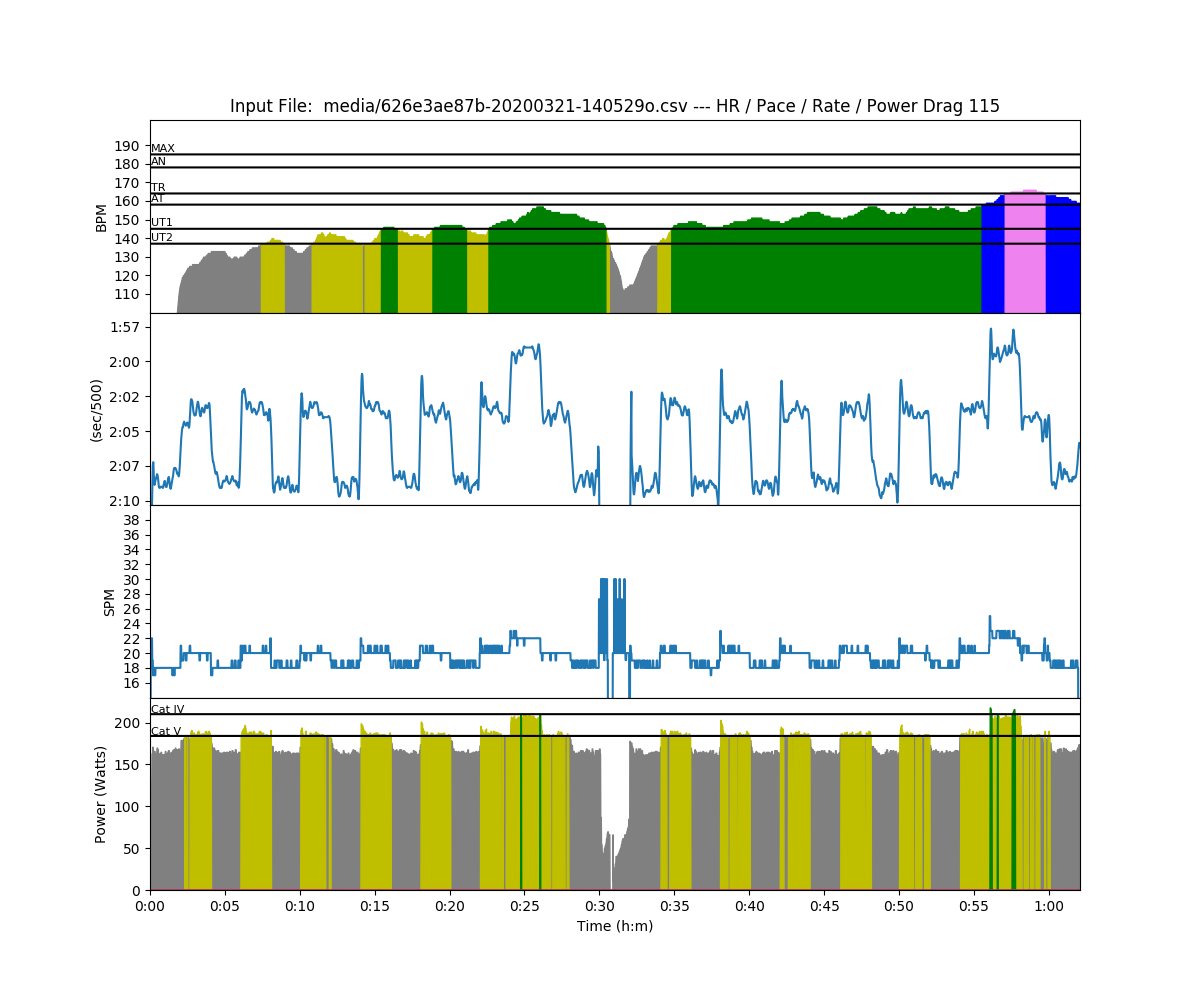 Then in the afternoon, I steeled myself to do the body weight session. It kicked my ass.
I made it through the squats and the bulgarian Split squats, and the squat jumps. But after the first set of 10 burpee/split lunges, my knees, lungs, thighs and glutes all informed me that we were done with squatting. I did rally to do the 75 sit ups and planks.
Sunday – 22 March – easy HM with a hard 2k at the end.
I woke up this morning, paralyzed from the waist down. My core muscles were sore, but not so bad. My thighs were another story. Going down stairs was miserable. Bending over to pick things up made me feel like I was eighty. I had to lie on my back with my legs in the air to put on my socks. I guess this body weight stuff is probably a good idea, but I have to say, I am not enjoying the day after!
I wanted something long and easy. After all, I have time to kill. So I dialed up a half marathon and started rowing, aiming at a 2:10 pace. 2:08 felt a bit better, so I went with that. After about an hour, I needed to ease up a bit to limit HR drift. With 2k to go, and a projected time of 1:30:30, I decided I wanted to finish below 1:30:00. So I increased the rate, brought the pace down to around a 1:58/1:59 and finished it off.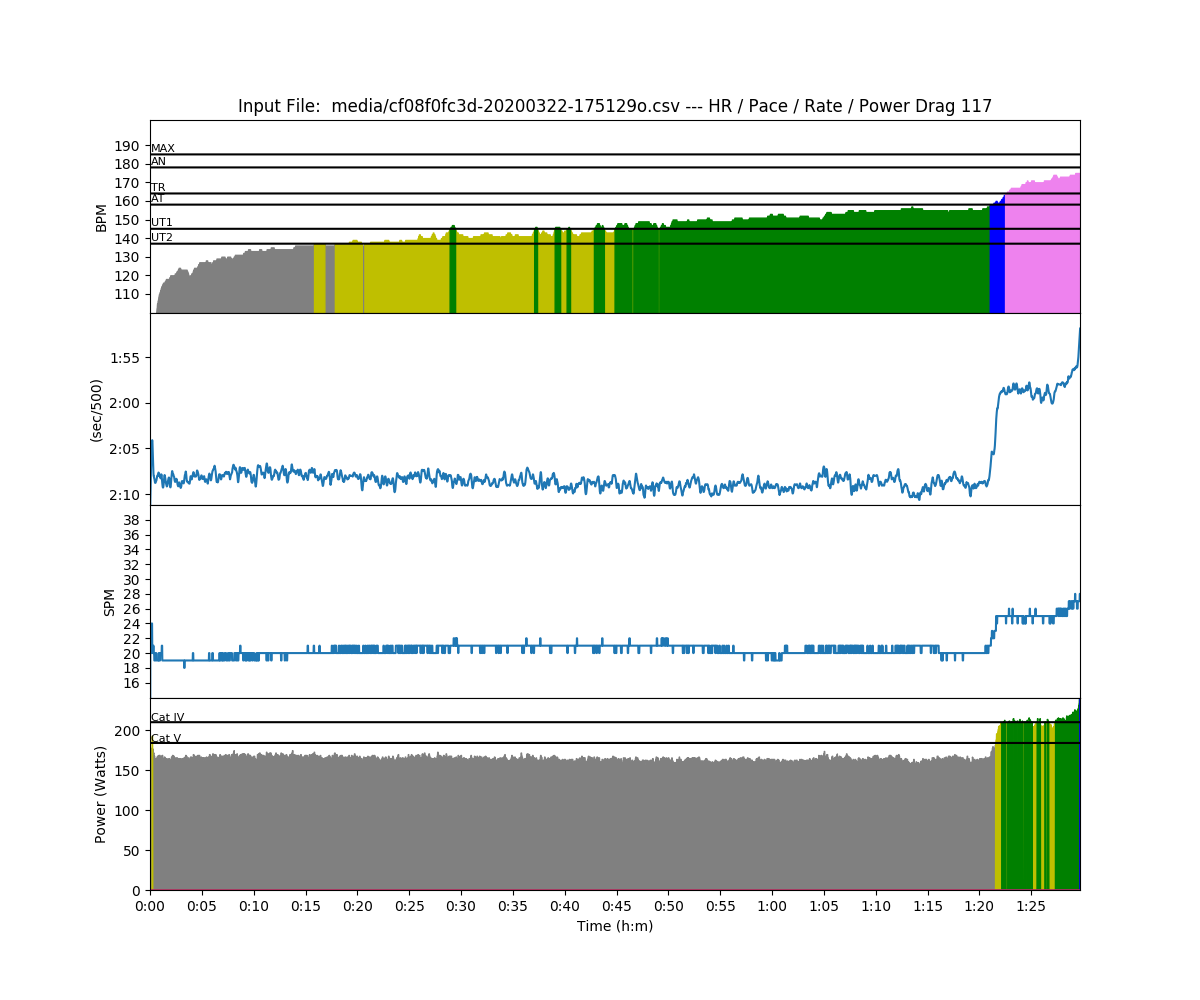 Mission accomplished 1:29:40.
I have another busy week of isolating coming up. A blur of webex meetings, instant messages, conference calls and emails. At least I have rowing to keep me somewhat sane.