Missed 2 days to travel, but otherwise a good week.
Sunday – 1/26 – 4 x 30'/2′ Steady State:
Long and slow.  Listening to the audio book version of Ron Chernow's "Grant".  It's 48 hours long, roughly 672km of steady state rowing so I guess I'm good for a while.  Nice low HR, so I pushed the power up a bit in the last 30 minutes.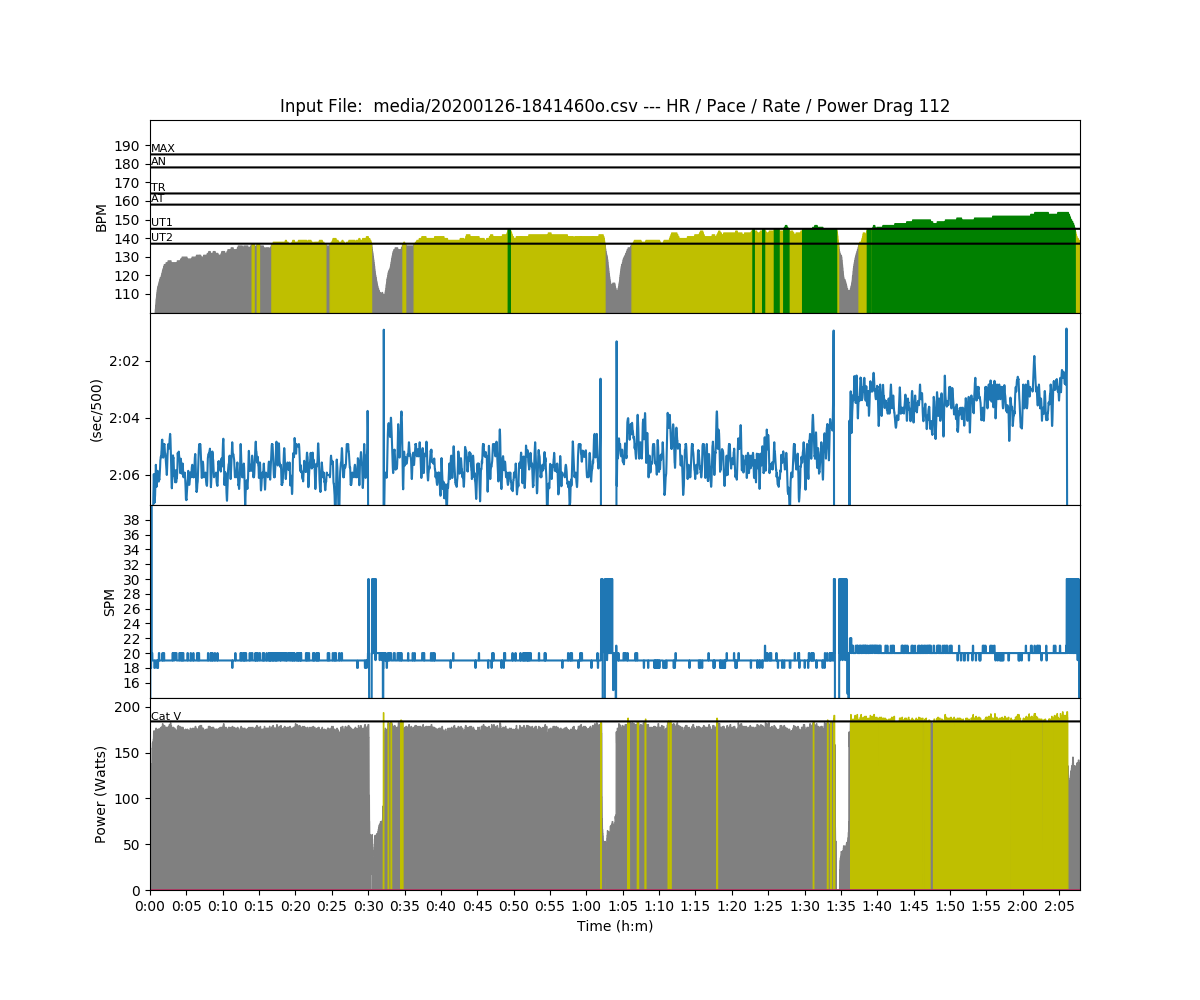 Workout Summary - media/20200126-1841460o.csv
--|Total|-Total----|--Avg--|-Avg-|Avg-|-Avg-|-Max-|-Avg
--|Dist-|-Time-----|-Pace--|-Pwr-|SPM-|-HR--|-HR--|-DPS
--|30000|02:08:00.0|02:08.0|172.1|19.3|140.0|154.0|12.1
W-|28759|02:00:00.0|02:05.2|178.7|19.3|140.7|154.0|12.4
R-|01245|00:08:00.0|03:12.8|072.6|19.3|130.6|154.0|08.8
Workout Details
#-|SDist|-Split-|-SPace-|-Pwr-|SPM-|AvgHR|MaxHR|DPS-
00|07150|30:00.0|02:05.9|175.5|19.2|133.3|141.0|12.4
01|07158|30:00.0|02:05.7|176.2|19.1|139.4|145.0|12.5
02|07170|30:00.0|02:05.5|177.4|19.0|141.3|147.0|12.6
03|07281|30:00.0|02:03.6|185.8|20.1|148.7|154.0|12.1
I'm very impressed with Boatcoach.  No problems and I like the force curve thing.  This is my force curve for steady state on slides.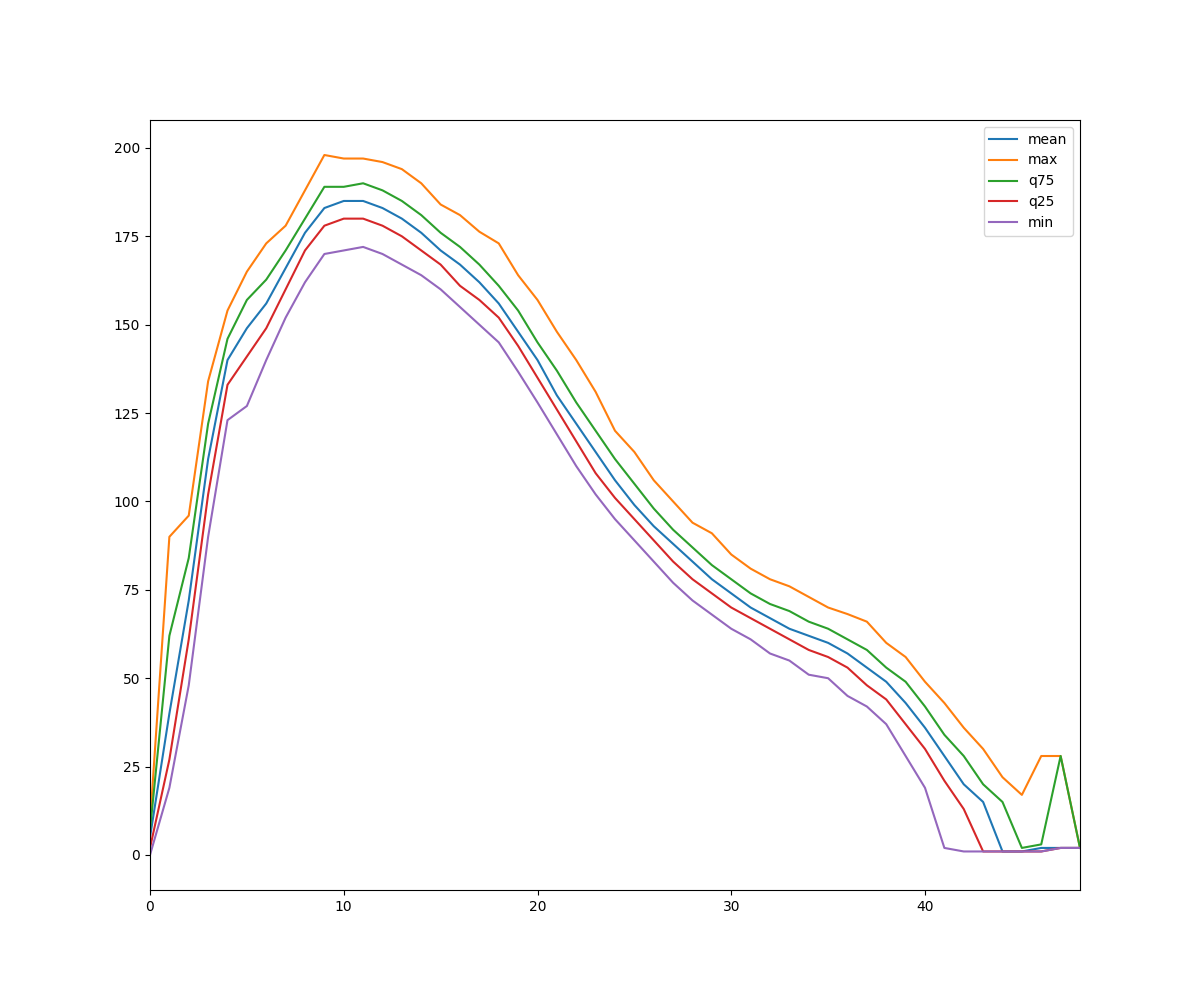 Monday – 1/27 – Pyramid:
I had not successfully completed a pyramid workout since I started this workout plan in December.  I picked what I thought was a reasonable target of 1:44.  I was running short of time, so I did a short 2K warmup.  I held on to 1:43 through the first 3 reps.  I let myself drift up toward 1:44 in the 1000, and then really killed myself in each of the last three reps. One thing about this workout, the rests are so long, you can come back from going really hard to do it again in the next rep.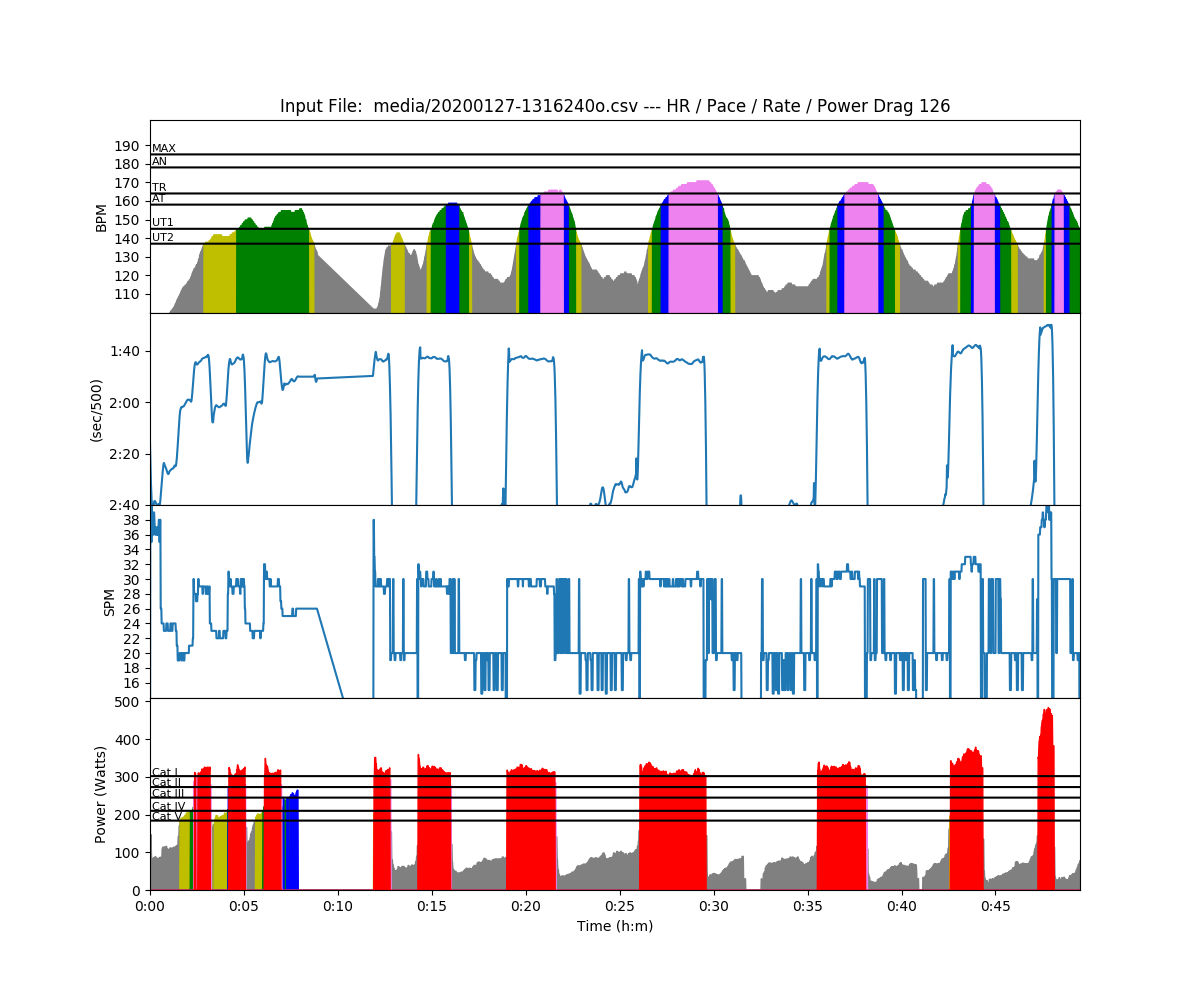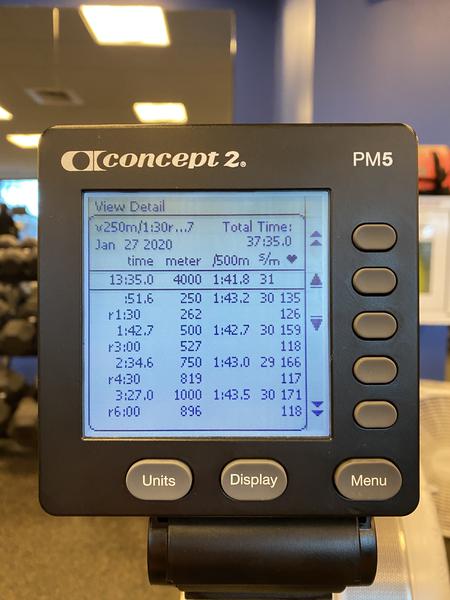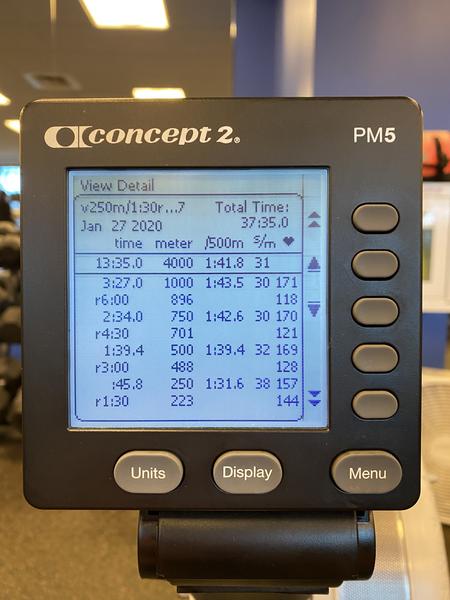 Tuesday – 1/28 – 3×20'/2′ L4
Flew out to San Diego on a 7:00 am departure.  Had an afternoon of meetings, and then a customer dinner.
Wednesday – 1/29 – No training
Up at 5:00am to catch my return flight.  Got home around 6pm.
Thursday – 1/30 – 3×20'/2′ L4
Back at it.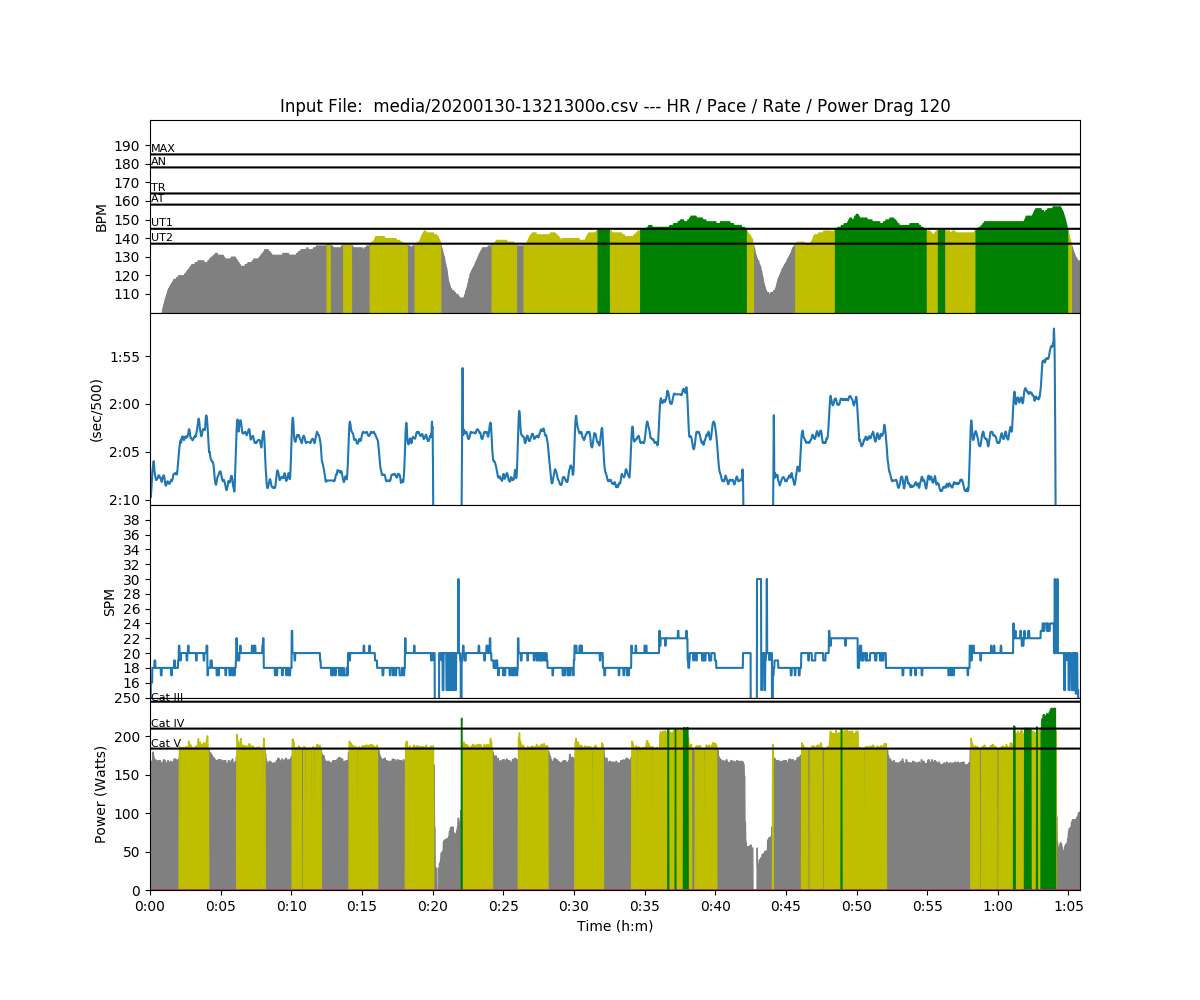 Friday – 1/31 – 10K Threshold
I was conflicted about doing this workout.  I was worried about the effect of 2 missed sessions, but I figured it was good to just keep plugging,  Besides, I didn't have enough time for a long steady state session, might was well go hard.
I did a 2K warmup.  Then I set off.  Last 10K I had done was at 1:54.9 (on slides).  I thought I might be able to pull off a target of 1:54.  On another day, I think I might have.  I made it just about 30 minutes and I had a breakdown.  I paddled for about 15 seconds and then picked it back up.  Slow at first, and then back on pace.  I ended with a 1:54.8 pace, but i was disappointed that I wasn't able to just slow down a little bit and work through the tough bit instead of blowing up,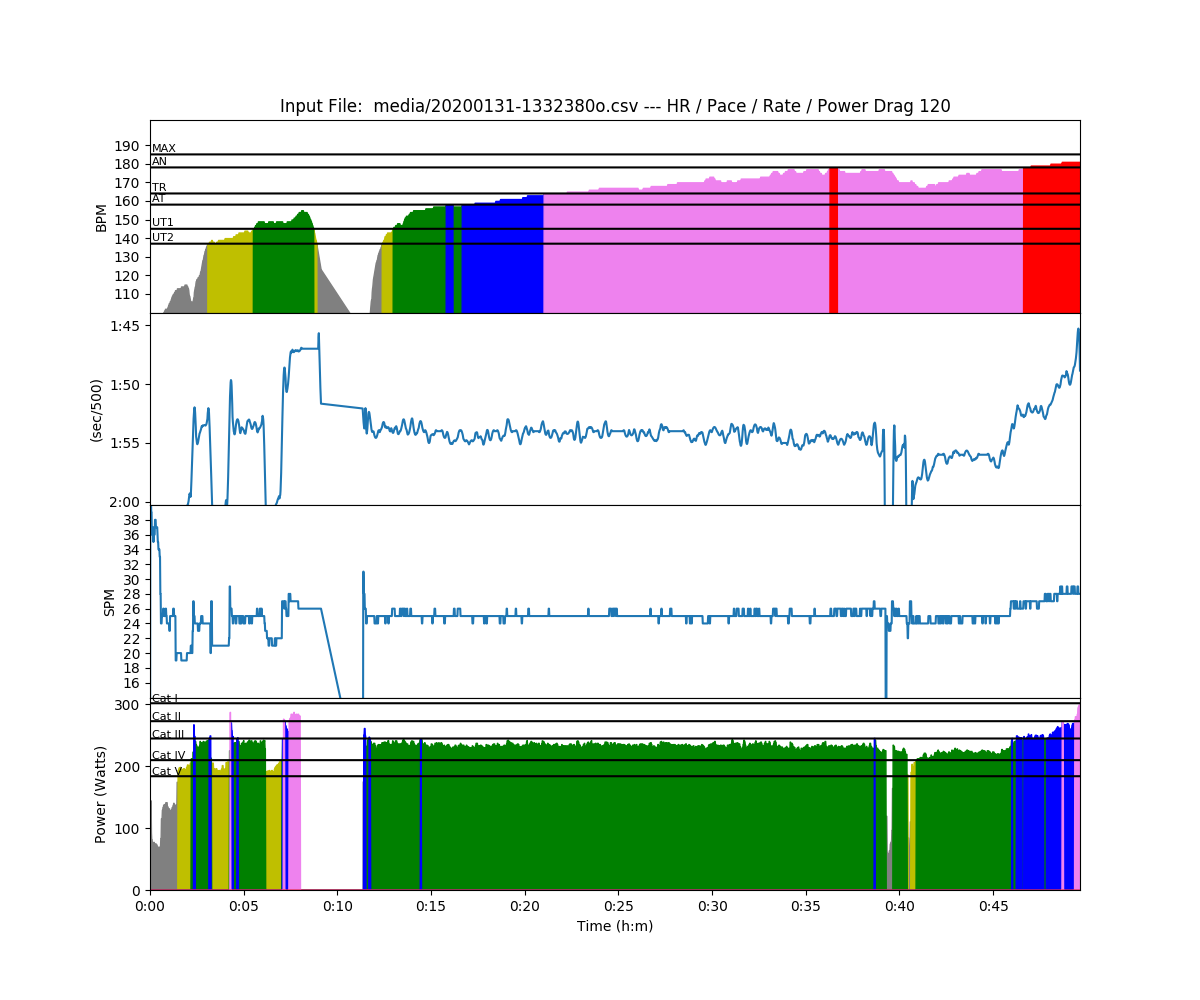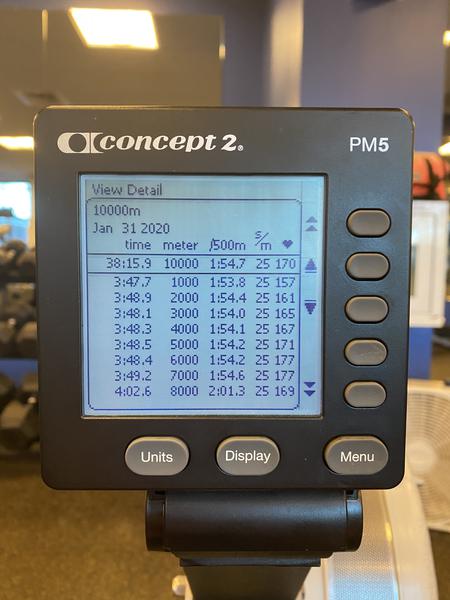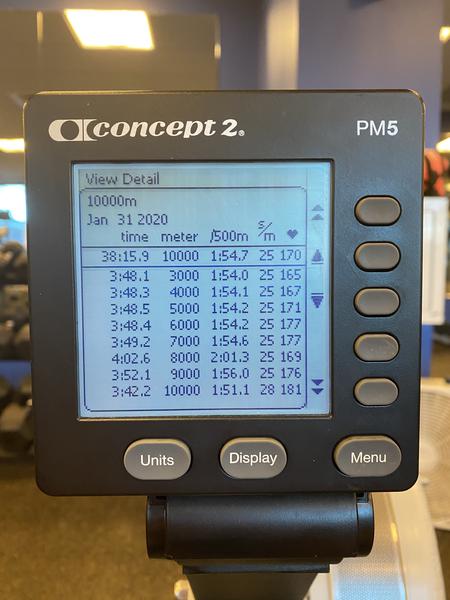 Saturday – 3×30'/2′ – Steady State
More steady state, more Ulysses Grant.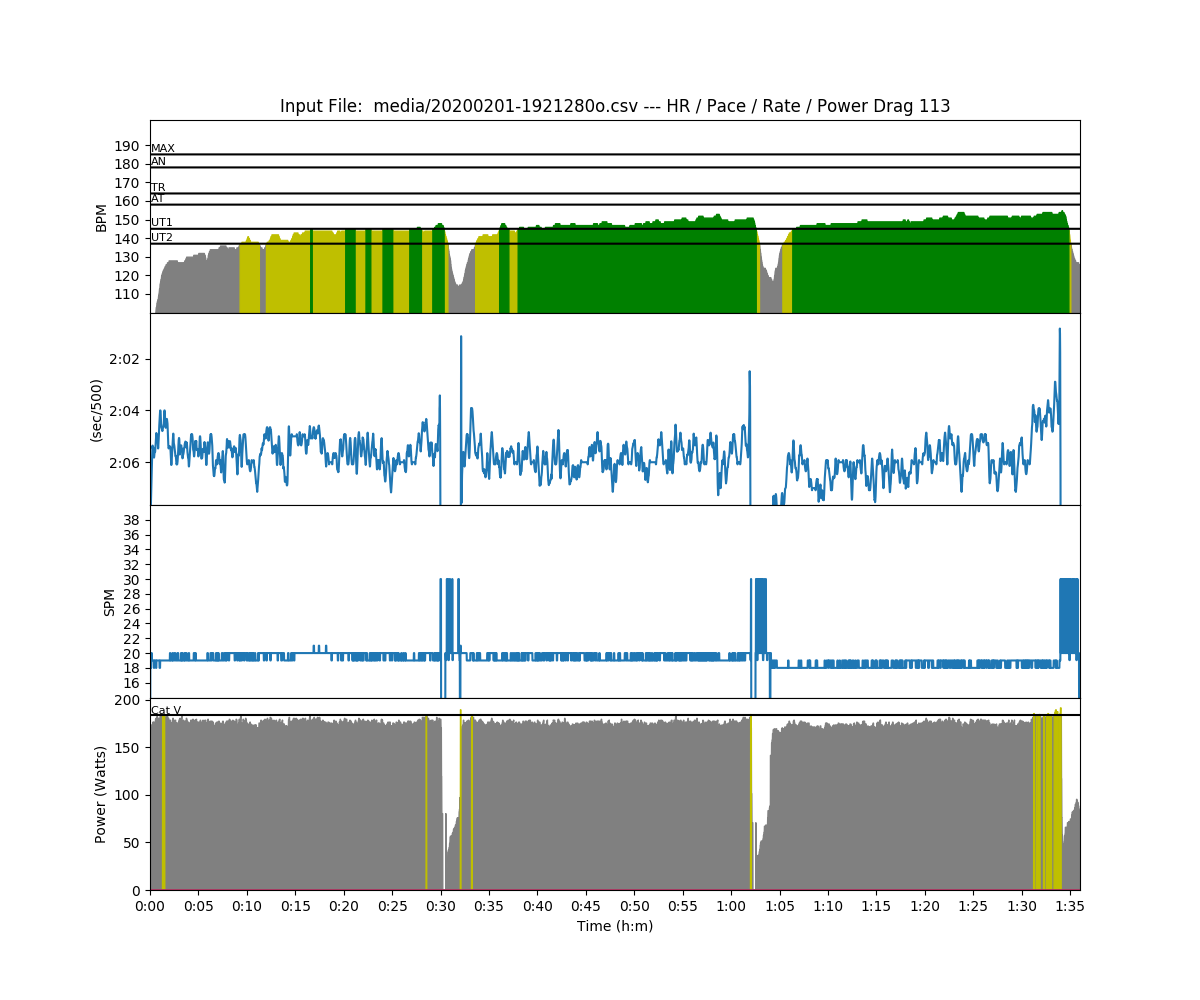 Workout Summary - media/20200201-1921280o.csv
--|Total|-Total----|--Avg--|-Avg-|Avg-|-Avg-|-Max-|-Avg
--|Dist-|-Time-----|-Pace--|-Pwr-|SPM-|-HR--|-HR--|-DPS
--|22368|01:36:01.9|02:08.8|167.7|19.1|143.6|155.0|12.2
W-|21471|01:30:00.0|02:05.8|174.9|19.1|144.3|154.0|12.5
R-|00899|00:06:01.9|03:21.3|059.3|18.9|133.7|154.0|08.1
Workout Details
#-|SDist|-Split-|-SPace-|-Pwr-|SPM-|AvgHR|MaxHR|DPS-
00|07175|30:00.0|02:05.4|176.2|19.6|137.7|148.0|12.2
01|07154|30:00.0|02:05.8|174.9|19.4|146.4|153.0|12.3
02|07142|30:00.0|02:06.0|173.8|18.4|148.7|154.0|12.9

Sunday – 2/2 – 4×30′ / 2′ Steady State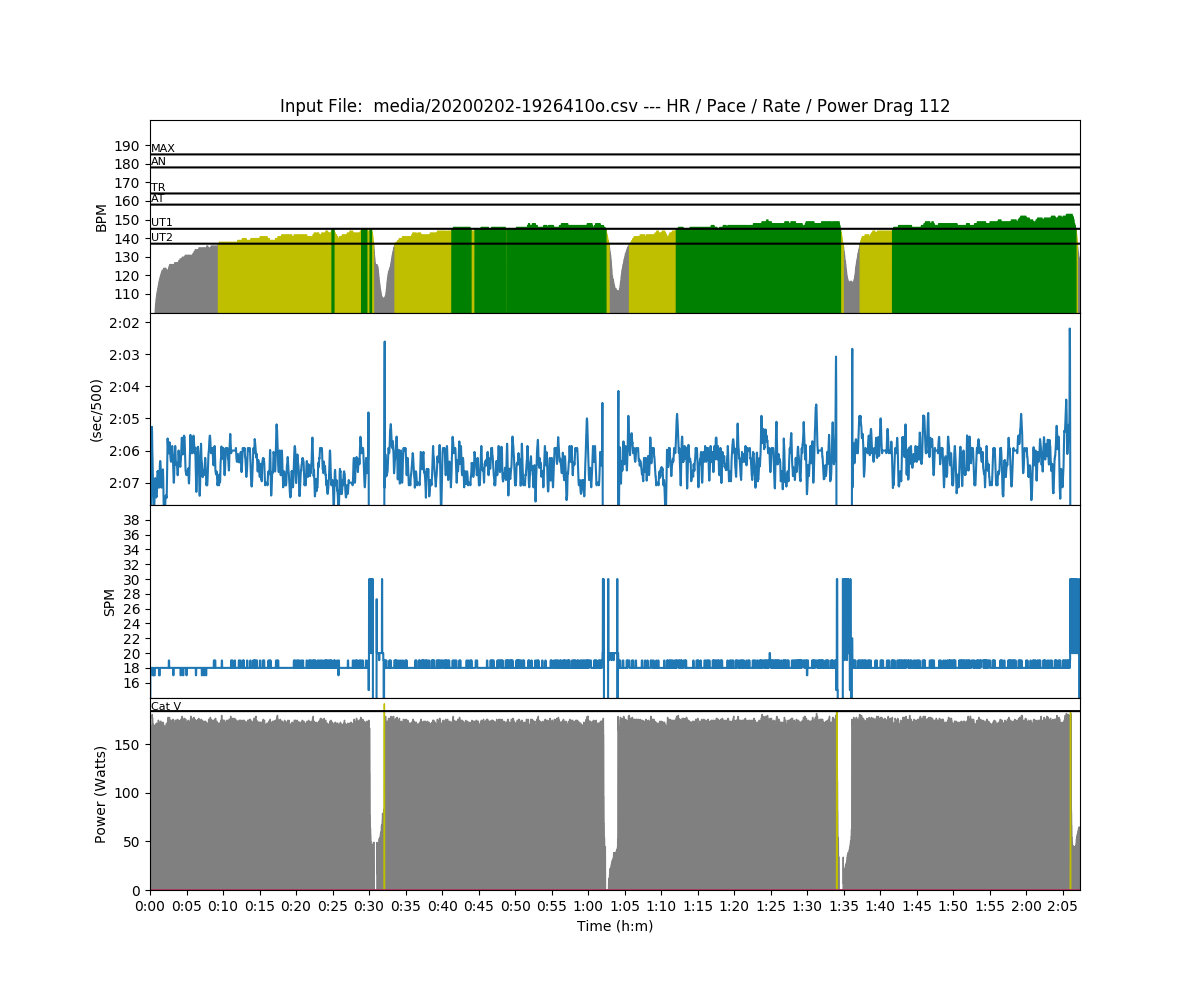 Workout Summary - media/20200202-1926410o.csv
--|Total|-Total----|--Avg--|-Avg-|Avg-|-Avg-|-Max-|-Avg
--|Dist-|-Time-----|-Pace--|-Pwr-|SPM-|-HR--|-HR--|-DPS
--|29378|02:08:00.0|02:10.7|164.3|18.1|142.3|153.0|12.7
W-|28478|02:00:00.0|02:06.4|172.7|18.3|143.1|153.0|13.0
R-|00904|00:08:00.0|04:25.4|037.6|15.5|130.9|153.0|07.4
Workout Details
#-|SDist|-Split-|-SPace-|-Pwr-|SPM-|AvgHR|MaxHR|DPS-
00|07115|30:00.0|02:06.5|172.2|18.1|136.3|145.0|13.1
01|07114|30:00.0|02:06.5|172.1|18.3|144.1|148.0|13.0
02|07123|30:00.0|02:06.4|173.2|18.3|145.0|150.0|13.0
03|07125|30:00.0|02:06.3|173.4|18.3|147.0|153.0|13.0