At the end of November, Strava told me that I was in the best shape I had been for 2 years.  In January of 2018, I reached a 99.  On 12/1/2019, I peaked at 95.
Then came December
September: 28 training hours
October: 29 training hours
November: 31 Training hours
December: 20 Training hours, and 10 of those hours are in the past 10 days.  7.5 hours between 12/2 and 12/20.
What happened?  Well, I needed to prioritize work over training.
Week of 12/2:  trip to Taiwan.  I struggled with a packed schedule and jet lag going in both directions.  I had a couple of lackluster workouts while I was there, but missed 2 days around each end of the trip.
Week of 12/9:  Full day offsite management meeting with dinner on Tuesday. Then 2 day conference on wed and thursday.
Week of 12/16: Early morning meetings on Tuesday and Wednesday.  Quick trip to California on Thursday, with a return on Friday.
Since then, I've been on vacation and trying to just do mostly steady state work.
When this happens, all I can do is to take stock and figure out where to go from here.
I think when I get back to work, I will do a set of fitness tests to get a baseline and then resume the wolverine plan variant that I was using.
Monday – 12/2: no training – flying to Taiwan
Tuesday – 12/3: no training – arrived in Taiwan late evening
Wednesday – 12/4: 40 minute steady state row.  Felt very sluggish.  Didn't like the erg.  shock cord tension was very low and it felt mushy.  Not sure why.
Thursday – 12/5:  No training – conference calls
Friday – 12/6: 3×20′ on the crappy erg.
Saturday – 12/7: No Training
I got in around midnight and home around 1:30AM.  I slept late the next morning and felt terrible all day long.
Sunday – 12/8: 3 x 30'/2′ L4
Long and easy.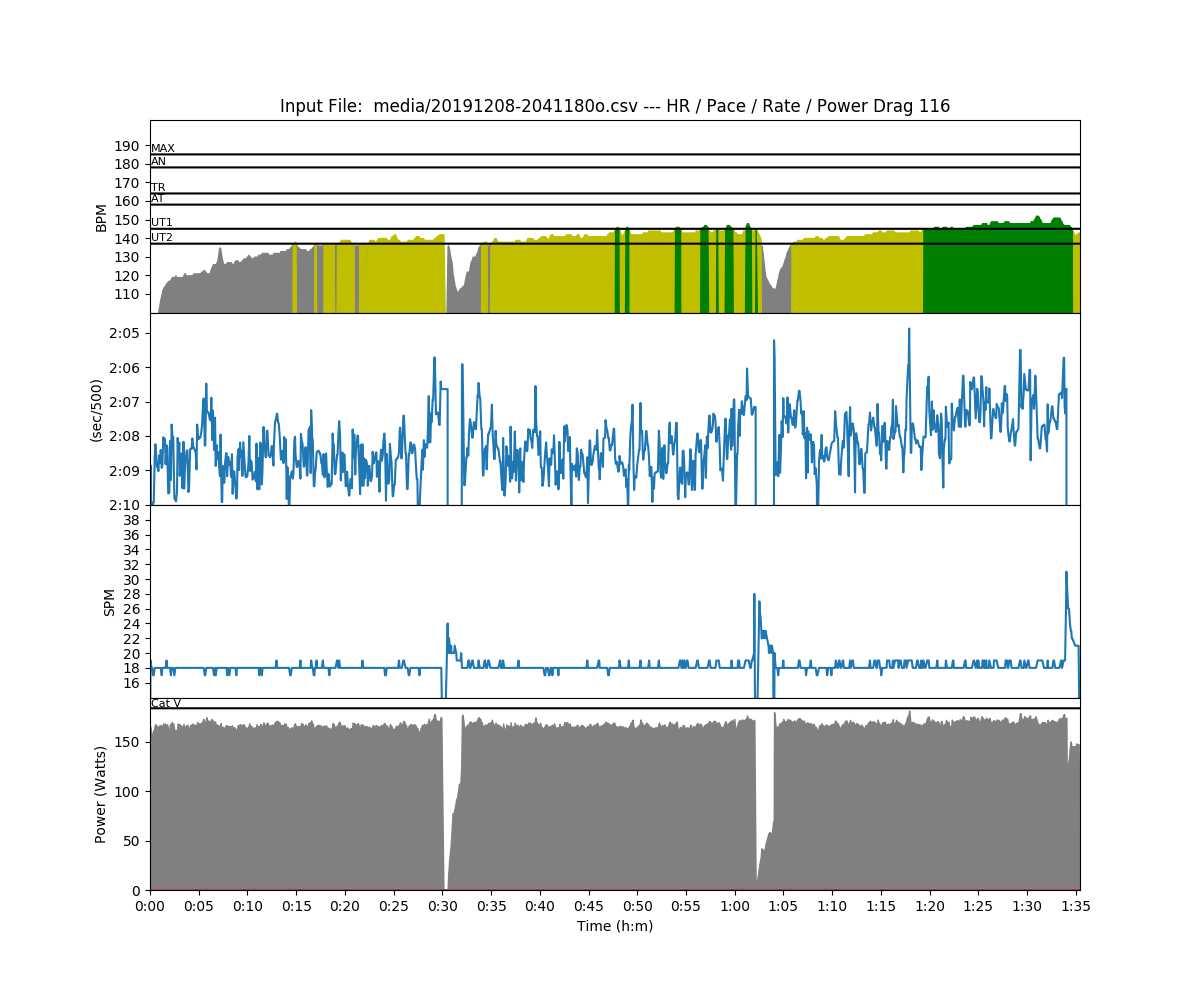 Monday – 12/9: 4 x 1000/5′
Back at it!  Start with a fletcher warmup.  It was a rude shock to the system.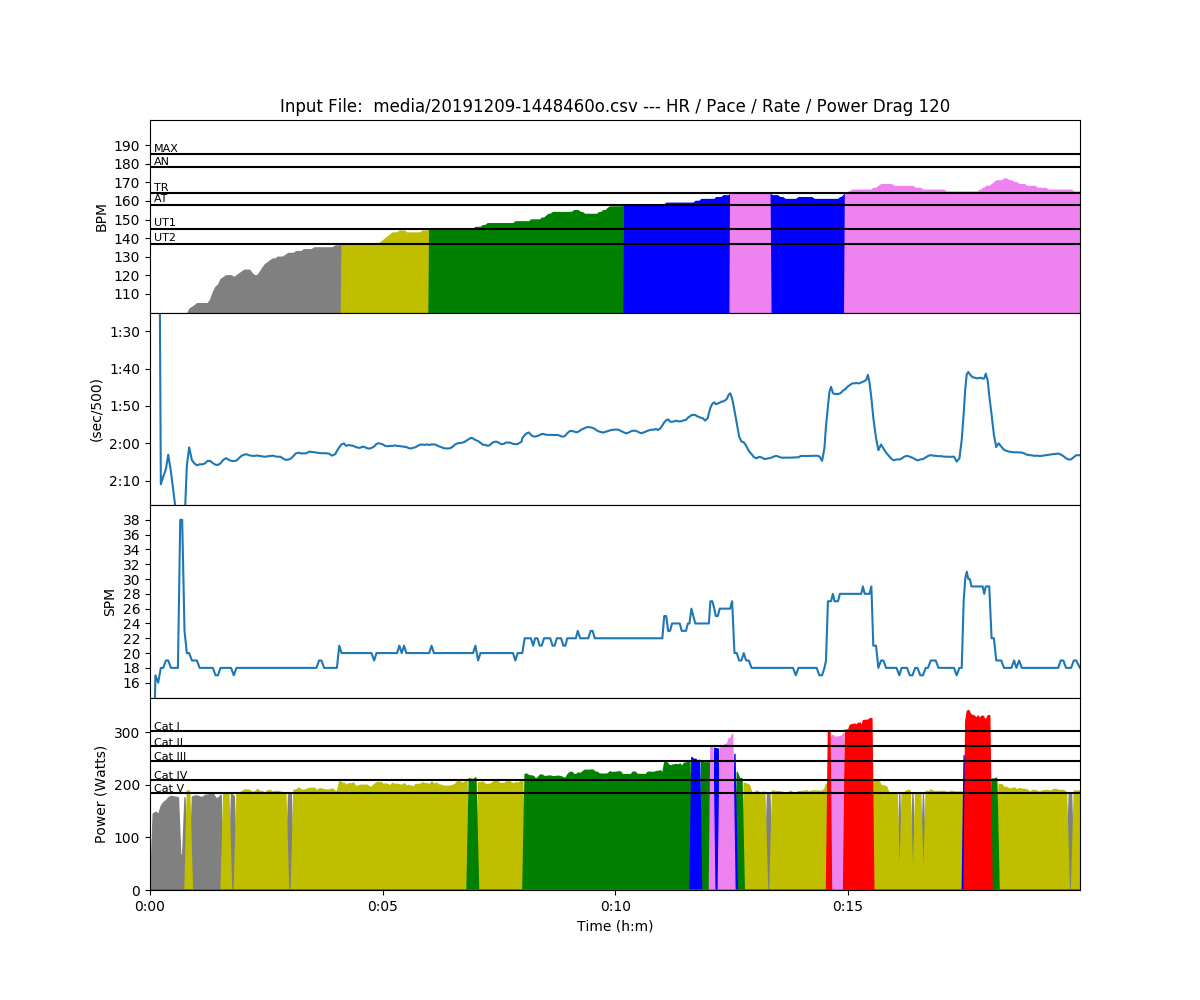 Then the fun part.  I wanted to hit 1:45 for all the reps, but I had a bit of a breakdown in the third interval.  I backed off on the fourth.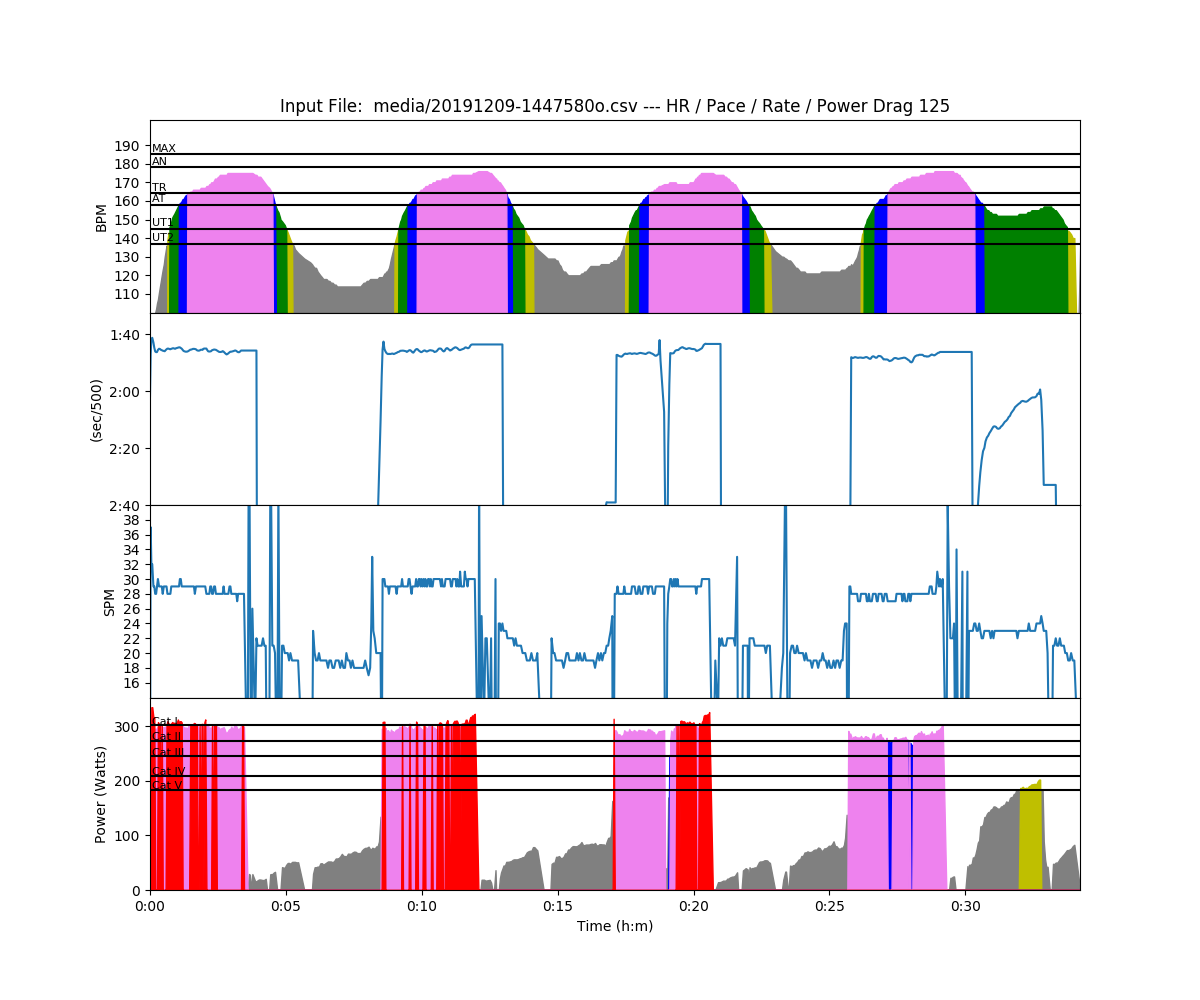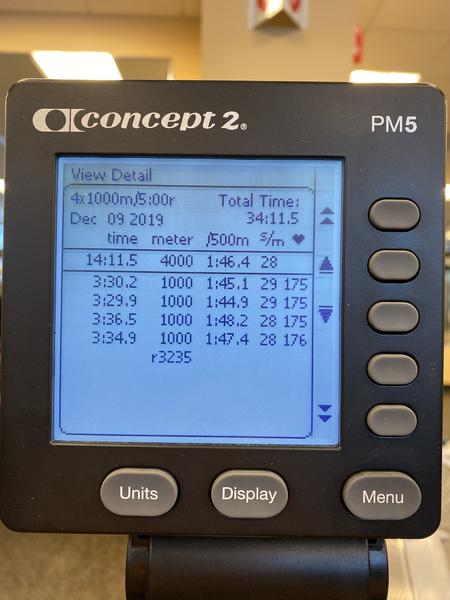 Bummer
Tuesday – 12/10:  No Training
Management Offiste meeting
Wednesday – 12/11: No Training
I was catching up on email and really got into a creative groove.  I wrote two articles for our internal corporate blog. I looked up and discovered that I had just enough time to shower before my first meeting of the day.
Mid day, I went in to the Massachusetts Conference for Women.  My company is a sponsor of the event and we send about 90 people.  It was the first time I attended and it's an impressive conference with a great line up of speakers.
Thursday – 12/12: No Training
Back to Boston for the rest of the conference.
Friday – 12/13:  3×20'/2′ L4
Just a nice steady state L4 session.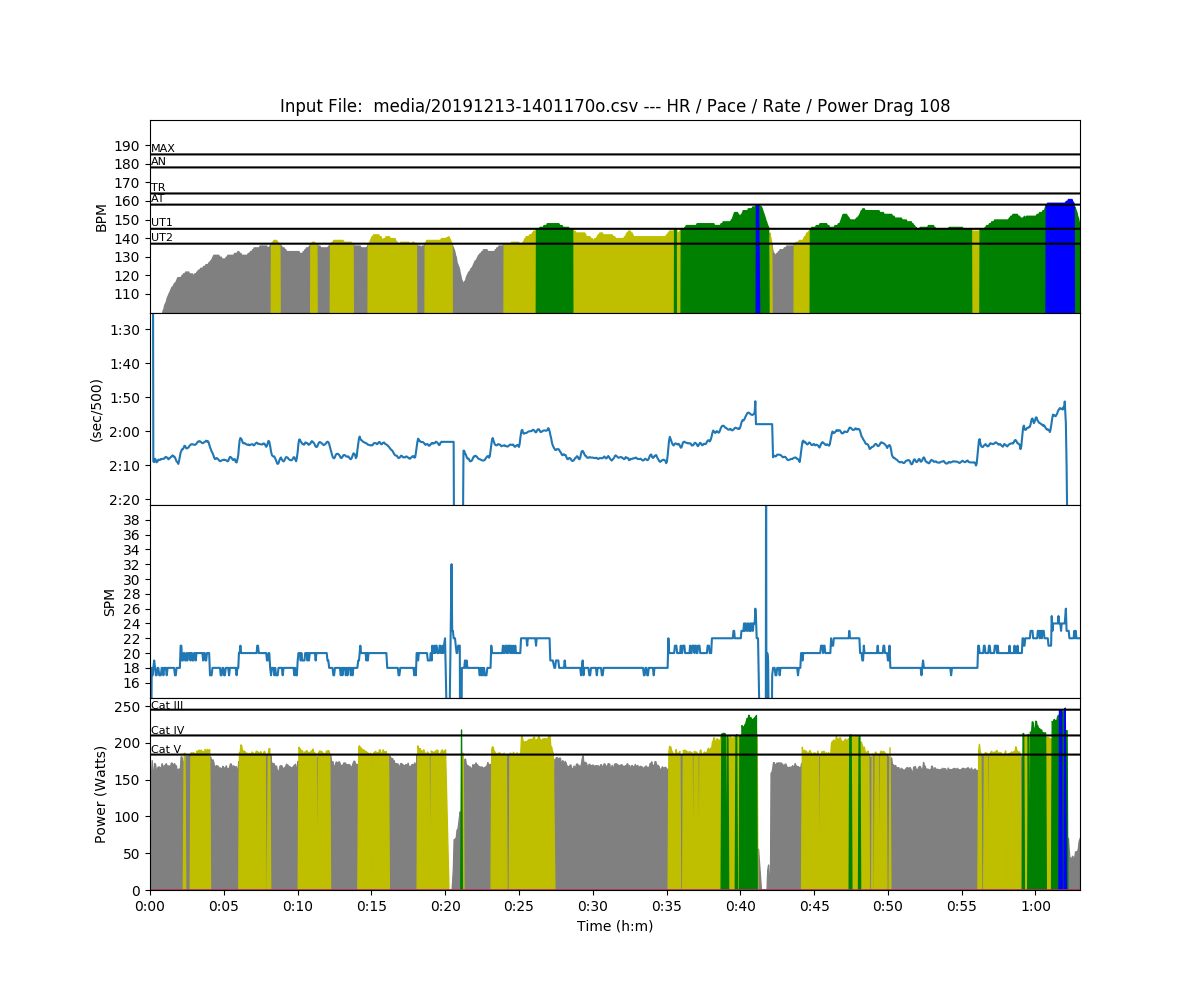 That evening, we went down to the cape and I sleep like a deadman.  It was such a great night's sleep that I have thought of it fondly ever since.
Saturday – 12/14: 3×30'/2′ L4
Down on the cape.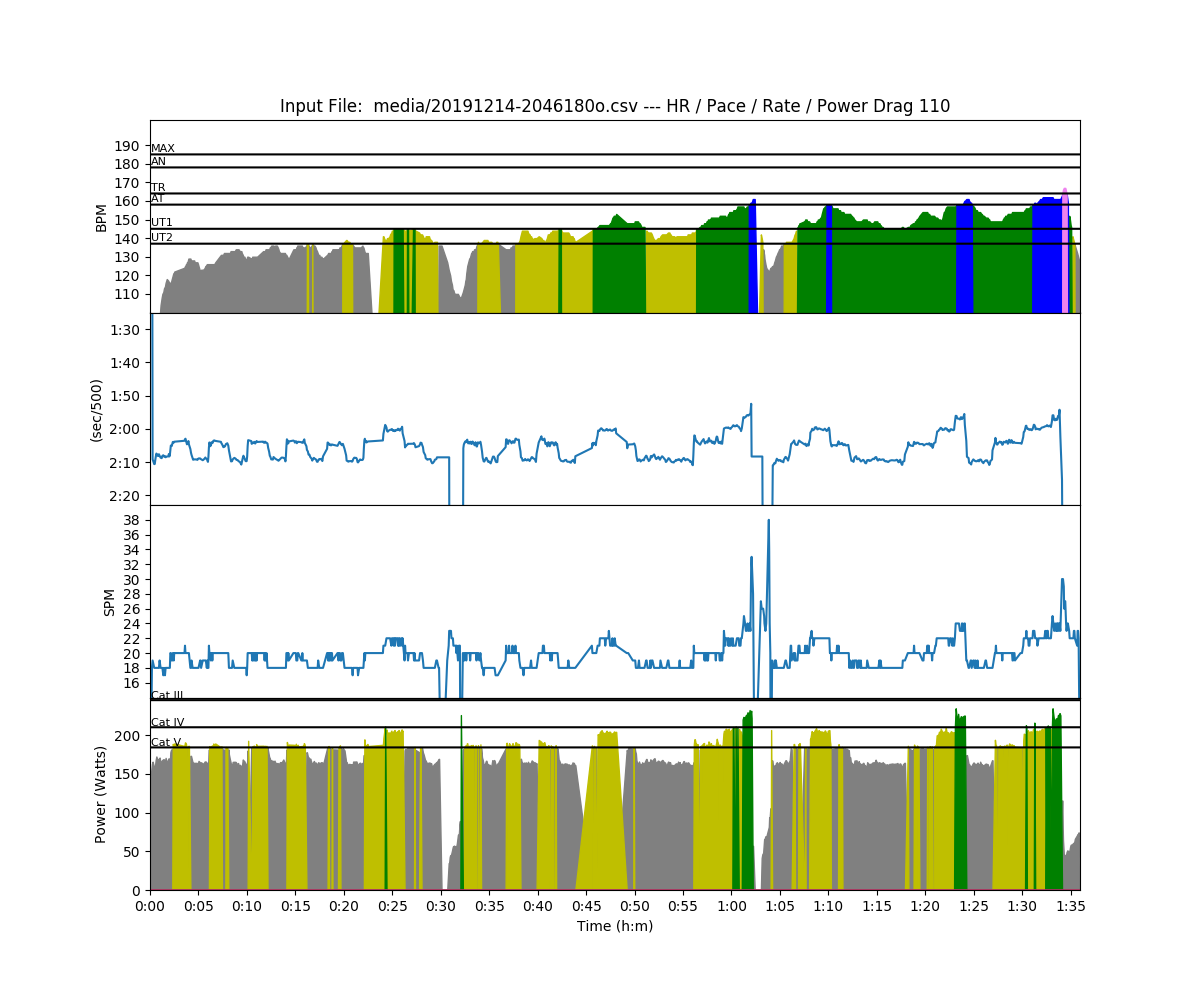 Sunday – 12/15: Half Marathon L3
Target power 190W.  Lost a bit of steam around the 60 minute mark.  I was tired.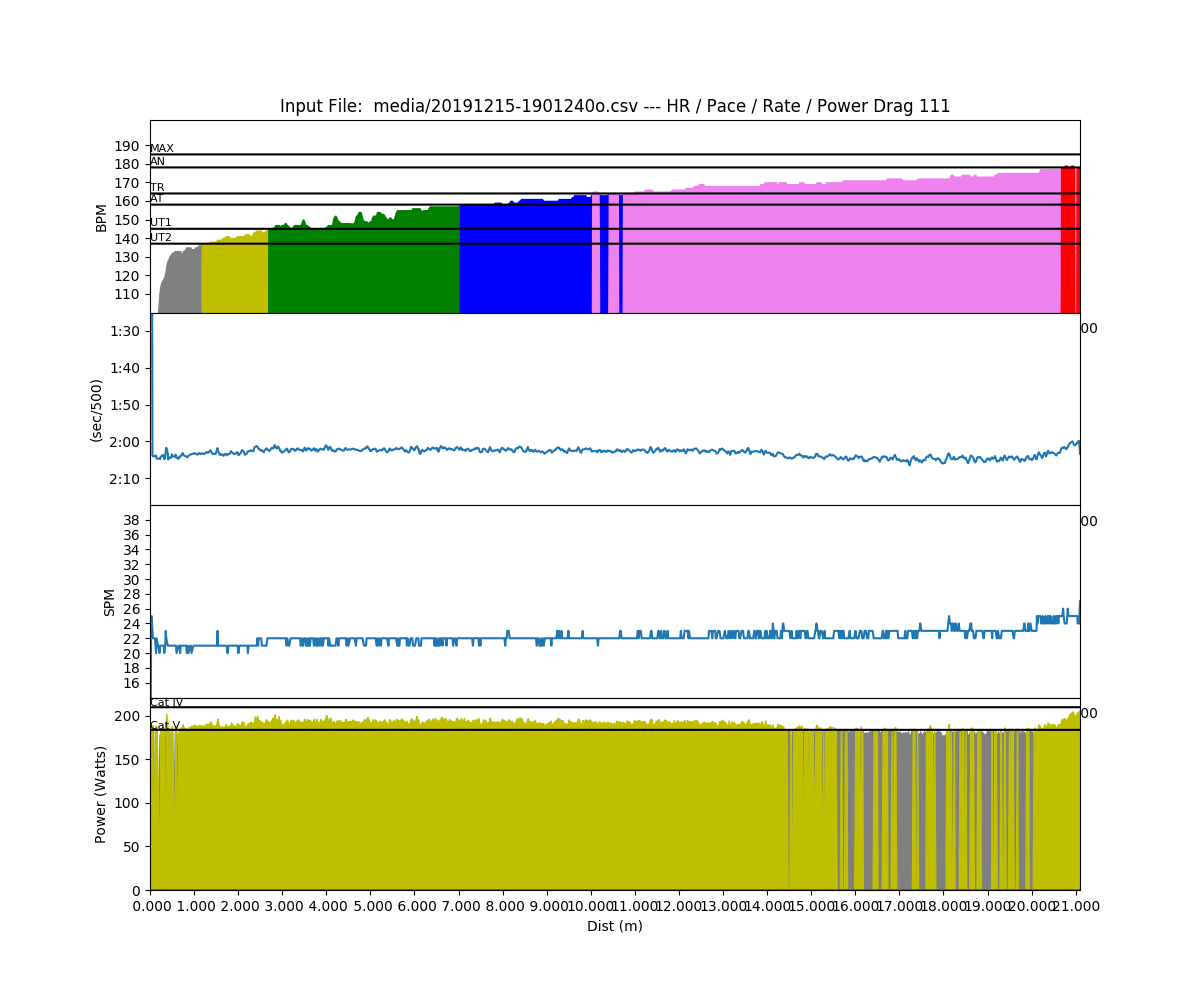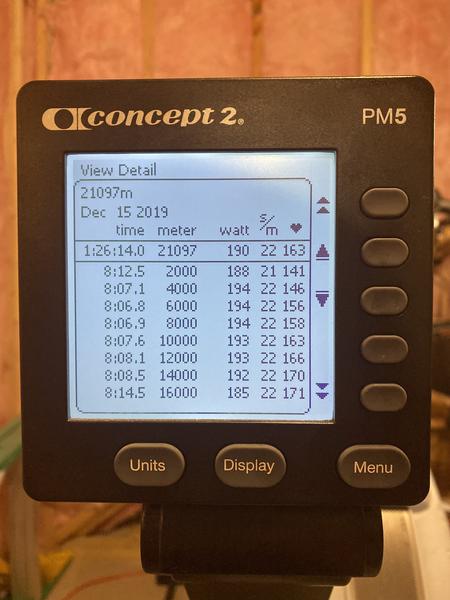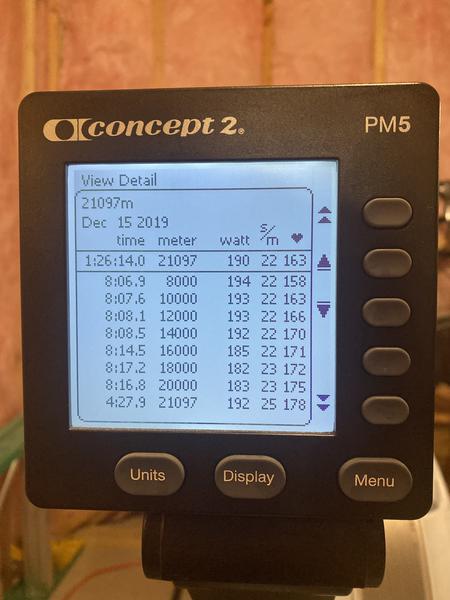 Monday – 12/16: No Training
No idea why.
Tuesday – 12/17: 60 minute L4
I had a 7:30 meeting, so I ended up sneaking down to the gym before lunch.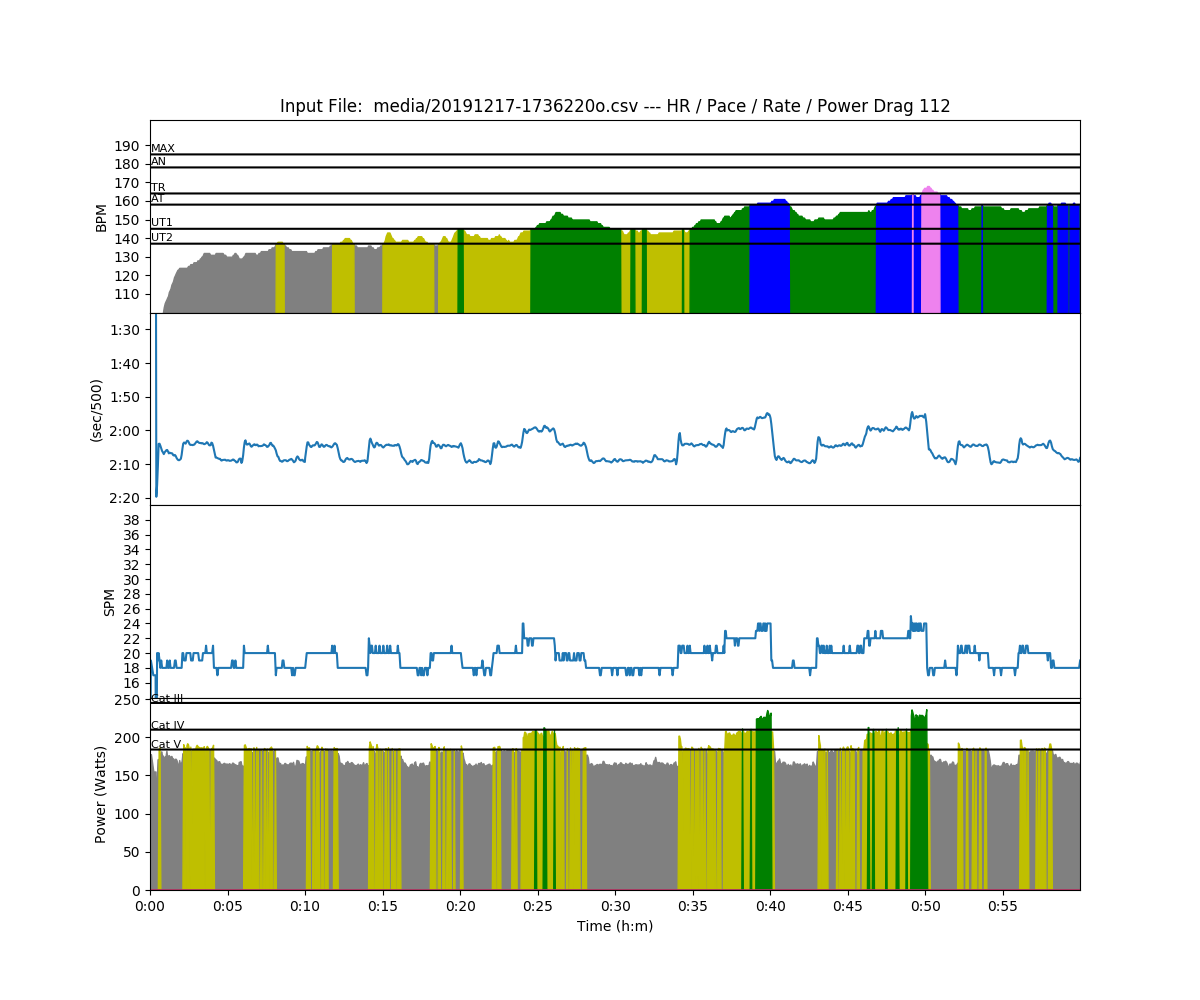 Wednesday – 12/18: No Training
8am meeting and no chance to train during the day.  We had a corporate holiday party Wednesday night.
Thursday – 12/19: No Training
Woke up at 3:45 to catch a 6:10AM flight to California.  Had a couple of customer meetings, including a nice dinner.
Friday – 12/20: No Training
Woke up at 5AM so I could get to the airport in time to join a 6AM conference call.  Flew home, arrived around 7pm.
Saturday – 12/21: 3×30'/2′ L4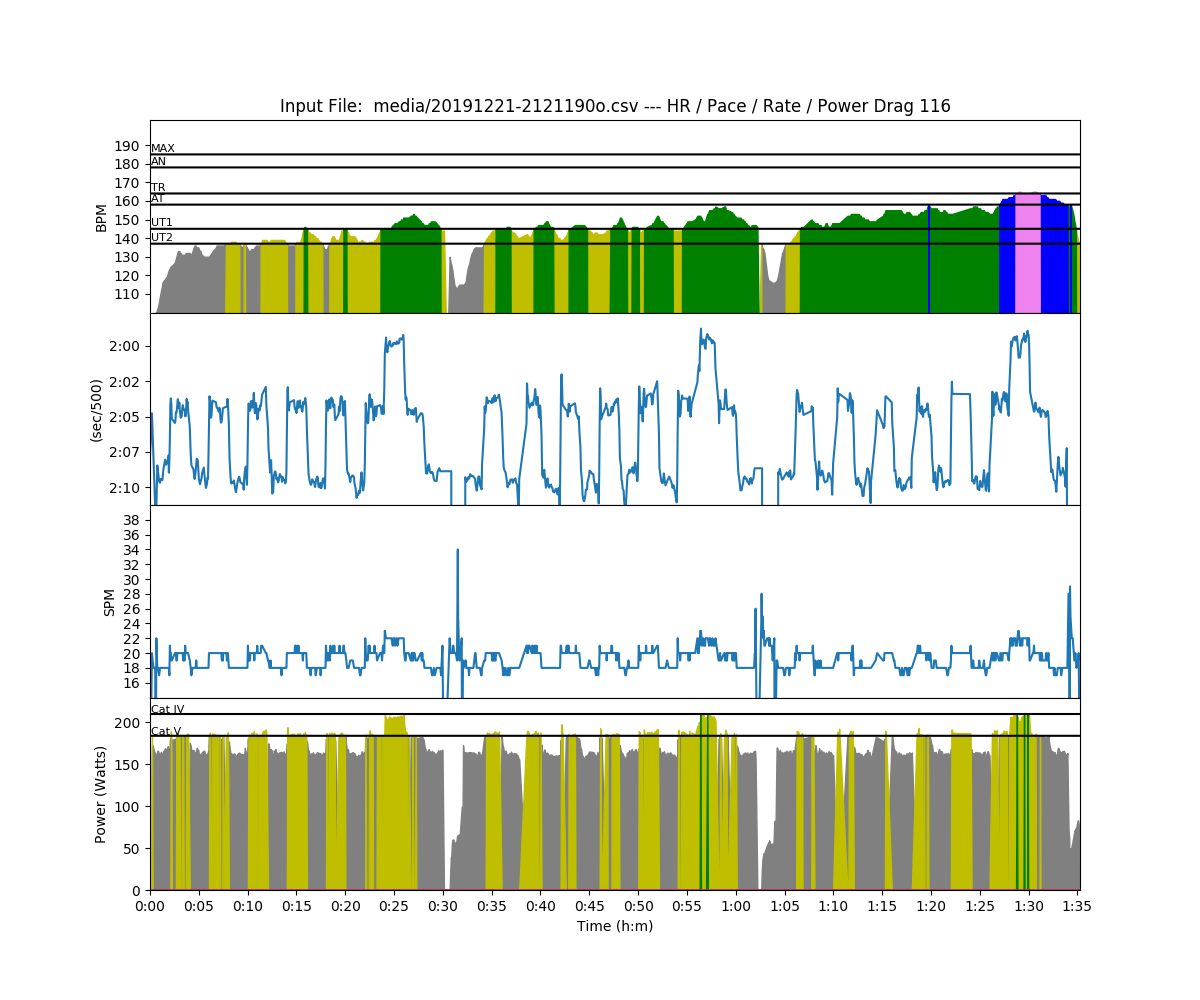 Feeling the decline in fitness.
Sunday: 12/22 – 4 x 20′ / 2′ L4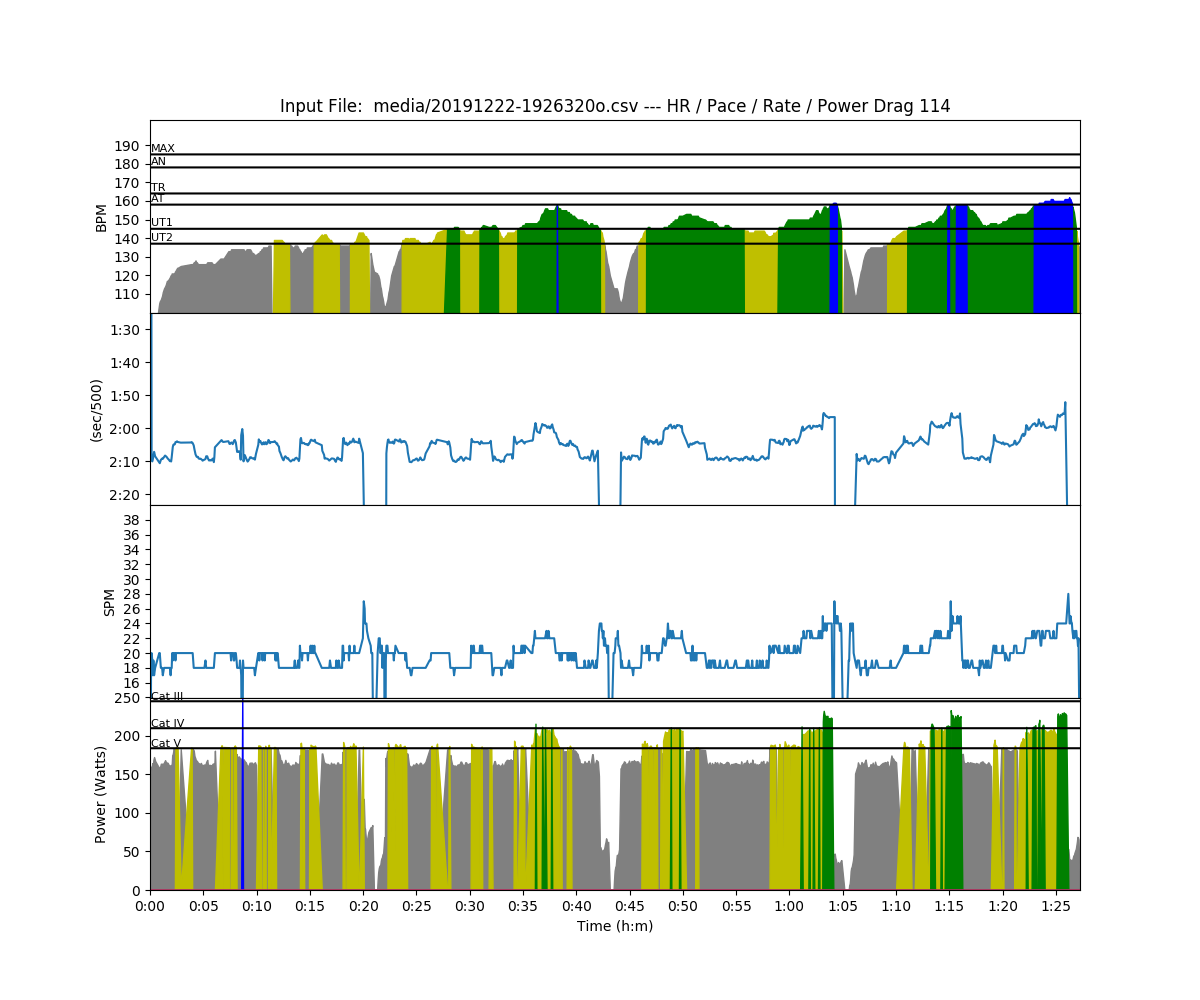 Still a struggle.
Monday – 12/ 23: 60′ L3
This was brutal.  I really thought I could hold a 1:58.  Turns out I couldn't.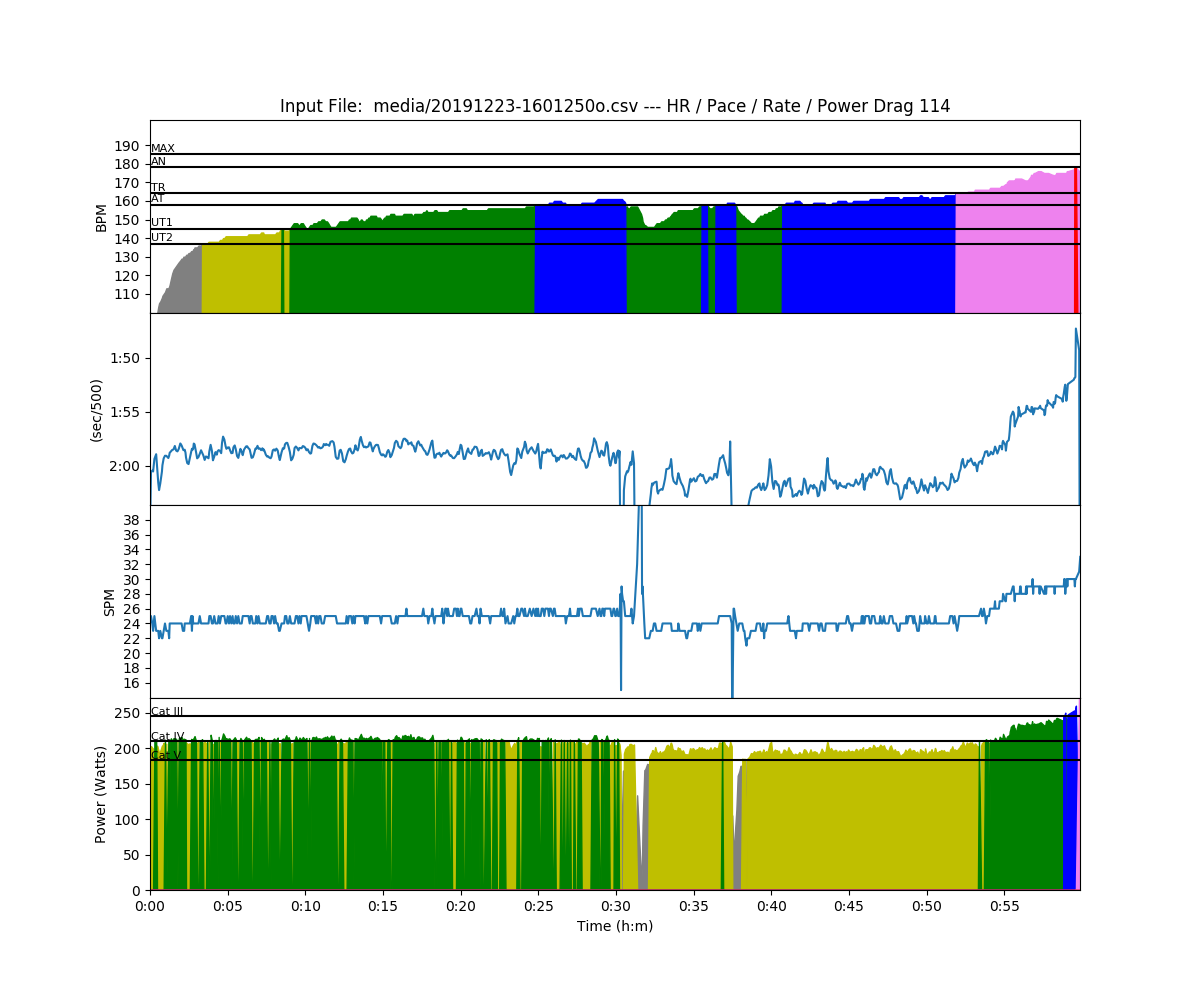 Tuesday – 12/24: 3×20'/2′ L4
My mind is really on christmas, but I am enjoying the audio book I'm listening to.  So, I'm just piling up steady state meters.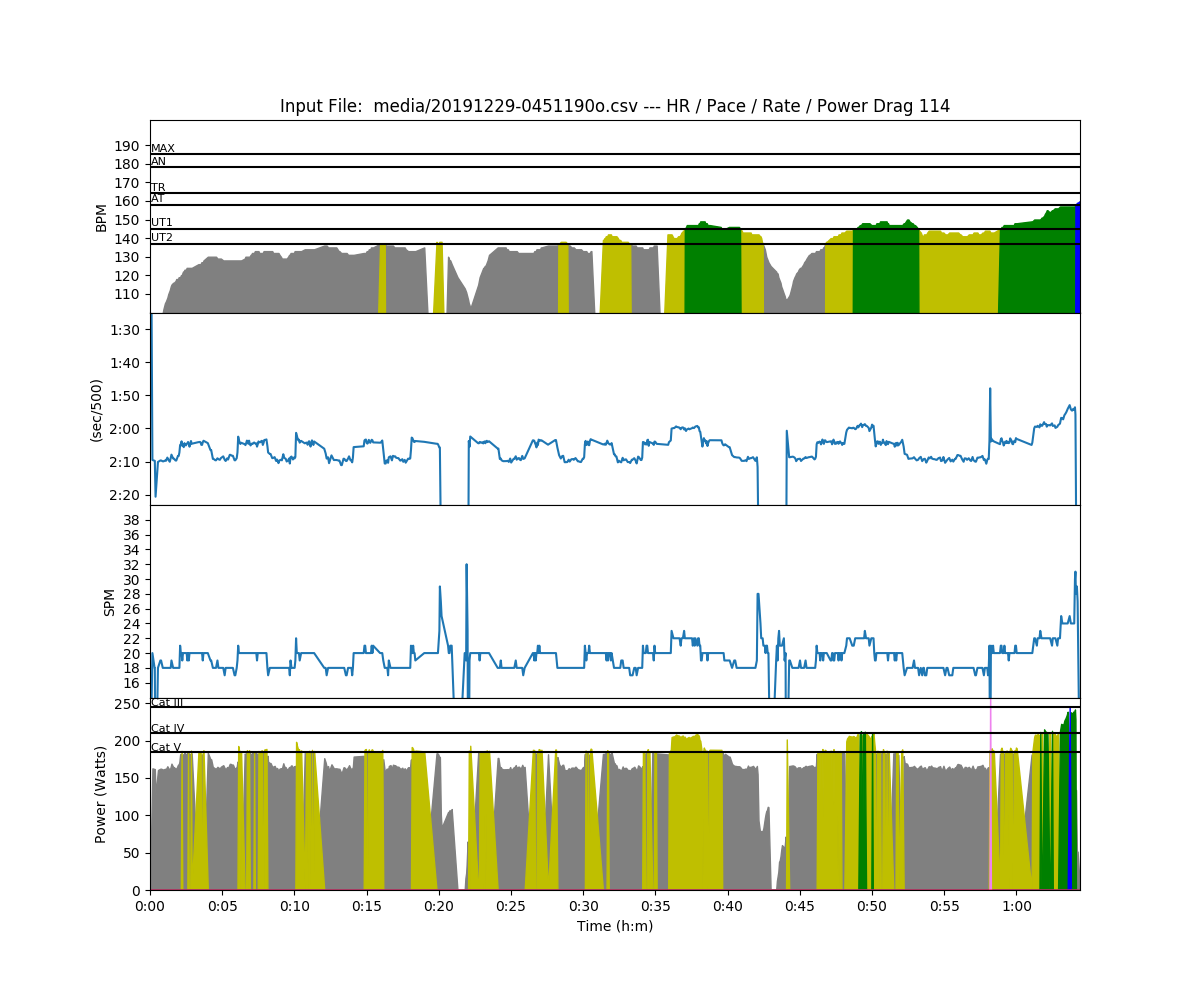 Wednesday – 12/25: 3×20'/2′ L4
Merry Christmas!  I went and rowed while dinner was cooking.  Same session, worse heart rate.  I suspect that this is from the 2 beers on Christmas Eve.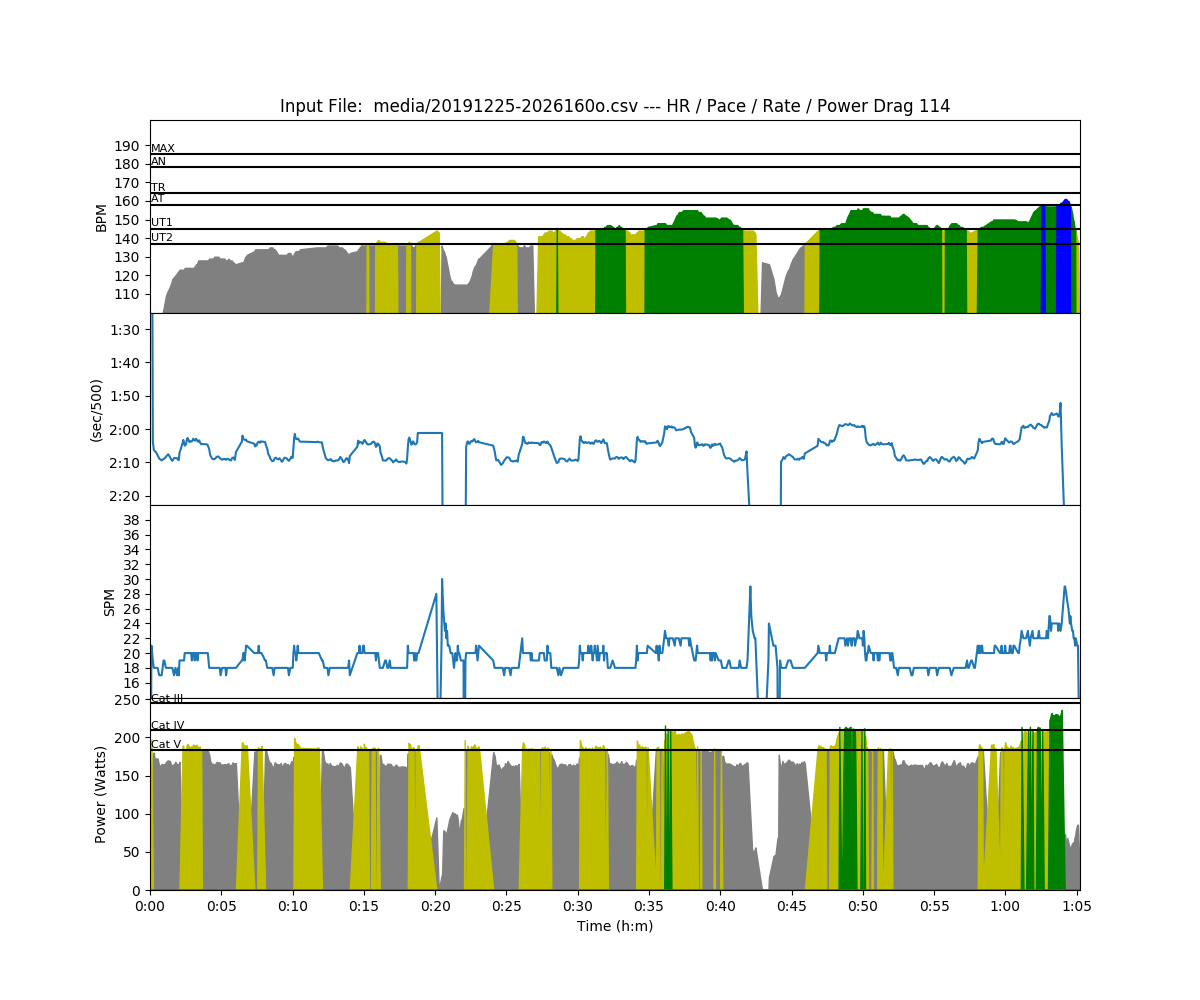 Thursday – 12/26: 3×20/2′ L4
Same again.  Even worse.  Starting to wonder if I'm coming down with something.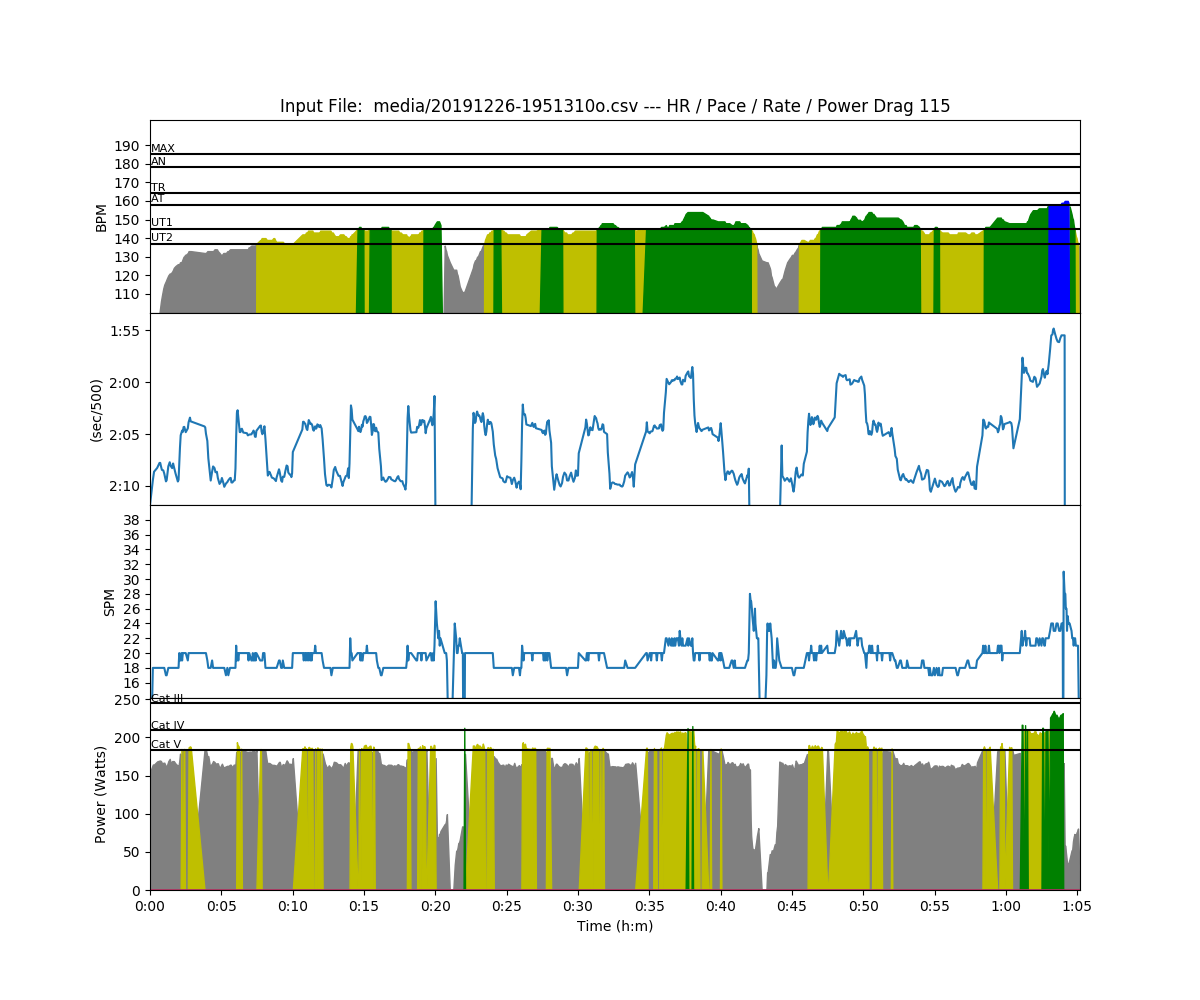 Friday – 12/27: 30 minute aborted session
I was planning a 3×30 L4, but I felt tired and listless and bored, so I quit after 30 minutes.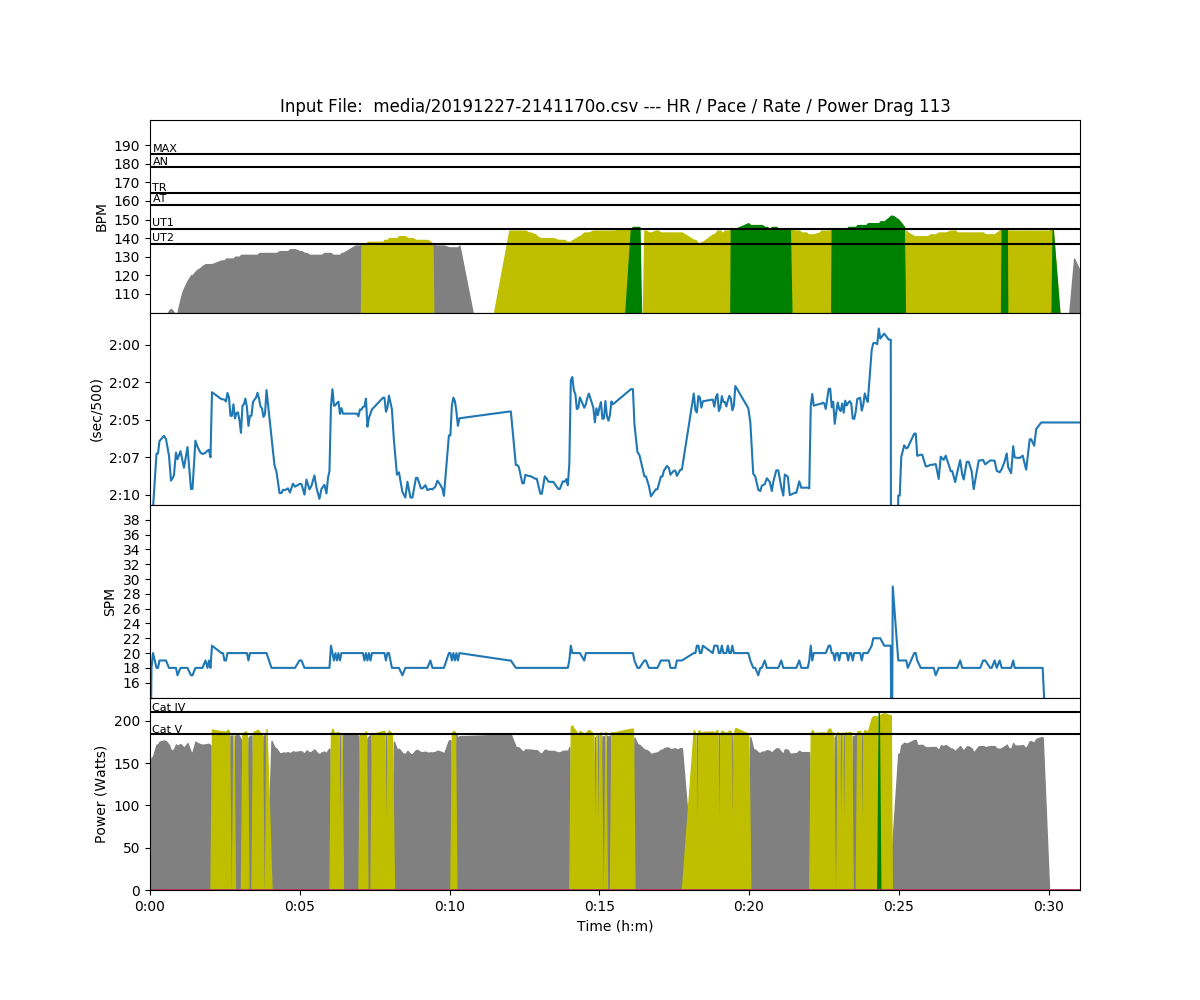 Saturday – 12/28: 16 x 250 / 2′ L1
Time to shake things up.  A bit of sprinting.  And a session with no prior precedent so no chance to fail against inflated expectations.
Start with the obligatory fletcher warmup.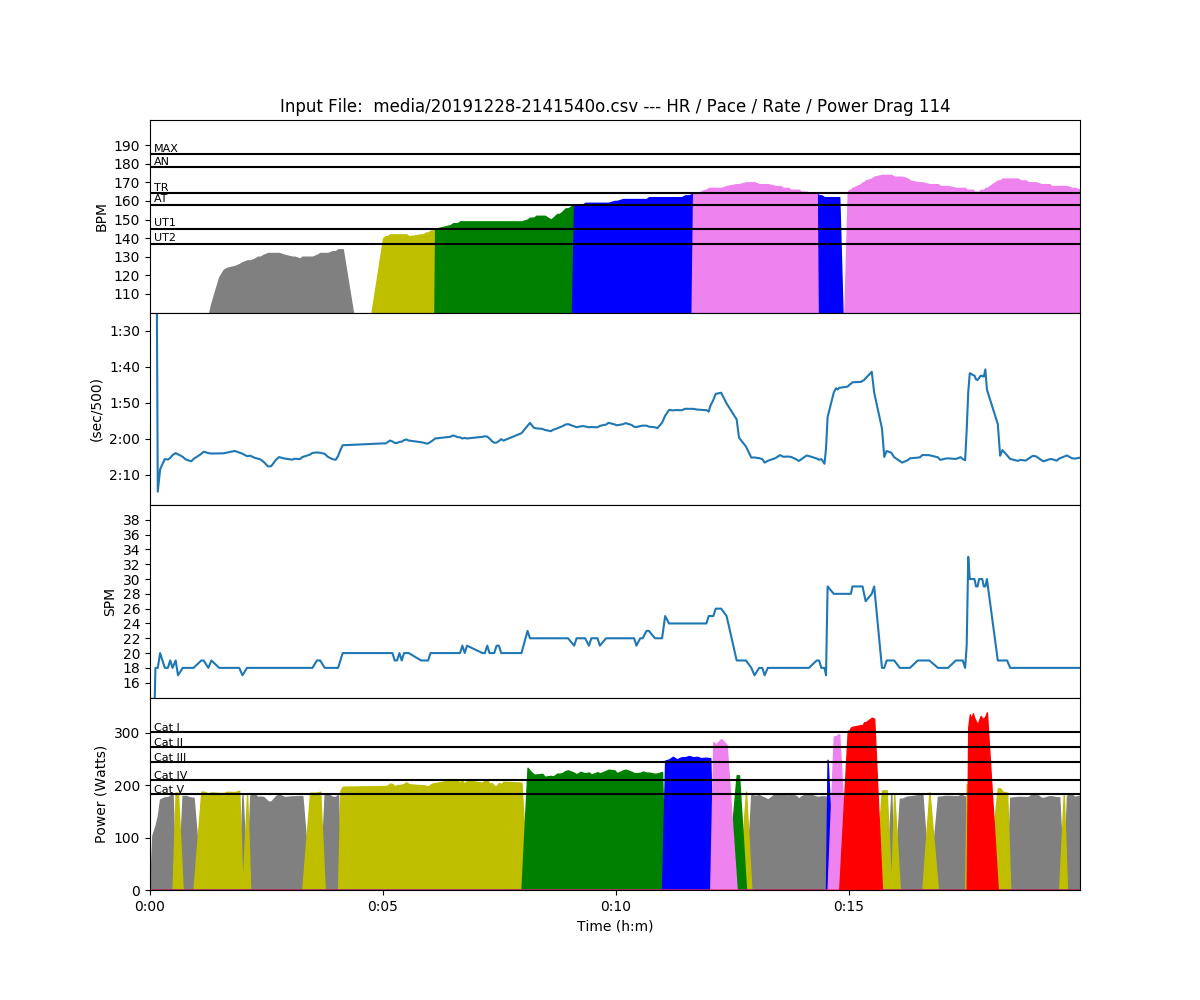 Then the fun part.  Doing this on slides was very interesting.  I allowed the flywheel to stop for each of the reps to do a standing start.  And I worked on trying to take a few strokes to get to full.  It was good to work on keeping my layback minimized and keeping the rate high and stroke light.  Some of the reps, I slowed down a fair amount after the first ten strokes.  Buy the end, I was spent!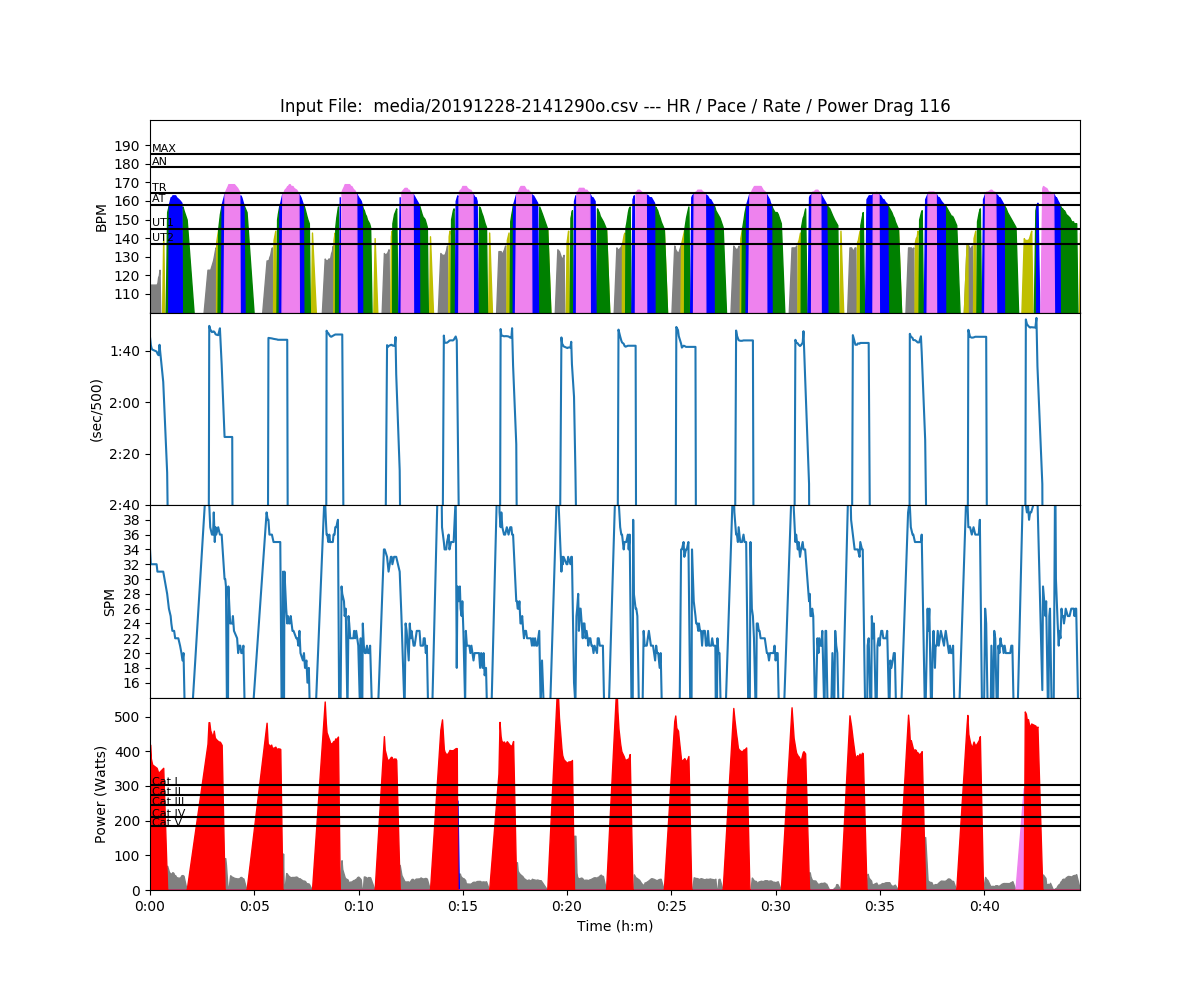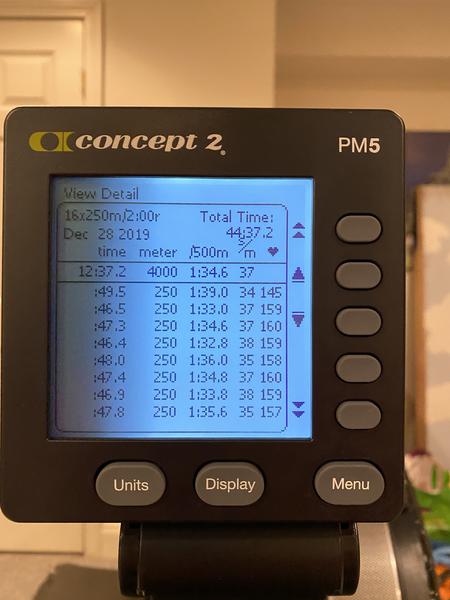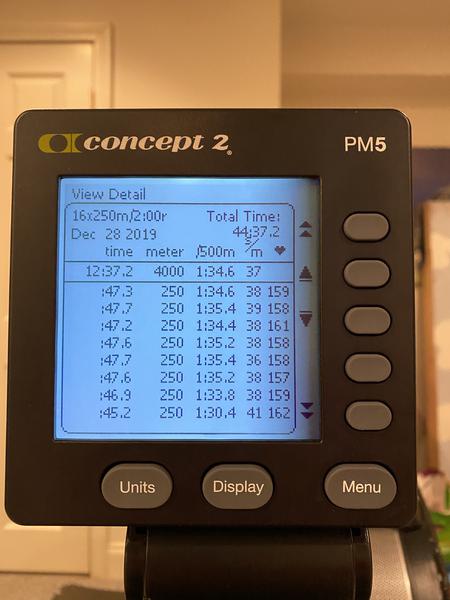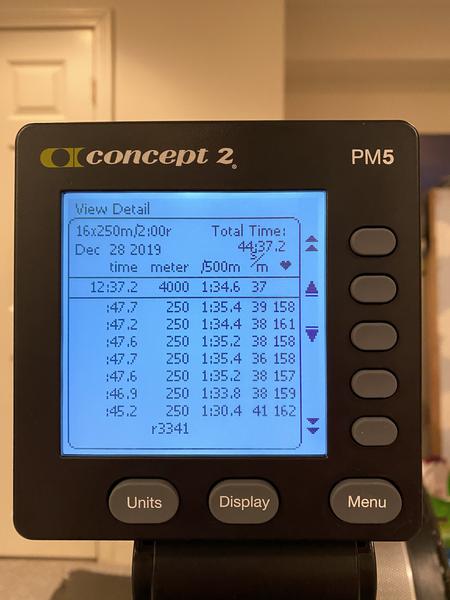 Sunday – 12/29: 4×20'/2′ L4
Very sedate today.  HR was quite high.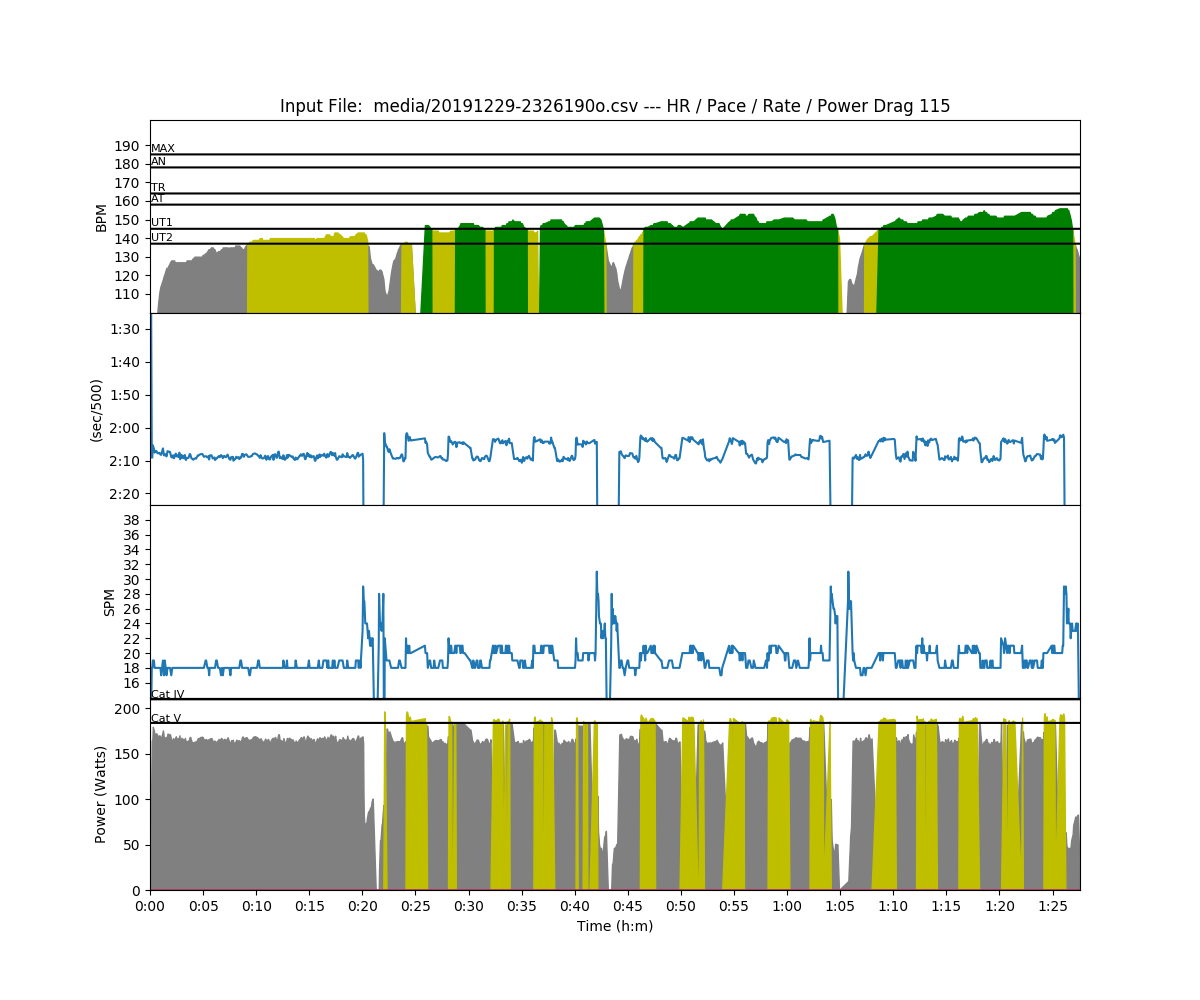 Tomorrow, we head off to the cape for our new year's extravaganza!  Hopefully, I can squeeze in an L2 session in the afternoon.