Friday – June 28 – On the cape – No Training
I arrived at Logan at about 7:30AM.  I was in my car and on the way to the cape by 8:00AM.  The traffic leaving the city was pretty heavy, but by the time I was down to Weymouth, things were moving better.  I got to the house around 11, with donuts!
I had a couple of work calls and hung out.  I was massively tired and didn't feel like working out.
Saturday – June 29 – 3 x 20′ / 2′ (Humon)
Down on the cape, in the basement.  Feeling tired from travel.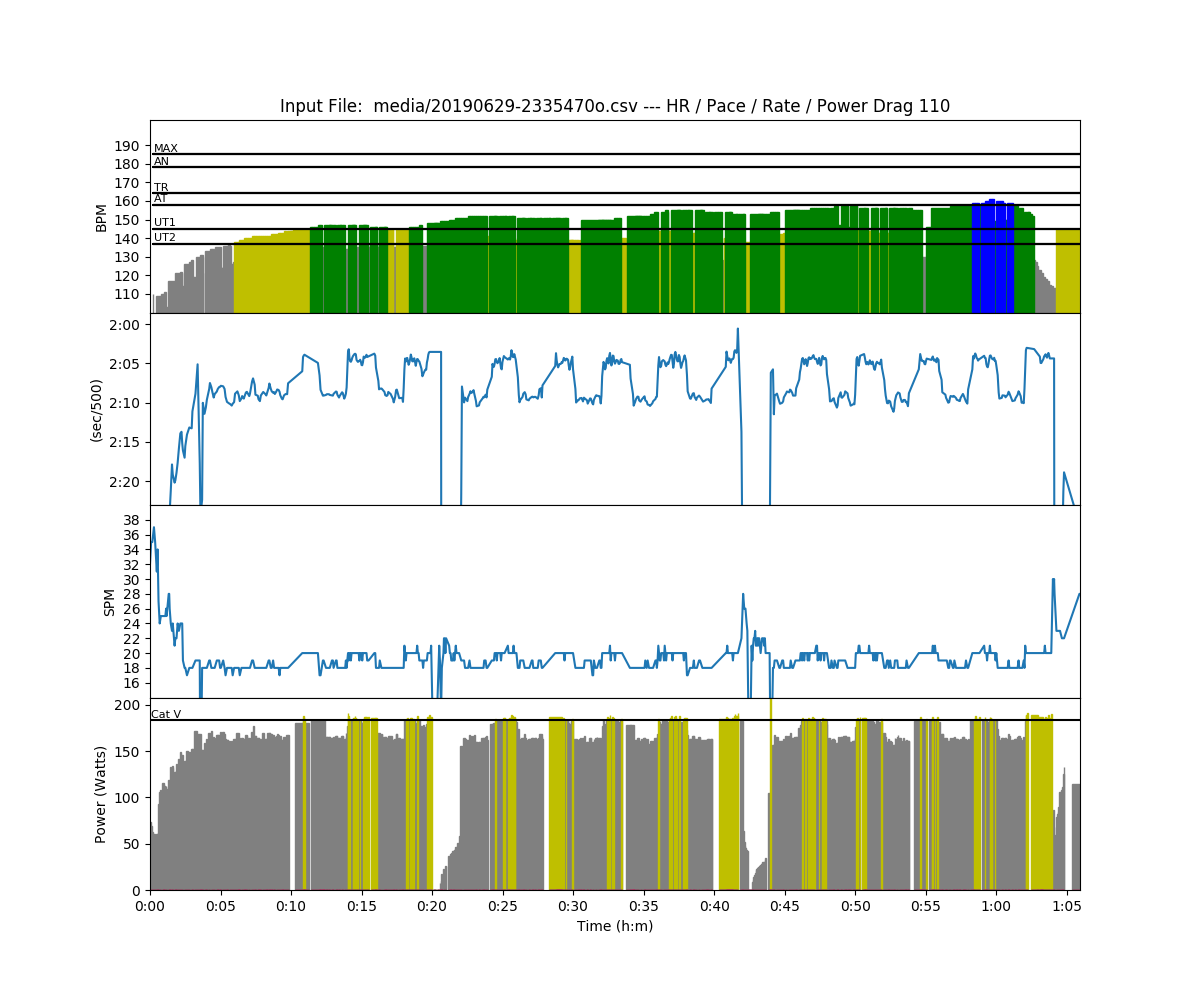 Humon kept me honest.
I saw that I was dipping into the orange with r20, 180 stuff, so I kept away from any higher power segments.
We headed out late to go home on Saturday night.
Sunday – June 30 – No training
I was feeling lazy, but I managed to head outside and do a few hours of yard work.  After that, I wasn't in the mood for any training.
Monday – July 1 – Steady State with a few higher rate bursts.
I'm not getting to do a lot of rowing in my single these days, so this session was a treat.  I decided to do an extensive warmup, all the way to the dam at Waltham center.  I did a Rojabo style warmup, with stroke sets of increasing intensity.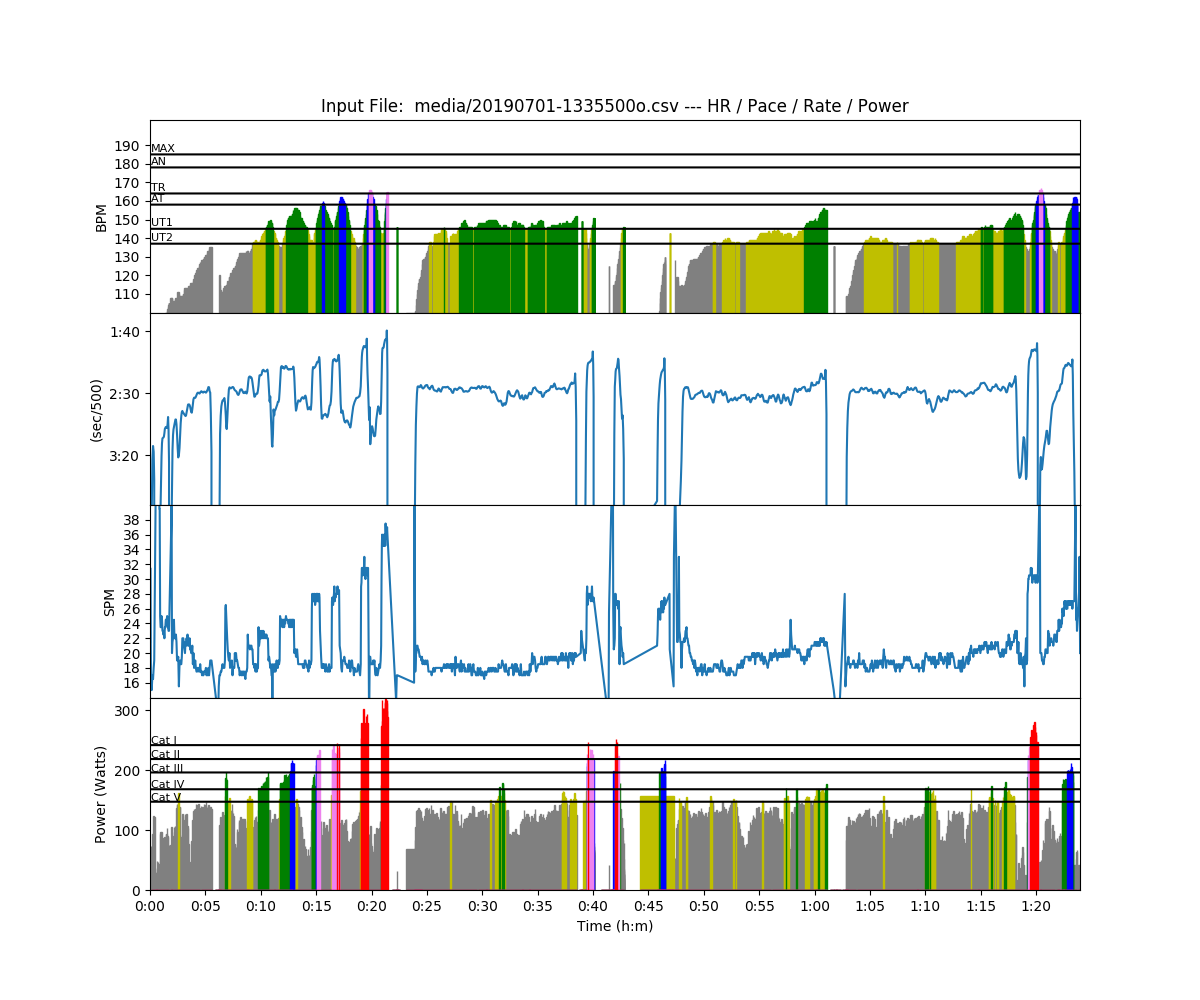 I'm thinking that a more intense warmup, even when doing an endurance session "opens up" the circulation in the muscles and raises the smO2.
This certainly seemed to be the case today.
After the warmup, I rowed, focusing on technique.  If I dipped into orange, I would ease off the pressure and focus on really easing into the drive from the catch.  At the end of the trip back up the river, I saw a guy I knew, so I did a quick segment at higher rate to go say hello.  After a quick chat, I did another twenty strokes or so of harder rowing, and then after navigating a set of booms across the cove, I settled back into normal endurance rowing.  Something I am noticing is that I am tending to overload at the start of these intervals, notice the sliver of red.  I slowed down to fix that , and again focused on form.  The rest of the row was unremarkable, but I did another couple of quicker bits right at the end.
It was a really nice session and I managed to find a bit of boat speed in some of the harder bursts.
        Workout Summary - media/20190701-1335500o.csv
--|Total|-Total----|--Avg--|-Avg-|Avg-|-Avg-|-Max-|-Avg
--|Dist-|-Time-----|-Pace--|-Pwr-|SPM-|-HR--|-HR--|-DPS
--|14790|01:23:57.4|02:50.3|119.5|20.2|136.1|167.0|08.7
W-|12254|00:59:17.2|02:25.1|135.8|20.1|140.6|165.0|10.4
R-|02546|00:24:41.3|04:50.9|080.2|20.4|125.2|165.0|03.8
Workout Details
#-|SDist|-Split-|-SPace-|-Pwr-|SPM-|AvgHR|MaxHR|DPS-
01|00324|01:37.2|02:29.8|135.0|17.8|127.1|135.0|11.2
02|00791|03:46.9|02:23.4|130.5|19.5|134.1|149.0|10.7
03|00853|04:01.0|02:21.2|145.9|22.1|146.7|157.0|09.6
04|00227|00:59.6|02:11.2|190.2|25.1|151.3|162.0|09.1 - 1' at r24
05|00314|01:23.4|02:12.7|182.1|24.2|142.3|164.0|09.3 - 30 strokes @ r24
06|00162|00:36.8|01:53.9|289.7|34.2|150.0|165.0|07.7 - 20 strokes @ max
07|02932|14:25.9|02:27.7|125.3|18.3|144.3|152.0|11.1 - back upriver
08|00165|00:41.7|02:06.1|216.3|27.3|140.2|151.0|08.7 - 20 strokes @ r27
09|00134|00:36.2|02:15.0|194.3|24.9|126.7|140.0|08.9 - 20 strokes @ r25
10|00136|00:37.0|02:15.9|185.6|26.0|114.8|128.0|08.5 - 20 strokes @ r26
11|02583|12:57.1|02:30.4|129.0|19.3|139.6|156.0|10.3 - back down river
12|01508|07:29.2|02:29.0|118.0|18.5|135.8|141.0|10.9 - back upriver
13|01484|07:18.0|02:27.6|124.2|20.0|142.6|154.0|10.2 - part 2
14|00234|00:55.6|01:58.6|241.4|30.3|147.4|163.0|08.4 - cut to turn
15|00406|01:51.6|02:17.6|140.5|24.7|142.6|160.0|08.8 - across lagoon

Tuesday – July 2 – 12 x 3'/1′
I got up early, mainly because I couldn't sleep.  It seems like trips to Asia mess me up for about a week.  We were going to be heading down to the cape later in the day, and I wanted to get a session in.  I also wanted to get back to some semblance of a training plan, so I decided to make this session a bit more intense.
I used to do this session as 15×3'/1′  Today, since I was pressed for time, I decided to take the first few intervals as warmup.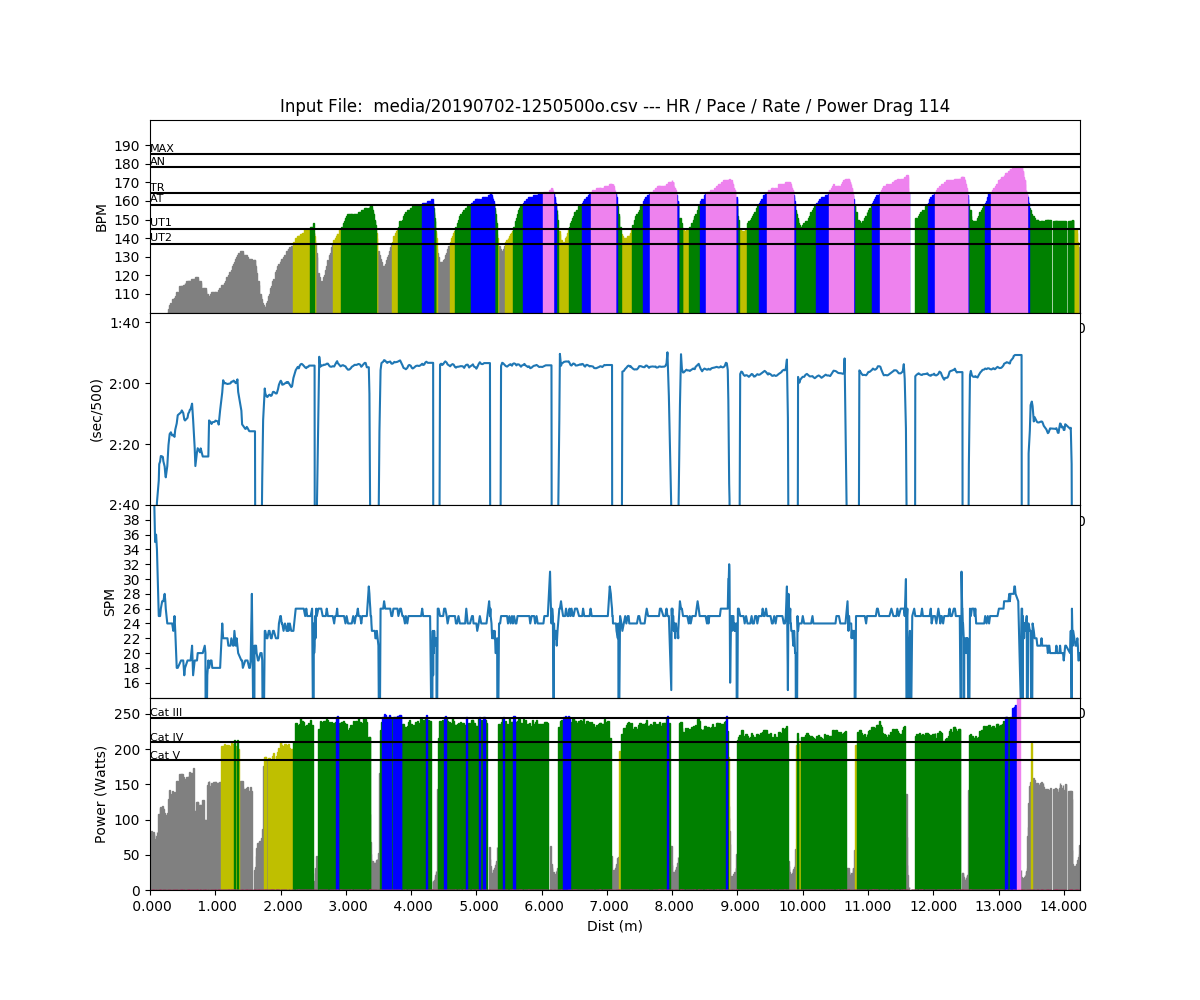 I wore the Humon, to see what these kind of intervals look like from an smO2 perspective.
So, they look kinda cool!  You can see the quick trip into the red in each interval.  You can also see the recovery.  I was generally flipping from blue to green right when I was starting the next interval.  You can also see the effect of cumulative fatigue in the lower peak smO2 as I get deeper into the session.  I also slowed down.  I was really having issues.  I trust the power in the summary more than the pace.
        Workout Summary - media/20190702-1250500o.csv
--|Total|-Total----|--Avg--|-Avg-|Avg-|-Avg-|-Max-|-Avg
--|Dist-|-Time-----|-Pace--|-Pwr-|SPM-|-HR--|-HR--|-DPS
--|14244|01:04:09.9|02:15.1|168.3|23.4|150.5|178.0|09.5
W-|09284|00:35:53.1|01:56.0|228.5|24.8|156.3|178.0|10.4
R-|04970|00:27:10.0|02:44.0|091.9|21.6|142.6|178.0|11.4
Workout Details
#-|SDist|-Split-|-SPace-|-Pwr-|SPM-|AvgHR|MaxHR|DPS-
01|00791|03:00.0|01:53.8|237.1|25.1|143.2|156.0|10.5
02|00797|03:00.0|01:52.9|240.2|25.1|148.1|160.0|10.6
03|00762|02:53.1|01:53.5|236.7|24.6|148.8|162.0|10.8
04|00794|03:00.0|01:53.4|237.6|24.6|153.8|165.0|10.7
05|00791|03:00.0|01:53.8|238.9|25.3|157.2|168.0|10.4
06|00778|03:00.0|01:55.7|233.0|24.7|157.1|170.0|10.5
07|00768|03:00.0|01:57.2|229.7|25.4|159.3|171.0|10.1
08|00754|03:00.0|01:59.4|217.4|24.6|158.7|170.0|10.2
09|00762|03:00.0|01:58.0|213.9|23.5|159.5|171.0|10.8
10|00766|03:00.0|01:57.5|219.1|24.8|162.2|172.0|10.3
11|00756|03:00.0|01:59.1|213.6|24.8|163.0|172.0|10.2
12|00765|03:00.0|01:57.6|225.0|24.8|164.7|178.0|10.3
I guess that's why I need a training plan.
Wednesday – July 3 – 16km Coastal
A beautiful, sunny day.  Not a lot of wind.  A great day for a nice long row.  I launched from the beach by Loagy Bay, and headed out to the red buoy.  For a change, I decided to row down south a bit along the shore of Lt Island.  There are a couple of big rock that are visible almost until high tide, and I could see them clearly, so I rowed down to the big rock to the south of the island.  Then I doubled back and rowed on the inside of the other big rock back to the red buoy.  Then I set a course for the harbor, basically due north.   I threaded my way into the inner harbor and dodged a few power boats.  On the way back to the beach, I hugged the shore of Indian Head, mainly to avoid the wakes from the boats in the channel out of the harbor.
It was a nice, low intensity session.  No Humon today, but I kept the HR below 150.  The pace varied all over the place because of tide (it was coming in) and breeze.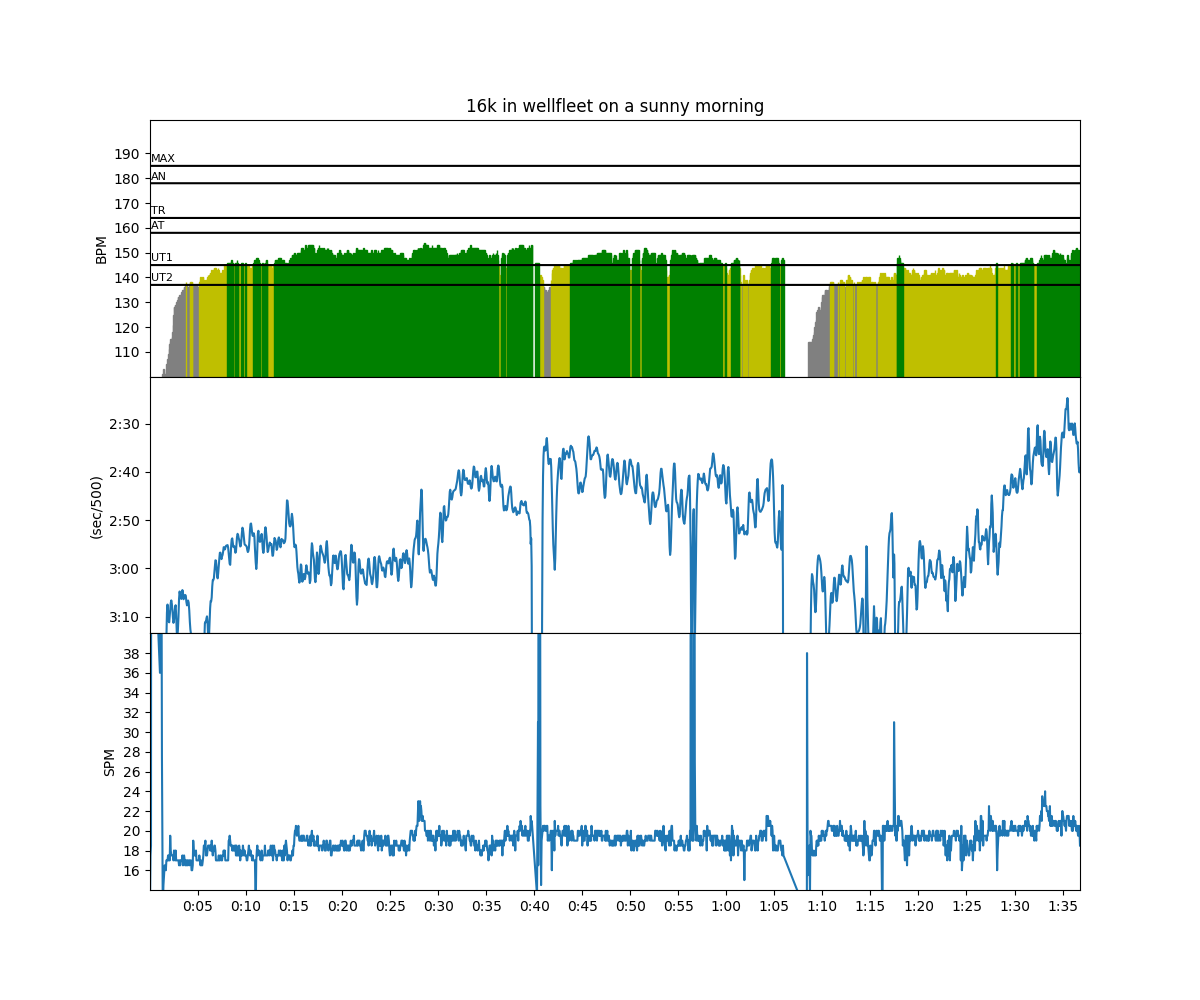 Thursday – 4 July – 4 x 10′ hard rate ladders
In the morning, I went for a low tide walk.  I love doing this.  I walked a little more than 3 km, and explored the sand flats going south from our house.
I didn't feel ready to take on full power long intervals, especially in coastal conditions.  It was another beautiful sunny day.  A bit more wind, and with the holiday, every power boat was on the water and throwing up wakes.  To make the session a bit more tolerable, I decided to make them rate ladders.
4′ @ r24
3′ @ r26
2′ @ r28
1′ @ r30
Why I do these intervals in the 1x, I usually aim between 26 and 28.  But I usually am doing a 4 x 2K which is a lot closer to 9 minutes.  I also have a lot less navigating to do and it's a lot less choppy.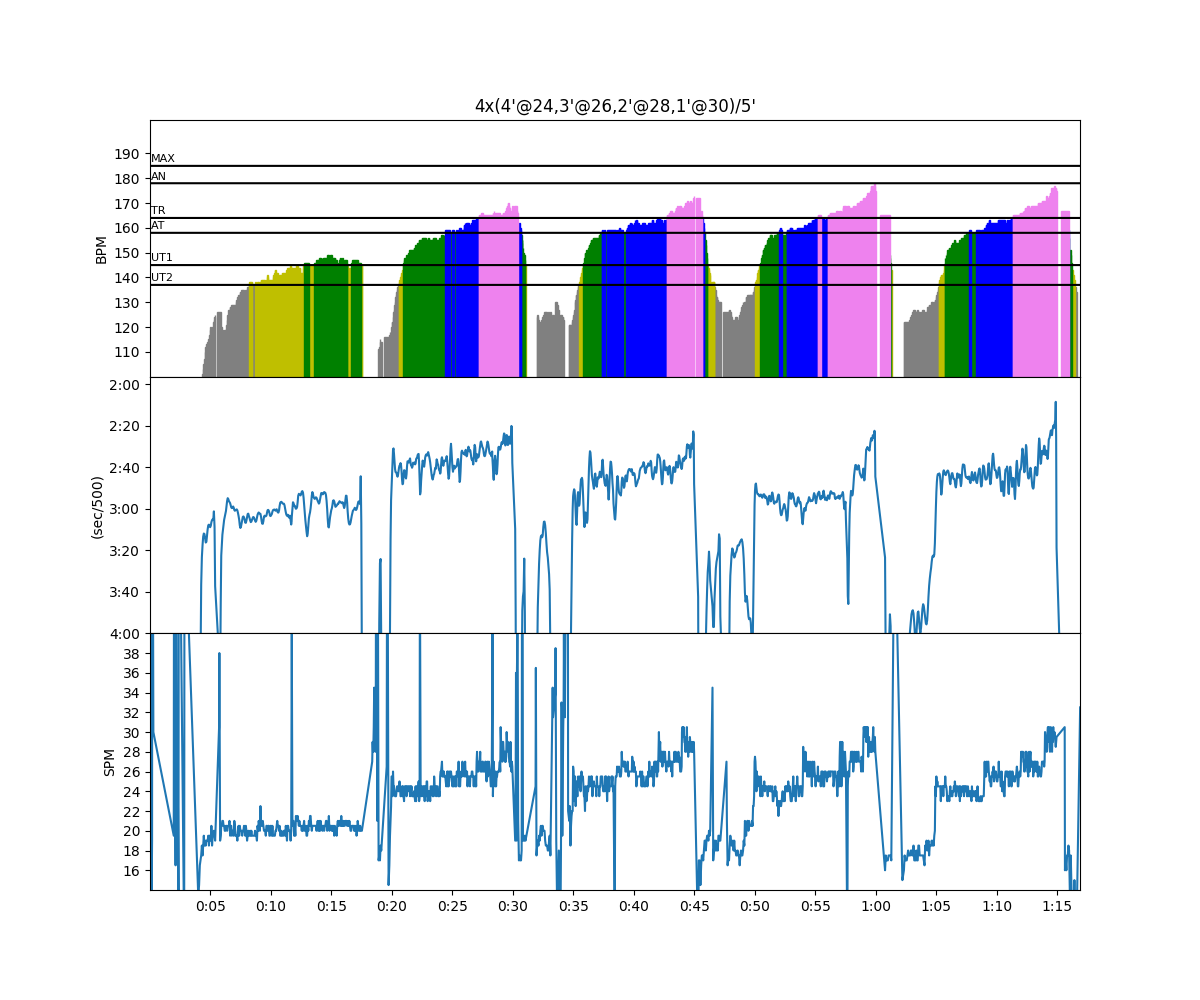 I rowed out to the red buoy as my warmup.  I threw in a couple of hard 20s to get used to the idea.  Then I had a drink and got ready.  When I was within a minute of starting, I was swamped by a wake, so a quick flip of the autobailer was needed.  Then I was off and rowing.
I focused on keeping my stroke light and hitting the rate.  This was made challenging by the fact that I was doing the piece close to and parallel to the main channel.  Someboats were nice to me and either steered wide, or slowed down a bit to minimize the wake.  Others did neither of those things and I ended up with a cockpit full of water.   As I got to the r28 and r30 sections, the boat traffic became a bit thicker and the wakes were pretty constant.
The second interval, I decided to row away from the channel.  This was a good idea, but didn't help entirely.  I made it through 3 minutes of the first 4′ section and was totally swamped by a huge wake.  I dropped a couple strokes and opened the bailer.  I rowed the rest of the piece with the bailer open, which slowed me down a bit and made the boat feel a bit heavier, but it was better than sliding the seat through water, since I was flooded all the way to cover the seat deck.
I rowed the rest continuing toward Loagy Bay, and turned the boat in time to start the third interval.  I did the usual bargaining with myself, that if I did a good job with this one, I'd stop the workout there.  It was a fine interval.  Less wakes, but I got swamped again near the end of the r26 section.  I flipped the bailer on again and finished it out.
I felt a bit better than I feared I would, so I decided to do the last interval.  I needed to get back to the beach anyway.  This one went right to plan.  No interruptions, no swampings, and no stops for the bailer.  I just didn;t have much power left in my legs.
Good workout.
Tough to get a lot of metrics on this one because of the wind, current and waves, but the HR shows pretty consistent effort.
Friday – 5 July – 3 x 20'/2′ on slides
Another walk in the morning.  This time going to the north side of the island.  This time, about 4km.
Then in the afternoon, my wife and I kayaked around the island.  This was huge fun, we saw a bunch of cool birds.  We stopped at the bridge and I jumped off into the water.  This activity is a summer tradition, as illustrated on the webpage for our residents association.
after that, we paddled back along the south edge of the island, this was a bit of slog into the freshening breeze.  Fantastic.
Later in the afternoon, the wind had freshened some more, and I didn't feel adventurous, so I went and did a 3×20 endurance session in the basement.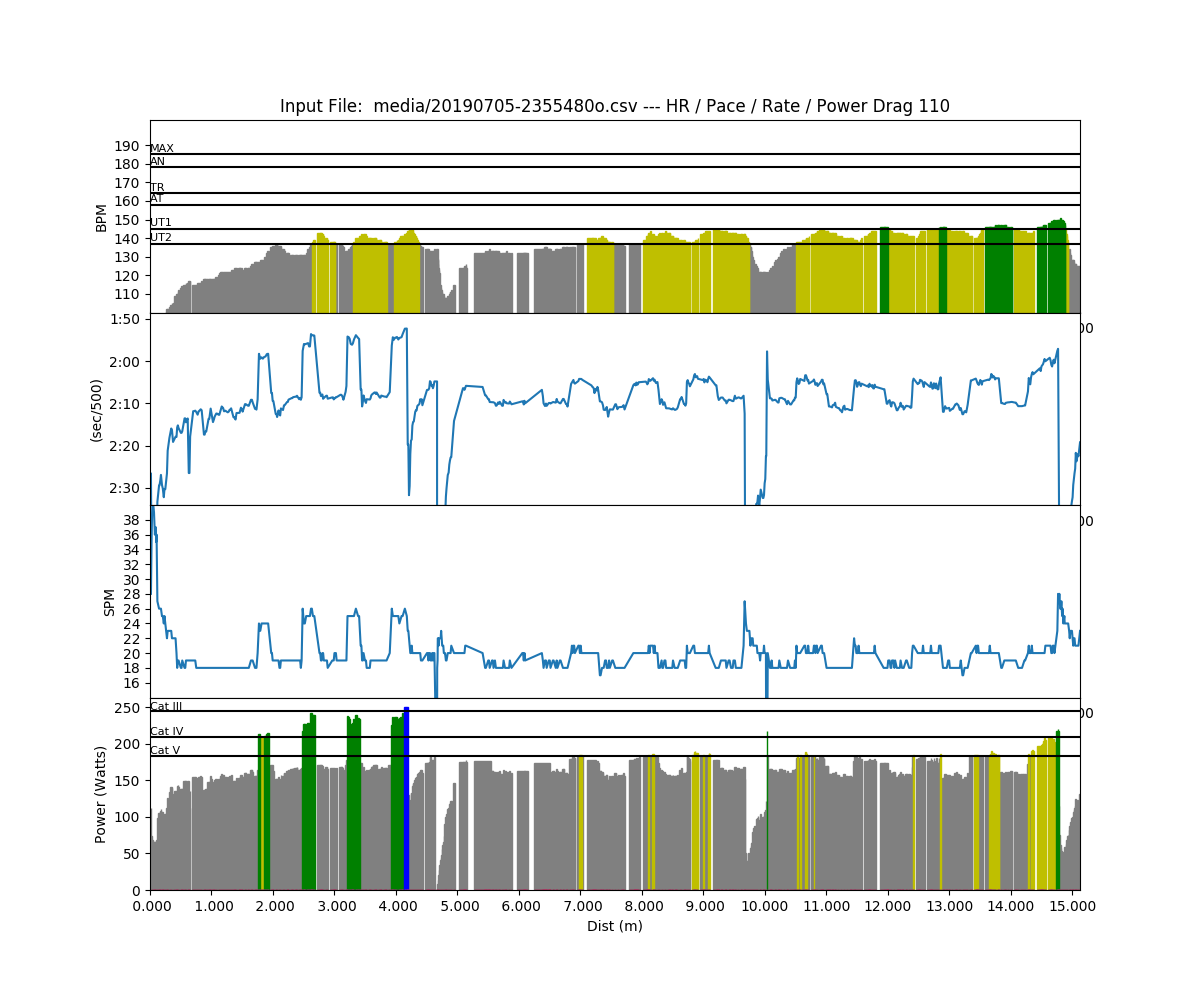 The first twenty minutes, I did in warmup format.  Again trying to maximize smO2.  I was pretty tired after the long walk and kayak adventure.  It was interesting watching it climb even through the second 20 minute piece.  Heart rate was quite low, but I felt taxed throughout.
Saturday – 6 July – 10K threshold
Another beautiful morning, another walk on the sand flats.  I hit it right at low tide and it was a particularly low tide today, so I was able to walk all the way out to the big rock that I rowed around on Thursday.
From out there, the island looks very small.
I was able to walk around both of the rocks that I had rowed around on Thursday.
I lazed around for most of the day, and finally got up the oomph to go erg in the late afternoon.  I definitely was not feeling too sharp, and I had a limited time window.  I dove into a hard 10K without any real warmup and boy did I struggle at the start.  I was having trouble getting into any rhythm and my breathing was all messed up.  I stopped a couple times in the first 500m, and then rowed well below target power through 1000m.  Then I tried to ramp up the power to target and bailed out again.  I sat there for a few seconds and then I just started paddling.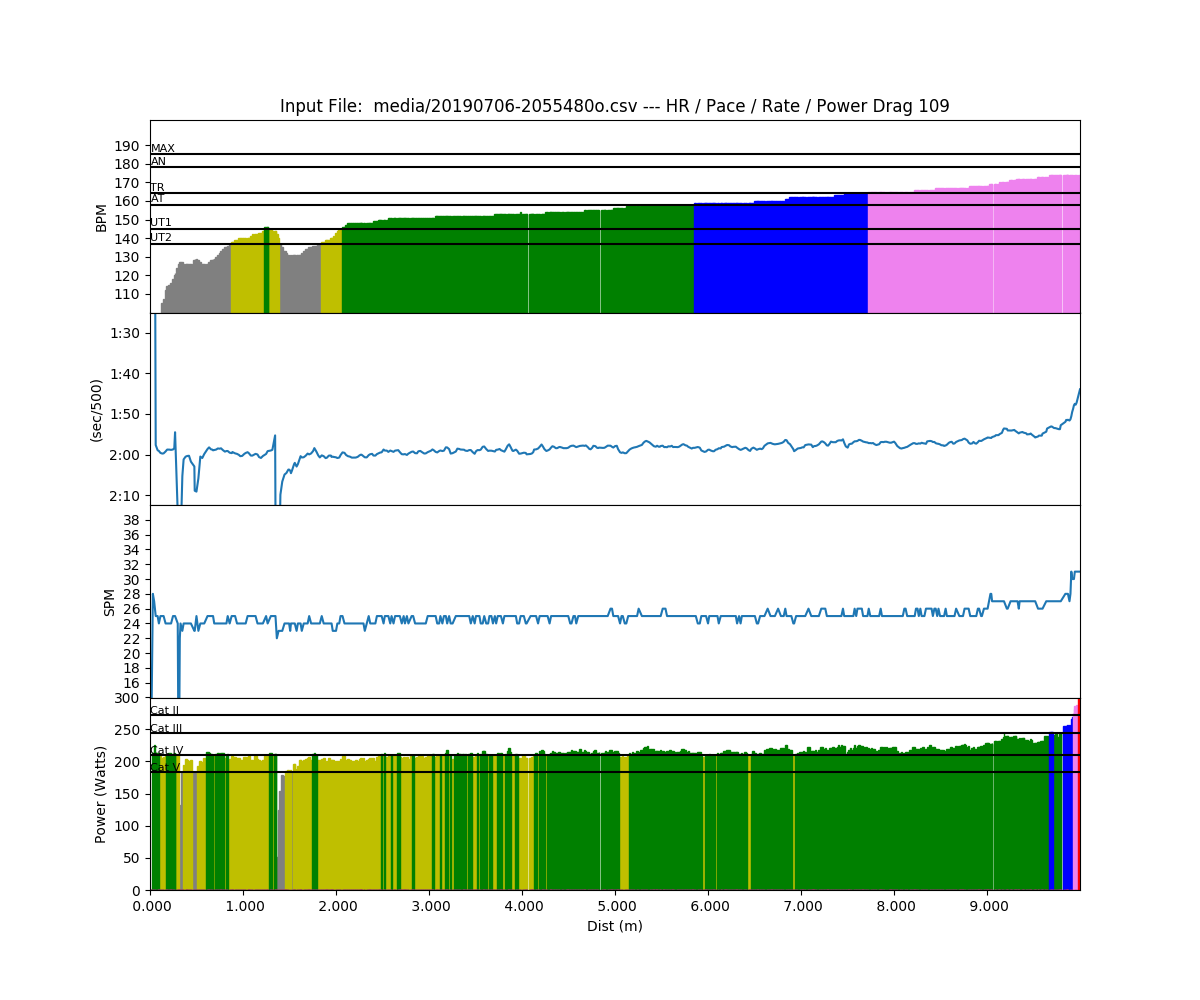 My smO2 started rising.  And I started to feel a lot better.  I started pulling 200W and it was OK.  Then as I went along, I pushed a little harder, and then a bit more.  When I first targeted 200W, my projected finish was around 40:30.  Then I pulled it down to 40:20.  With 3000m to go, I pushed a bit more and saw a projected finish hovering around 40:00.  With 1000m to go, I rated up and pushed the power up to around 230W which enabled me to finish in about 39:50.
        Workout Summary - media/20190706-2055480o.csv
--|Total|-Total----|--Avg--|-Avg-|Avg-|-Avg-|-Max-|-Avg
--|Dist-|-Time-----|-Pace--|-Pwr-|SPM-|-HR--|-HR--|-DPS
--|09997|00:39:48.7|01:59.5|213.2|24.9|153.2|174.0|10.1
W-|10000|00:39:49.2|01:59.5|213.2|24.9|153.2|174.0|10.1
R-|00000|00:00:00.0|00:00.0|000.0|00.0|000.0|174.0|00.0
Workout Details
#-|SDist|-Split-|-SPace-|-Pwr-|SPM-|AvgHR|MaxHR|DPS-
00|01000|04:15.1|02:07.5|196.7|23.5|123.2|140.0|10.0
01|00973|04:12.9|02:09.9|196.5|24.1|138.4|146.0|09.6
02|01027|04:05.1|01:59.4|206.0|24.3|149.2|151.0|10.3
03|01000|03:57.0|01:58.5|210.5|24.7|152.3|154.0|10.3
04|01000|03:55.8|01:57.9|213.5|24.9|154.1|156.0|10.2
05|01000|03:55.4|01:57.7|214.5|25.0|157.7|159.0|10.2
06|00964|03:46.8|01:57.6|215.1|25.0|159.8|162.0|10.2
07|01036|04:01.9|01:56.8|220.0|25.2|163.4|165.0|10.2
08|00967|03:45.8|01:56.8|220.2|25.4|166.5|168.0|10.1
09|01033|03:53.5|01:53.0|242.9|27.3|172.0|174.0|09.7

The smO2 shows the struggle with lack of a warmup.  Once I was past the 10  minute mark and my muscles were actually working well, things were pretty good.
Good lesson to learn about how a warmup affects things.
Today is our last day down on the cape.  Hopefully I will get to do another coastal row.  Then tomorrow I have an early flight out to San Francisco for a big conference.