Well, really just my right hand.
Because of travel, there was a period of 8 days between 25 April and 4 May where I did no OTW rowing.  Over that period of times, my hands got all soft.  Then on Saturday, I hop into my Aero and go for a 18k row that takes about an hour and forty five minutes.  This was 1887 strokes, and there was enough chop that my hands and the handles were wet.  The chop also makes it impossible to maintain the light fingertip grip that we all aspire to.  By the time I was on the last leg back to the beach, my hands were really hurting.  Over the rest of the day they were a weepy blistered mess.
On Sunday, the weather sucked, so I wasn't tempted to go back out on the water, but I did a hard 10K (with limited success, more to come  on that later) on slides.  My hands were perfectly OK with that.
On Monday, they were still pretty beat up, but I ignored that and did a nice technical session in the boat.  A lot of the drills put pressure on my blistery bits, and ripped open some blisters under old callouses.
I wasn't sure if my hands were up for it, but the weather this morning was beautiful!, So, I went for it.  I had a great session, and I didn't have any real grip issues to deal with, but boy, it stings.  Especially in the shower!
Enough complaining.  On to the training.
Sunday – May 5 – Hard 10K on slides.
Started with a 2k warmup.  Pick drill followed by a few bursts at possible paces for the 10k piece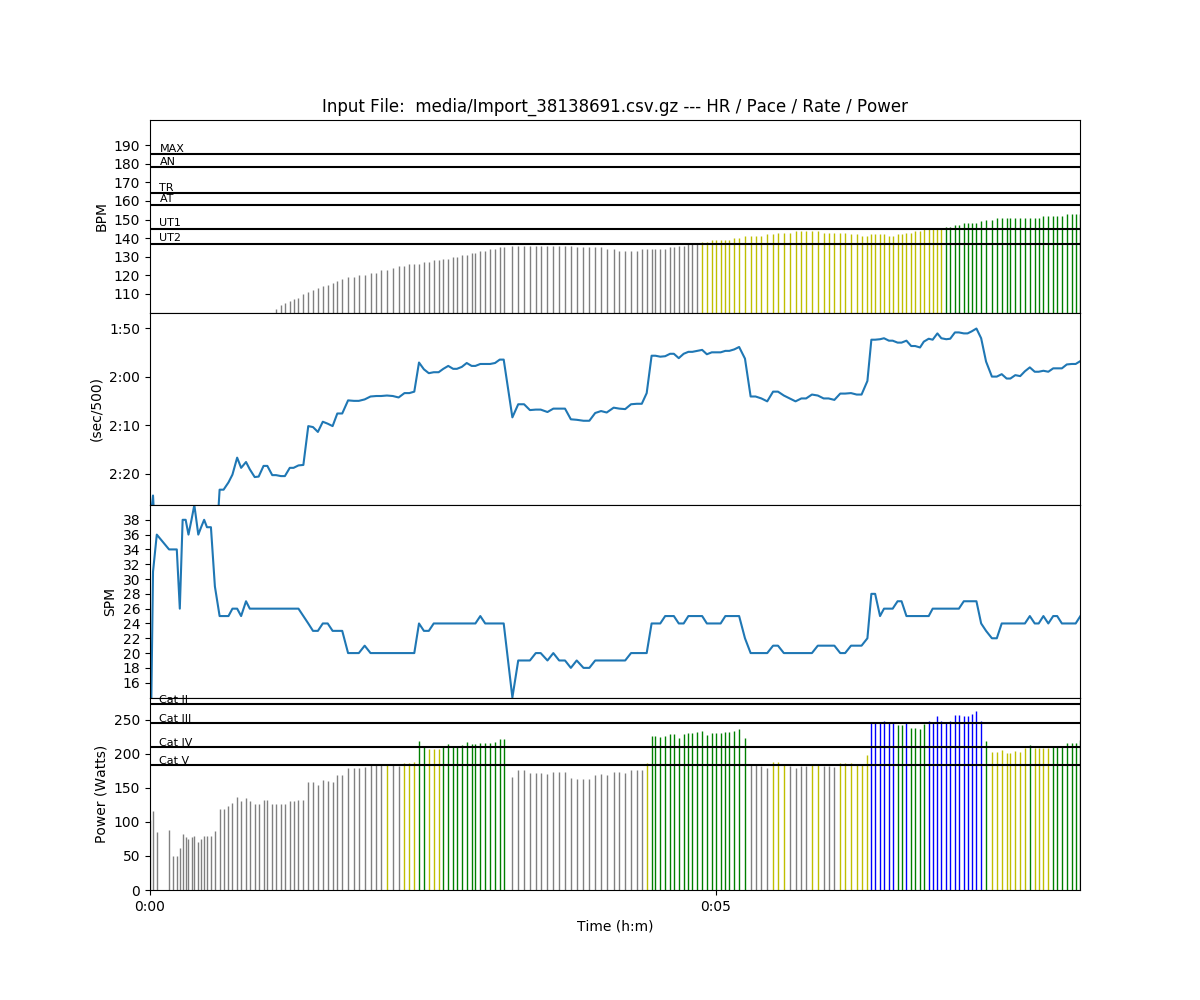 Then the real thing.  I was a bit scarred from the 10k session that I bailed on last weekend, so I specifically tried to give myself permission to target a pace of 2:00.  Of course, as soon as I started and it felt easy, I immediately changed my mind and stuck on 1:57.  This lasted for about 6 or 7K and my HR was up at 177.  I couldn't handle the idea of rowing the last 12 minutes "in the red", so I tried to back off, and then a dropped a few strokes and slowly brought myself back to around a 2:00 target.  By the time I had 1000m to go, I was pissed at myself and I rowed it hard.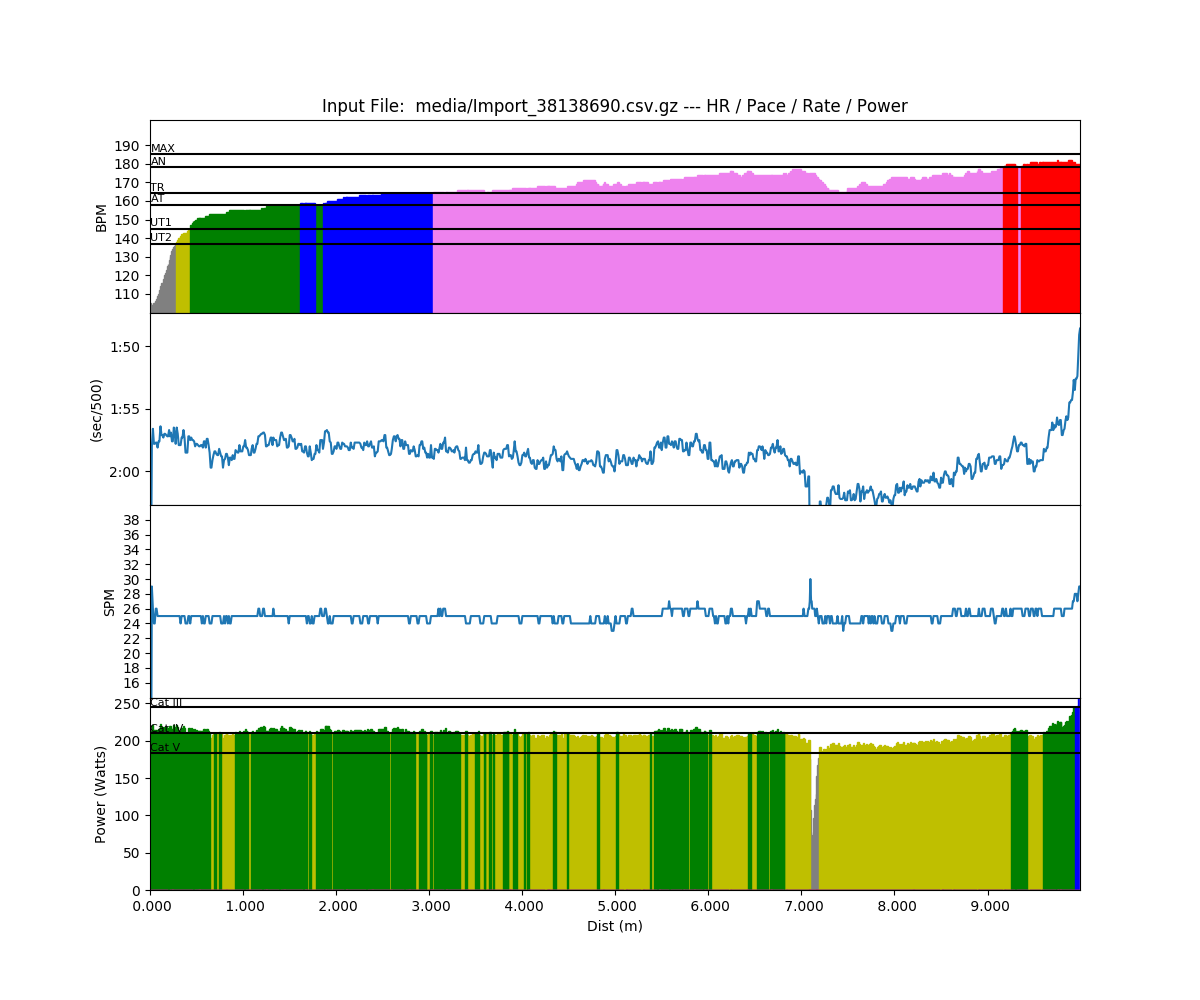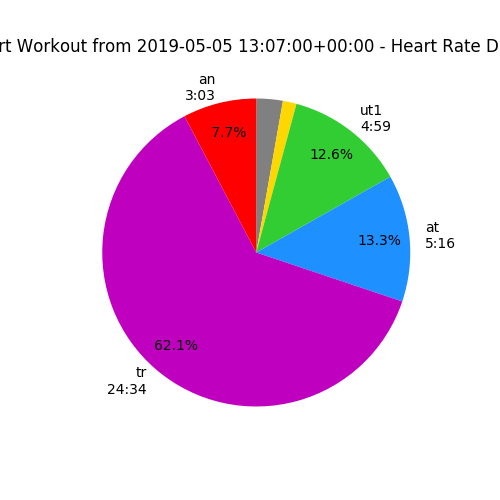 Workout Summary - media/Import_38138690.csv.gz
--|Total|-Total-|--Avg--|-Avg-|Avg-|-Avg-|-Max-|-Avg
--|Dist-|-Time--|-Pace--|-Pwr-|SPM-|-HR--|-HR--|-DPS
--|10000|39:31.0|01:58.6|207.5|25.0|166.5|182.0|10.1
W-|10000|39:32.0|01:58.6|207.5|25.0|166.5|182.0|10.1
R-|00000|00:00.0|00:00.0|000.0|00.0|000.0|182.0|00.0
Workout Details
#-|SDist|-Split-|-SPace-|-Pwr-|SPM-|AvgHR|MaxHR|DPS-
00|01000|03:54.5|01:57.2|212.8|24.6|141.9|155.0|10.4
01|01000|03:54.8|01:57.4|213.9|25.0|157.4|160.0|10.2
02|01000|03:54.9|01:57.5|213.1|24.8|163.2|164.0|10.3
03|01000|03:56.3|01:58.1|209.8|24.8|165.7|167.0|10.2
04|01000|03:57.4|01:58.7|206.9|24.5|168.4|171.0|10.3
05|01000|03:55.8|01:57.9|211.0|25.4|171.0|174.0|10.0
06|01000|03:57.1|01:58.5|208.0|25.2|174.8|177.0|10.1
07|01000|04:07.7|02:03.8|184.3|24.7|169.4|176.0|09.8
08|01000|04:00.1|02:00.0|200.1|25.0|173.7|177.0|10.0
09|01000|03:53.7|01:56.8|216.6|25.7|179.7|182.0|10.0
So, what do we make of this?  First, it was probably an effective workout from a physiological point of view.  I had 27 minutes in the TR and AN HR zones.  But in terms of grit, this one was a fail.  Also from a discipline perspective, also a fail.  I should have rowed it conservatively and gotten a good marker for the next session.
Monday – 6 May – Drills on the 5s – 60′ session
As is usual, I spelt pretty poorly on Sunday night.  The weather was OK.  It was grey and there was a pretty steady wind from the north.  Temps were in the 50s.
I thought under the circumstances that a session focused on technique would be a good idea.  So, back to a favorite, drills on the 5s.  Row steady state for 4 minuutes then do a minute of a drill.  The drills were
half slide
slow roll ups
open hands on recovery
pause at body over
on the square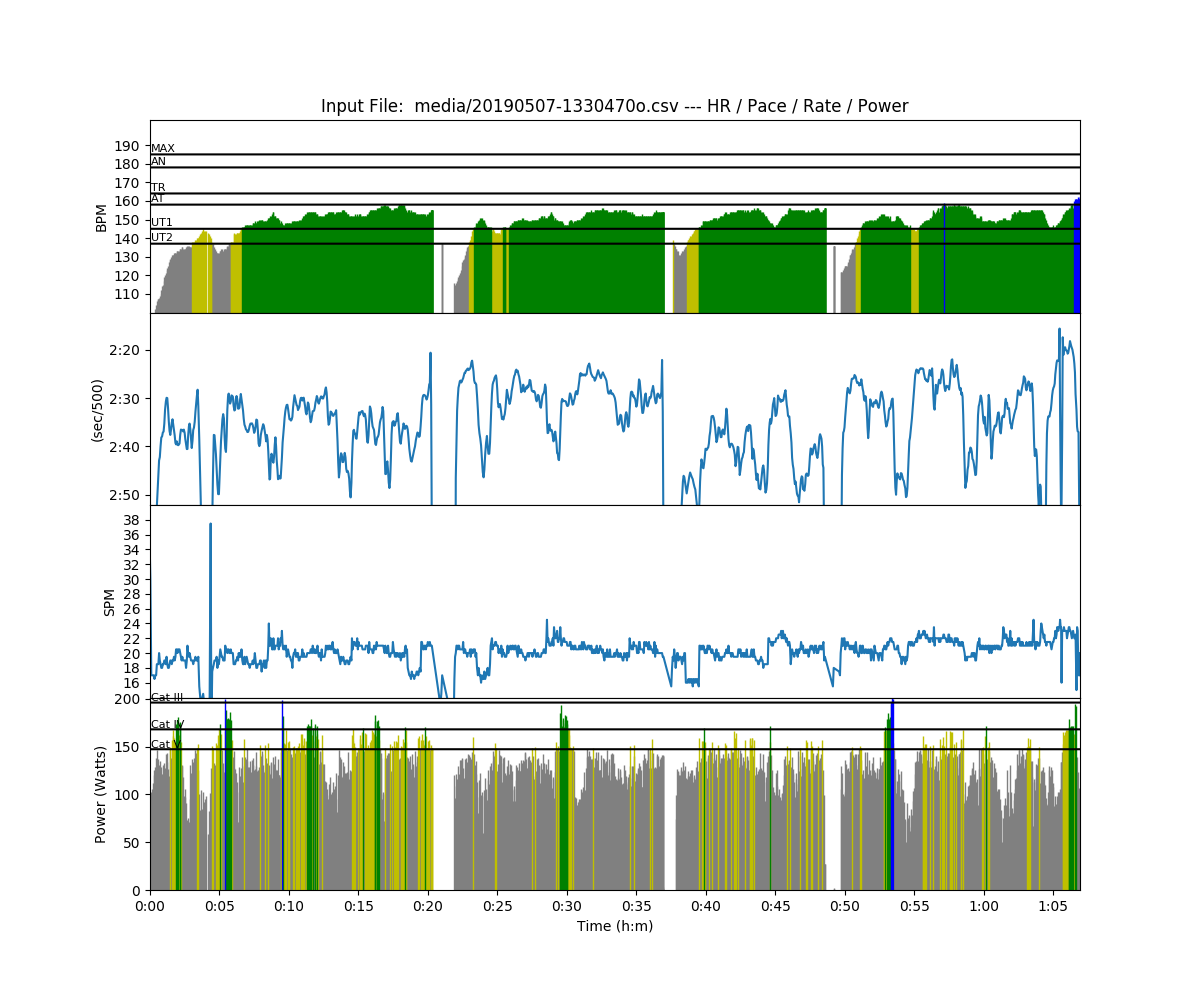 The drills were useful and the format of the workout makes time pass very quickly.  A lovely session.
Tuesday – 7 May – 4 x 2k on the water
Time to do some heavy lifting!  I was out late last night at a business dinner, but I managed to get my ass out of bed on time.  I was a bit worried about how well I'd do in the session.  I'm not sure if this was a cause or effect, but I felt a bit wrong in the intestinal department.
Anyway, the weather was awesome!  Bright and Sunny about 50F with a light wind from the SW.  So, I paddled out to the start of the 2k section, had a drink and went for it.  The training objectives for this session were:
Stroke rate: 25-27
Target pace 2:15 to 2:20
Focus on crisp releases.  Really tap down.
With increased fatigue focus on maintaining rate, lighting up pressure and maintaining good form, especially at the release
Gotta say, it was pretty magical!  I had a bit of tail wind behind me on the first interval, so the splits were nice and fast and the strokes felt light.  That really boosted my confidence.  I was extra careful to try to avoid chasing the same split on the upwind interval.  As it worked out I matched my avg power pretty well between upwind and downwind intervals.
Each interval got harder, but I always felt in control.  It was a really good session.  Good physiologically, and mentally to get it done per plan.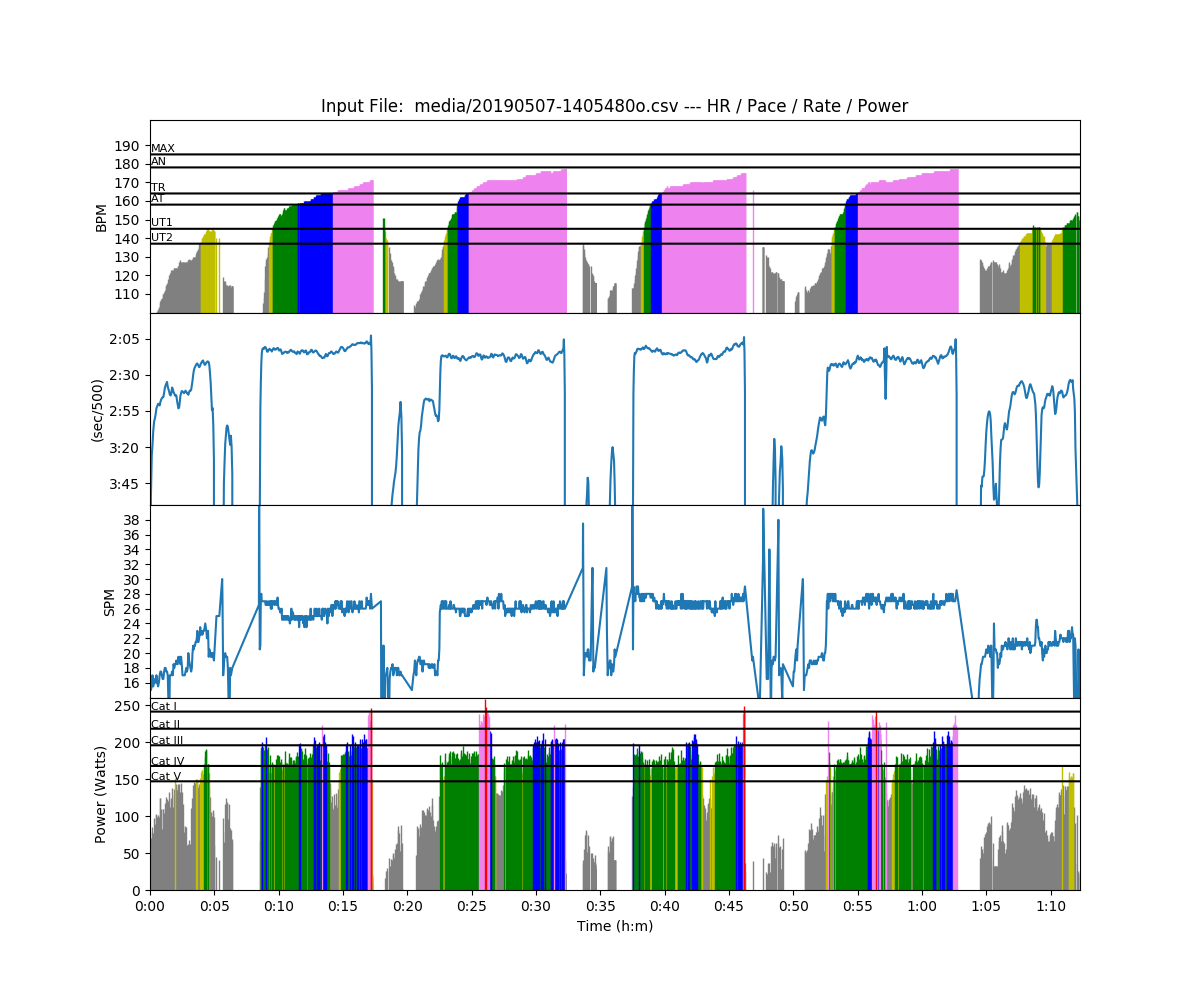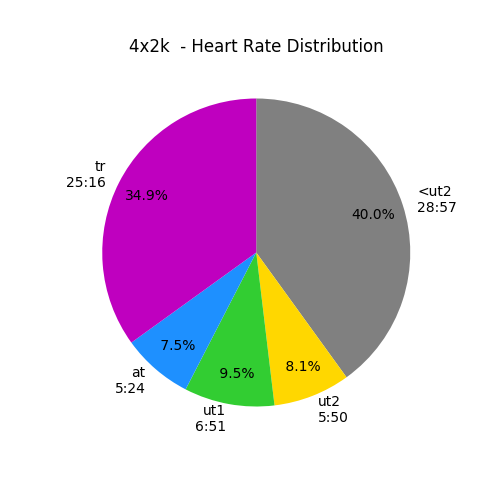 Workout Summary - media/20190507-1405480o.csv
--|Total|-Total-|--Avg--|-Avg-|Avg-|-Avg-|-Max-|-Avg
--|Dist-|-Time--|-Pace--|-Pwr-|SPM-|-HR--|-HR--|-DPS
--|12258|72:17.0|02:56.9|124.6|23.6|145.3|177.0|07.2
W-|08104|37:30.0|02:18.9|177.1|26.3|164.3|177.0|08.2
R-|04160|34:47.0|04:10.8|068.1|20.7|124.7|177.0|07.2
Workout Details
#-|SDist|-Split-|-SPace-|-Pwr-|SPM-|AvgHR|MaxHR|DPS-
01|00238|01:04.0|02:14.4|157.6|22.4|139.1|145.0|09.9
02|01985|08:33.7|02:09.4|179.4|25.8|158.2|171.0|09.0
03|01962|09:33.9|02:26.3|181.7|26.2|167.9|177.0|07.8
04|01960|08:33.8|02:11.0|171.6|26.8|164.8|175.0|08.5
05|01958|09:45.2|02:29.4|177.5|26.8|168.7|177.0|07.5
Note: the pace shown here appears to be the GPS based pace, so the downstream intervals are unnaturally fast and the upstream ones are slow.  Calculating pace for them using the excel data yields 2:12.8, 2:17.9, 2:14.5, 2:19.9.
So, I was interested to see if this focus on clean releases has any effect.  So, I compared a 4x2k from the very beginning of the season to today.  My guess is that my aerobic fitness was a bit better and my form more ragged.  First comparison…
Power:  I was 4.5 watts higher power last time.   2.5% lower power today.
Now boat speed:  Whoa!  1% faster today, on 2.5% lower power.
So, what changed in my stroke.  Since I was working on finishes, let's look at finish angle.  I was finishing about 4 degrees shorter today.
Was that impacting effective length?
Oh yeah.  I was more than 5 degrees shorter today.
I wonder what was going on with my peak force angle.  I was specifically trying to hold body position and row lightly today.  Would I see any difference with that?
Yep!  My peak force angle move more to stern and was more consistent.
Here is a statistical summary for each workout.  The standard deviation for the peak force angle changed from 3.3 deg to 2.6 deg.
So, this certainly taught me a lesson.  The speedcoach is a tool, it doesn't make sense to just focus singlemindedly on improving one parameter.  In my mind I had equated more length, with more power and therefore more speed.  Today's results mean that I should have to be very careful to measure the change in boat speed with technique changes iin addition to just using the oarlock to provide data on the stroke mechanics.