I left on Sunday morning to catch an early afternoon flight to Taiwan.  I dropped my boat off in Newton on the way to the airport.
I was flying from Boston to Tokyo, then connecting to Taipei.  I arrived around 8:30PM Monday night.  I slept some on the two flights, but I was stiff and tired by the time I got to the airport.
Tuesday morning:
I got up around 5am and discovered that I had left my HR monitor at home.  SO much for documented evidence of working out!  Sad to say, it badly effected my motivation.
I headed to the gym.  I set up the treadmill to do a 30 minute HIIT session.  so, 4:20 sec of fast walk (3mph) on 15% grade.  Then 40 seconds at 7mph on the same grade.  repeat 6 times.  By the last two sprints, I was nauseous at the end of the 40 seconds.  I guess that meant I was doing it right.
The rest of the day was a blur of meetings, all of them internal with our team in Taiwan.  I had dinner with a few of the folks that I travelled with and got back to the hotel around 9pm.
Wednesday:
Up at 5 again, and back in the gym.  Today, it was 30 minutes on the elliptical and 30 minutes on the stationary bike.  In both cases, I used the built in HR monitor to try to keep my HR in the 137 to 155 range.
Then I was off to the customer site for 3 different meetings.  Then we had a dinner for the full team supporting this major customer.  They've been working night and day for years making it successful, so it was a good idea for us to say thank you.
I made it back to the hotel just in time for my 8:30 conference call.  Unfortunately, that exactly when jet lag decided to strike and strike hard.  I was having trouble holding my head up, and I kept hoping for the meeting to wrap up.  I can remember looking at the clock around 8:50pm.  The next thing I know, it's five minutes after nine, my head is on the desk and there's no one left on the call!  I fell dead asleep.  I reached out by email to apologize to the other folks that were on the call.  I was pretty embarrassed.
Thursday:
I slept in until 6 because I had nothing on my agenda until my ride to the airport at 10am.  I headed down to the gym without a specific plan.  I did my full PT suite of exercises.  I have been neglecting them lately and that's a bad thing.  I have to find a way to fit them in with OTW rowing.  I don't feel comfortable doing them on the ground at the docks where I keep my boat and I am always rushed when I get to work afterwards.  I think I might start doing them on my way out of work at night.
Anyway, I did the PT exercises.  Then I did a little bit of strength training.
I did a 3 circuits of
20 squats with 2 25lb dumbells
12 pull downs on a machine designed to mimic pull ups
The squats felt easy at the time, but it's 3 days later and I'm still feeling sore.
Then I headed over to the treadmills and did 30 minutes of fast walking on a 15% grade.
After that, I headed to the airport for the long trip home.  I got home around 8:00pm on Thursday night, thanks to time zones.
Friday:  80′ of OTW speedplay.
I slept surprisingly well on Thursday night, but not very long.  The alarm woke me at 5:15am and I rolled out of bed.  It was a beautiful morning, so I wanted to get back on the water.  I headed to Newton and launched.
The plan:
80′ of speedplay
4 sessions of KOM
The instructions for the speedplay sessions are to do it continuous, but I really want to work on balance.  I find that if I do KOM for more than a couple minutes at a time, I get all tight.  So I decided to do a quick set each time I needed to turn the boat around.
The weather was lovely.  Very little wind.  There still a bit of current which make the splits all crazy and makes rowing a bit squirrelly in a couple of places, mainly where the river narrows down or splits and rejoins.  It feel like the boat is wiggling underneath you or you are going around a corner on ice.  As long as you are expecting it, it's kind of fun, but it can be disconcerting if it takes you by surprise.
I started with about 5 sets of KOM, then headed down river.  I've got my routine for the speed play workouts.  I row steady state until I get to middle of the straight 1K.  Then I do my power twenty.  Then I continue to the middle of straight section in front of the watch factory and do another.  I do the reverse on the way up river.  It ends up with a bit more time between the twenties with the turn in there.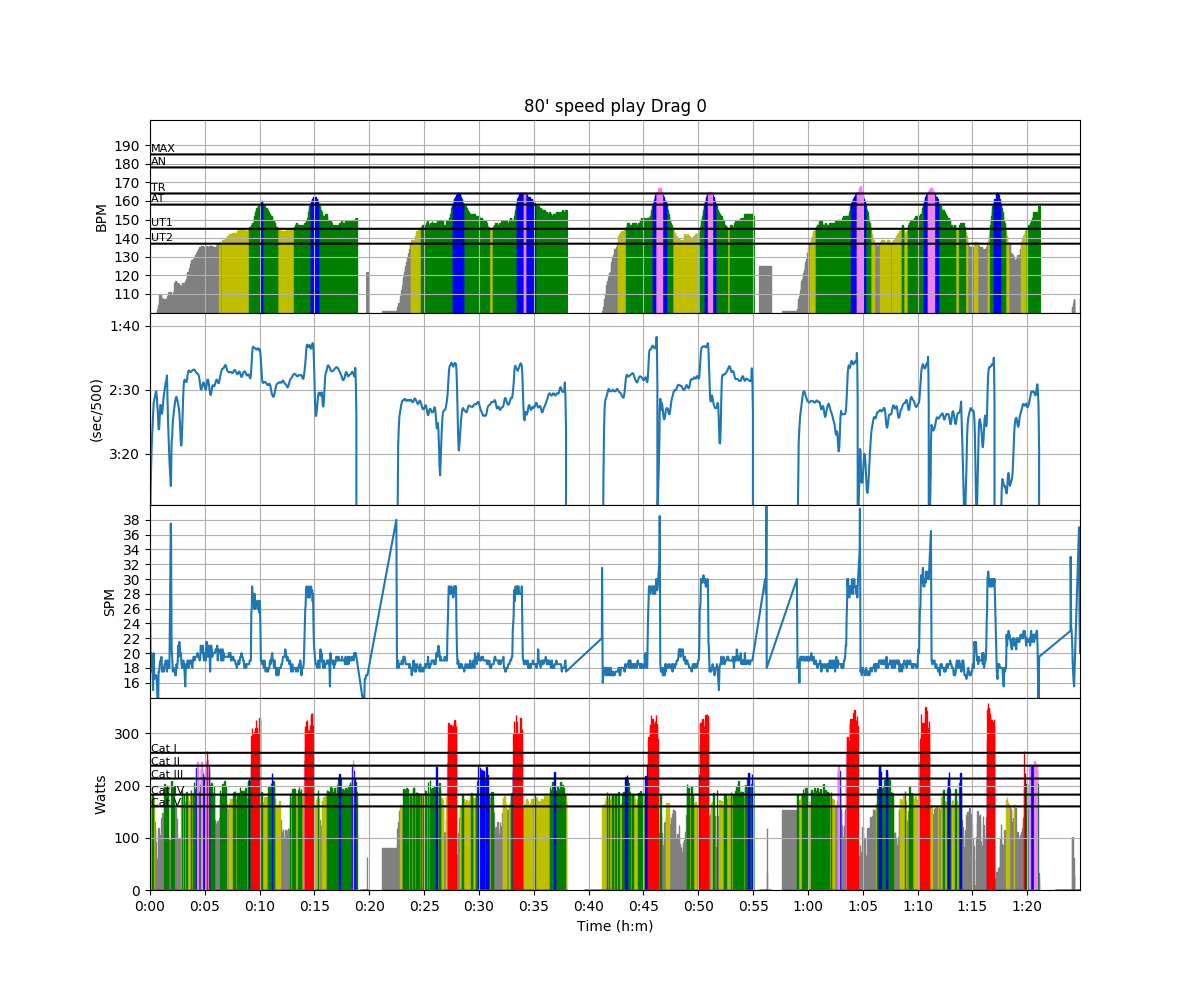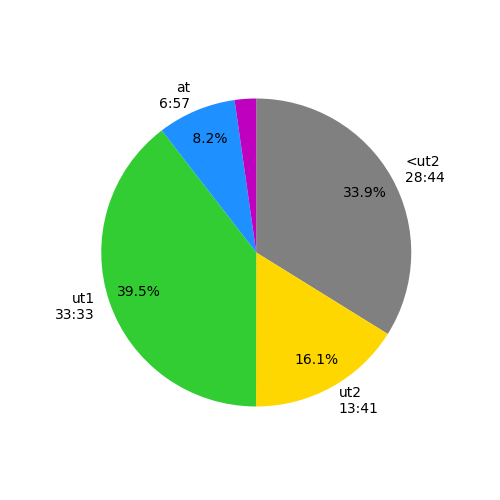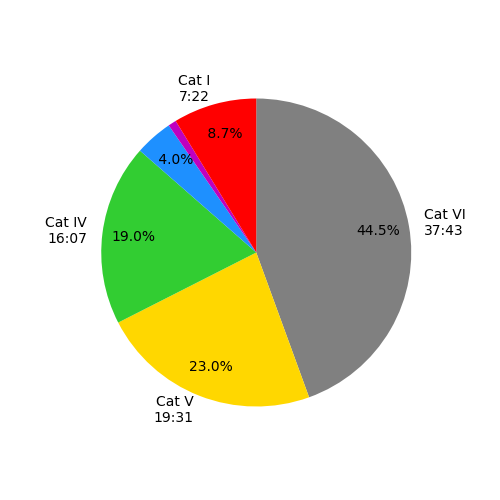 I am trying to keep the power above 300W on the power twenties and to keep the stroke rate between 28 and 30.
To get a better idea of the effect of the rigging changes, I wanted to look at the change in my catch, finish and length.  These charts isolate just the r28 portions of four speed play rows.  I made the adjustments in 3 steps.  The first is the original settings.  The next is with oars down one spacer, inboard shortened by 2cm, and footplate moved 1 cm.  The third is another 2cm shorter inboard.  Then the last is with the footplate moved the additional cm to stern.
Finish angle is about 2 degrees bigger.
Catch angle is about 3 degrees bigger
drive length is 3.5 degrees bigger
Effective length is about 2 degrees bigger.
Not much change.  It feels a lot different though.
Saturday:  I intended to go rowing, but i felt like crap all day long.  I just sat around and did crossword puzzles.  I did get up the motivation to do laundry and get groceries, but that was about all I was good for,
Sunday;  Again, I was thinking about going rowing, but its raining and I'm lazy.  I intend to do an easy session on the dynamic later just to keep things going.